As the largest lake in New England, Lake Champlain provides endless opportunities for locals and visitors to get outside. From meandering hiking trails and shoreline bike paths to beautiful spots to pitch a tent, cast a line, or launch a kayak, there is no better place to find recreation and solitude.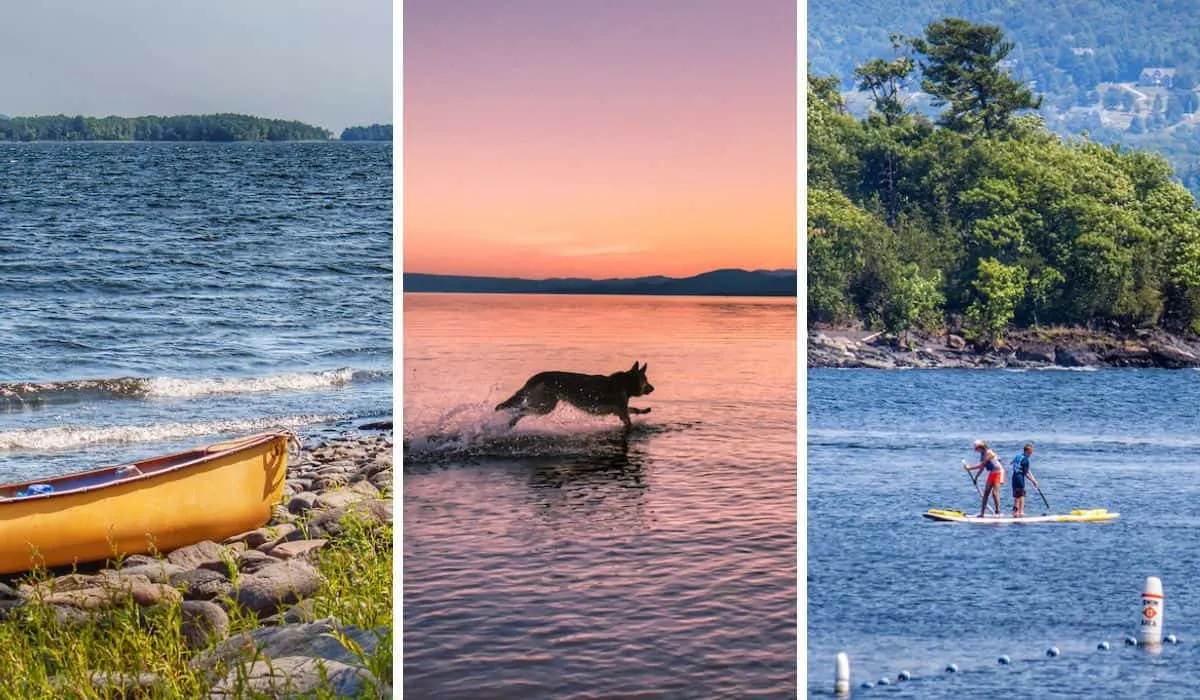 If you're planning a summer or fall trip to this beautiful Vermont lake, you're definitely going to want to visit one of the 13 state parks on Lake Champlain.
These unique parks offer endless opportunities for adventures — you can camp on a beautiful island, kayak a quiet cove, hike along woodland cliffs, or swim from a sandy beach. It's a nature lover's paradise just waiting to be explored.
Why You Should Plan a Vermont Vacation on Lake Champlain
One of Vermont's greatest treasures, Lake Champlain provides recreation, solitude, and beauty for thousands of visitors and locals each year. It's 125 miles long, with more than 587 miles of shoreline. At its widest point, near Burlington, Lake Champlain is almost 12 miles wide, but it narrows significantly on either end.
Lake Champlain is also home to 318 species of birds, 81 fish species, and a mysterious monster, affectionately known as Champ.
Lake Champlain is a great lake for boating, fishing, and paddling, but even if you stick to the shore, the mountain scenery will impress you. And let's not even get started on those dreamy sunsets…
Vermont State Parks on Lake Champlain Map
Here's a quick overview of the Vermont State Parks on Lake Champlain that you'll read about below.
Incredible Vermont State Parks on Lake Champlain
Ready to start exploring? This post includes an overview of all of the Vermont State Parks on Lake Champlain, plus one more that's close enough to be worth a visit. Our journey begins in Addison at D.A.R. State Parks and heads north from there.
Many of these state parks can be combined during your explorations. Some are better suited to camping, while others are day-use only and best for swimming and picnicking.
We'll also give you an idea of the best things to do in each park so that you can make the most of your Vermont vacation. Let's get started!
D.A.R. State Park, Addison
Best for: camping and birdwatching
This 95-acre park is the perfect spot to pitch your tent and relax for a weekend, and you can't be the Lake Champlain views.
Tent/RV spots are located in open areas or dappled shade (no hookups). There are 47 campsites and 24 lean-tos. We love reserving lean-tos because it gives us somewhere to sleep and/or sit if the weather doesn't cooperate — very important in Vermont!
Birdwatching is exceptional at D.A.R. State Park, especially if you are into shorebirds. Open-water species are plentiful, and there's a good chance of seeing loons, scaups, black scoters, white-winged scoters, common goldeneyes, buffleheads, and northern shoveler. A wayward common pochard was even spotted a few years ago, to the delight of local birders.
For even more birding opportunities, head to Dead Creek Wildlife Management Area, just six miles from D.A.R State Park. This is the most significant birding area in Addison County thanks to its varied habitat and excellent access. Be prepared to spot both songbirds and waterbirds in large numbers, as well as various species of raptors.
If you happen to visit this part of the state during the fall birding migration, you won't want to miss the massive flocks of snow geese — as many as 20,000 at a time — in the fields at Dead Creek.
Visit D.A.R. State Park to learn more.
---
Button Bay State Park, Ferrisburgh
Best for: camping, picnicking, paddling, walking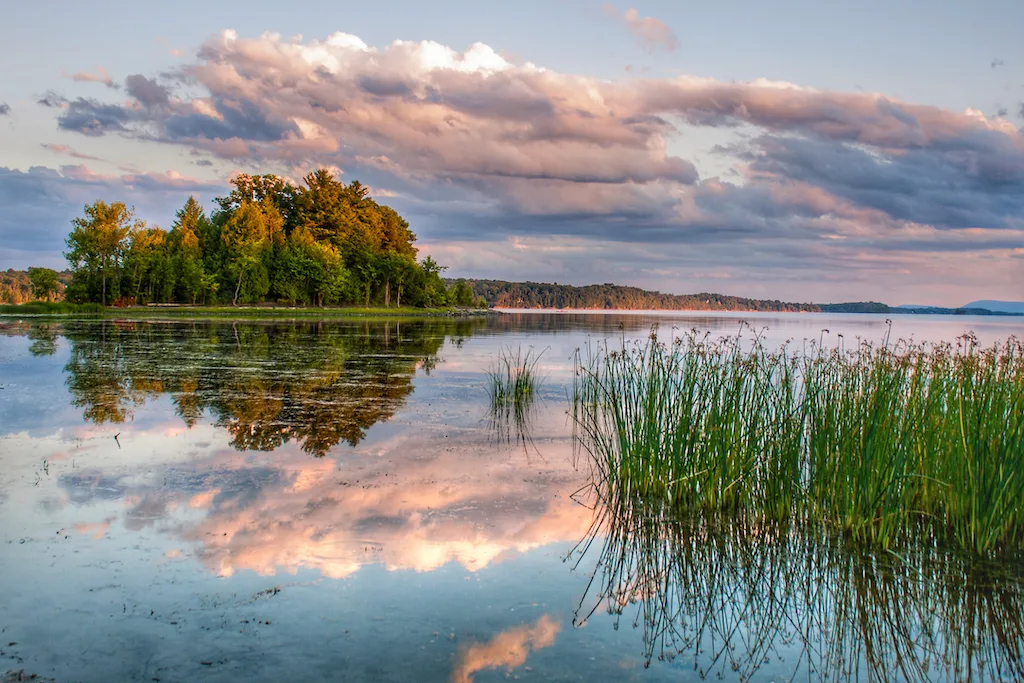 You really can't beat the family-friendly camping vibe at Button Bay State Park. With its grassy lawns, beautiful views, and great lake access, it's one of our favorite spots to spend a summer or early fall weekend.
Kids will love the playground and the pool, and parents will appreciate the open camping area of the second camping loop, which makes it easy to keep an eye on the kids while tending your campfire.
If you want a bit more privacy, book a site in the first loop, which consists mostly of lean-tos, with a few tent sites. Between the Catalpa and Willow lean-tos, there's a beautiful meadow trail down to the beach.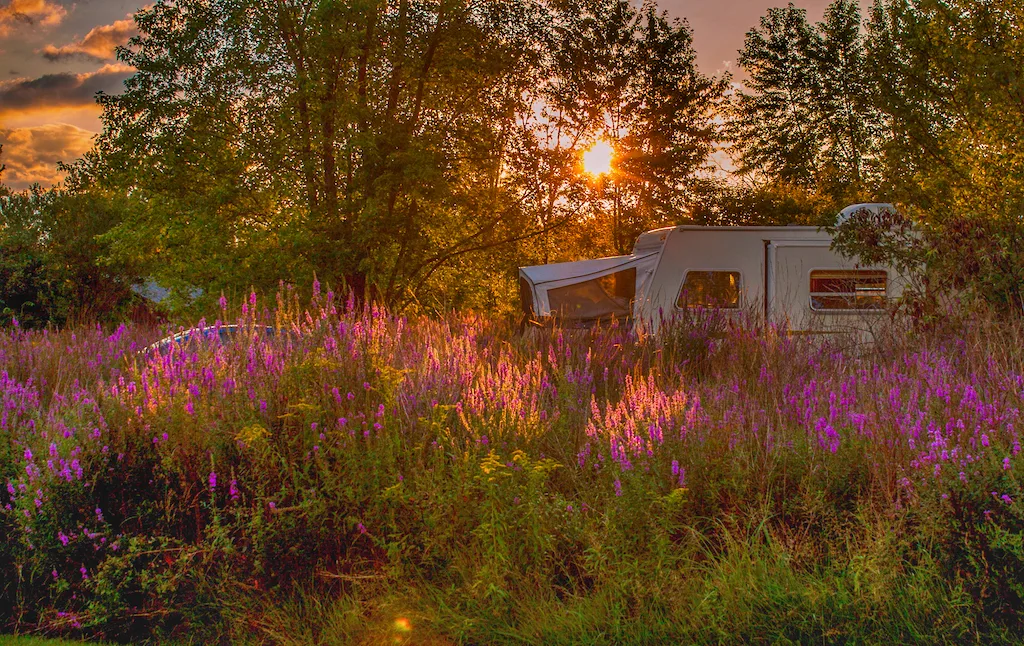 Button Bay State Park also has four camping cabins, each with gorgeous, sweeping views of Lake Champlain and the Adirondack Mountains. We've been eyeing them for many years, in hopes to reserve one for a fall weekend, but they've always been booked.
Only the Sedge cabin allows dogs. Tip: Don't procrastinate when booking a camping cabin at Button Bay!
Not far from the Button Bay Campground is a trail out to Button Point. It's a short hike and takes you past a nature center nestled in the woods. Here you can find out more about Champ, Lake Champlain's famous monster, and the button-like concretions that gave the park its name and are found along the rocky shoreline.
The trail follows a service road for a bit, delves into a beautiful hardwood forest, and then pops out onto a rocky peninsula. It's a great place to watch the sunset, take pictures of your puppy, or have a picnic!
Visit Button Bay State Park to learn more.
---
Kingsland Bay State Park, Ferrisburgh
Best for: Swimming, picnicking, and hiking
Kingsland Bay State Park is a day-use park on a quiet cove of Lake Champlain, with some of the best swimming on the lake.
The sprawling lawns at Kingsland Bay are lightly shaded by stately locust trees. There's ample room to spread out, and the water is deep, clear, and refreshing.
Historic buildings on the property can be rented for weddings and events, and it's not uncommon for live music and concerts on select weekends.
A hiking trail leads from the picnic area out to McDonough Point, where visitors can walk through a mature cedar forest and along a cliff for stunning views of the lake. This cedar bluff forest is home to diverse flora including rare and uncommon plants. Look for wild columbine, lady slipper, and wild sasparilla among the old-growth white cedar.
If you are camping at Button Bay State Park, Kingsland Bay makes a nice day trip for swimming and picnicking.
Visit Kingsland Bay State Park to learn more
---
Mount Philo State Park, Charlotte
Best for: hiking, camping, bird watching, and picnicking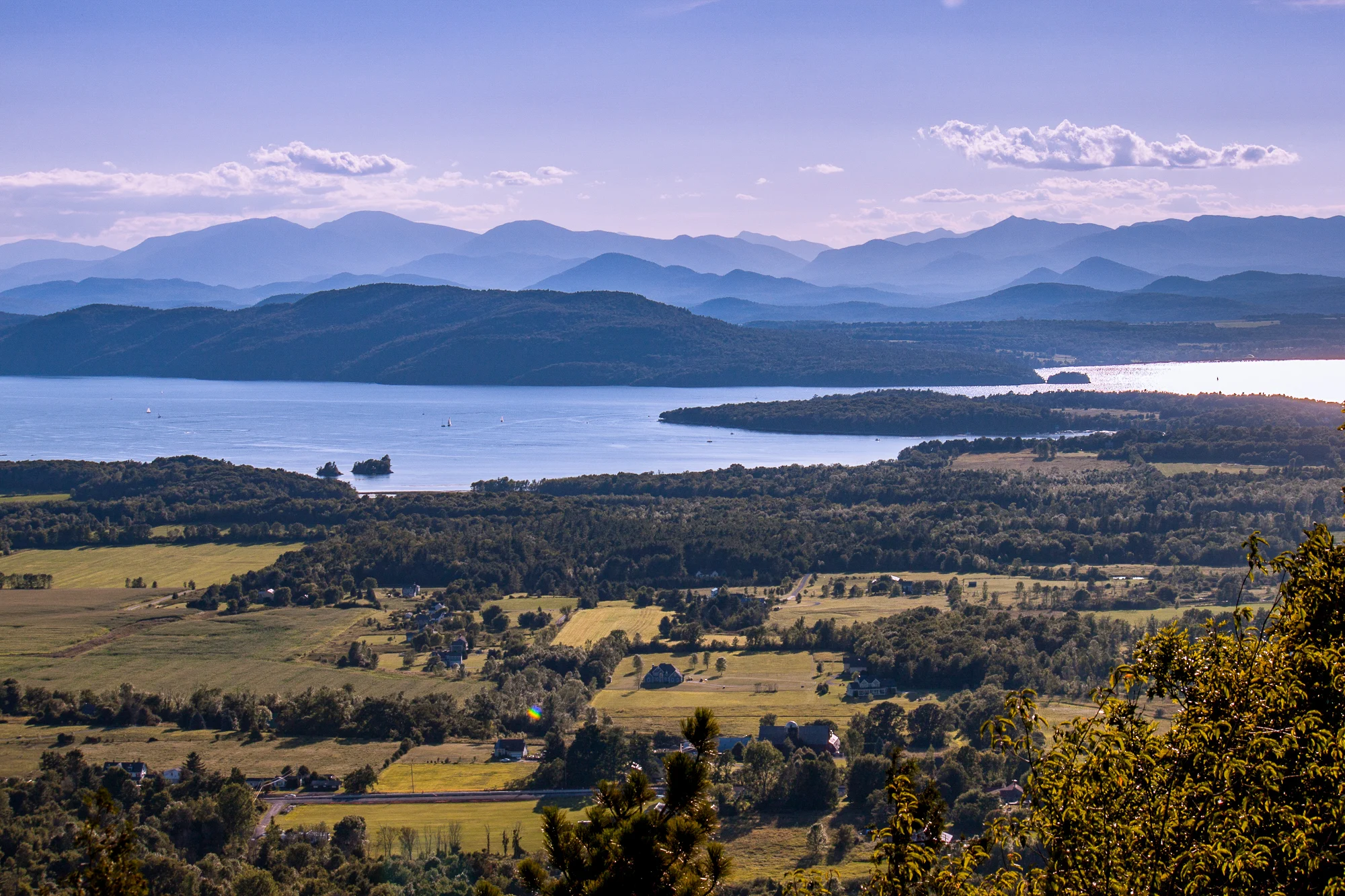 While it's true that Mount Philo isn't on Lake Champlain, this 968-foot mountain provides expansive views of the lake for not much effort, which is why we consider it a must-visit state park for your Lake Champlain vacation.
The 237-acre park became Vermont's first state park in 1924. Because you can easily drive to the top of Mount Philo, this is the perfect spot for picnicking.
A 3.8-mile trail network includes the one-mile hike from the base of the mountain to the summit, but also a new universally-accessible trail from the summit parking area to viewpoints at the top.
Mt. Philo is renowned as one of the best hawk-watching sites in Vermont. It currently holds the state record for the largest number of migrating raptors seen in a single day (3,688).
The peak of the hawk watching season is the second and third weeks of September when the bulk of the broad-winged hawk population heads south. Numbers, however, vary greatly with the weather – a light north wind is ideal. The best area to watch for raptors is the main overlook at the southwest end of the summit.
There have been 101 bird species recorded on Mount Philo since 2004. Download the Mount Philo Bird Guide if you plan to make bird watching part of your adventure.
If you are looking for a quiet camping spot and a chance to catch a spectacular sunrise from the top of Mount Philo, book one of just 10 campsites on the side of the mountain.
Visit Mount Philo State Park to learn more
---
Niquette Bay State Park, Colchester
Best for: hiking and swimming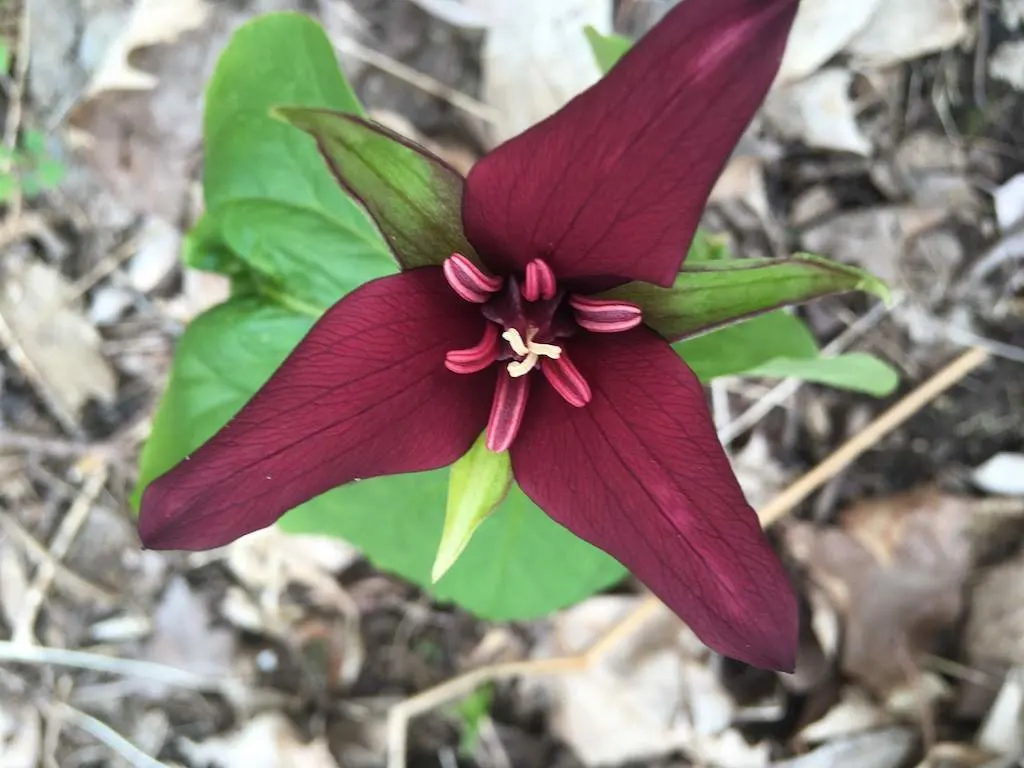 Niquette Bay is part of the larger Mallets Bay in Colchester, just north of Burlington. The park is characterized by two long ridges that run parallel on either side of a flat, sandy terrace.
The trail system includes approximately five miles of trails that bring hikers along both ridges with gorgeous vista overlooks across Mallets Bay, the Green Mountains, and the Lake Champlain Islands. In the spring you will find multitudes of wildflowers, including trillium, wild columbine, Virginia bluebell, blood root, and the hard-to-spot jack-in-the-pulpit.
If you'd rather just head to the lake for a swim, take the .5-mile Allen Trail to a sandy, shallow beach along the eastern half of the park's shoreline.
Calm Cove, which is dog-friendly is another swimming area, surrounded by dolomite limestone cliffs that in some spots exceed 60 feet.
Niquette Bay State Park is open between 10 am and sunset. Camping is not permitted.
---
Sand Bar State Park, Milton
Best for: Swimming and Picnicking
Looking for a simple and satisfying day at the beach?
Sand Bar State Park is located on a natural sand bar created by the Lamoille River washing sediment downstream and into Lake Champlain. The park is on the eastern end of the sand bar in Milton, providing visitors with a 2,000-foot sandy beach with great swimming, as well as a picnic area with grills, and a playground.
Because the sandy beach gives way to a gently sloping shallow swimming area, this is an excellent swimming spot for kids and one of the most popular state parks in all of Vermont.
The park was originally built by the Civilian Conservation Corps in 1933, and the stone bathhouse, created in 1935, is a beautiful example of their work.
Nearby Sand Bar Wildlife Refuge provides 1,000 acres of habitat for migratory waterfowl, as well as beavers, muskrats, raccoons, and turtles.
Sand Bar State Park is a gateway to the beautiful Lake Champlain Islands, where you'll find seven more state parks to explore on Lake Champlain.
Visit Sand Bar State Park for more information
---
Kill Kare State Park, St. Albans
Best for: swimming, picnicking, and paddling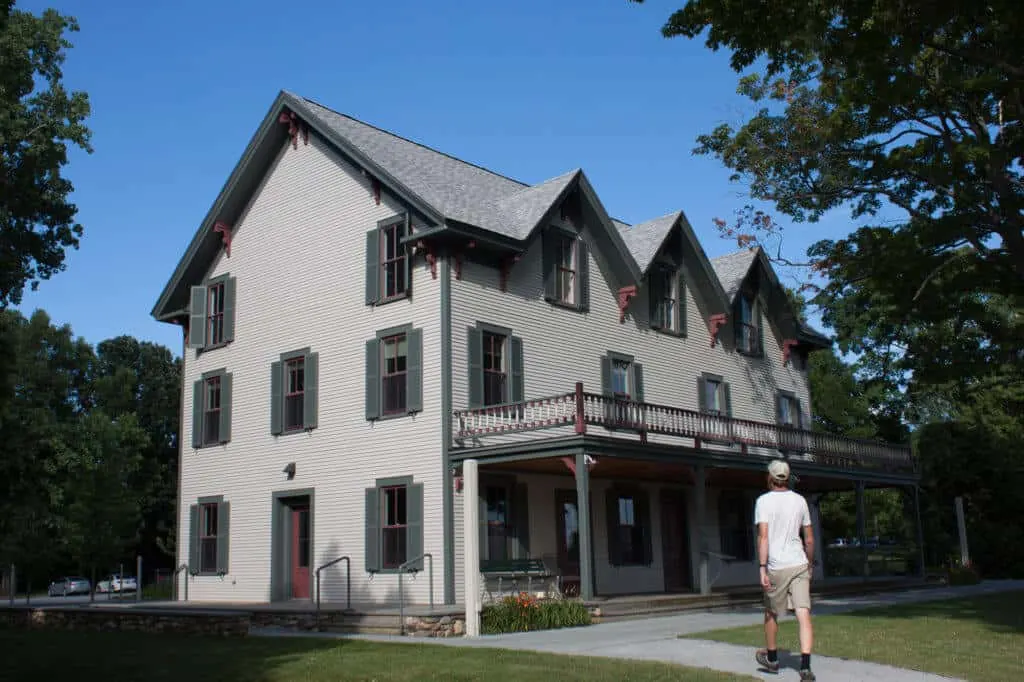 This lovely, 17-acre state park is situated on a point that juts into St. Albans Bay.
Kill Kare State Park is a day-use park that was acquired by the state in 1967 as a mainland base to service Burton Island State Park. Kill Kare State Park has become a destination in its own right, with a large, shady picnic area, an expansive swimming beach, and a boat launch.
Kill Kare is a fabulous spot to spend a summer day, or you can meander around before continuing on to Burton Island via canoe, kayak, boat, or ferry.
Be sure to stop into the Rocky Point House Museum, housed in an 1870s building that was once a popular summer resort on the property. It documents the history of the land and building, including the hotel era and the rise and fall of Kamp Kill Kare, which was an adventure camp for boys that thrived from 1912 to 1966.
Visit Kill Kare State Park to learn more.
---
Burton Island State Park, St. Albans
Best for: camping, swimming, hiking, paddling, boating, fishing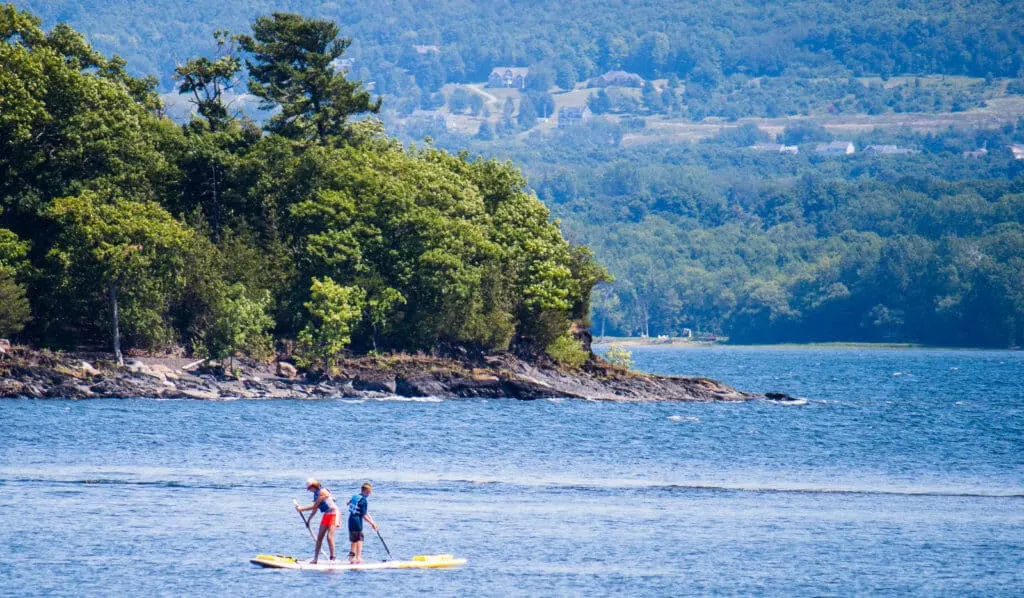 Burton Island is a 253-acre park off the southwestern tip of St. Albans Point in Lake Champlain's 'Inland Sea'. We will absolutely argue that this is one of the best state parks in the United States!
The park is accessible only by boat, with the state's passenger ferry making the 10-minute trip from Kill Kare State Park.
Burton Island State Park opened in 1964. A marina was built to accommodate boats. Ferry service was implemented in the 1980s. The marina is a lively stopover for people cruising the lake. The campground is popular with those who enjoy relaxing on a semi-remote island away from cars.
What can I say about this beautiful island retreat in northern Vermont to encourage you to come?
Burton Island State Park embraces visitors like old friends. You can find total solitude at primitive, waterfront campsites, or experience the comings and goings of a lively marina with lots of amenities.
A visit to Burton Island really is one of the best things to do in Vermont!
Visit Burton Island State Park to learn more.
---
Grand Isle State Park, Grand Isle
Best for: camping and paddling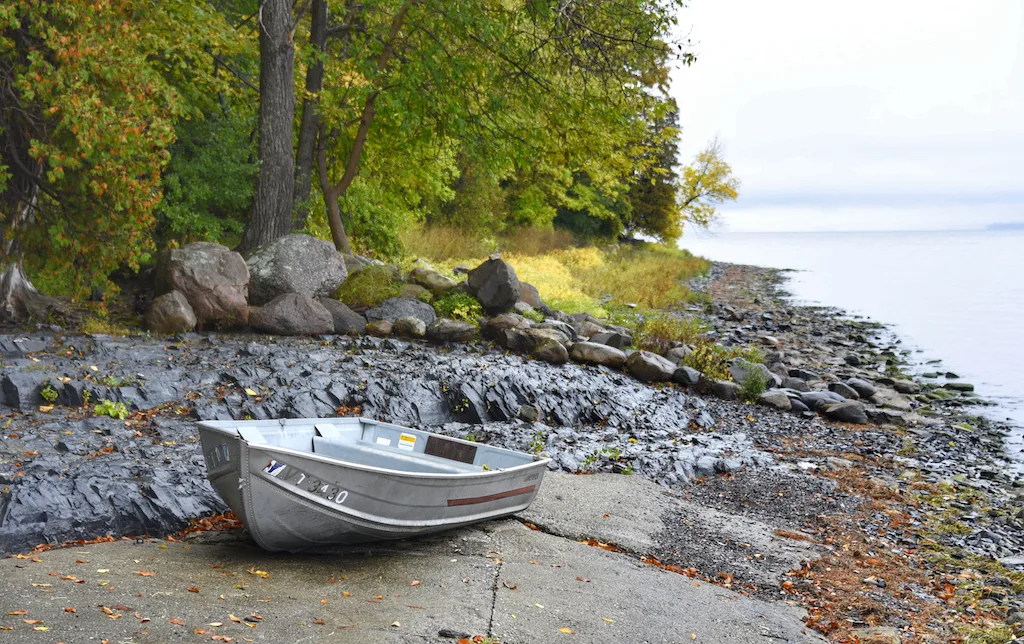 If you want to explore more of the Lake Champlain Islands, Grand Isle State Park makes a great camping home base.
Grand Isle is 14 miles long and over 3 miles wide, making it the largest island in Lake Champlain.
Grand Isle State Park is the most visited state park campground, with 226 acres of forested and open land. Choose from 115 tent/RV sites, 36 lean-tos, or four cabins.
There is a rocky swimming area, a boat launch ramp, a nature center, and bike rentals. The Lake Champlain Islands provide endless opportunities for exploring on two wheels, so be sure to bring bikes if you have 'em.
The town of South Hero, at the south end of Grand Isle, is a quirky destination worth exploring. Go searching for the miniature stone castles that dot the landscape, visit the birdhouse forest, and stop for a wine tasting at Snow Farm Vineyard before heading "home" to your campfire.
Visit Grand Isle State Park to learn more.
---
Knight Point State Park, North Hero
Best for: picnicking and bird watching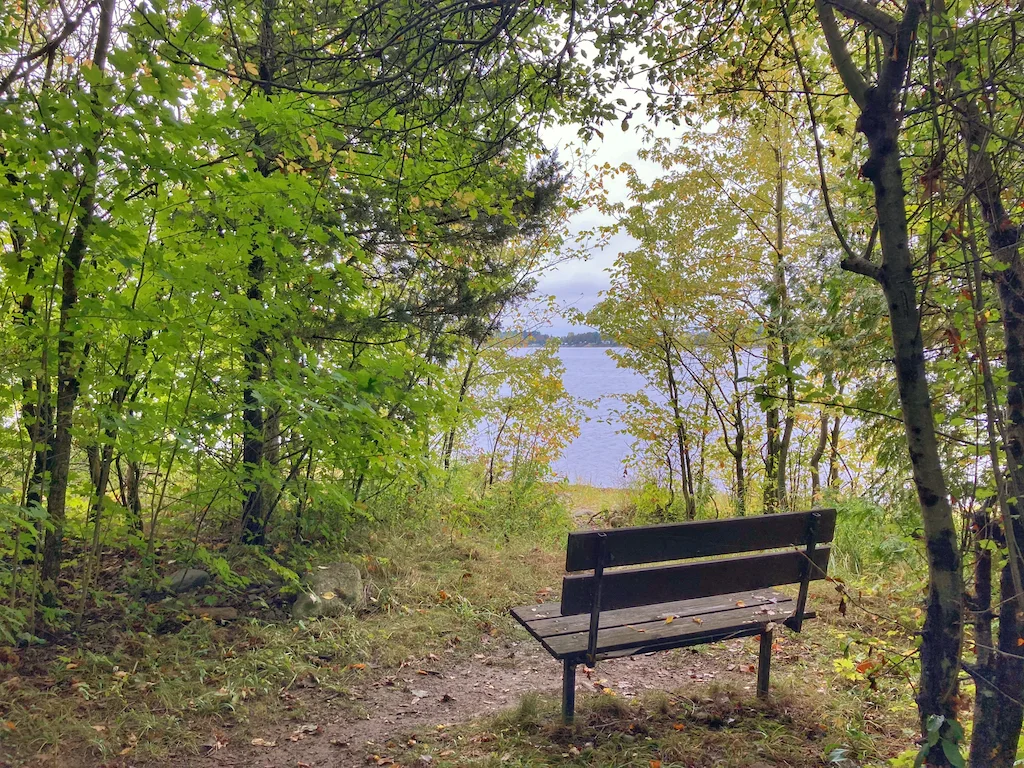 This small state park on the southern tip of North Hero is perfect for a little bird watching with your morning coffee or picnic. If you're camping at Grand Isle State Park, Knight Point State Park makes a great afternoon field trip.
An expansive lawn runs down to the water, and there's a short nature trail that wanders through the woods past several beautiful old trees. The trail is under a mile and loops around the point with great views of Lake Champlain.
This area is characterized by a beautiful cobble beach — the most extensive and least disturbed in Vermont — as well as large oak and hickory trees.
Visit Knight Point State Park to learn more.
---
Knight Island State Park, North Hero
Best for: primitive camping, swimming, hiking, paddling, boating, fishing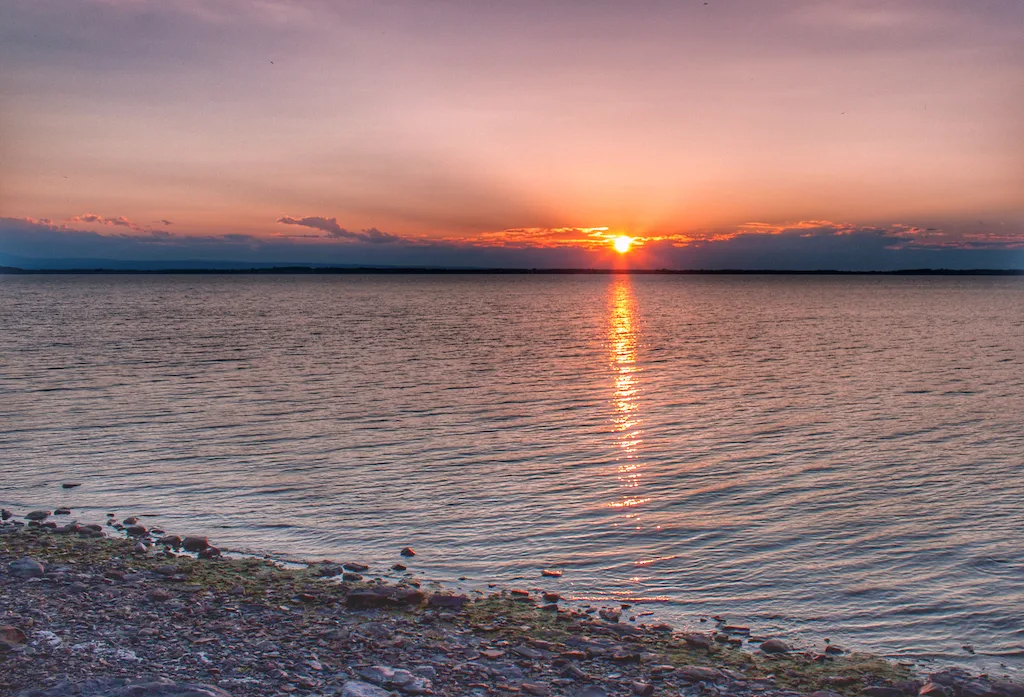 Knight Island was acquired by the State in 1990. This 185-acre island park is a mile long and nearly a half-mile wide. The park includes all but 10+ acres of private land on the island's southern tip.
Knight Island was farmed historically then was uninhabited for many years. Under state ownership, remote area camping has been continued on seven sites dotted around the island.
There are trails that crisscross the island, and seven more primitive campsites. Six of these are rustic lean-tos, each with a composting toilet and again, spectacular views.
As you walk along the shore trails, you'll find towering cliffs as well as sandy and rocky beaches. There are lots of places to swim and relax without seeing another soul.
You can only get to Knight Island by boat. It makes a fun paddling trip from the marina at Burton Island State Park.
Visit Knight Island State Park to learn more.
---
Woods Island, St. Albans
Best for: primitive camping, swimming, hiking, paddling, boating, fishing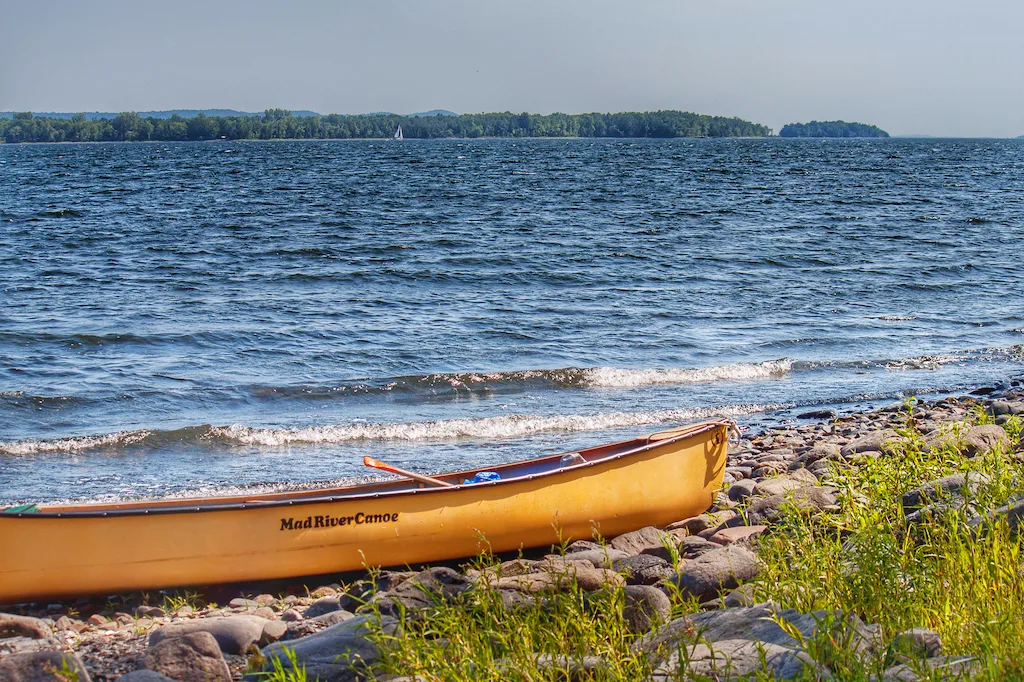 If you're already camped on Burton Island and have a lake-worthy vessel, you can easily paddle to Woods Island State Park, where you can explore a trail around the island, camp at one of five remote tent sites, or swim from the rocky beaches.
Woods Island State Park is about two miles from Burton Island, and the paddle across took about an hour. This isolated island is home to a diverse ecosystem of old-growth forest and rare plants and an abandoned airstrip.
Visit Woods Island State Park to learn more.
---
Alburgh Dunes State Park, Alburgh
Best for: swimming and picnicking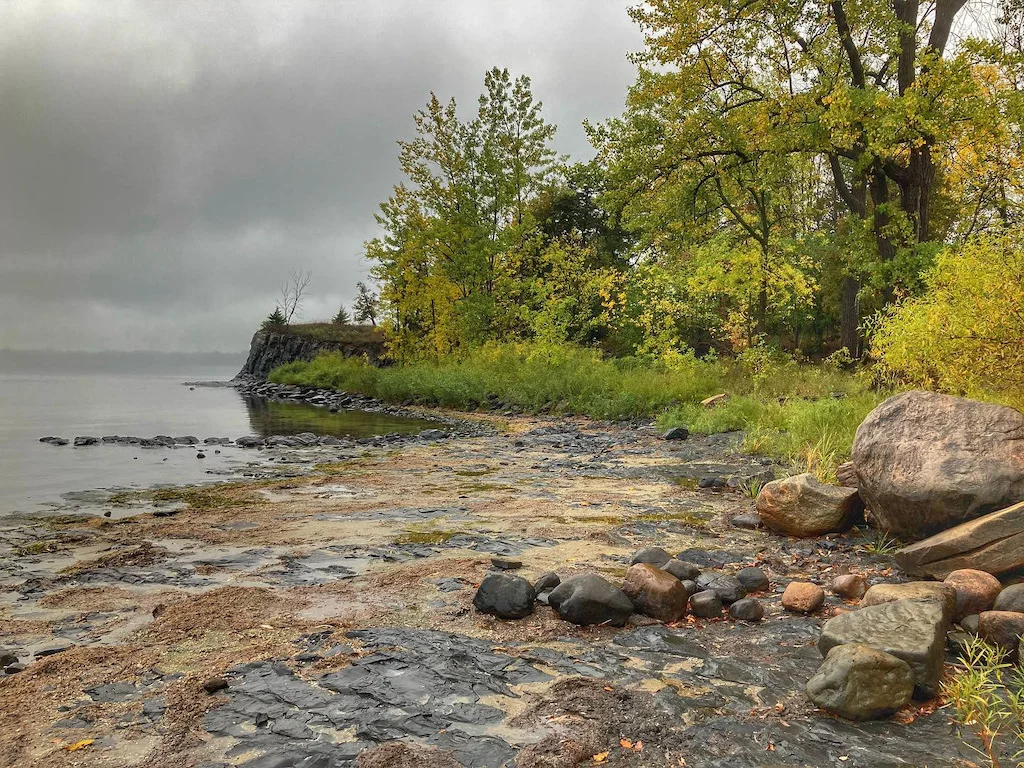 Alburgh Sand Dunes State Park is a 625-acre day-use park that includes one of the largest sandy beaches on Lake Champlain, as well as unique sand dunes that are more common along ocean shorelines.
At Alburgh Dunes, the sand has come from a layer of glacial till- the soil that was left atop the low bluffs southeast of the beach when the last glacier melted. Two species of rare plants, Champlain beach grass and the low-growing beach pea, are remnants from the post-glacial era in which Lake Champlain was an inland estuary of the Atlantic Ocean.
The shore is a peaceful spot for a stroll along the lake, and the wetland behind the beach includes the largest black spruce bog in Grand Isle County. Black spruce swamps and bogs are more typical of colder, northern climates than of the Champlain Valley.
There's also a small playground and picnic tables, so pack a lunch and enjoy the scenery. The park is officially open from Memorial Day to Labor Day, but you can still visit in the off-season.
Visit Alburgh State Park to learn more
---
North Hero State Park, North Hero
Best for: wildlife watching and swimming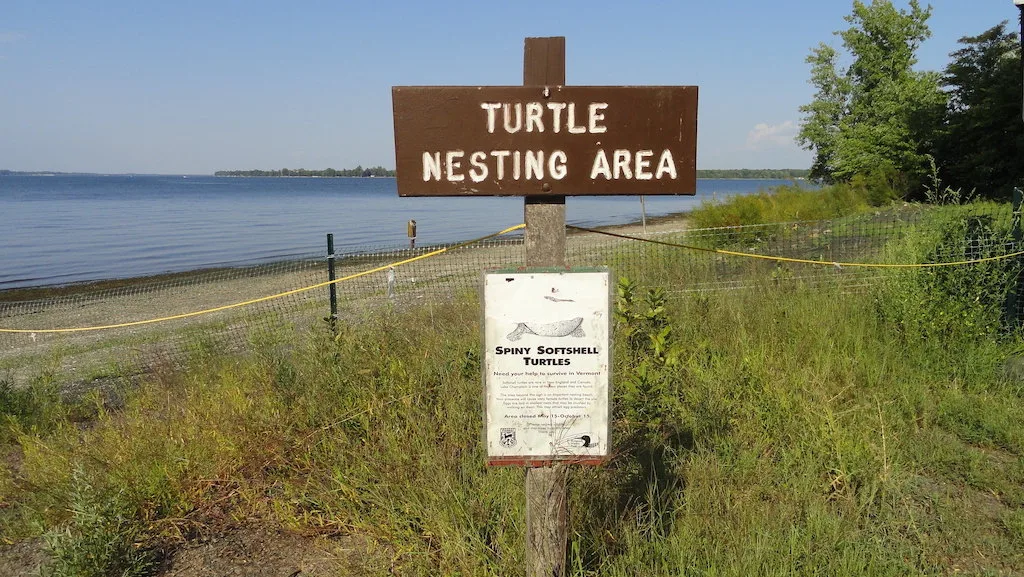 This beautiful day-use area is a floodplain forest that provides valuable wildlife habitat in the area. Land for this 399-acre park was purchased in 1963.
This is a favorite spot for bird and wildlife watching. A variety of migratory waterfowl – mallards, blacks, wood ducks, and more – nest in the wooded wetlands. Ruffed grouse and American woodcock nest in the forest. Even fish — pickerel and northern pike – spawn and feed in the flooded areas. Map turtles, as well as other turtle species, nest along the beach.
No staff is present in the park. A self-service metal box is located at the Contact Station to collect day-use fees ($4/person).
Visit North Hero State Park to learn more.
---
Have you visited any of the beautiful Vermont State Parks on Lake Champlain? Which ones are your favorites? For even more Vermont inspiration, check out our sister site, Vermont Explored!
Follow us on social media for more Vermont travel ideas!
Pin for Later?