Vermont is blessed with four distinct seasons (five if you count mud season), and endless opportunities for outdoor recreation and adventure, no matter what time of year you visit. We live here, and we're totally biased, but we think that everyone should plan a Vermont vacation, and we're happy to help.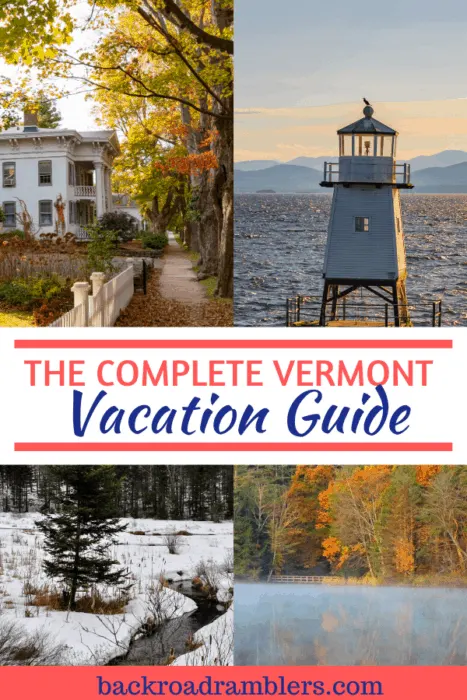 Below you'll find posts about our favorite things to do in Vermont, as well as our favorite Vermont hiking trails, state parks, and camping. Of course, this Vermont travel guide wouldn't be complete without information about fall foliage in Vermont, road trip ideas, and some of our favorite Vermont towns and cities.
Here's the lowdown on visiting Vermont, with links to our favorite blog posts to help you plan the perfect Vermont vacation.
---
FAQs about Visiting Vermont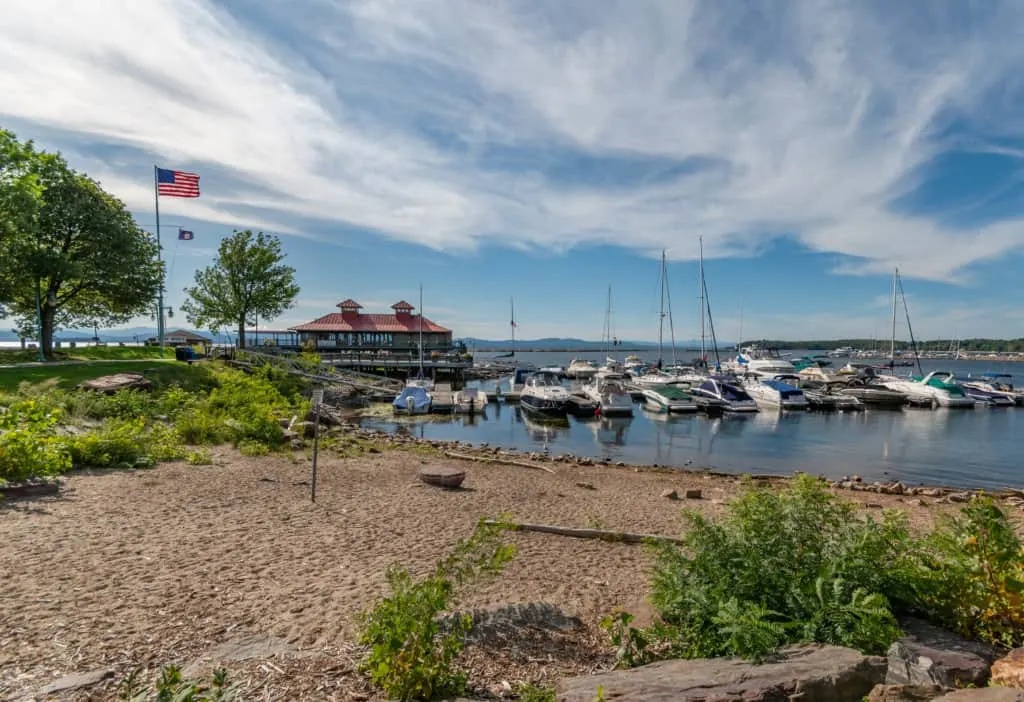 When is the Best time to Visit Vermont?
How soon can you get here? Each season in Vermont is uniquely beautiful, with lots of opportunities for outdoor recreation. Summer and fall are great for all types of hiking and water-based activities, and the ski season generally starts in December and lasts through March. Snow is pretty much guaranteed in the higher elevations, but coverage is spotty in the southern valleys.
Late August is my favorite time to explore Vermont. The weather is just the way I like it – warm and sunny, but rarely hot. The lakes are still warm enough to swim in, but the nights are cool and perfect for campfires.
Does Vermont have a Major Airport?
If you are traveling anywhere in northern or central Vermont – Burlington, Stowe, Rutland, or the Northeast Kingdom, you will want to fly into Burlington International Airport, which offers direct flights to and from Chicago, Atlanta, Detroit, New York, Orlando, Charlotte, Philadelphia, Toronto, and Washington DC.
Bennington, Manchester, and the southwest corner of Vermont are closer to Albany International Airport in New York, and Brattleboro is closest to Bradley International Airport in Connecticut.
When is Peak Fall Foliage in Vermont?
It changes from year to year, but in general peak season runs from late September to the middle of October.
If you are visiting the mountains, which run north to south through the middle of Vermont, I suggest visiting in late September or early October, especially if you are traveling to the Northeast Kingdom of Stowe.
If you are visiting southern Vermont, the Lake Champlain Valley, or the Connecticut River Valley for Vermont foliage, I would suggest coming during the first or second week of October. Variations on the peak fall foliage season will depend on temperatures and rainfall.
What is the Weather like in Vermont?
There's a saying that goes – "If you don't like the weather in Vermont, wait five minutes." The temperatures can change pretty dramatically, even over the course of the day, but overall here's what you're going to get :
| | | |
| --- | --- | --- |
| Month | Average High °F | Average Low °F |
| January | 27 | 10 |
| February | 31 | 13 |
| March | 40 | 22 |
| April | 55 | 35 |
| May | 67 | 45 |
| June | 76 | 55 |
| July | 81 | 60 |
| August | 79 | 58 |
| September | 70 | 51 |
| October | 57 | 39 |
| November | 46 | 31 |
| December | 33 | 19 |
What is the Best Way to Get Around in Vermont?
With the exception of Burlington, Vermont is very rural and public transportation is spotty. If you are planning on spending most of your time in Burlington, you won't need a car and get just about anywhere using Green Mountain Transit, the city bus. Otherwise, I'd suggest bringing a car or renting one at the airport.
---
All Vermont, All the Time! Check out our sister site, Vermont Explored, which focuses entirely on all the cool things to do in Vermont! If you click on some of the links below, you will automatically be redirected to relevant articles on Vermont Explored.
If you want an overview of the entire state, be sure to read our mega guide with 95+ of the best things to do in Vermont in every season!
---
Fall Foliage is Incredible in Vermont!
Three-quarters of Vermont is covered by forests – vibrant maples, stately oaks, and colorful ash, birch, and larch. Fall foliage season in Vermont is world-famous for good reason! Come explore the beautiful back roads, mountain valleys, and antiquated New England Villages.
The trees start changing colors in late September and are in full fall-foliage splendor by early October. If you've never visited Vermont in the fall before, we recommend checking out our post about our favorite things to see and do in Vermont during the Autumn Season.
If you're looking for a particular region of Vermont to visit during fall foliage, we'd recommend checking out the Northeast Kingdom and Stowe in the northern mountains during early October or Southern Vermont in mid-October. If you're into taking photos, we can recommend some beautiful spots for fall photography in Southern Vermont.
And, if you don't mind pitching a tent during the fall camping season, you have to check out Grout Pond, where you can score a waterfront campsite for $16 and have front-row seats to the most amazing colors you could ever imagine.
Where to Stay in Vermont during Fall Foliage?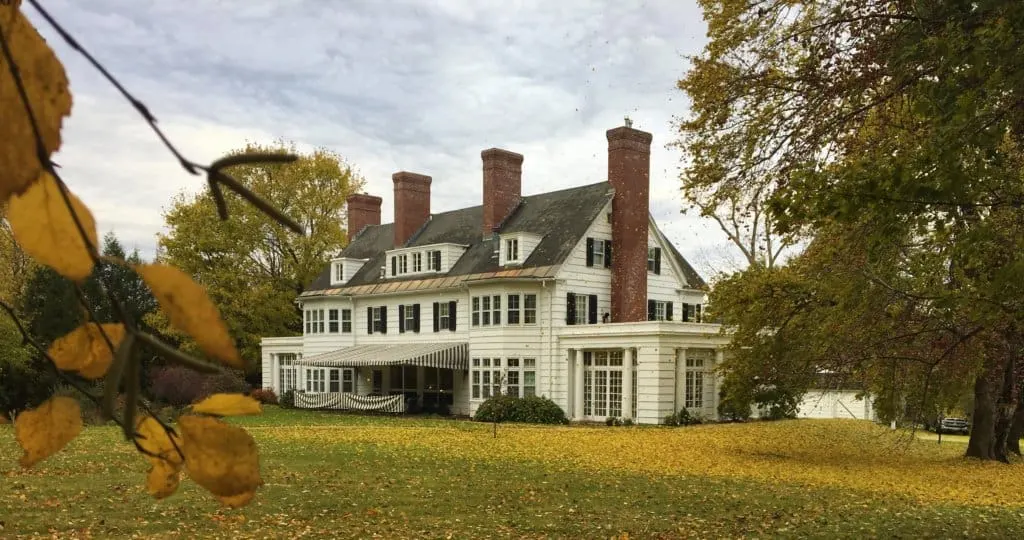 When it comes to cool lodging opportunities in Vermont, there are a gazillion choices, but there are a few properties that stand out as fall superstars. The following hotels and B&Bs knock it out of the park with their beautiful settings, friendly service, and well-appointed rooms. Just make sure you make reservations well in advance of the fall foliage season (like six months).
Four Chimneys Inn, Bennington: Located in Old Bennington, Four Chimneys Inn is an elegant bed and breakfast on 11 acres. The inn is surrounded by mature trees and gardens but is within walking distance of the historical attractions of Old Bennington, including the Old First Church, The Bennington Museum, and the Bennington Battle Monument.
Kimpton Taconic Hotel, Manchester: Located among stately homes in the historic part of town, the Kimpton Taconic is a boutique hotel with luxurious rooms and five-star service. It's within walking distance of several restaurants and shopping districts, and its 100% dog-friendly.
Woodstock Inn & Resort, Woodstock: Woodstock is probably one of the cutest villages in all of Vermont, and the Woodstock Inn is one of the most elegant and historic inns, with a large fireplace in the lobby, a spa, and a unique menu. When visiting Woodstock, be sure to stock up on cheese and pet the cows at Sugarbush Farm.
Camping, Glamping, and Vacation Rentals in Vermont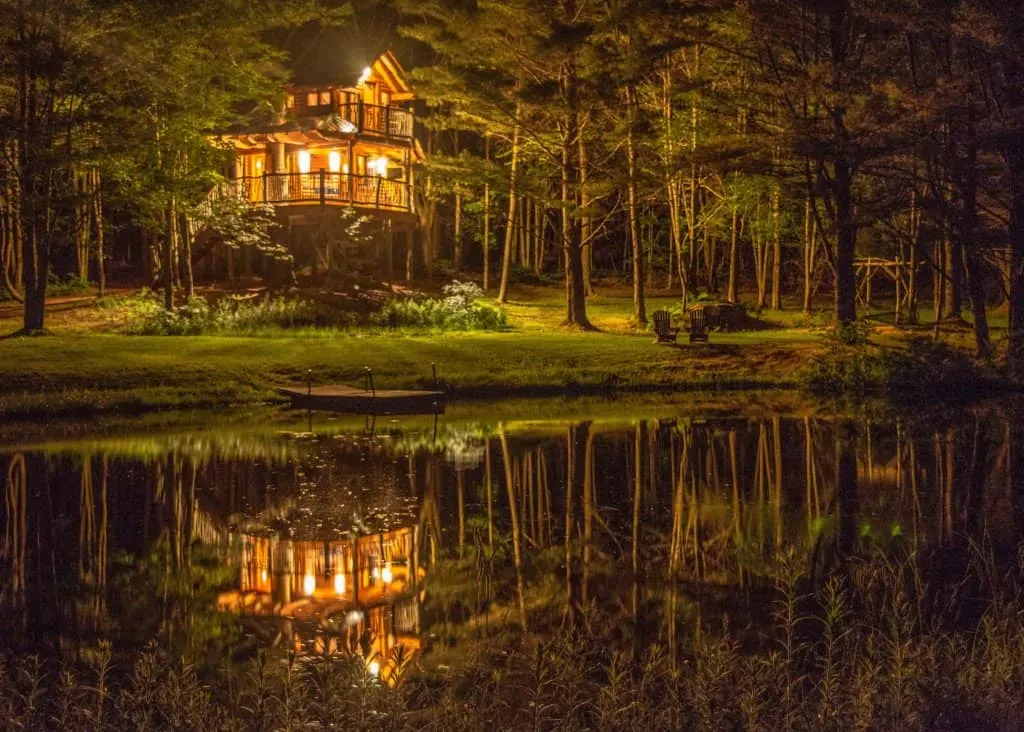 Ready to pitch your tent or park your RV in some of the nation's most beautiful spots? Camping in Vermont is special, whether you're tenting on the Long Trail, vacationing in one of our beautiful state parks, or staying in a rustic cabin on a Vermont farm. I've been camping in Vermont since before I could walk, and I'd love to share some of my favorite Vermont campgrounds with you. The following list includes from of our favorite camping opportunities in Vermont. If you aren't into roughing it, we're including a few Vermont glamping ideas as well.
Vermont Hiking
Love to hike? Vermont has some great trails, from easy strolls to waterfalls and around lakes, to awesome summits with wide-open views and jaunts on the nation's oldest long-distance trail. No matter what your hiking style, there is a trail in Vermont with your name on it. We are always exploring new hiking trails in Vermont, and have compiled some of our favorite day hikes in the following posts:
We've got more information on some great Vermont hikes in our Vermont State Park section below.
Awesome Vermont Towns and Cities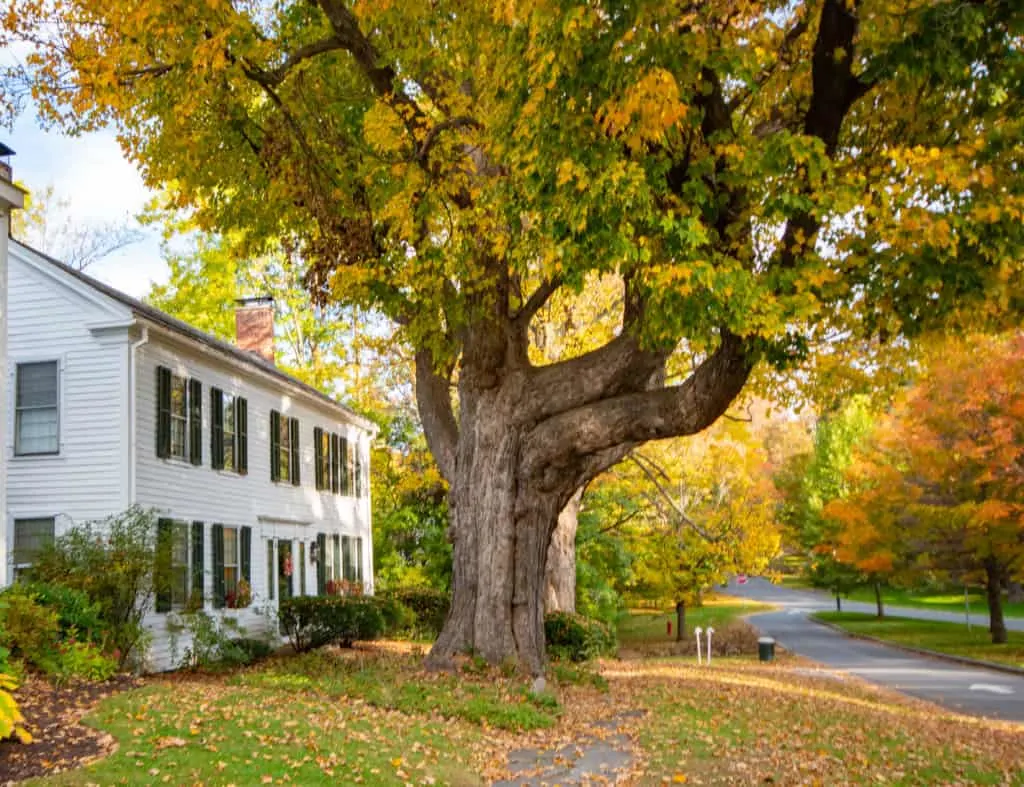 Vermont is proud of every single one of its 251 towns and cities, and we've even got a special club for folks who visit them all. Even though I've lived in Vermont my whole life, I still have more than a hundred Vermont towns to explore. For now, we've got a few guides to our favorite Vermont towns and cities:
Vermont State Parks to Visit
There are currently 59 state parks in Vermont, each with its own unique ecosystems, wildlife, and recreational opportunities. I worked as a photography intern for Vermont State Parks in 2016 and 2017, and so far, I've visited more than 30 of the 59 parks.

I am partial to the southern Vermont State Parks because they are closer to home, but I've also spent lots of time at the Lake Champlain state parks and Groton State Forest. They are all great destinations for family-friendly recreation, whether you enjoy paddling, swimming, hiking, camping, or relaxing in a cabin with amazing views. Here are the Vermont State Parks we've visited and written about so far.
Do you have questions about visiting Vermont? Want to share your favorite Vermont vacation idea? Send us an email – tara@vermontexplored.com