The Adirondack Mountains in Upstate New York are blanketed with six million acres of forestland surrounding rocky mountain peaks, more than 3,000 lakes and ponds, 100 towns and villages, 146 campgrounds, and thousands of miles of streams and trails.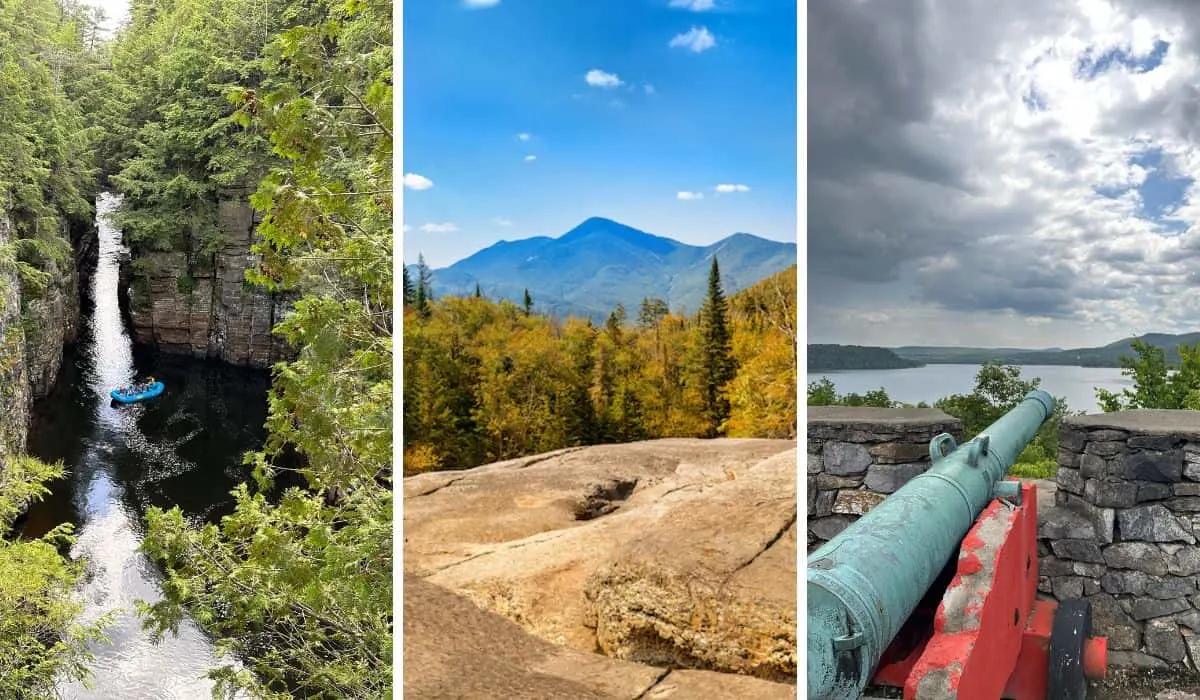 In 1892, the New York legislature established Adirondack Park, a contiguous area of almost three million acres of public and private land considered essential to New York's economic and recreational future.
Thanks to those conservation efforts, visitors to the Adirondacks can camp by a remote pond and wake up to the sound of calling loons. Or hike one of 46 peaks over 4,000 feet before heading to a secluded Adirondack cabin for the night.
Tourism has been a huge part of the Adirondacks for more than a century, but instead of fancy restaurants, sprawling stores, and posh resorts, the Adirondack wilderness is the main attraction.
That's not to say you can't eat, drink, and sleep in style. The Adirondacks embraces all types of travelers who long for the slow pace of a mountain escape.
Since we live just over the border in Vermont, we visit the Adirondacks often. It's far enough away to feel like a real vacation, but close enough that we can escape for a weekend without a lot of advance planning.
Ready to plan your own adventure in the wilds of Upstate New York? Here are our favorite things to do in the Adirondacks.
At-A-Glance Trip Planner: Adirondack Mountains, New York
Best Time to Visit: Between June and October
Where to Stay: The centrally located Whiteface Lodge in Lake Placid, or one of these Adirondack cabins.
Nearest Airport: Albany International Airport is the best airport ever and less than two hours from most destinations in the Adirondacks.
How to Get Around: To really explore the area, you will need a car. Kayak is great for finding car-rental deals.
3 Things to Pack: Rugged hiking shoes, a daypack, and the 10 essentials for hiking.
A Brief History of the Adirondacks
Lest you think that the Adirondacks are all rustic cabins, twig furniture, taxidermy, and lumberjacks, let's set the record straight. The first thing you should know is that the Adirondacks span the ancestral home of the Mohawk people, who have made a life in the region for millennia.
More than 200 years ago, a controversial treaty granted the land to the state of New York without the full approval of the Mowhawk Nation. During the same period, the Abenaki people hunted and fished in the region and were forced into nearby Vermont, New Hampshire, and Quebec.
Despite the many conflicts, these first peoples of the Adirondacks remain a powerful influence in shaping the fabric of life in these mountains.
The Adirondacks themselves are an outlier of mountain ranges. Although they are frequently included as part of the Appalachian Mountains, they are a separate mountain range.
Geologically speaking, the Adirondacks are the new kid on the block, formed five million years ago (in contrast to the Appalachians, which were formed 480 million years ago) — and they are growing faster than they are eroding — about a foot per century.
The first European settlement came late to the Adirondacks when the region beckoned lovers of wilderness and those with grand plans to exploit it. Logging, industry, and tourism are all interwoven in the story of this place, but with protections in place, starting in 1885, these wilds of New York have tenaciously remained and continue to thrive.
The Most Awesome Things to Do in the Adirondacks
While outdoor activities are the main attraction in the Adirondacks, there are plenty of museums, historic sites, and guided tours as well. Here are the best things to do in the Adirondacks of New York.
Visit the Winter Olympic Sites in Lake Placid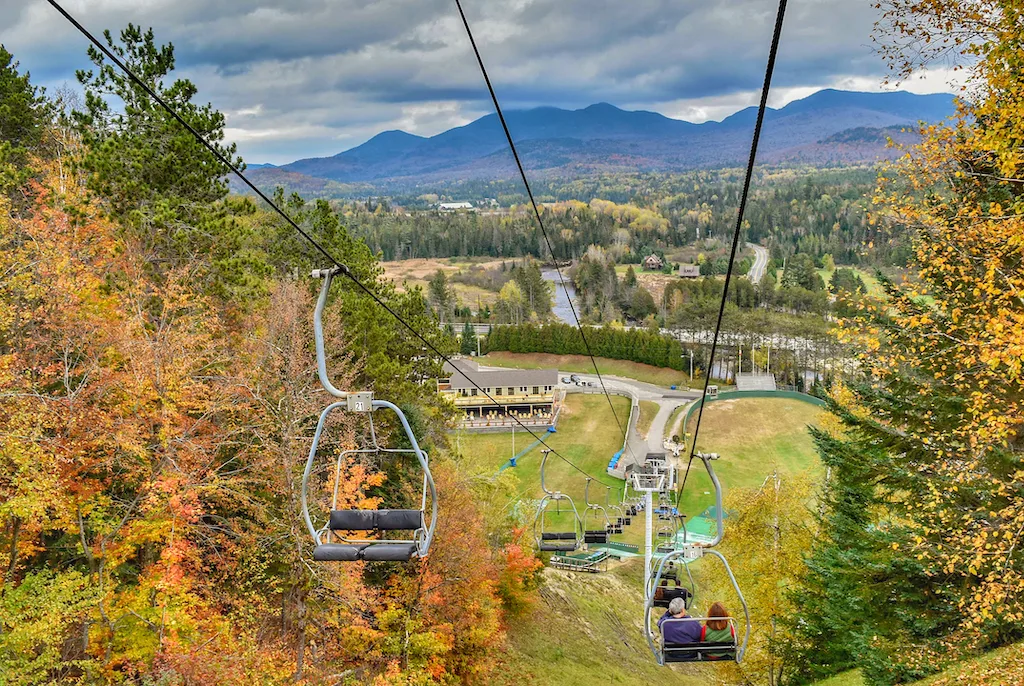 Did you know that Lake Placid was home to the 1932 and 1980 Winter Olympic Games and is still the training site for winter athletes?
Two of our favorite Olympic sites in Lake Placid are the Lake Placid Olympic Museum, which is right downtown, and the Olympic Jumping Complex. During our fall visit, we took the chairlift and elevator to the top of the jump and were lucky enough to watch some young skiers training, which was so incredible. The cost to ride the lift is $11 per person, worth it for the views alone!
There are plenty of other Olympic sites you can tour during your fall visit to Lake Placid. If that's your goal, be sure to pick up the Olympic Sites Passport for $64 for adults and $44 for 19 and under/65+/Military/Groups(good for the summer season 2023 until October 9).
---
Read Next: Your Weekend Itinerary for Lake Placid and the High Peaks
---
Explore Saranac Lake (on and off the Water)
The relative metropolis of Saranac Lake (population 4,825) is tucked away in the mountains and surrounded by lakes and ponds. The town is named for not one, but three, Saranac Lakes — Upper, Lower, and Middle Saranac Lakes.
Saranac Lake is both rural and wild, but it's also one of the most adorable towns in New York, and a perfect destination for a weekend of hiking, paddling, and just chilling out near the water.
Bring your boat (or rent one while you're there) so you can explore the beautiful waterways around the village. Saranac Lake Islands Campground maintains 87 boat-in campsites (5 with lean-tos) on Lower and Middle Saranac Lakes. Sites are $22 for New York residents and $27 for out-of-staters.
Visit Fort Ticonderoga on the Shore of Lake Champlain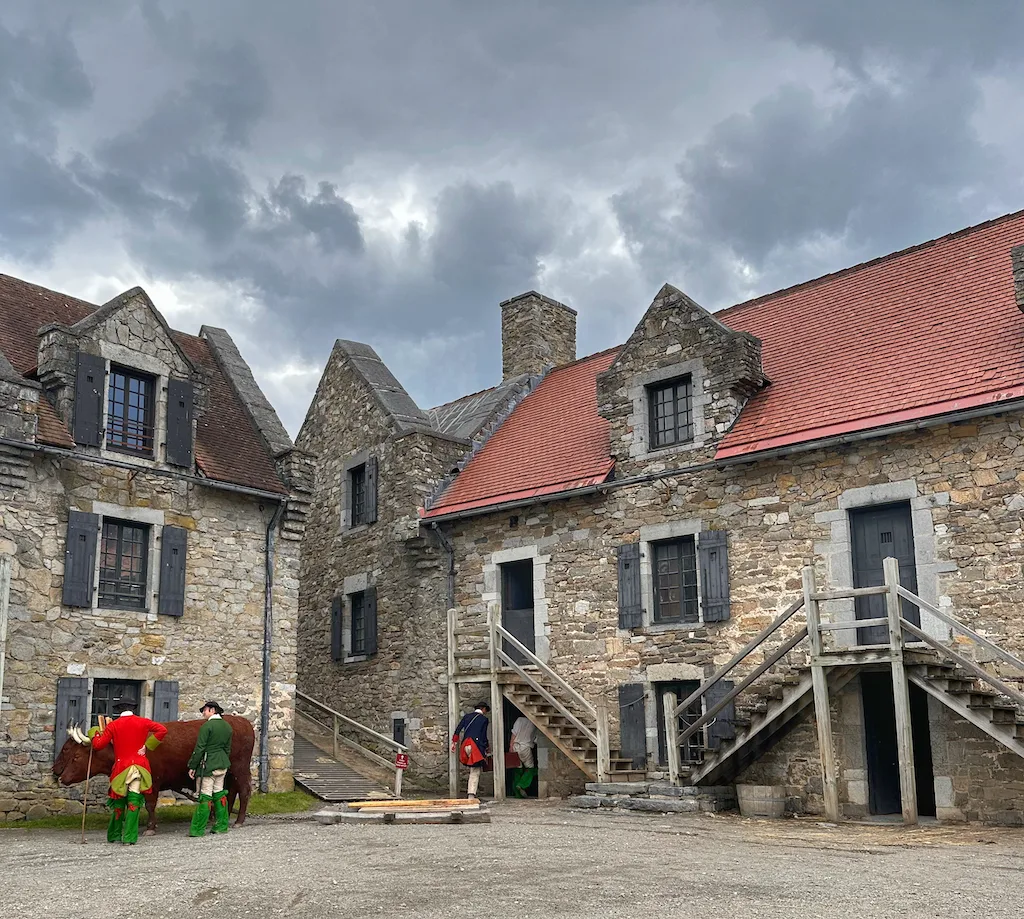 Experience the blend of history and natural beauty like nowhere else when you visit Fort Ticonderoga on the shores of Lake Champlain.
Hailed as one of the premier living history sites in North America, Fort Ticonderoga brings history to life every day with a variety of tours for all types of adventurers.
Ticonderoga's epic history and signature stories are highlighted through innovative storytelling and interactive programs with daily soldiers' life programs, weapons demonstrations, outdoor activities, boat tours, and captivating special events.
This year, Fort Ticonderoga debuts a new chapter in its history. Experience 1760 and see the unfolding story as British soldiers and American provincials ensure military dominance on Lake Champlain and deep into the heart of French Canada.
Be sure to visit the King's Garden, take a 75-minute narrated tour on Lake Champlain, and drive to the top of Mount Defiance for sweeping views. It's an experience not to be missed.
Explore Whiteface Mountain in all Seasons
Skiers and snowboarders already know more about Whiteface Mountain than I do. This massive ski mountain has the greatest vertical of any lift-serviced mountain east of the Rockies and is touted as the best skiing in the east.
Alas, I am no skier, but I am a huge fan of mountains and wild spaces, and Whiteface is a four-season recreational playground. In the winter, Whiteface offers 3,430 vertical feet and 94 trails covering 22 miles. With an average annual snowfall of 184″ and one of the best ski towns in the US (Lake Placid), Whiteface Mountain should absolutely be on your winter adventure list.
In summer and fall, drive the Veterans' Memorial Highway to the 4,867-foot summit, where you can see for hundreds of miles on a clear day. There's also a castle built from native stone, a restaurant and gift shop, and an elevator carved into the mountain.
The Cloudsplitter Gondola Ride is another option for fantastic views in summer and fall. It transports visitors from the base of Whiteface Mountain to the peak of Little Whiteface with more of those stunning views.
Spend a Day in North Creek
A trip to North Creek is a must for your summer-in-the-mountains adventure. North Creek is a small hamlet with a big focus on the outdoors. Here are a few North Creek excursions that will keep you busy for at least a full day, if not more.
Explore Gore Mountain
In the winter, head to Gore Mountain, New York's largest ski resort, with 114 varied trails, 14 lifts, and a family-friendly vibe. The Gore Mountain Nordic Center at North Creek Ski Bowl maintains a 5K groomed cross-country ski network and is perfect for all levels of Nordic skiing.
In the summer, visitors should take advantage of the Scenic Skyrides with views of the High Peaks and southern Adirondacks, lift-serviced mountain biking, and hiking trails.
Revolution Rail Bike Tours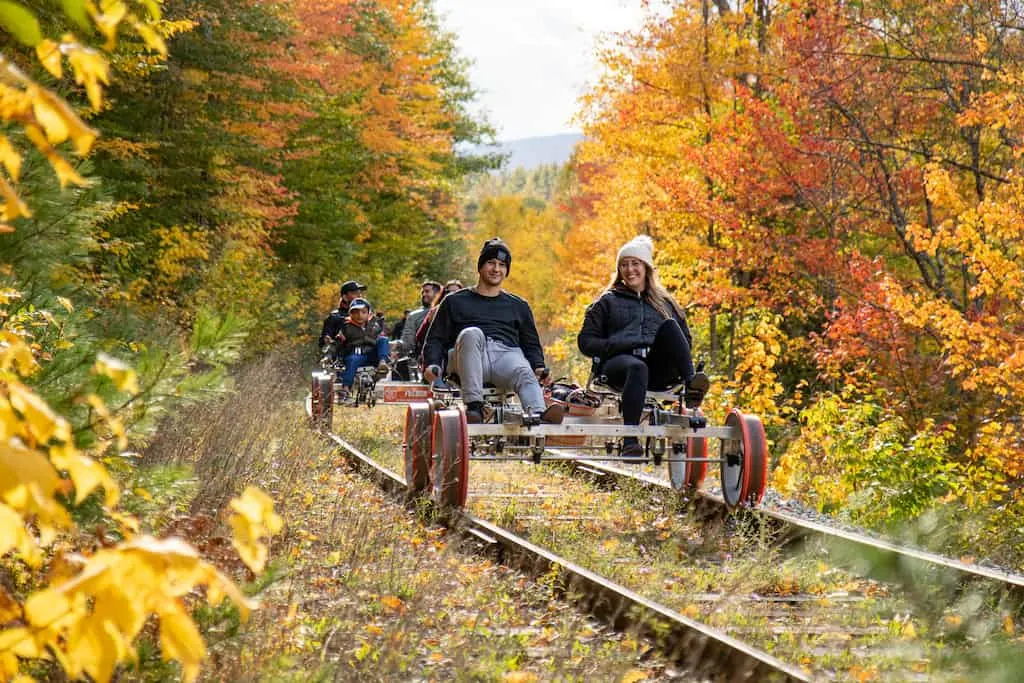 Have you heard of rail biking? This fun activity is perfect for families — ride the railroad tracks on a rail bike with Revolution Rail Co.
Check in at the historic North Creek Railroad Station and choose from a variety of rides along the upper Hudson River with gorgeous Adirondack Mountain views.
The Rails to River trip is a rail biking and tubing combo — perfect for steamy summer days (I just added it to my New York bucket list). It's offered on Tuesdays, Saturdays, and Sundays through the summer.
White Water Rafting on the Hudson River
There are lots of incredible spots to go white water rafting in the Adirondacks, but the upper Hudson River is home to 8 outfitters offering rafting trips throughout the season, generally from April 1st to mid-October.
Spring rafting is an adrenaline rush with high water and rapids. Summer is more mellow when the water levels drop.
The Upper Hudson River Gorge begins on the Indian River for 3.5 miles then follows the Hudson River to North River, for a total of 16 miles to the take-out in North River.
Spring trips can be as short as 3 hours, but Summer levels are lower and slower, so plan on as long as 5 hours on the river. Here's a list of outfitters offering white water rafting on the Hudson River in the Adirondacks.
Tour a Garnet Mine
Did you know that the hardest garnet in the world is only found in the Adirondacks? This rare type of garet is called a Barton garnet, which is the New York State Gem Stone.
The Gore Mountain Gem and Mineral Shop is a working rock shop that offers demonstrations and classes, jewelry, and rocks from around the world. Take one of the daily tours of the garnet mine to learn about the history and geology of the area and find your own garnets to take home.
Gore Mountain Gem and Mineral Shop is open every day between July 1st and Labor Day. After Labor Day, it is open on weekends until mid-October.
Visit Adirondack Experience Museum on Blue Mountain Lake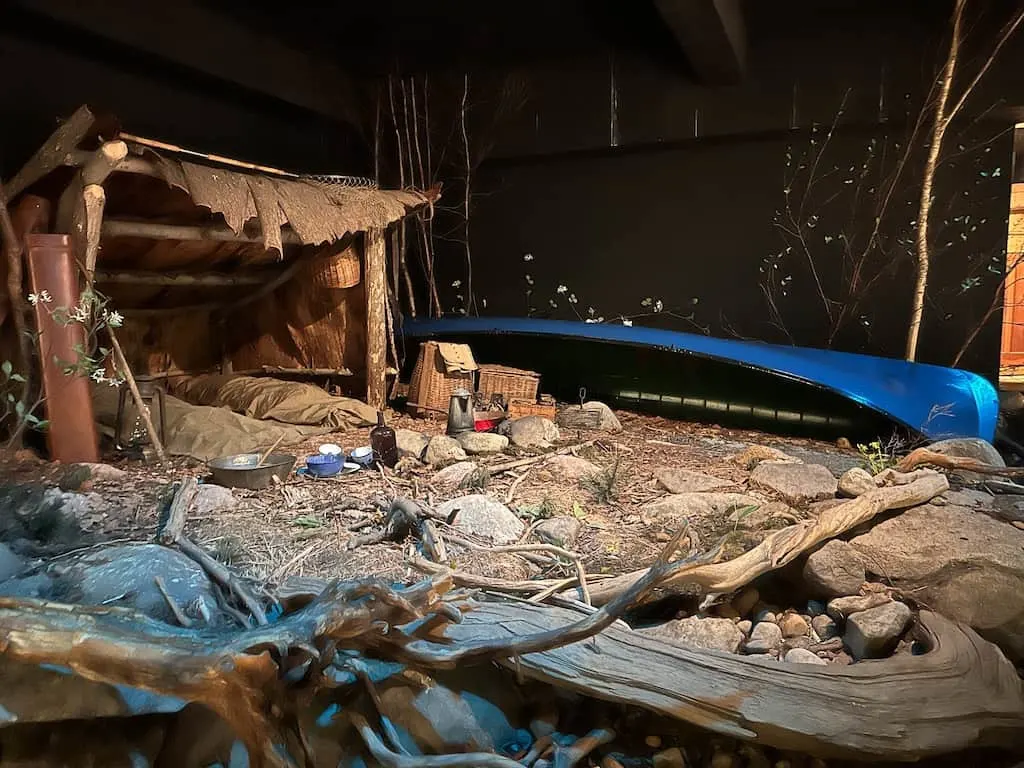 For those who enjoy digging a little deeper into the history of a region when they visit, the Adirondack Experience Museum (formerly the Adirondack Museum) tells the story of the Adirondacks on a beautiful sprawling campus at Blue Mountain Lake.
Learn about the first inhabitants of the region, the Mohawk and Abenaki, as well as the geology and ecology of the mountains. There are exhibits focusing on boat building, how industry and logging changed the region, and the growth of tourism in the Adirondacks.
You can tour a replica hunting camp, row an Adirondack guide boat, and walk inside a luxurious Pullman rail car.
The Adirondack Experience Museum is open from late May to mid-October, seven days a week and is a great starting point for your adventures in the Adirondacks.
Explore Ausable Chasm and High Falls Gorge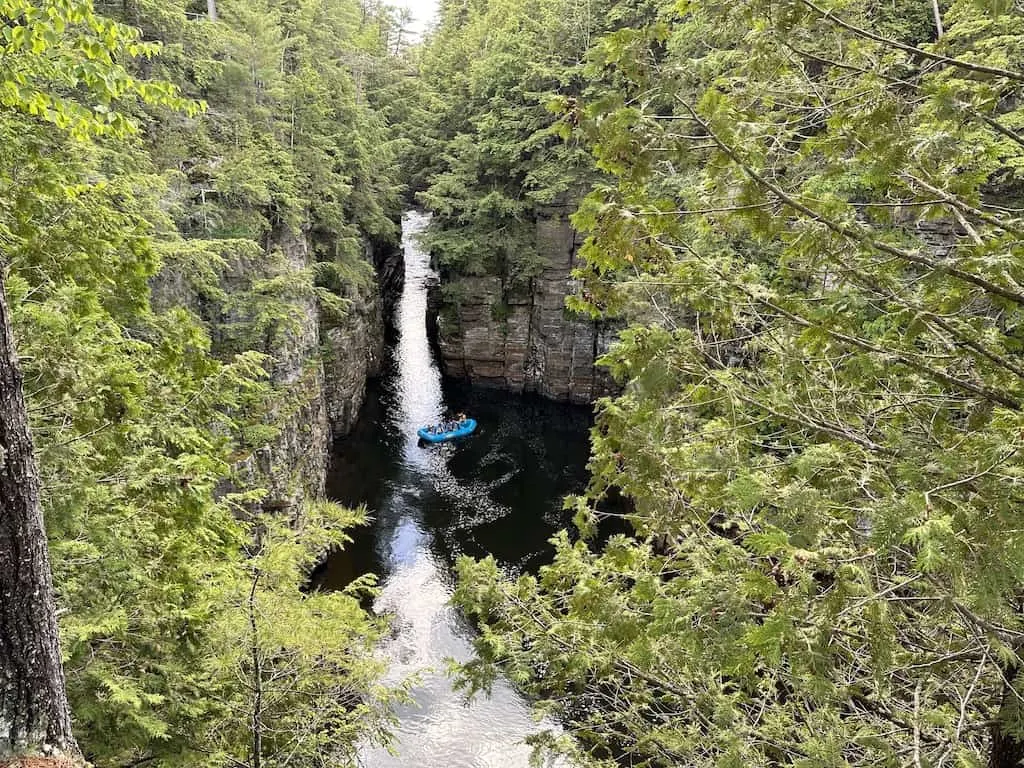 The Adirondacks have been carved by swift-moving rivers, creating deep gorges and waterfalls throughout the region.
Ausable Chasm on the Ausable River is also known as the Grand Canyon of the Adirondacks. A variety of tours are available for all types of visitors and adventurers.
Hike, float, or climb as you go back in time and experience one of the oldest natural attractions in the United States. Stroll through a primeval Adirondack forest as you admire Rainbow Falls, Elephant's Head, Column Rock, Hyde's Cave, and Mystic Gorge.
Descend hundreds of feet to walk on natural stone walkways and gaze upon eons of geologic history etched in stone.
High Falls Gorge, also on the Ausable River, includes a series of trails along the rim of the gorge with viewing platforms where you can check out the falls, potholes, and rock formations. There is a small cafe and gift shop, plus spots for picnicking on the grounds.
I don't know about you, but a road trip picnic is pretty high on our list of favorite things ever.
Visit the Wild Center in Tupper Lake
Where can you walk up a trail of bridges to the treetops in an ancient Adirondack forest? Or visit a twig treehouse before climbing into a giant bald eagle's nest? Welcome to the Wild Center at Tupper Lake, a 115-acre outdoor center where people and nature thrive together in one of the world's most rare and beautiful ecosystems.
Visit the Wild Center to explore 4,000 square feet of indoor exhibit hall surrounded by beautiful outdoor spaces that include the iconic Wild Walk — a fully accessible trail across the treetops with plenty of surprises.
Mingle with otters and porcupines, paddle a canoe, or discover the Pines Wild Play Area. The Wild Center is a fantastic family field trip for rainy days or sunny afternoons and is one of the best things to do in the Adirondacks with kids.
Go Canoe Camping in St. Regis Canoe Area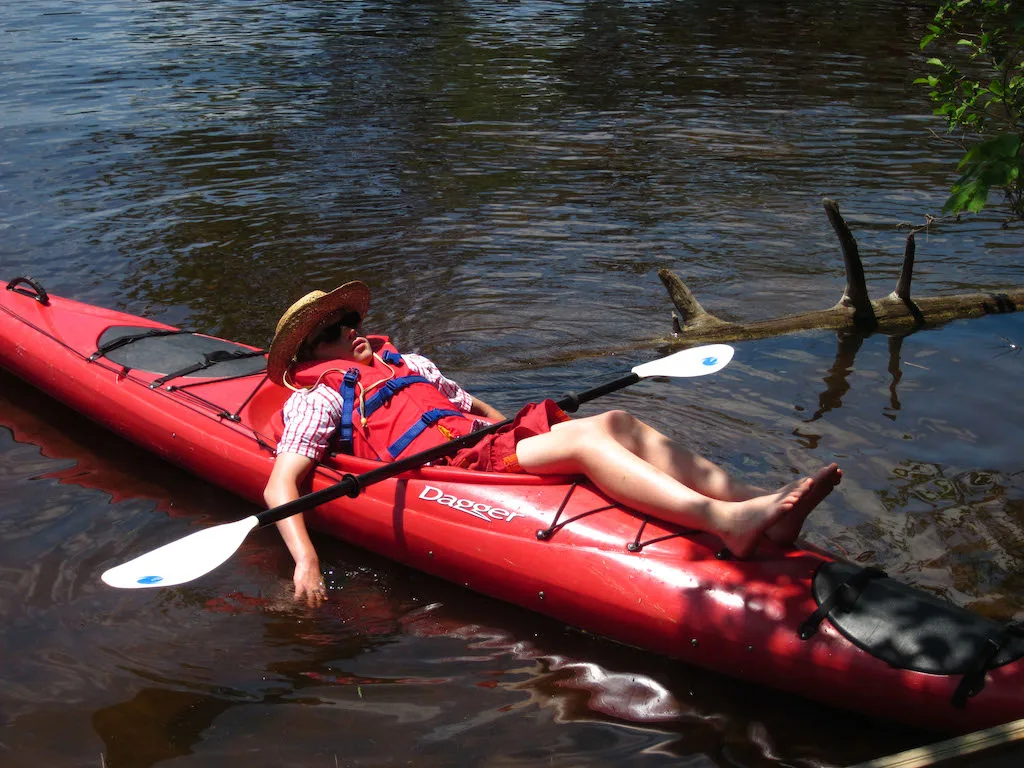 The St. Regis Canoe Area in the Adirondacks was our very first canoe-camping adventure with kids. It's incredibly accessible, and you can customize your trip for adventures of any length — from a single afternoon to remote, multi-day trips.
Plan your trip around designated camping spots within the canoe area. You can often find whole islands to yourself, not to mention endless opportunities for wildlife viewing, hiking, swimming, fishing, and hammocking.
The St. Regis Canoe Area is located in Adirondack Park and is the largest wilderness canoe area in the northeastern United States, covering 19,000 acres in Franklin County of New York. It is also the only designated canoe area in New York State.
This spectacular piece of wilderness is closed to motorized vehicles and includes 58 ponds, which are more like small lakes. The lakes are accessed via portages (canoe carries) ranging in length from a few hundred feet to several miles.
Canoe camping is one of the most relaxing summer vacations we've ever had and one of the best things to do in the Adirondacks if you have a few summer days to spend.
Here's an overview of our canoe camping adventures in the St. Regis Canoe Area to help you plan your own trip.
Visit and Photograph the Jay Covered Bridge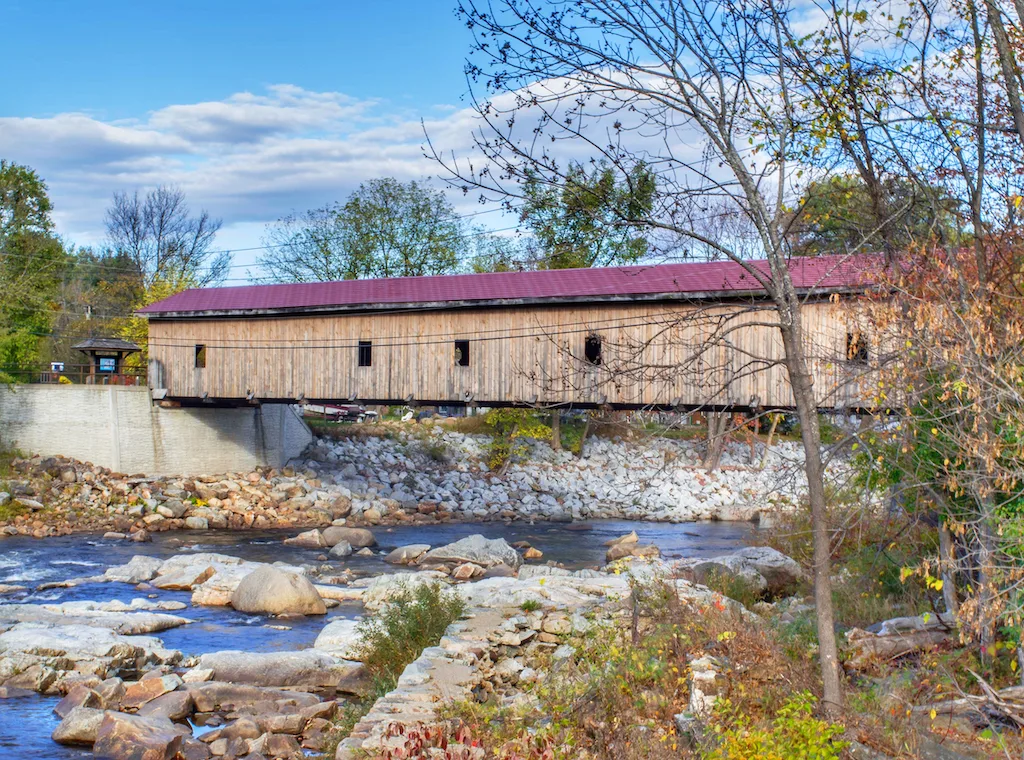 Once upon a time, there were more than 300 covered bridges across New York State, designed to protect the roadway across rivers and streams. Due to floods, storms, and plain old time, many of these iconic structures have been lost.
Today there are 34 covered bridges in New York State, but only one in the Adirondacks. 'The Covered Bridge over the Ausable River' was built in 1857 and restored in 2006. There are lots of great vantage points to see the bridge and some deep spots for swimming on those hot summer days.
Take a Steamboat Tour of Lake George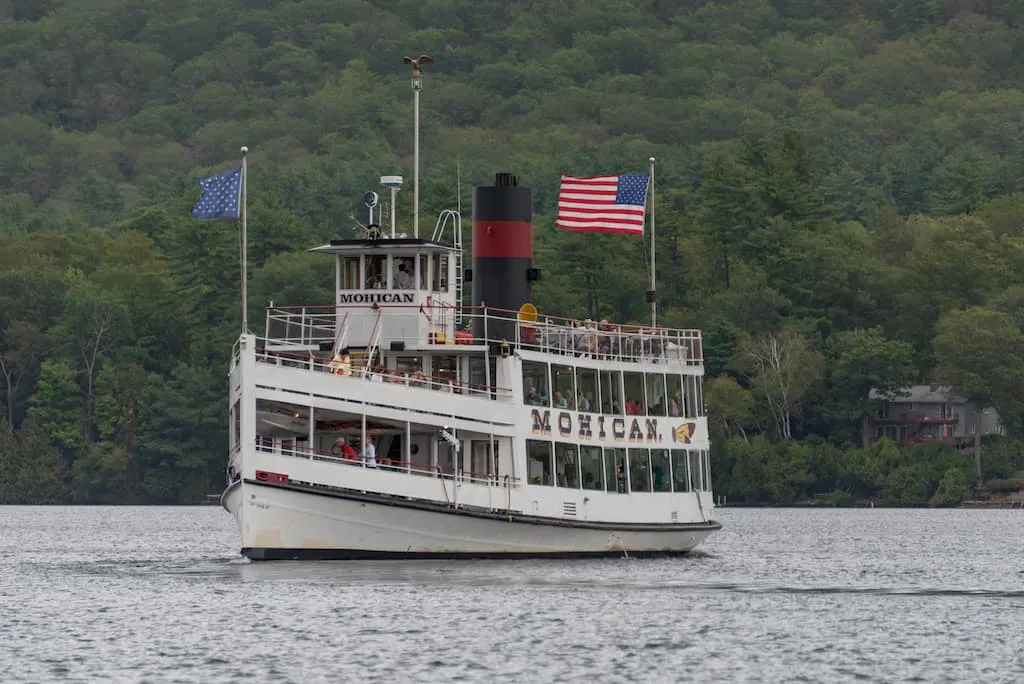 Not only is Lake George one of the most gorgeous mountain lakes in New York, but it's incredibly accessible thanks to Lake George Steamboat Company, which runs three historic cruise ships up and down the lake from May to October.
Choose from several cruise options based on your time frame and budget, but don't skip this one. It's such a relaxing way to get out on the water and one of the best things to do in the Adirondacks.
The Minne-Ha-Ha is one of the last steam paddle wheel ships in America. She is perfect for kids and families with tight schedules, embarking on an hour-long cruise six times a day, as well as a Friday night Pirate Adventure Cruise.
The Mohican is the oldest continuously operated tour boat in America and was launched in 1908.
The 190-foot-long Lac du Saint Sacrement is the largest cruise ship on the inland waters of New York State, offering two-hour sightseeing, luncheon, and dinner cruises, plus a champagne brunch on Sundays.
Hike one of the Adirondacks' 46 High Peaks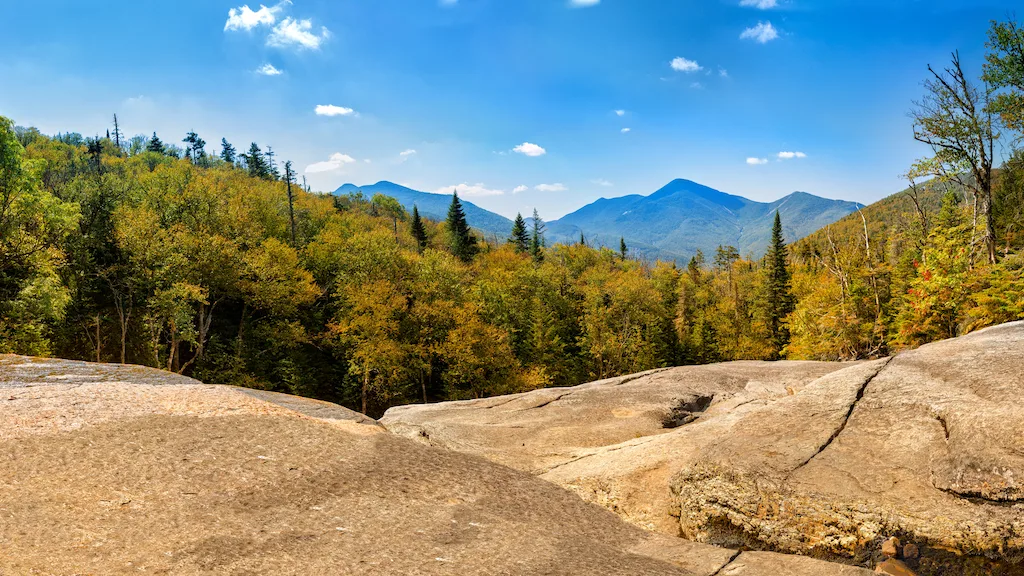 There are 46 mountain peaks in the Adirondacks that surpass 3,500 feet, providing a fantastic challenge for hikers of all ages and abilities. Topping the list is Mount Marcy, at 5,344 feet, but there are so many awesome summits, that you could hike the Adirondacks forever and never run out of trails to explore.
Whether you want to become one of the elite Adirondack 46ers, or just want to find your next gorgeous, view, the High Peaks region of the Adirondacks is one of the best hiking destinations in the Northeast.
The High Peaks Trails and Map Pack includes the 15th edition (published in 2021) of High Peaks Trails and the National Geographic Trails Illustrated Map 742. This pack covers the 46 highest peaks in the Adirondacks.
If you're only going to tackle one of the 46 High Peaks on your Adirondack adventure, I recommend Cascade Mountain, which is relatively short 4.8 miles round-trip, and is located near Lake Placid for easy access.
Many of the trailhead parking areas in the Adirondacks fill up on busy weekends. I suggest starting your hike early in the day or hiking on a weekday to avoid congestion.
Taste Local Craft Beers, Wines, and Spirits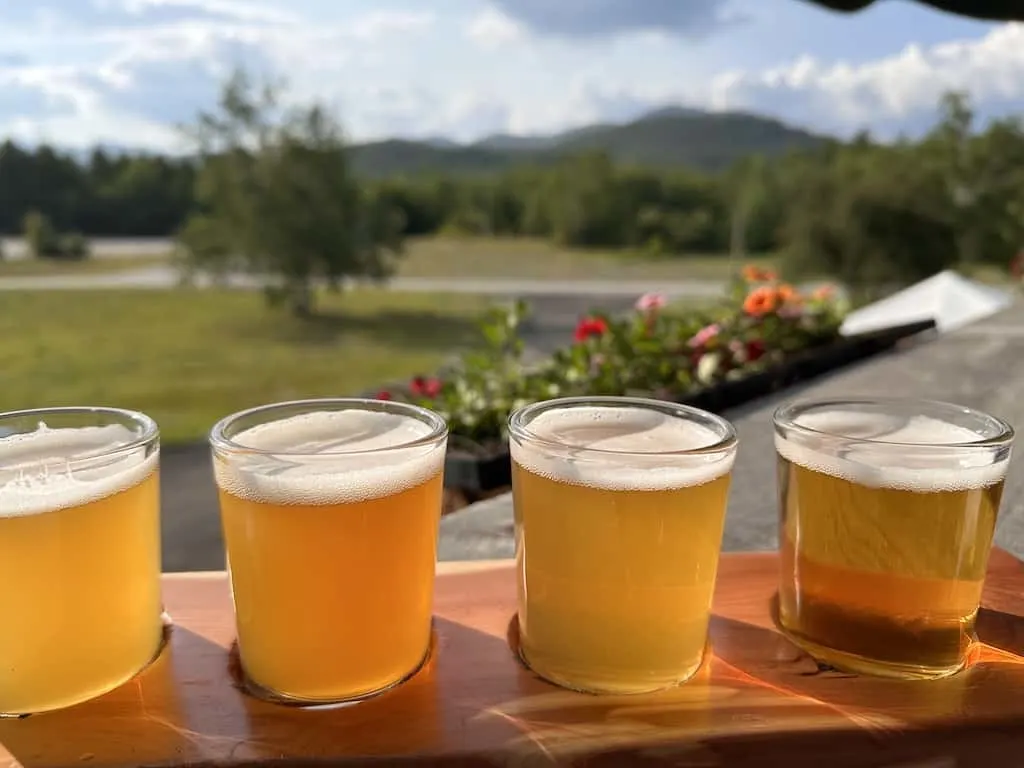 Along with many regions across the country, the Adirondacks is embracing and promoting craft beverages, including an incredible array of breweries, distilleries, and a few wonderful wineries.
I love to visit breweries when I travel and have started keeping a journal of some of my favorite spots. I am by no means a beer connoisseur, but I think I'm aspiring to be one. Before I share my favorite breweries in the Adirondacks, can someone please tell me why wine tastings include so much great information about the terroir, process, pairings, etc., and with beer, you just get a flight plopped on the table and you have to fend for yourself?
I would love to learn more about beer when I taste it, but I'm usually left to my own devices, so I can only say that I really enjoy fruity IPAs and a good, dark porter.
Here are some of my favorite breweries in the Adirondacks. Maybe they'll be your favorite too!
Adirondacks Craft Beverage Map
This is not an exhaustive list, but here are some of the best spots in the Adirondacks to enjoy a craft beverage — wineries, breweries, and distilleries.
Go Glamping in Lake Luzerne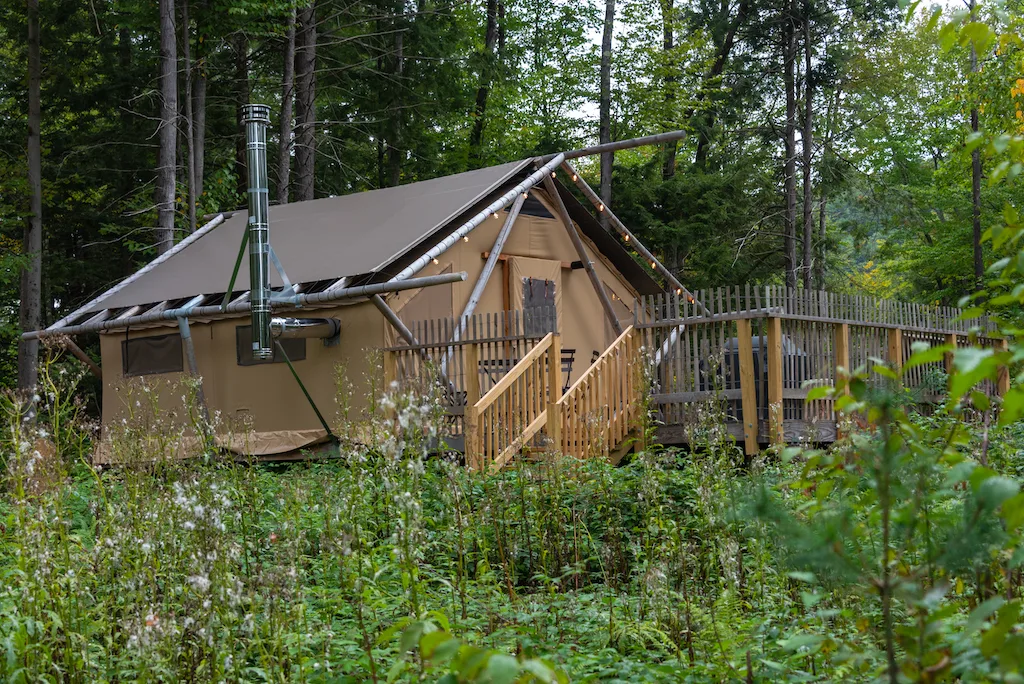 Ready to slow down and catch some fireflies on a wooded hillside?
Huttopia Adirondacks is tucked away in the woods near Lake Luzerne, just five miles from Lake George Village. If you want to discover all that the Lake George Area has to offer without the throngs of people that congregate downtown, a stay at Huttopia may be exactly what you need.
Glamping brings together both comfort and camping, and Huttopia Adirondacks offers the perfect mix of the two in their premium Trappeur tents.
Family-size Trappeur tents are ideal for up to five people, and they provide glampers with many of the comforts of home, including real beds and woodstoves for chilly evenings.
The Huttopia Trappeur tents are made from canvas and wood with simple, but comfortable amenities so you can get back to nature without sacrificing a bit of comfort. While Huttopia offers a range of tents and cabins, we think the Trappeur tents are the perfect home base for your Lake George glamping vacation, and they recently made our list of best Adirondack cabin rentals.
Visit Fort William Henry in Lake George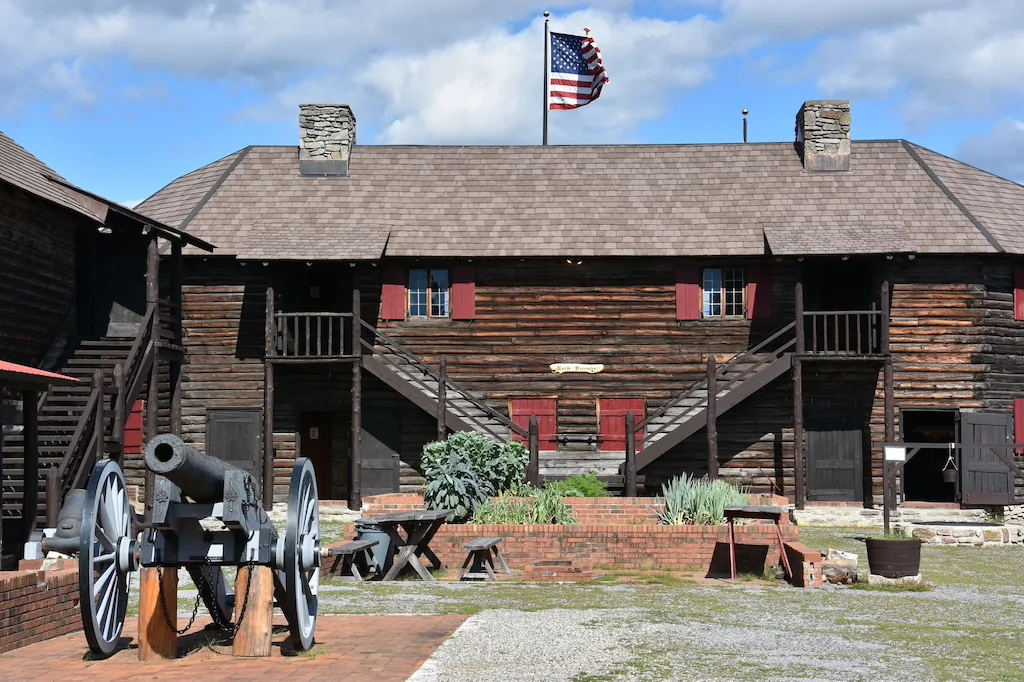 Fort William Henry was a British Fort at the southern end of Lake George.
It was built in 1755 during the French and Indian War. It was part of a chain of British and French first along the important waterway from New York City to Montreal. Today, Fort William Henry Museum allows you to step back in time, tour the reconstructed fort, and experience a musket and cannon fire demonstration.
Fort William Henry is open every day from 9:30 am to 5 pm. Visit nightly in the summer for the Haunted History tour.
Hole Up in a Secluded Cabin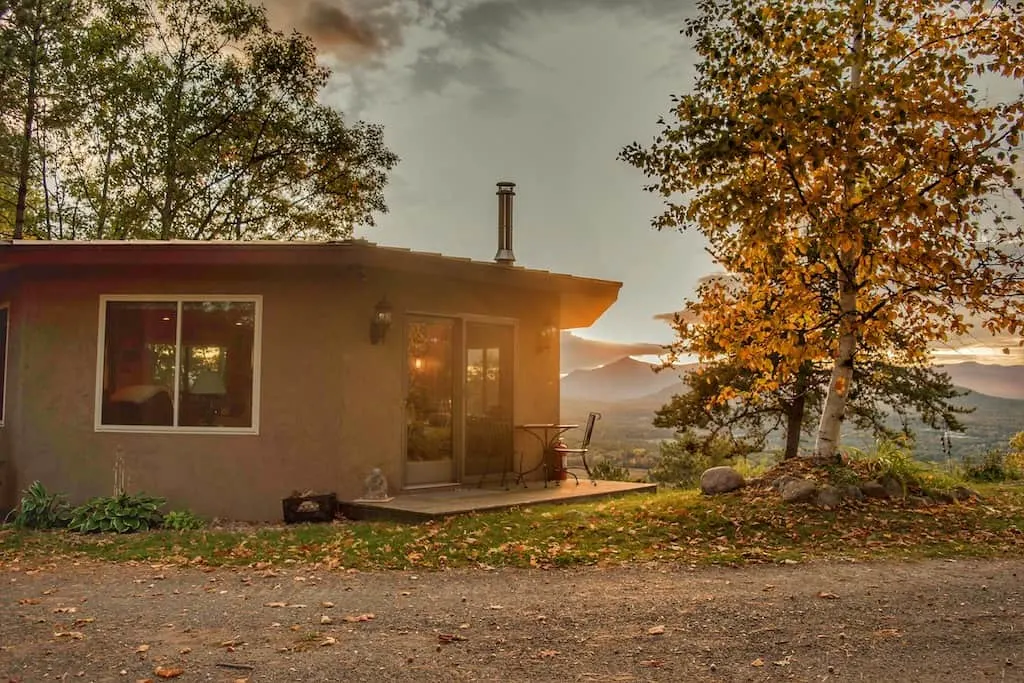 We love staying at Adirondack Star Ridge when we visit the Adirondacks, where we are treated to magical campfires and spectacular views. I've stayed in the summer and the fall, and I have to say there aren't many places that can top autumn in the Adirondacks.
Adirondack Star Ridge is a collection of unique rental properties situated on a high ridge with a fabulous view of Whiteface Mountain and the Adirondack High Peaks.
Located in Au Sable Forks, New York, these Adirondack cabin rentals are close to incredible hiking trails, the bustling village of Lake Placid, and the renowned Ausable Chasm.
One of my favorite parts about this Adirondack cottage rental is the fire pit with distant views of the Adirondack Mountains. You can read more about this Adirondack cabin rental to start planning your own getaway.
Take the Scenic Route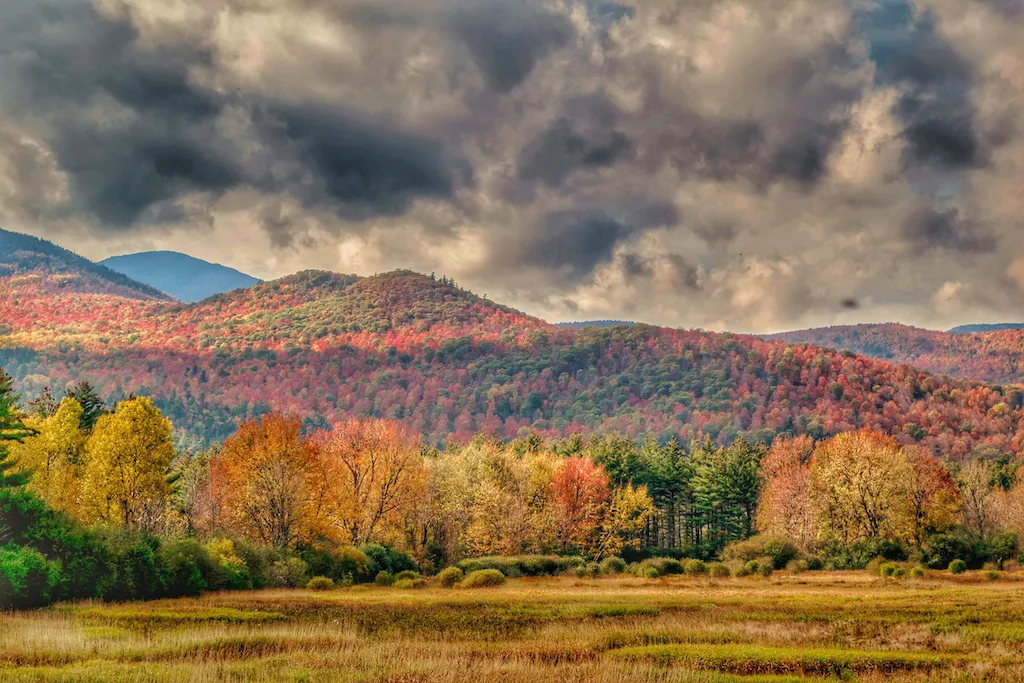 You don't have to hike a mountain peak to experience fantastic Adirondack views. Scenic drives abound throughout the region, and I encourage you to pick up a New York atlas (GPS will be spotty) and hit the road when you visit.
Here are a few drives with scenic views in the Adirondacks that you won't want to miss:
FAQs for Visiting the Adirondacks
Which airport should I use to visit the Adirondacks?
I recommend flying into Albany International Airport, which is just an hour south of Lake George.
Where should I make my home base when I visit the Adirondacks?
If this is your first time visiting, stay in Lake Placid and then take day trips to the surrounding regions. If you are staying for more than a few days, consider spending a few days in the Lake George Region, a few in Lake Placid, and a few in Saranac Lake.
How long should I stay in the Adirondacks?
The Adirondacks are huge, and you could spend a lifetime exploring, but to get a good taste of the region, I recommend at least four days so you can discover some of the best things to do in the Adirondacks without having to cram too much into a single day.
What is the best time to visit the Adirondacks?
The Adirondacks are gorgeous in all four seasons, but if you've never been, I recommend going between early June and mid-October to make the most of the hiking trails, lakes, and attractions. Winter skiing is phenomenal too!
Where to Stay in the Adirondacks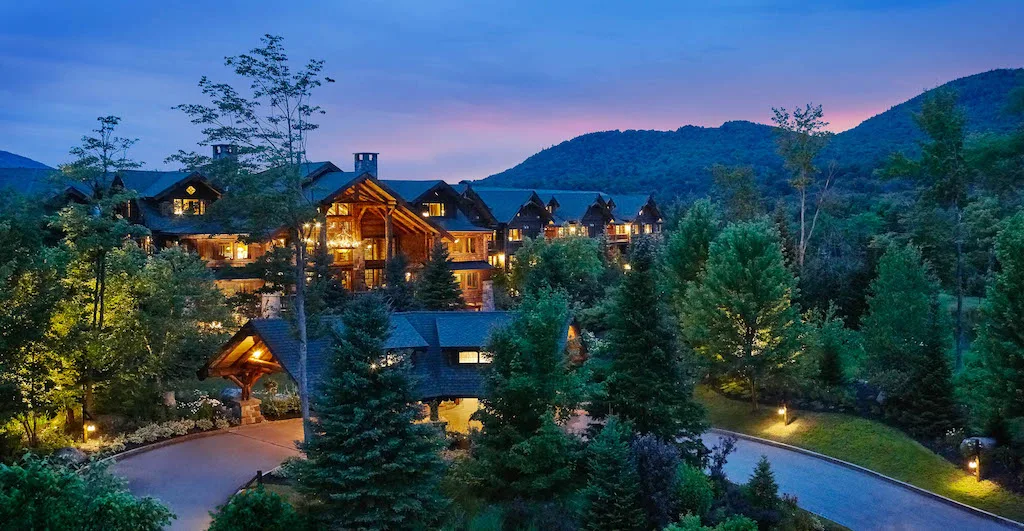 There are so many fun lodging choices in the Adirondacks, but we've got a few suggestions to help you narrow down your choices.
Family-friendly and luxurious: The AAA Four Diamond-rated Whiteface Lodge in Lake Placid evokes the Gilded Age splendor of the historic Adirondack Great Camps, redesigned for a modern traveler. Take advantage of the luxurious rooms, stunning views, and a full schedule of fun programs for adults and families, most complimentary for guests.
Historic elegance: Built in 1927, the historic Hotel Saranac is part of Hilton's Curio Collection. Contemporary rooms with a touch of elegance, and an onsite bar and restaurant within walking distance of downtown, make this a wonderful choice for exploring Saranac Lake.
Camping: For summer camp vibes, book a site at Fish Creek Pond Campground in Clear Lake, NY. 355 campsites are $22 a night for residents and $5 more for out-of-staters. Many of the sites are waterfront or at least have water access, so be sure to bring along your canoes and kayaks. Rowboat and canoe rentals are available.
Adirondack cabins: Create a classic mountain getaway with a stay at one of these delightful cabins throughout the Adirondack region.
---
Follow us on social media for more small-town getaways!
Pin for Later?