A weekend in the mountains is just about the best thing in the whole world, don't you think?
One of our favorite weekend trips, especially in the fall, is to the Adirondacks – more specifically, to the High Peaks region around Lake Placid, New York.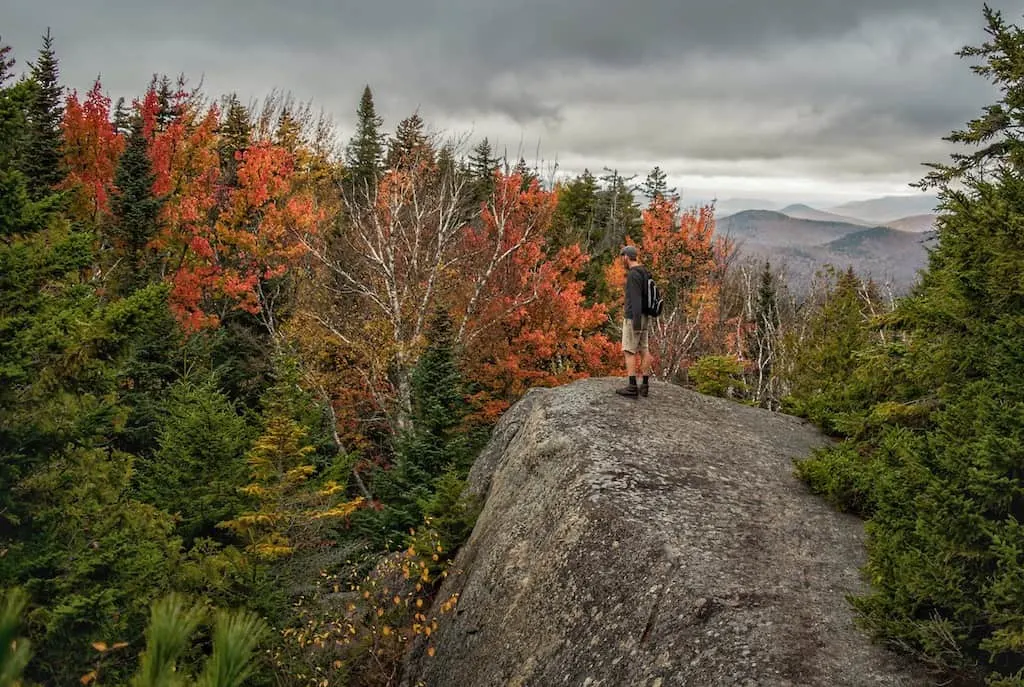 The highlight of this mini-vacation is a luxurious home base at Adirondack Star Ridge in Au Sable Forks, New York. We love staying in this incredible Adirondack cabin rental, where we are treated to magical campfires and spectacular views. I've been to Adirondack Star Ridge in the summer and the fall, and I have to say there aren't many places that can top autumn in the Adirondacks.
Welcome to Adirondack Star Ridge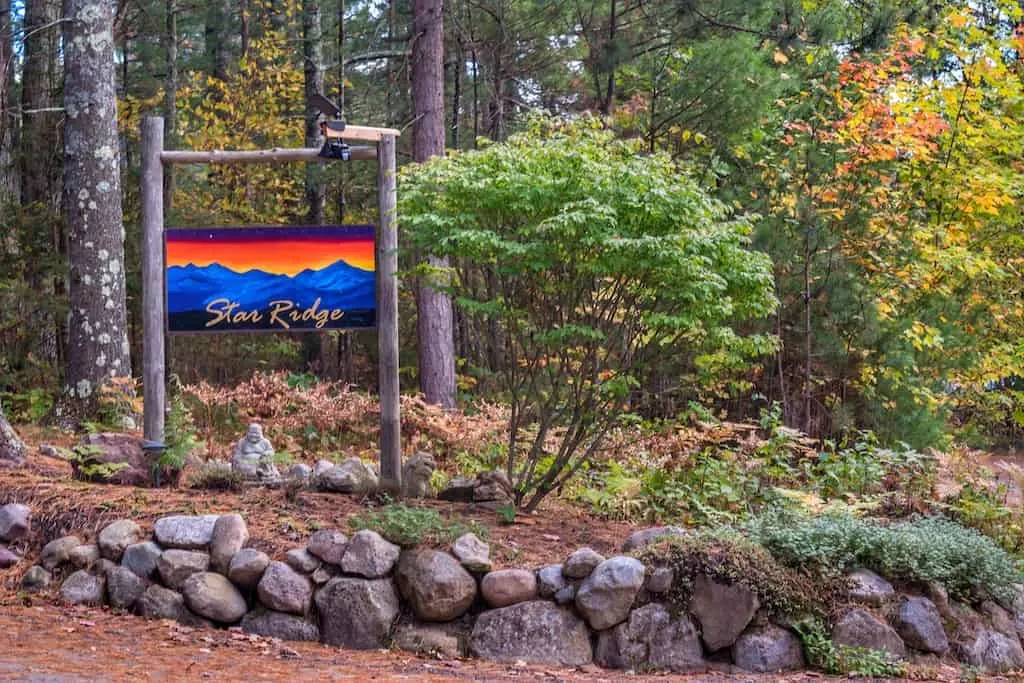 Adirondack Star Ridge is actually a collection of unique rental properties situated on a high ridge with a fabulous view of Whiteface Mountain and the Adirondack High Peaks.
Located in Au Sable Forks, New York, these Adirondack cabin rentals are close to incredible hiking trails, the bustling village of Lake Placid, and the renowned Ausable Chasm. Visitors looking for Adirondack cabin rentals have a few properties to choose from, which we'll cover in detail below.
While we were able to tour all four of the properties available for rent, we've only stayed in one of them – Star Ridge Studio. We loved the location and privacy that this cottage offered, but we wouldn't hesitate to recommend any of them for a vacation in the Adirondacks.
Here are your choices for your next Adirondacks adventure:
Star Ridge Cottage: Perfect for Families
With two full bedrooms, a woodstove, a full kitchen, and a wrap-around deck, this is the perfect getaway for families. The cottage can be rented year-round and includes Wi-Fi and a flat-screen TV with Netflix.
Star Ridge Little Star: A Tiny Cottage for Singles and Couples
Little Star is a quaint little Adirondack cabin rental nestled in the woods on the ridge. With a queen bed, a small sitting area, and windows all around, this is a great escape for couples hoping to disconnect from the rest of the world. Little Star guests share the upscale outhouse and outdoor shower with the studio guests.
Star Ridge Studio: Amazing Adirondack Views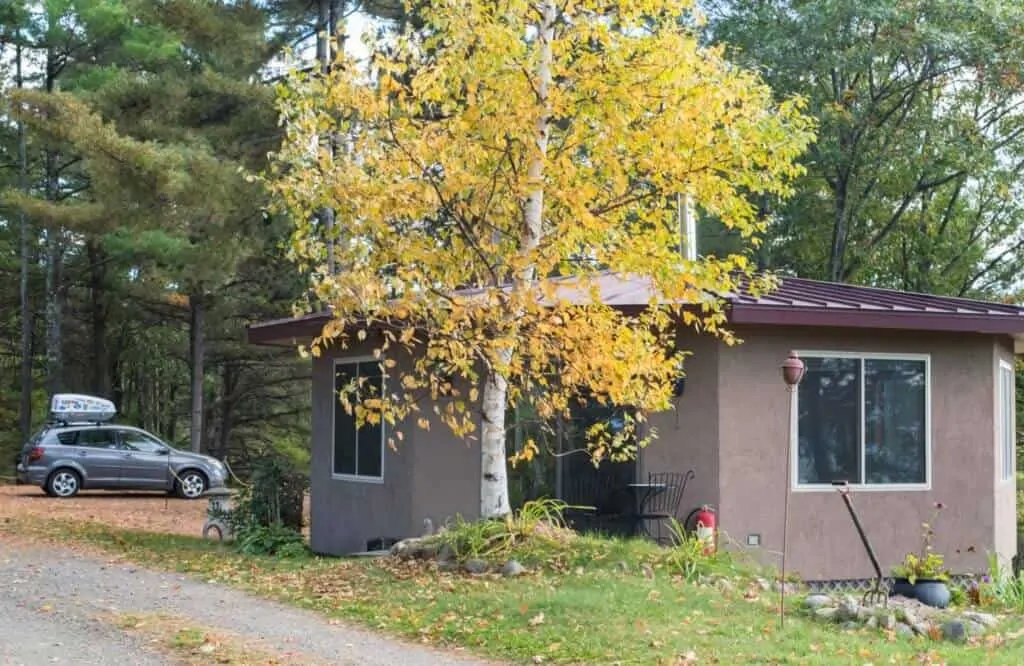 Star Ridge Studio is the place to be for the most awesome 360-degree views of the Adirondack Mountains and forests. The spacious octagonal cabin is perched on the ridge and includes all the comforts of home. You can read more about our studio stay below.
Adirondack Star Ridge Studio: The Details
We arrived at Adirondack Star Ridge on a Friday afternoon, after a long drive and a short hike. We had enough time before the sunset to meander around a bit and take in the views.
From the top of the ridge, we were treated to an incredible view of Whiteface Mountain and the Jay Range. No matter where we wandered on the property, the mountains watched over us. The sun sets early in the fall, though, so it wasn't long before we were forced to head inside and relax.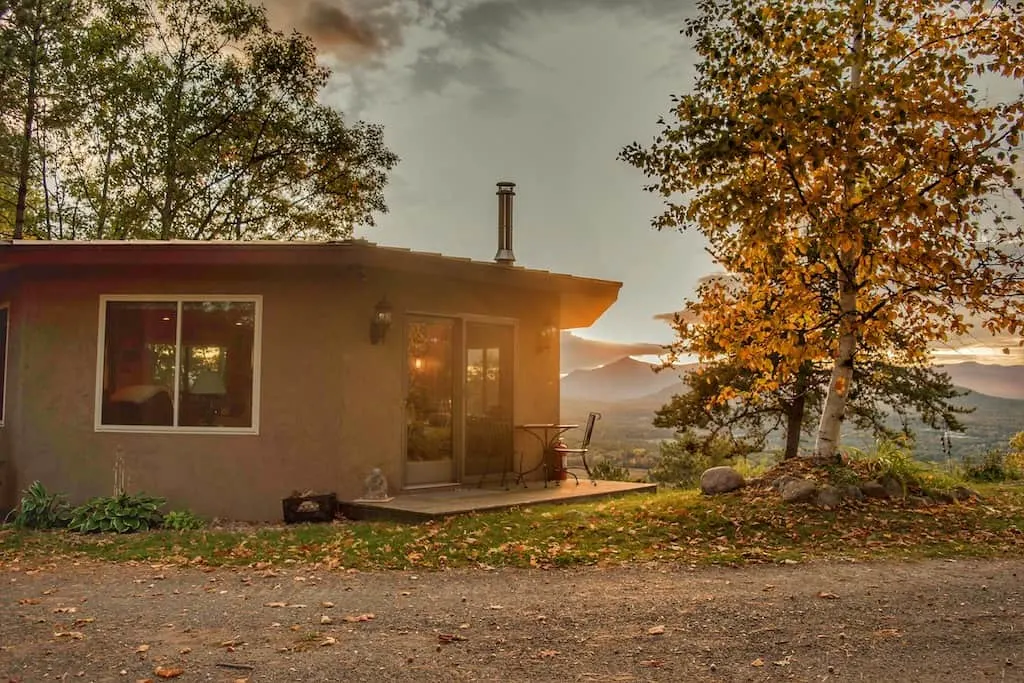 The night wasn't cold, but it was cool enough for us to indulge a bit with a fire in the wood stove. We opened a bottle of wine, sliced up some bread from the local bakery, and reheated some soup that we brought from home.
The kitchenette is perfect for basic food prep. It includes a full-size refrigerator, a microwave, an electric tea kettle, a coffee maker, and a small sink. There is no stove, so preparing a big meal isn't really realistic. We brought lots of snacks, yogurt and granola for breakfast, and sandwich fixin's for lunch. We went out to dinner on our second night. It's a vacation, after all.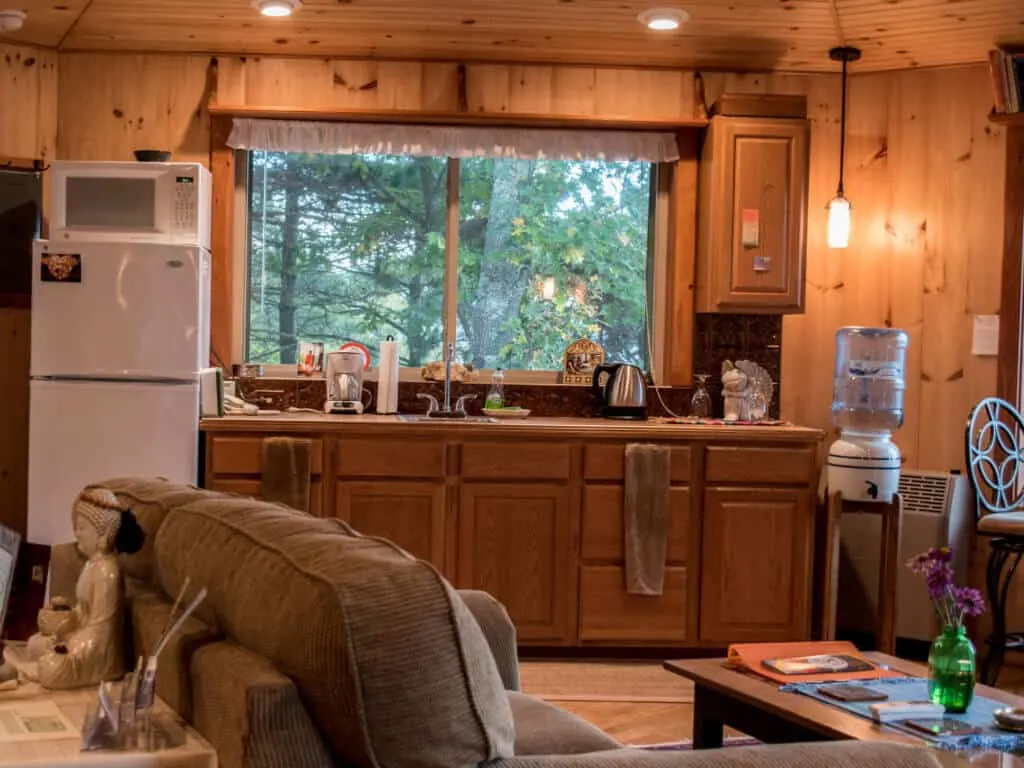 The studio is quite spacious, with plenty of room to relax. It's essentially one big octagonal room with warm wood paneling and lots of windows. There are two entrances with glass sliders, and curtains or blinds on all the glass if you need some privacy.
A small table with two chairs is the perfect spot for your coffee-with-a-view, but there's also a cozy sofa and a leather recliner that you'll never want to get out of. The bed is the best of all — situated close to the west-facing window, and covered with luscious cotton bedding. If it weren't for the lure of the mountains, I would have stayed in bed all day.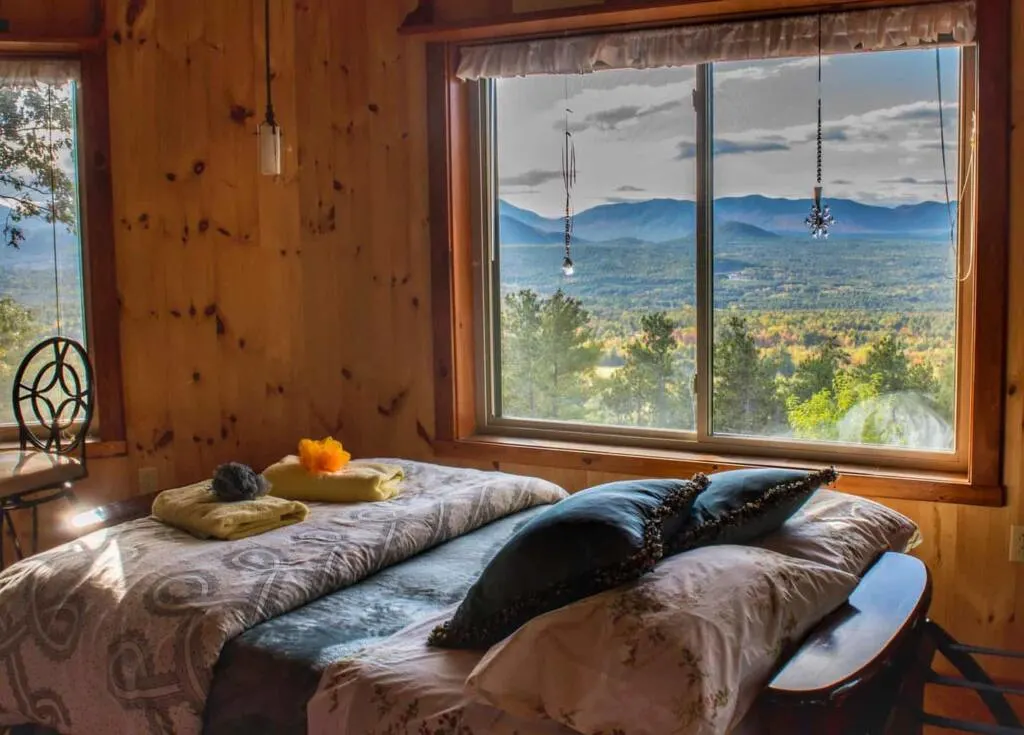 Star Ridge Studio includes everything you need to hole up in the woods for a few days or longer:
Free Wi-Fi, but iffy cell phone reception
Silverware, plates, bowls, and napkins, plus a selection of tea
Heat and a wood-burning stove
Bed linens and towels
CD player
There is no TV in Star Ridge Studio, but we don't think you'll miss it one bit!
Exploring Outside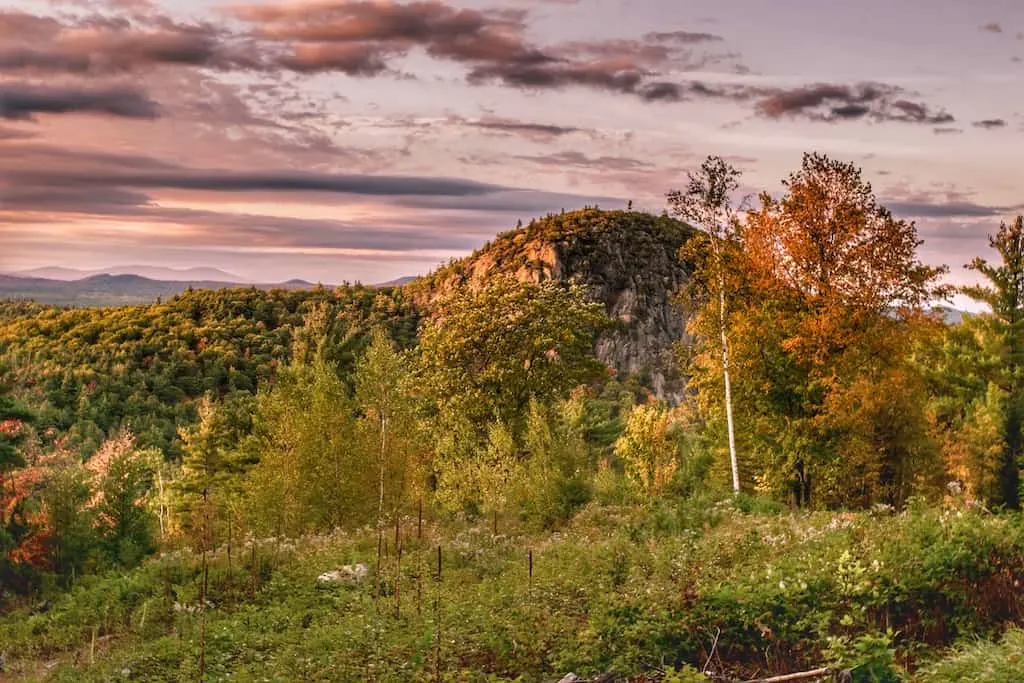 It doesn't really matter where you wander on the property of Adirondack Star Ridge – the views are phenomenal!
One of my favorite parts about this Adirondack cottage rental is this fire pit with distant views of the Adirondack Mountains. This is a communal fire pit, and there's ample seating for everyone. During our stay, we enjoyed the fire and the view with the guests from Little Star, and our host, Mike. Coming together around a campfire is one of my favorite things.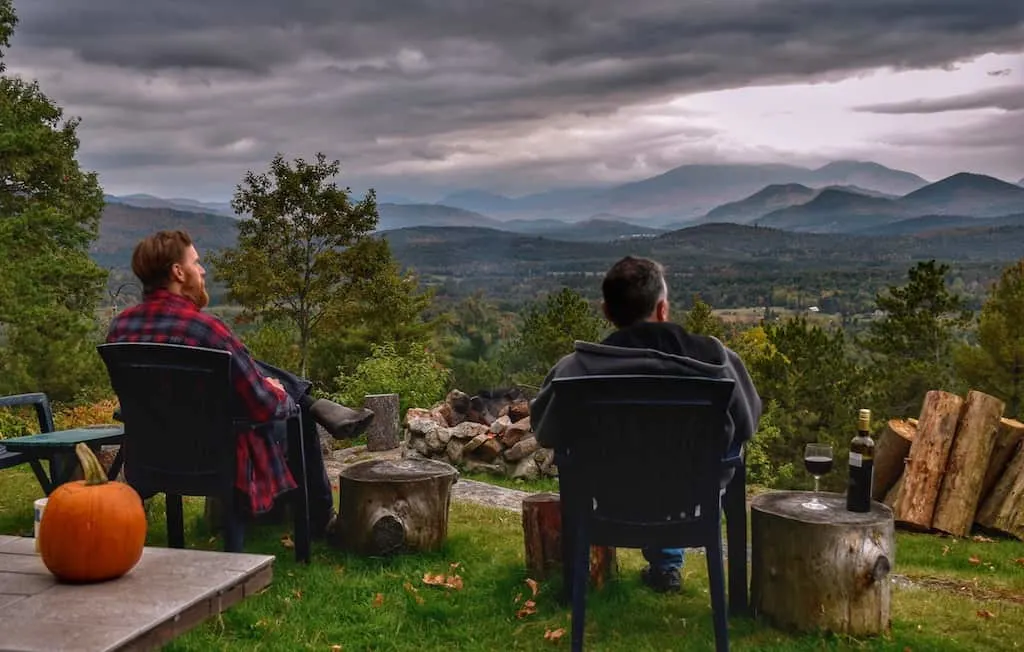 Next up, is the outhouse. It's no ordinary outhouse.
Not only does this one come with a magnificent view, but it also has electric lighting, windows, and heat. If you have to do your business outside, at least you can do it in style.
Next to the outhouse is a beautiful outdoor shower. It's totally enclosed and private, with the same awesome view as the outhouse, and deliciously hot water. Both the outhouse and the shower are situated on the ridge between the studio and Little Star. They are shared by the guests of both rentals.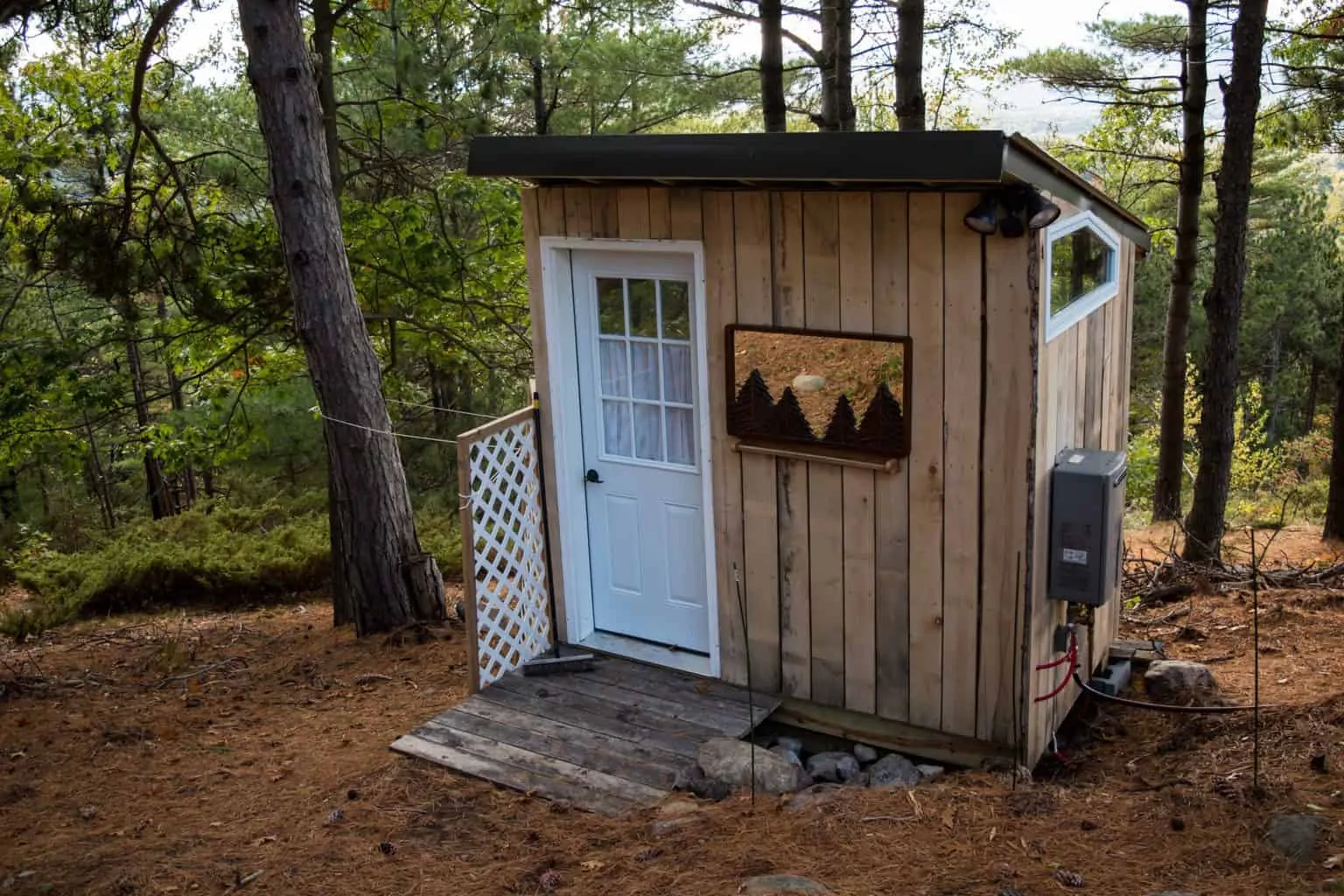 Meet Your Hosts: Mini and Mike
Mini and Mike went out of their way to ensure our stay was perfectly memorable. They know all the cool places to visit in the area, plus they are experts at building fires and making granola (continental breakfast and coffee at the main house are provided with your stay).
Want total solitude? No problem. Mini and Mike are happy to leave you to your own devices. They are always around if you need them, or if you just want to chat, but they're also more than happy to respect your personal space.
It is obvious that Mini and Mike have put a lot of time and love into creating a beautiful retreat for all to enjoy. They are verified superhosts on Airbnb, and their listings have received 98 stellar reviews so far.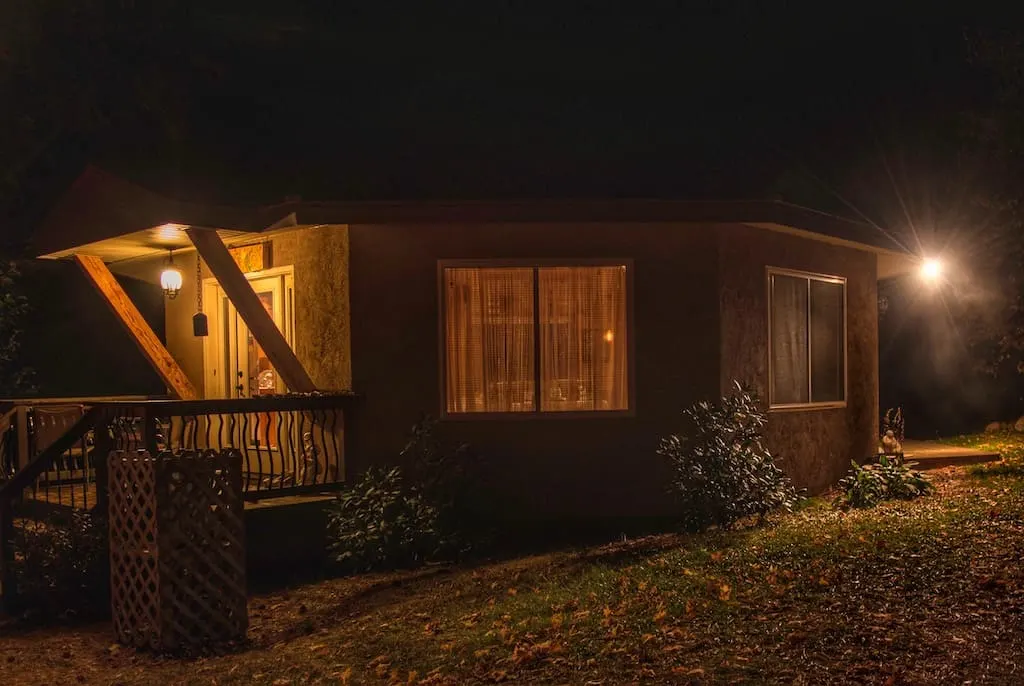 How to Book Your Adirondack Star Ridge Experience
Ready for a relaxing vacation in the Adirondacks?
Adirondack Star Ridge is located in Au Sable Forks, New York, which is a five-hour drive from Manhattan. The nearest international airport is in Burlington, Vermont, which is 48 miles away and includes a ferry ride across Lake Champlain.
The Adirondack Mountains are a four-season destination, with fantastic skiing in the winter, and great hiking and watersports in the spring, summer, and fall. For a fantastic fall foliage experience, book your stay during the first two weeks of October.
All of the properties mentioned above can be booked on Airbnb. The cottage is the only listing that is available year-round. The rest are available in spring, summer, and fall. Contact Mike and Mini on Airbnb for specific dates.

---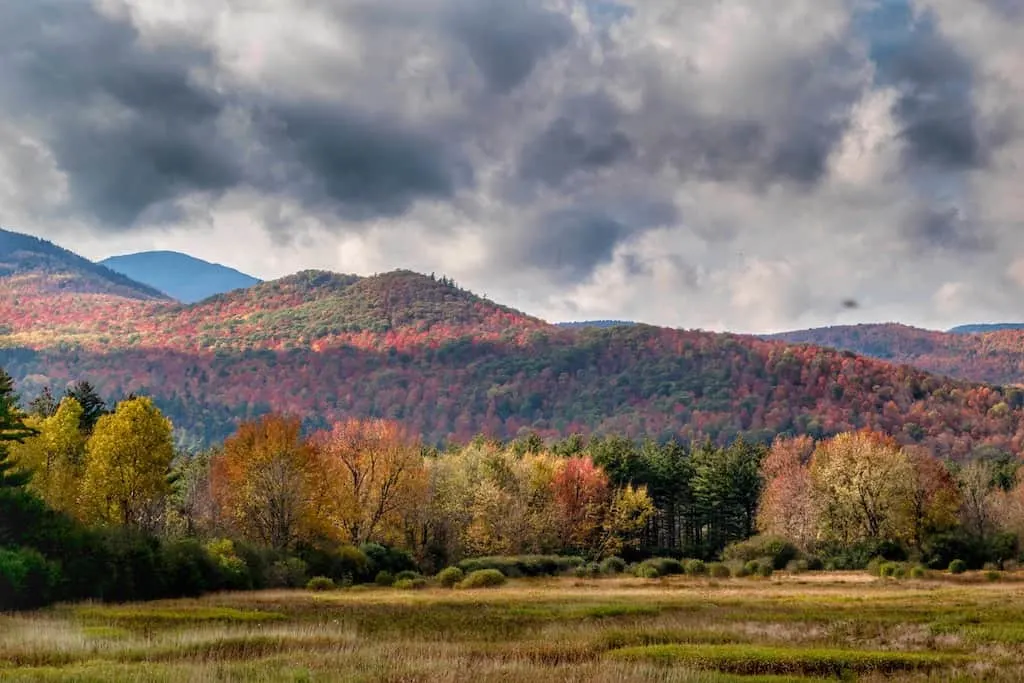 Read Next: A Weekend in the Lake Placid and the Adirondacks High Peaks
---
Follow us on social media!
Pin for Later?