Secluded forest hikes, hidden waterfalls, and the largest boulder field in the Appalachians. Welcome to Hickory Run State Park in Pennsylvania's Pocono Mountains.
This gem of a park encompasses almost 16,000 acres, as well as 44 miles of hiking trails, numerous waterfalls, two lakes, and more than 350 campsites.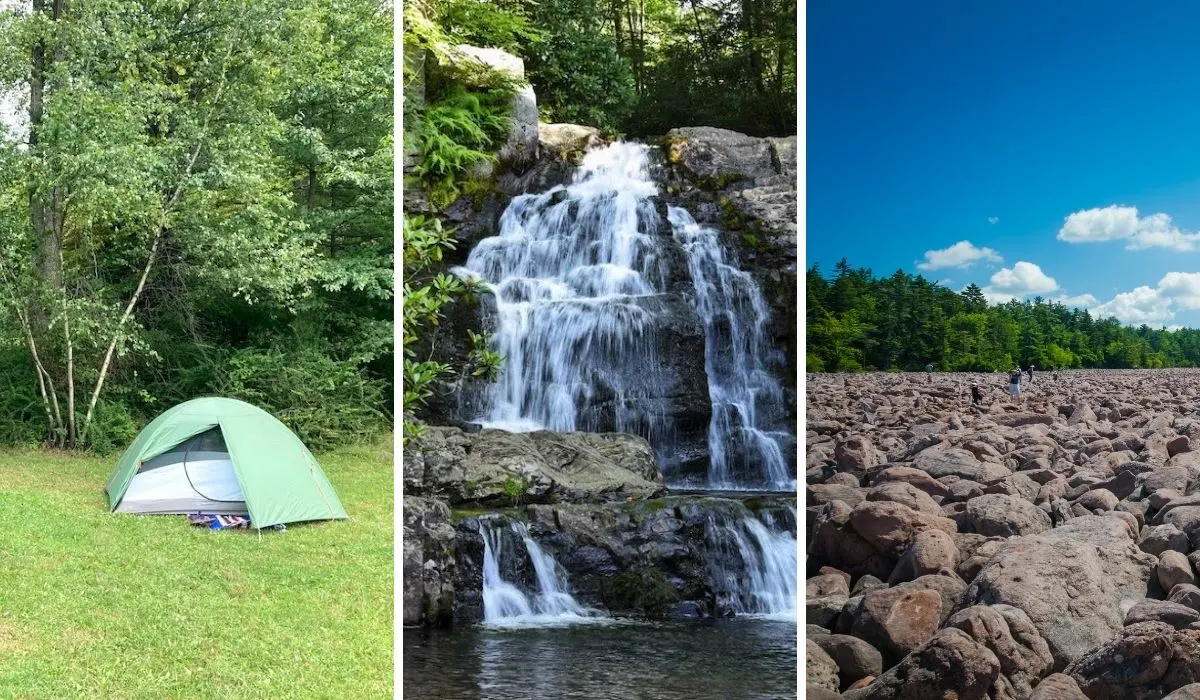 If you haven't explored this beautiful state park in Pennsylvania, it's about time to change that. Here's an overview of Hickory Run State Park camping, as well as all the awesome things you can do while you're there!
Quick Facts: Hickory Run State Park

Address: 3 Family Camp Rd, White Haven, PA 18661-9712
Activities: swimming, hiking, camping
Open: Year-round
Fees: Free for day use
Dogs: on-leash
Camping: 392 sites, including 3 camping cottages
Official Park Website
Pennsylvania has 121 state parks, nearly 1% of all the land in the state, and all of them are free for visitors who come to spend the day.
Hickory Run State Park is one of the largest state parks in Pennsylvania and one of the most popular.
Last summer, I spent three wonderful days exploring every inch of Hickory Run State Park (okay, that's an exaggeration). I hiked 10 miles of trails, traipsed through the woods to photograph waterfalls, and pitched my tent at Hickory Run Campground.
Despite the park's popularity, it was pretty easy to find solitude and really relax during my stay.
A visit to Hickory Run State Park would be perfect for a family weekend in the woods – it's not too far from civilization, and there are enough activities to keep kids engaged.
And if you enjoy chasing waterfalls with your camera, this is a great spot to hone your skill.
Hickory Run State Park Camping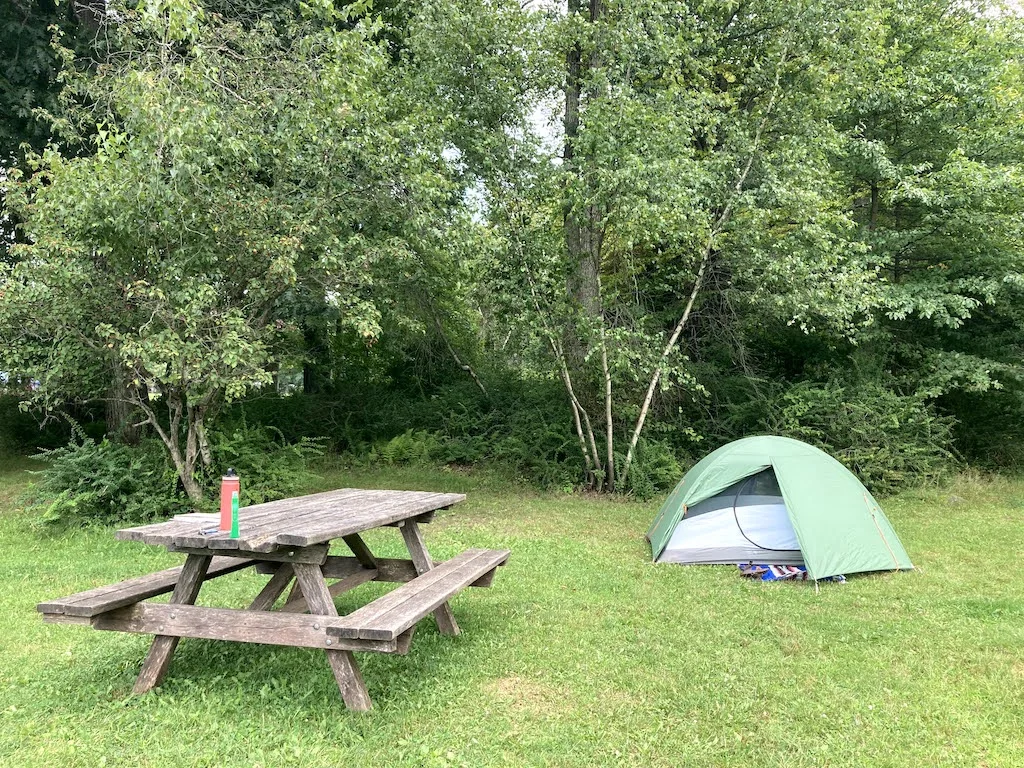 You'll find every type of camping at Hickory Run State Park, whether you want a cabin or cottage for the weekend (hello, glamping!), full hook-ups for your RV, or a rustic walk-in tent site. There is a camping loop just for campers with dogs, and tent sites in the woods or out in the open.
From Hickory Run State Park Campground, you can easily walk to Sand Spring Lake to cool off, and to the beautiful Shades of Death Trail (don't let the name fool you).
To visit other attractions, like Hawk Falls and Boulder Field, you will probably want to drive or ride a bike. This is a massive park, and it isn't easy to explore the whole thing on foot.
Campsites in Hickory Run Campground are pretty close together, especially if you reserve a sunny spot in one of the meadow areas. The wooded campsites are a bit more private, but they do pack the campsites pretty tight.
If you head over to Reserve America and look at the Hickory Run Campground Map, you can click on the individual sites to see if they are in the woods or in a field. This will help with finding a more private campsite.
Hickory Run Campground is open from the second Friday in April until the third Sunday in October. Rustic camping (without water) is available until mid-December.
Pets are only permitted at designated sites and there is a dog-walking trail around that camping area. Here's a link to the Hickory Run State Park Campground Map.
Pros and Cons of Camping at Hickory Run State Park
I'll be honest, the camping here wasn't the most exciting part of my adventures at Hickory Run State Park.
The campsites were clean, but not very private, and the restrooms were run down and not very clean. However, if you are looking for family-friendly camping and aren't interested in being secluded, this could be a great fit for you.
Here's my personal list of pros and cons for Hickory Run Campground:
Hickory Run State Park Camping Pros
Very affordable – camping fees start at $16 per night for Pennsylvania residents.
The sites are clean and well-kept.
There's plenty to do here.
The Visitor Center is beautiful and the staff is friendly and helpful.
The park is very family-friendly.
You can walk to the swimming area.
Hickory Run State Park Camping Cons
The restrooms are very outdated and not all of them are clean.
Sites are very close together and provide little privacy.
Hiking in Hickory Run State Park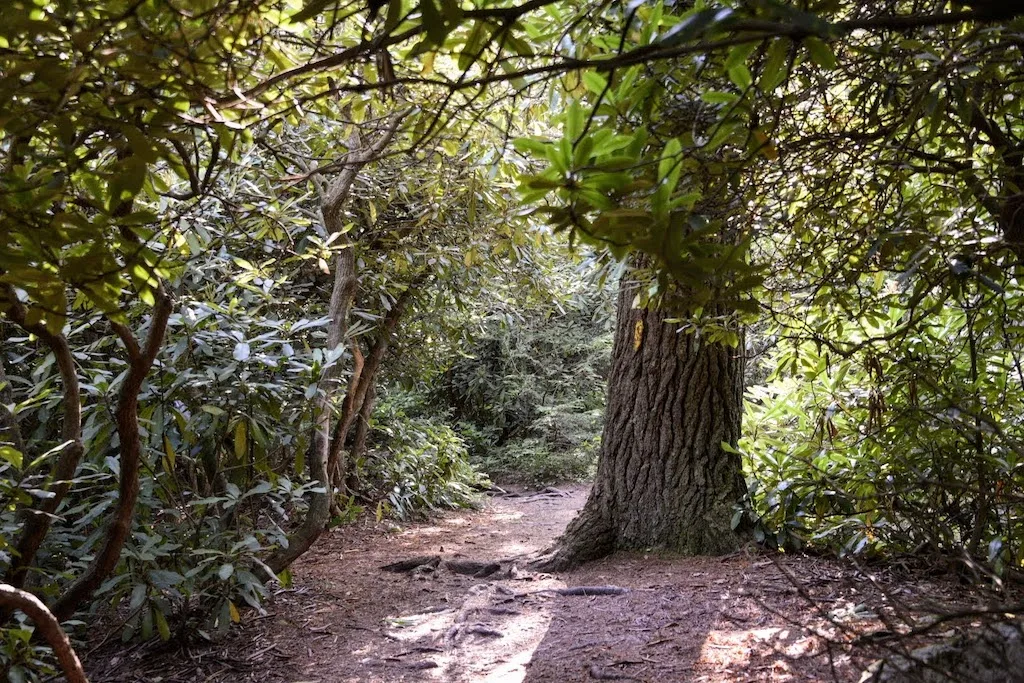 There are more than 40 miles of hiking trails in Hickory Run State Park. Many of the trails are full of rocks and roots but don't gain much elevation. I would rate all of the Hickory Run State Park trails as easy to moderate.
Most trails meander through the woods, and if you visit in June, you will get to see the thousands of rhododendron blooms along many of the trails. I visited when the blooms were just finishing up last year, and I can't wait to go back and see them this year.
Here are my favorite hiking trails in Hickory Run State Park. All of them are suitable for families with kids, and there are dozens more that are also worth checking out.
If you want an overview of all the hiking trails in Hickory Run State Park, visit the Pennsylvania Department of Conservation & Natural Resources.
Insider tip: If you plan to do a lot of hiking during your stay in Hickory Run State Park, download the AllTrails app. It's a GPS tracker, but also allows you to easily find trails while you're traveling, read reviews, and find current conditions for local trails.
If you purchase AllTrails+ ($35.99 per year), you can download your map so that you can follow the GPS tracks even if you don't have cell service.
Shades of Death Trail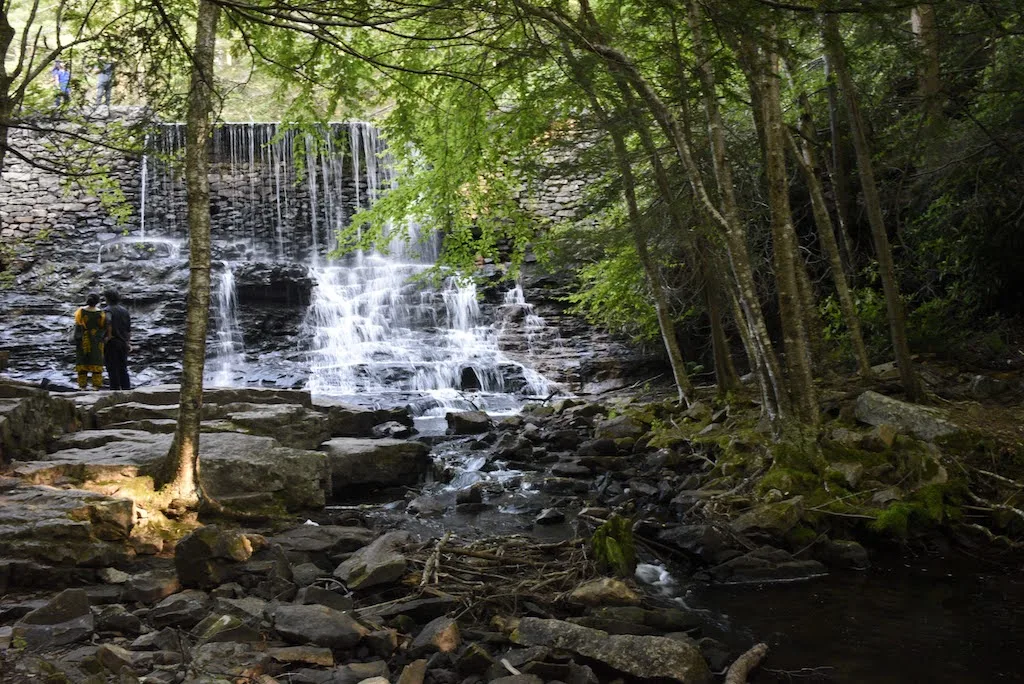 How's that for a trail name? I hiked this trail around sunset on my first evening in the park, and I'll admit that the name had me concerned.
Apparently, the first European settlers named the area "Shades of Death" because the forests were so thick and dark, with lots of swampy areas. Maybe they were just trying to discourage people from learning how beautiful the area really was.
The Shades of Death Trail starts behind the Visitor Center, so if you haven't checked it out, do that first. You can fill your water bottles, pick up a trail map and learn about the natural history of the area.
This dark wooded path is edged with rhododendrons and beautiful rock formations. As you get deeper into the woods, you'll follow a creek and be treated to the constant babbling of the stream as it dances over the rocks.
There are several small waterfalls that are worth spending time with. The largest cascades over a man-made dam and is about 20 feet tall. When you get to the road, turn around and retrace your steps.
Hawk Falls Trail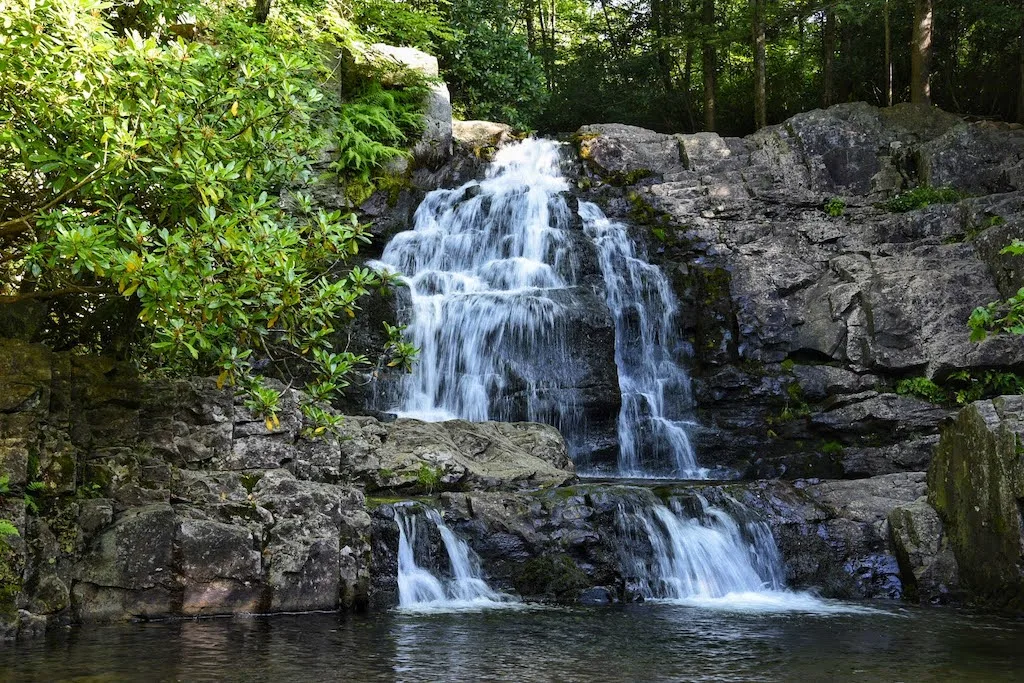 This short, easy trail leads to the park's largest and most beautiful waterfall.
Hawk Falls Trail and the area around the falls are extremely busy, though, so try and get there early, especially if you want to photograph the falls. I visited on a summer weekday and parked my car in the lot at about 8 am. It was full by 9 when I got back to the car.
The trail itself is very similar to the Shades of Death Trail – the same lovely foliage and roots and rocks everywhere.
You will cross a footbridge at the beginning and gently descend to the river. Hawk Falls is such a beautiful cascade. The falls are about 25 feet high and flow over numerous rock formations into a deep pool (not deep enough for swimming).
Aside from the waterfall, there are numerous spots to hang out near the river, which would be great for picnicking and letting kids play in the water. We hear the fishing is great too!
Hickory Run Boulder Field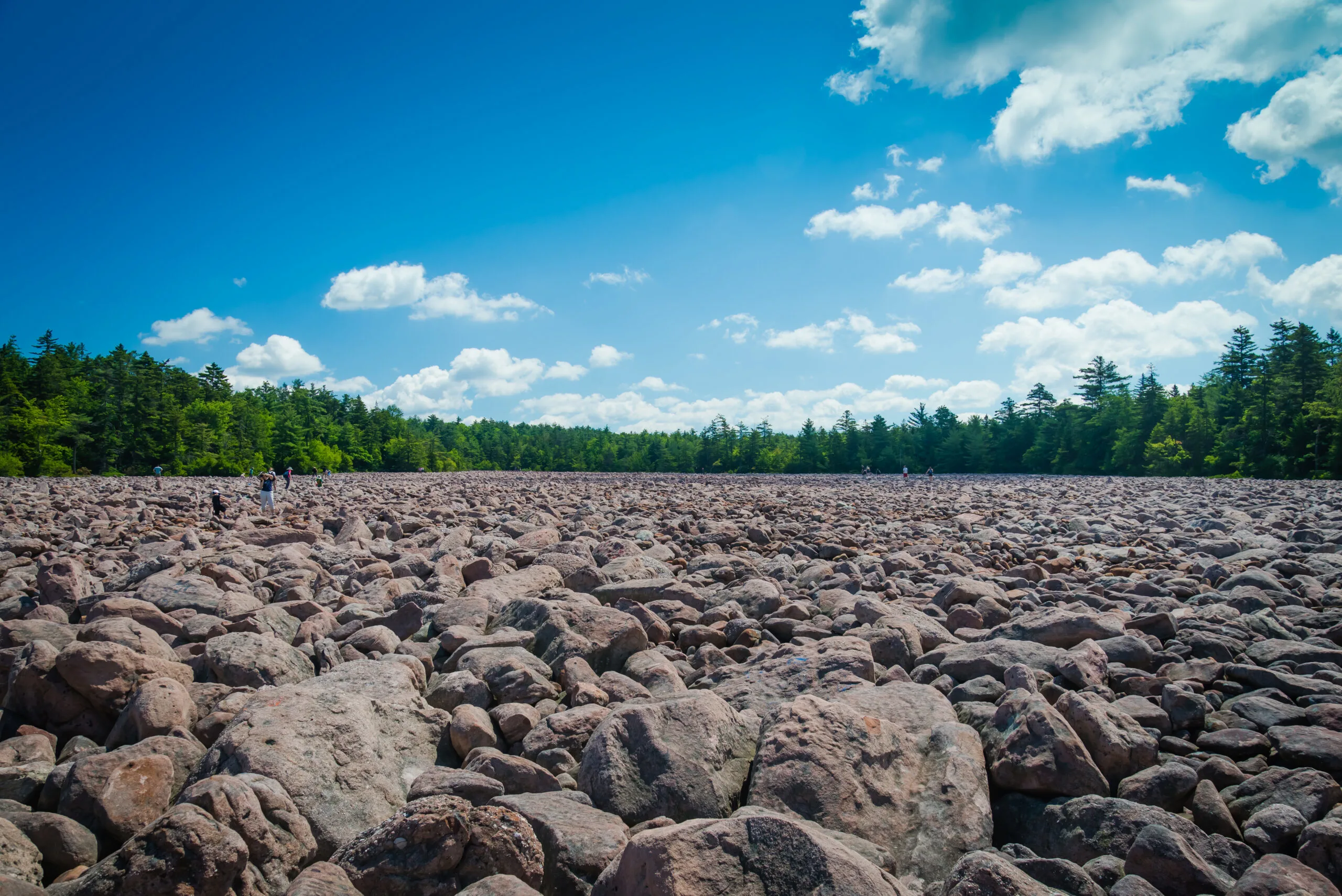 The Hickory Run Boulder Field is unlike anything I've ever seen.
It's basically a 16-acre field of rocks hidden in the Pennsylvania woods. It's a National Natural Landmark and definitely worth checking out. You can drive there on a one-way loop road or you can hike 3.5 miles (one-way) to get to the field.
The trail begins near the parking lot for Hawk Falls and leads in the opposite direction into the woods.
As with the other hikes mentioned here, this one is full of roots and rocks. And mud. As much as I love a hike through the woods, for this particular adventure, I'd recommend driving the dirt road to the parking lot near the field and then spending your time exploring.
The Hickory Run Boulder Field was formed many thousands of years ago by intense climate conditions during the ice age.
It isn't clear exactly how it came to be, but one theory is that a complex freeze-thaw cycle cracked the bedrock and formed the boulder field. The rocks are mostly sandstone with a bit of quartz conglomerate.
Swimming at Sand Spring Lake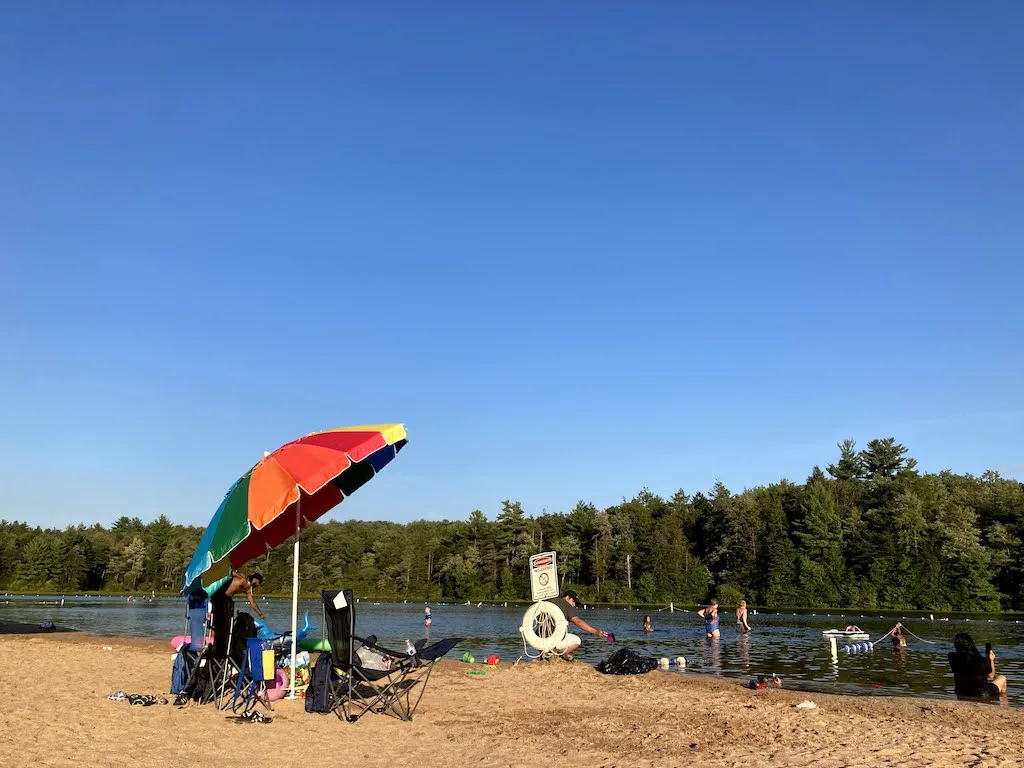 This small lake and sandy beach are great assets to Hickory Run State Park.
The water and beach are both very clean, and there's a large bathhouse and snack bar. If I had visited with my kids, they would have absolutely wanted to spend the whole day here.
Since my visit to Hickory Run State Park was a solo trip, I was content to go for a luxurious swim each evening before heading back to camp to make a fire and cook dinner.
You can easily walk from the campground to the beach, and there were families frolicking in the water each evening until sunset.
Cabins and Hotels Near Hickory Run State Park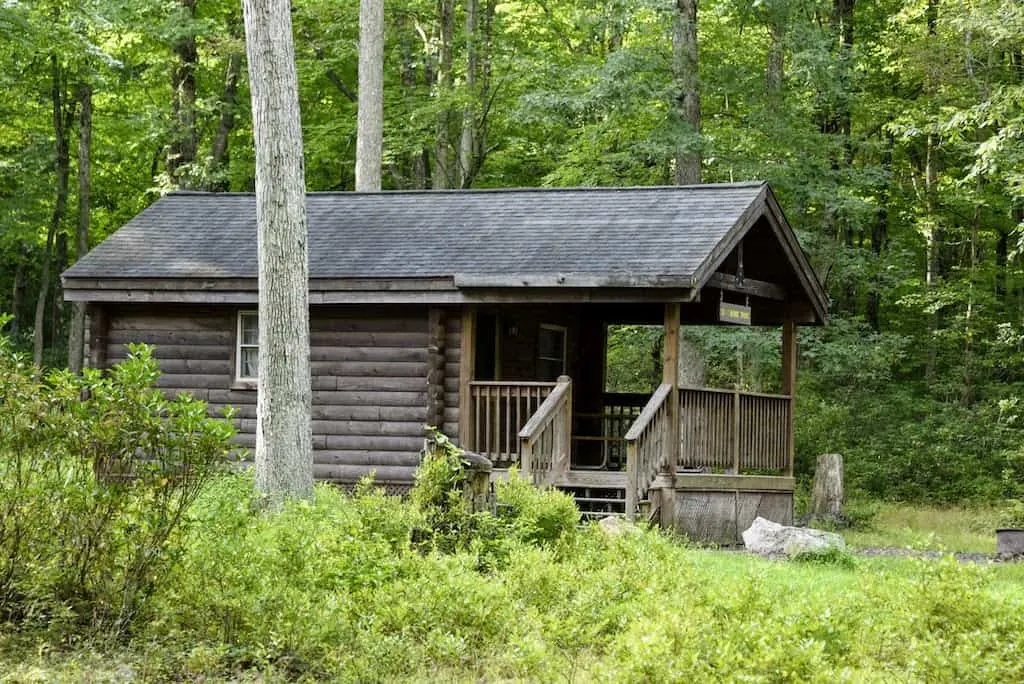 I know that camping isn't for everyone, and while I urge you to give it a try, if it's really not your thing, you can still enjoy Hickory Run State Park without pitching your tent.
First, there are three camping cottages in Hickory Run State Park. They are all in the woods and look really nice. They do have electricity and beds, but they don't have running water or bathrooms and you have to do your cooking outside.
Hickory Run State Park also has two more modern cottages with a small kitchen included, but still no running water or bathrooms. Both types of cottages can be reserved through Reserve America.
If you're traveling to the area with a family, you won't find a better deal than the rooms at Holiday Inn Express in White Haven, which has an indoor pool, hot tub, and fitness center, plus a free breakfast buffet.
Not only is this 15 minutes from Hickory Run State Park, but it's just six miles from the indoor waterpark at Split Rock Resort (perfect for those rainy days).
Finally, if you're looking for a unique opportunity, try glamping at the Retreat on Bear Creek. The property is adjacent to Lehigh Gorge State Park (another gem of a park) and not far from Hickory Run.
The glamping tent is situated on 400 acres and right on the stream. There's an outdoor shower, a covered kitchen area, and a fire pit. The best part? You have this beautiful spot all to yourself!
Where to Next?
I stayed at Hickory Run State Park as part of a more extensive road trip, where I explored Raystown Lake, about three hours southwest of Hickory Run. This is the largest lake entirely within the state of Pennsylvania and another great spot for families.
If you are traveling without kiddos, I'd also suggest heading 2.5 hours north to embark on a wine and waterfall road trip through the Finger Lakes. Happy motoring!
---
Follow along on social media:
Pin for Later?