Endless acres of vineyards, beautiful working farms, and panoramic views in every direction. Welcome to Caldwell, Idaho, one of the most epic wine regions in the western United States!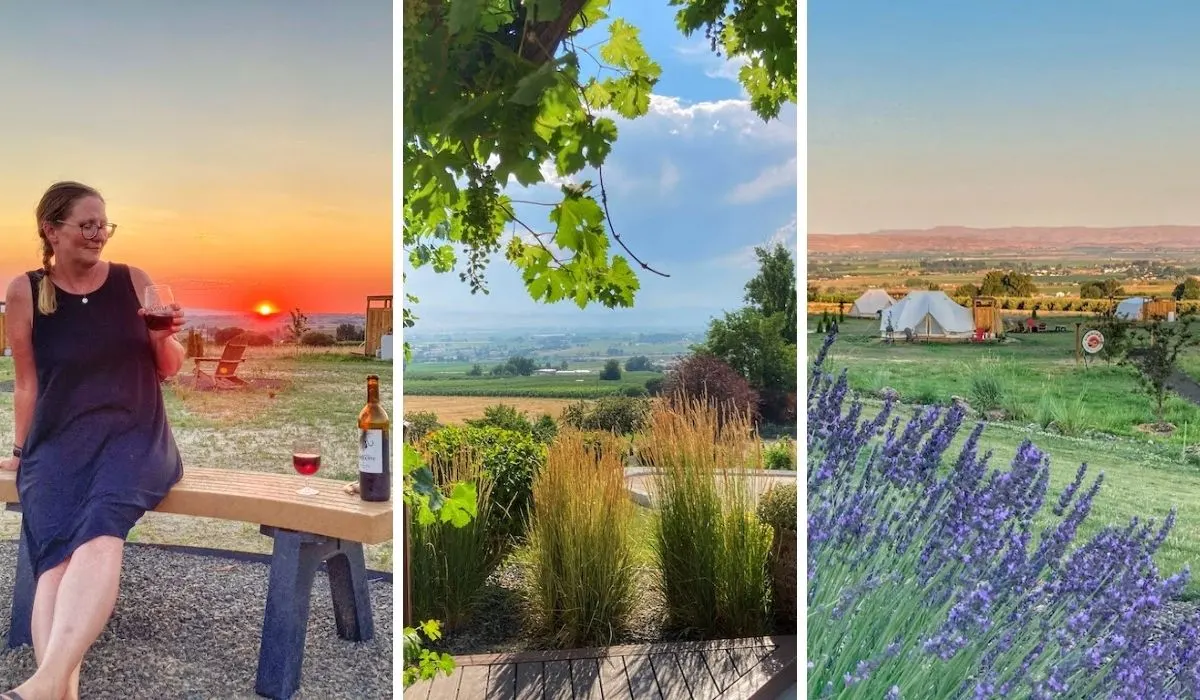 Sure, there are other wine regions in Idaho, but this is true Idaho wine country, and no matter where you travel in the sprawling town of Caldwell, you are sure to see meticulously tended vineyards in every direction!
Eric and I were fortunate enough to spend several days exploring the wineries in Caldwell Idaho on our most recent cross-country road trip. We explored five incredible Caldwell wineries in the Snake River Valley as part of a self-guided tour on the Sunnyslope Wine Trail.
We learned so much about the history of winemaking in the region and treated our taste buds to some truly delicious wines, and we can't wait to share some of what we discovered with you.
There are more than 20 wineries that you can visit as part of the Sunnyslope Wine Trail in Caldwell, and each one is unique, just like the wines they sell.
If you haven't explored the vineyards and wineries around Caldwell Idaho, you're definitely in for a treat, and if you love wine tourism, Southwestern Idaho is a must-visit destination.
I promise that Idaho wine will blow you away. Look out Napa – the Snake River Valley is on your tail!
A Quick Overview of Winemaking in Idaho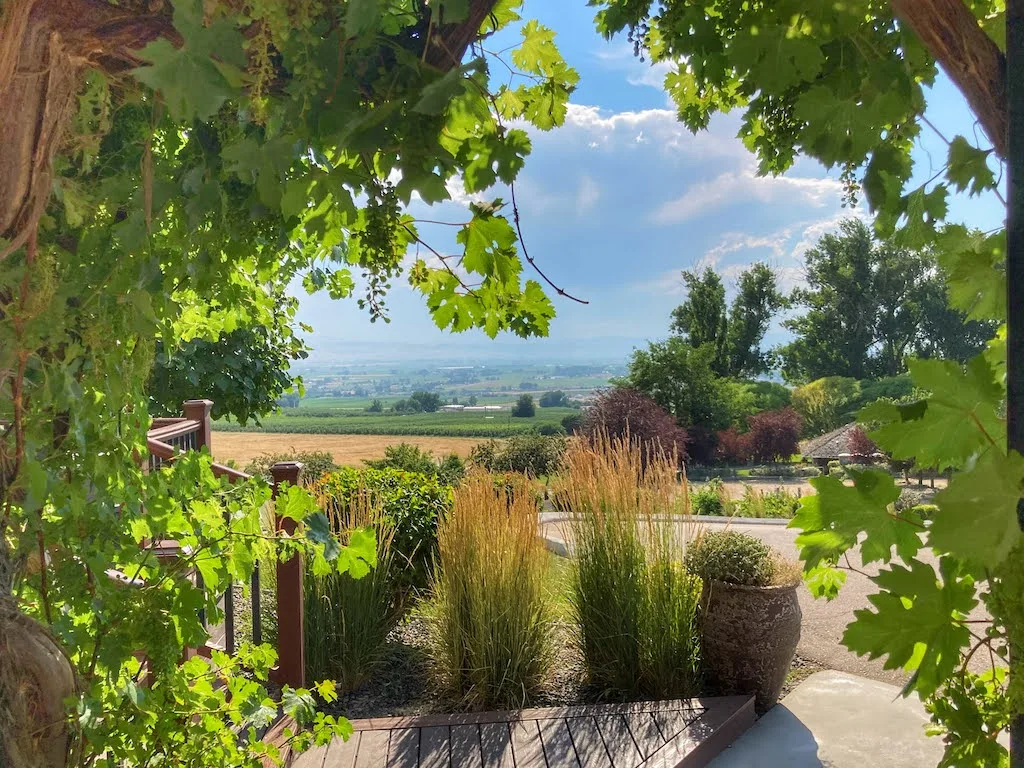 It really should come as no surprise that Idaho is great for growing grapes and making wine, but the reality is that it is still a bit of a secret to those who don't pay close attention to the industry.
The Snake River Valley provides the perfect climate to nurture grapes, including fertile soil, a moderate climate, and a limited amount of rainfall.
According to the Idaho Wine Commission, Idaho grows and produces both classic and more adventurous wine varieties, including Syrah, Merlot, Riesling, Chardonnay, Malbec, and Tempranillo.
Idaho's wine industry began in 1856 when early settlers planted grapes that thrived in the rich soil and sunny, dry climate. Idaho wine was a fast-growing and successful industry for more than 60 years, but Prohibition in 1919 quickly put an end to that success. Grapevines were pulled out to make room for other crops.
The first grapevines were planted in the Snake River Valley in the 1970s and the wine industry in the region has been growing ever since. There are currently 65 wineries in Idaho and more than 1,300 acres of grapevines.
Idaho vineyards in the Snake River Valley produce more wine than anywhere in the state thanks to the ancient volcanic sediment and well-drained soil that was created by Lake Idaho more than 2 million years ago.
The Sunnyslope Wine Trail celebrates the wine of the Snake River Valley, making it the perfect destination for wine lovers. Thanks in part to wine tourism, the town of Caldwell, Idaho has also become an alluring destination for foodies and outdoor lovers.
FAQs About Visiting the Idaho Wineries in Caldwell Idaho
By now we hope you've realized that you need to visit the Idaho wineries in Caldwell, Idaho ASAP, and our goal is to help you make it happen. Before we dig into our favorite wineries, here are a few FAQs to help you plan your trip.
When is the Best Time to Visit Caldwell, Idaho?
We visited Caldwell in July this year and it was hotter than normal. Every day was above 100 degrees and we were so fortunate to have an itinerary full of air-conditioned wineries to visit. So, if you have to go in July, do it, but I would recommend trying to visit in May, June, or September. And you shouldn't have to worry about rain at all. Caldwell sees about 10 inches a year.
What types of wine are available at the Sunnyslope Wineries?
A lot more than you might imagine! The wineries of the Snake River Valley have won numerous awards for a variety of reds and whites, including Syrah, Cabernet Sauvignon, Merlot, Riesling, Moscato, Tempranillo, Pinot Noir, Malbec, and Rosé. Whatever type of wine you gravitate toward, you will find both classic and contemporary versions on the Sunnyslope Wine Trail!
How to Get to Caldwell for your Wine-Based Vacation
The easiest way to get to Caldwell is to fly into Boise and rent a car. Boise is just thirty minutes from Caldwell, and it's easy driving. The airport in Boise is small, serving just a handful of airlines, but as someone who often flies in and out of small airports, I wholeheartedly believe that the extra money that you spend is worth not having the hassle of dealing with a big airport and extra driving time.
If you don't want to rent a car, you can take a Valley Ride bus from Boise to Caldwell.
The closest major airport is in Salt Lake City, which is 367 miles from Caldwell (and a five-hour drive).
What is the Best Way to Explore the Idaho Wineries Near Caldwell?
It's easiest to get around Caldwell with a car – but if you won't have one, or you just want to focus on enjoying the plethora of Idaho wine, you do have a few other options.
Rent a Car: You can rent a vehicle from the airport you fly into, or directly in Caldwell once you arrive. It's challenging to get around Caldwell without a car, so pick a designated driver before you begin your Sunnyslope wine adventure.
Ride-Sharing Apps: Lyft and Uber are both available in Caldwell and start around $15 for a 15-minute drive. Fortunately, the wineries in Caldwell, Idaho are pretty close together, so it really is a viable option for exploring the area.
Take a Wine Tour: Oh, how I wished we had chosen this option during our recent trip! If you want guidance from a local and a designated driver, consider Snake River Wine Tours for your adventure.
For groups under 10 people, you get a shared wine tour in a Mercedes Sprinter Van that includes four winery stops, snacks, and water. Not only do you get a designated driver that knows wine, but you can meet some friends while you spend a carefree day tasting.
Insider Tip: If you have a car of your own, you can visit the wineries at your own pace, but I don't recommend visiting more than four in a single day. Palate Fatigue is a real thing (and so is drunkenness, obviously)! If you are visiting Caldwell wineries on a summer weekend, I suggest making reservations. Then you won't waste time getting turned away by wineries that are full to capacity.
How much does it cost for tastings on the Sunnyslope Wine Trail?
Tasting fees in Caldwell are more affordable than I thought they would be! Prices range from free (Fujishan Family Cellars and Free Dog Wines) to $15 (Bitner Vineyards) for a tasting. Most tasting fees are in the $5 range, and that fee is often waived if you buy a bottle.
How Long Should I Spend in Caldwell and on the Sunnyslope Wine Trail?
As I mentioned above, it's probably not wise to visit more than four wineries a day as you explore the Sunnyslope Wine Trail (ask me how I know!). While there are around 20 different wineries you can visit, I think spending a weekend visiting three to four a day is plenty. You will also need your evenings to discover all the awesome restaurants in the area and to stroll around downtown Caldwell.
The Best Wineries in Caldwell Idaho
There are currently 20 Idaho wineries in Caldwell, and a total of 65 in the state, so in theory, you could devote an entire summer to sipping on delicious Idaho wines. Alas, most people don't have a whole summer to devote to tasting wine, so here are our five favorite wineries in Caldwell Idaho.
Sawtooth Winery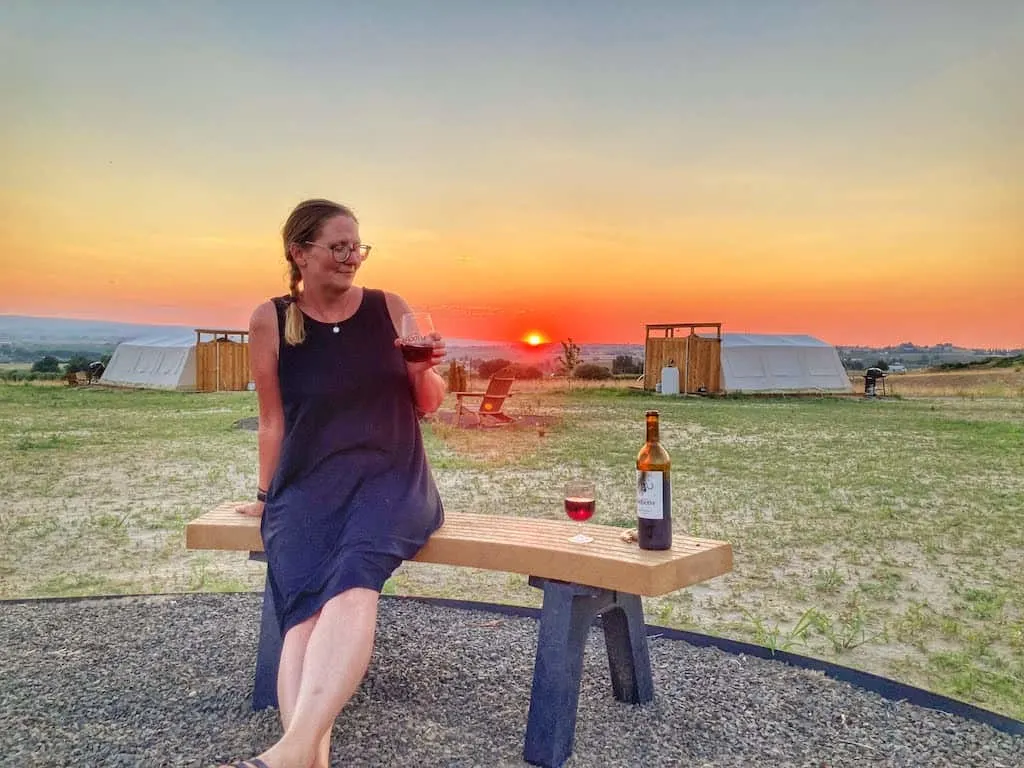 The first thing you'll notice when you drive through the gates of the estate vineyards at Sawtooth Winery will be the views. Sawtooth and its sister winery, Ste. Chapelle, both sit high in the hills of Caldwell with acres of surrounding vineyards and orchards. The wide-open valley stretches out into the distance, and you'd be hard-pressed to find this view anywhere else.
The wines at Sawtooth are both elegant and approachable — our favorite being the Riesling, which has just a touch of sweetness and a whole lot of depth.
Sawtooth grapes come from both the Sawtooth Estate and from Skyline Vineyards, which together grow many different varieties that thrive in the dozens of microclimates that can be found across the 470 acres.
The allure of the setting and the zest of the wines may cause you to lose track of time, which is why I suggest visiting Sawtooth and Ste. Chapelle Wineries last as the sun is starting to sink toward the horizon.
Sawtooth Winery | Address: 19348 Lowell Road Caldwell, ID 86307
Open daily: 11 am – 5 pm
---
Ste. Chapelle Winery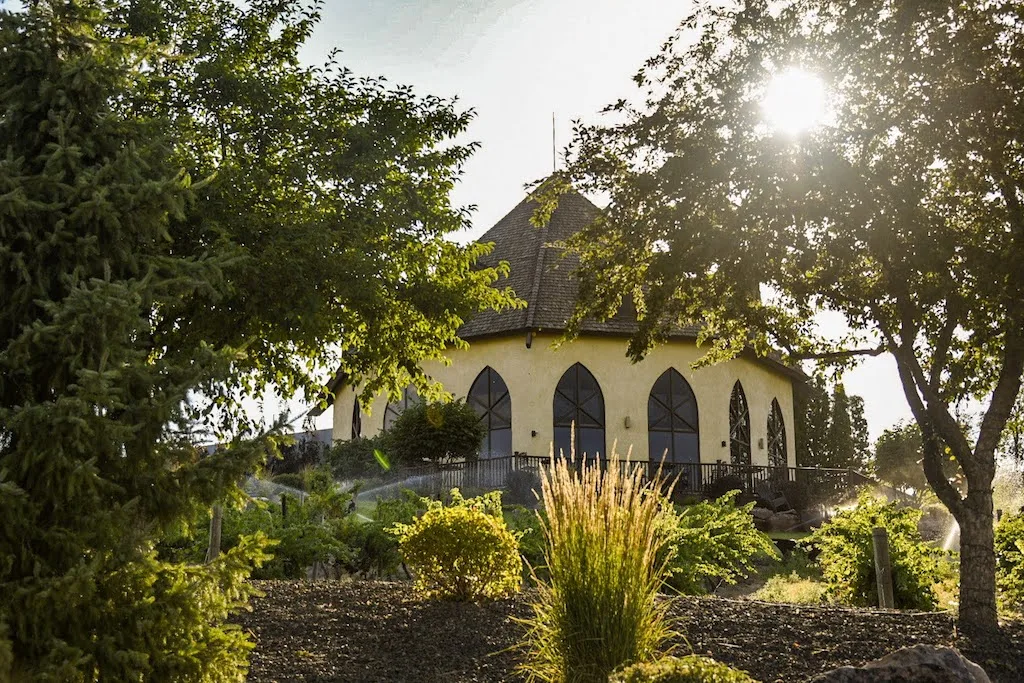 St. Chapelle Winery is the oldest and largest winery in Idaho, tucked away in a swath of trees next to Sawtooth Winery and surrounded by vineyards in all directions.
The small building that serves as a tasting room is a round, stuccoed structure with a conical roof and tall windows. There are epic views from inside and plenty of cozy seating, but you can also sip your wine outdoors while playing corn hole and taking in the surrounding scenery.
Ste. Chapelle is the only winery we visited during our stay that offered food selections to pair with the wine tastings. It was very much appreciated, and also delicious!
Wine offerings include Riesling, Chardonnay, Sauvignon Blanc, Merlot, Malbec, Cabernet Sauvignon, and Syrah.
Ste. Chapelle Winery | Address: 19348 Lowell Road, Caldwell, ID 86307
Open daily: 11 am – 5 pm
---
Fujishin Family Cellars and Free Dog Wines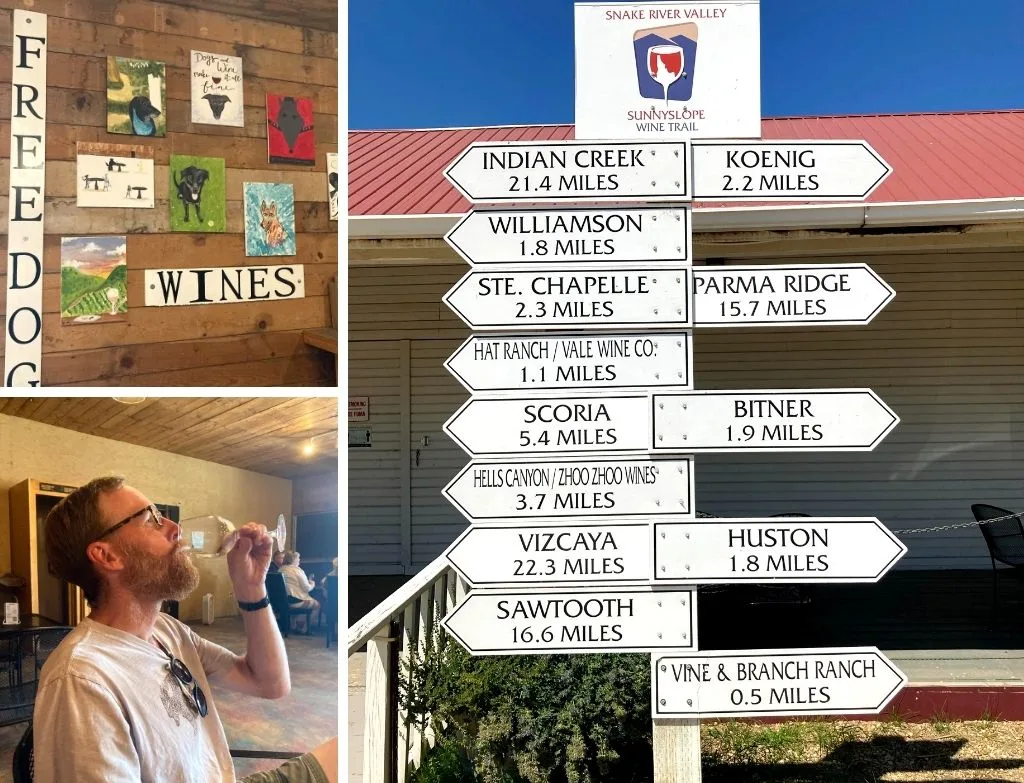 Yup, it's two wineries for the price of one! Actually, you don't have to pay a thing to do a wine tasting at Fujishin Family Cellars and Free Dog Wines.
This is the only stop on our tasting adventure where a tasting with a very knowledgeable guide (thanks, Drake!) was completely free. Dogs are welcome too, which we always appreciate, even when we are traveling without our favorite canine.
Fujishin Family Cellars and Free Dog Wines are run by a husband and wife team. Fujishin wines were described to us as being more classic and refined, while the Free Dog wines are approachable and refreshing.
At our tasting, we learned about the difference between letting wine age in oak versus stainless steel, why the Snake River Valley is such a unique region for growing grapes, and the history of winemaking before and after prohibition.
Fujishin and Free Dog Wines specialize in lesser-known varieties and playful blends that feature grapes from Idaho and the Northwest.
We loved the Fujishan Chardonnay and the Free Dog Off-the-Leash White. The Fujishin tasting room is small, so either get there early or make reservations.
Fujishin Family Cellars and Free Dog Wines | Address: 15593 Sunnyslope Rd Caldwell ID 83607
Open daily: 12 – 6 pm
---
Hat Ranch Winery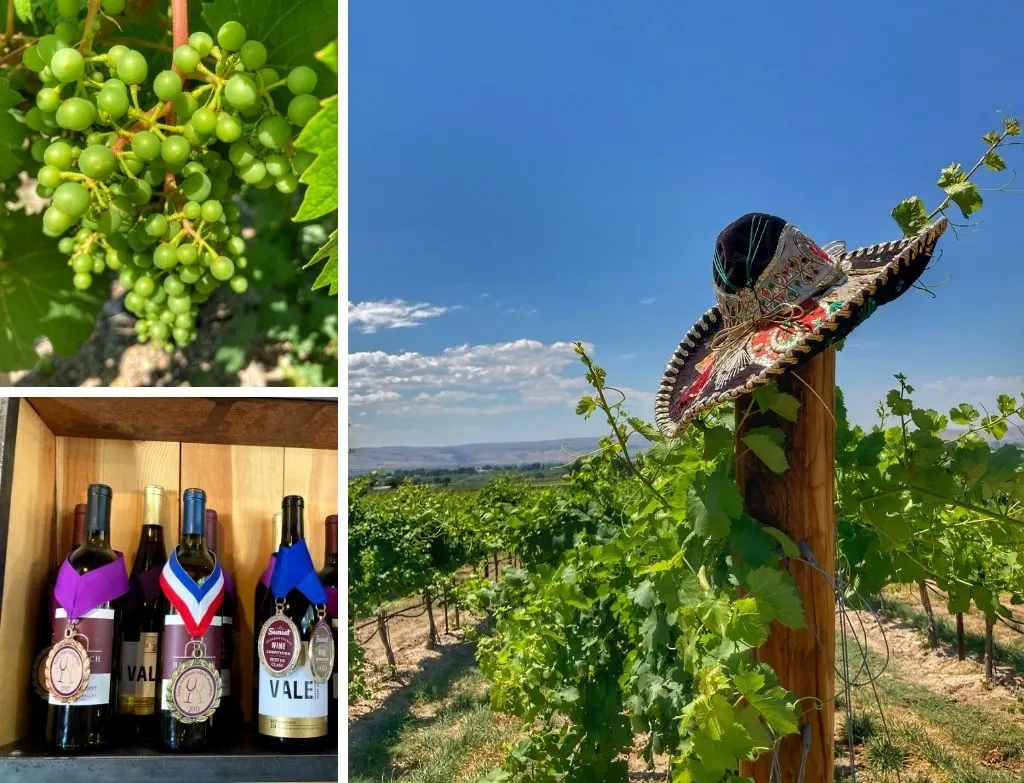 Next stop, Hat Ranch Winery, just down the road from Fujishin Family Cellars. The Harless Family started Hat Ranch in 2011, naming the venture after the original ranch and homestead operated by their great grandparents in 1902.
The small tasting room at Hat Ranch Winery is located on a sprawling vineyard. Local artwork hangs from the walls (and is available for sale), and there are several cozy nooks for guests to relax while tasting.
Five wines are available for tasting each day, so you're never quite sure what you're going to get. Hat Ranch has produced numerous award-winning wines, and they are known for their small batches of unique varieties, including their 2016 Hat Trick Red (our favorite), a 2018 Estate Dry Moscato, and a 2018 Dry Rosé.
Hat Ranch Winery | Address: 15343 Plum Road, Caldwell, ID 83607
Open daily: 12 – 5 pm
---
Koenig Vineyards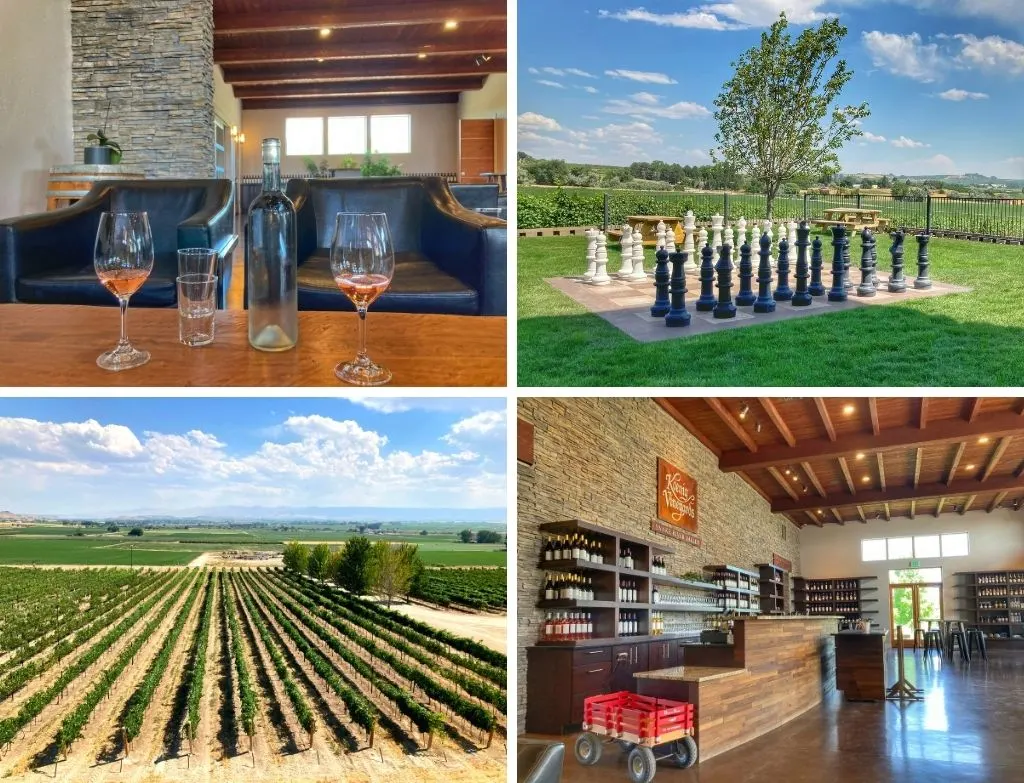 Koenig Vineyards was founded in 1995 with a south-facing estate vineyard and a goal of creating small batches of hand-crafted wine. Today, Koenig Vineyards produces an eclectic mix of varieties from several vineyards in the Snake River Valley.
Varieties produced include Viognier, Syrah, Cabernet Sauvignon, Merlot, Riesling, Sangiovese, Petite Sirah, Chardonnay, and Port-style dessert wines. We were also fortunate enough to try two types of Ice Wine, which are only produced occasionally.
The tasting room at Koenig Vineyards is huge, with both indoor and outdoor spaces. Cozy leather couches and intimate seating areas are scattered throughout the tasting room indoors, and walls of windows make it easy to embrace the gorgeous views in all directions.
In addition to tasting fabulous wines, visitors can play lawn games – there's a larger-than-life chessboard that will help you channel your inner Harry Potter – or climb the Koenig tower for a birds-eye view of the valley and the sprawling vineyards.
Koenig Vineyards | Address: 21452 Hoskins Road Caldwell, Idaho 83607
Open daily: 12 – 5 pm
---
Where to Eat Near the Sunnyslope Wine Trail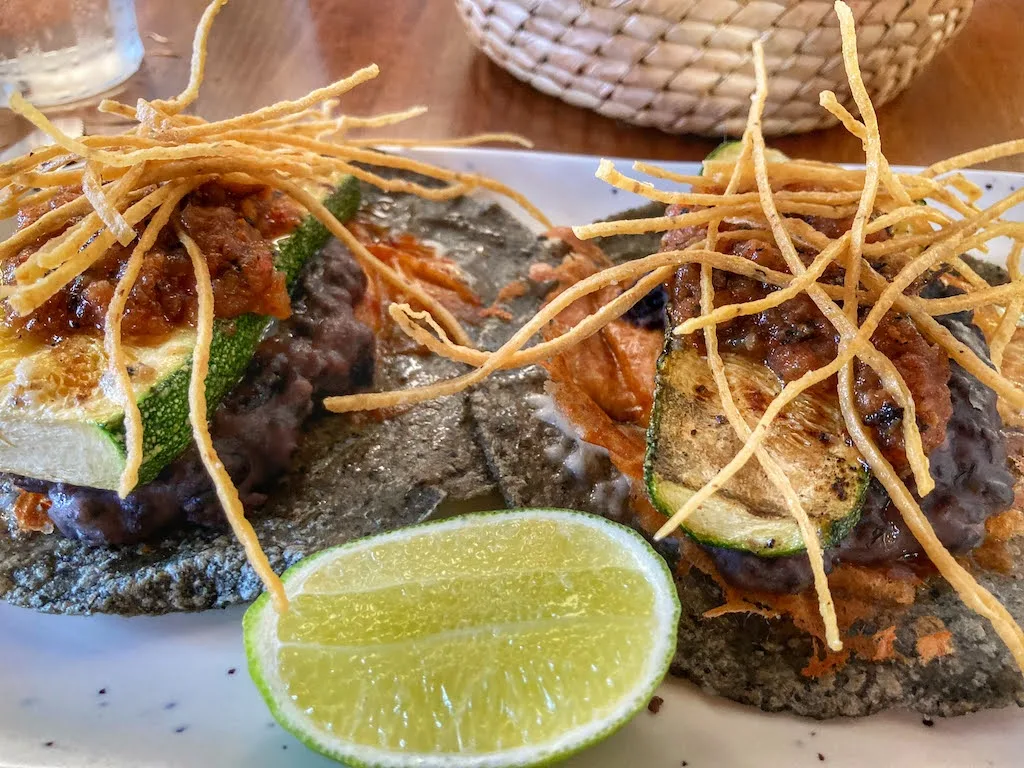 Before you embark on your wine tasting weekend, be sure to let go of all of your preconceived notions about food in the area. There are numerous farm-to-table restaurants in Caldwell and Nampa, and we were so impressed with every place that we tried.
We found our first (and favorite) restaurant – Amano – by following the advice of Visit Idaho, but after that, we just went with advice from the locals, and they didn't steer us wrong!
Here are our top picks for restaurants in Caldwell and Nampa:
Amano – Open for lunch and dinner, Amano is a craft Mexican kitchen in downtown Caldwell that delivers tradition in a vibrant and modern setting. Everything at Amano is made from scratch, from the tortillas and desserts to the artistically prepared cocktails.

You won't find bean burritos at Amano, but you will find out-of-the-ordinary culinary creations like La Milpa, a combination of grilled summer squash, refried black beans, and homemade salsa on heirloom blue corn tortillas. Our experience at Amano was truly the highlight of our 3,000-mile road trip across the United States, so please don't pass it up if you're in the area.

Oh, and be sure to make a reservation – the delectable fare isn't exactly a secret.

Holy Cow – If you love a good burger with all the fixin's, you will appreciate Holy Cow in downtown Nampa. They locally source all of their meat and produce, their fries are beer-battered to perfection, and the beer pairs perfectly with just about everything on the menu. This is real food at affordable prices – perfect after a day of tasting wine! Holy Cow is open every day from 11 am – 9 pm.

Brick 29 Bistro – Another Nampa favorite, Brick 29 Bistro specializes in upscale comfort food – sandwiches, soups, salads, steaks, and homemade desserts. It's a perfect spot for a relaxing lunch, especially if you indulge in the rhubarb grilled cheese, which consists of brie, mozzarella, rhubarb compote, and swiss fondue on garlic-toasted sourdough bread. Talk about decadence! Brick 29 Bistro is open Tuesday through Saturday, from 11 am – 9 pm.

Grit 2C – Located in downtown Caldwell, Grit offers classy American cuisine with both lunch and dinner options. Like all of our favorite restaurants in Cadwell, Idaho, Grit is committed to sourcing local ingredients and then using them to create eclectic, delicious meals that are also affordable. I appreciated the fresh, inspired salads after too much road trip food, and Eric loved the turkey club. Grit is open for both lunch and dinner but closed on Mondays and Tuesdays.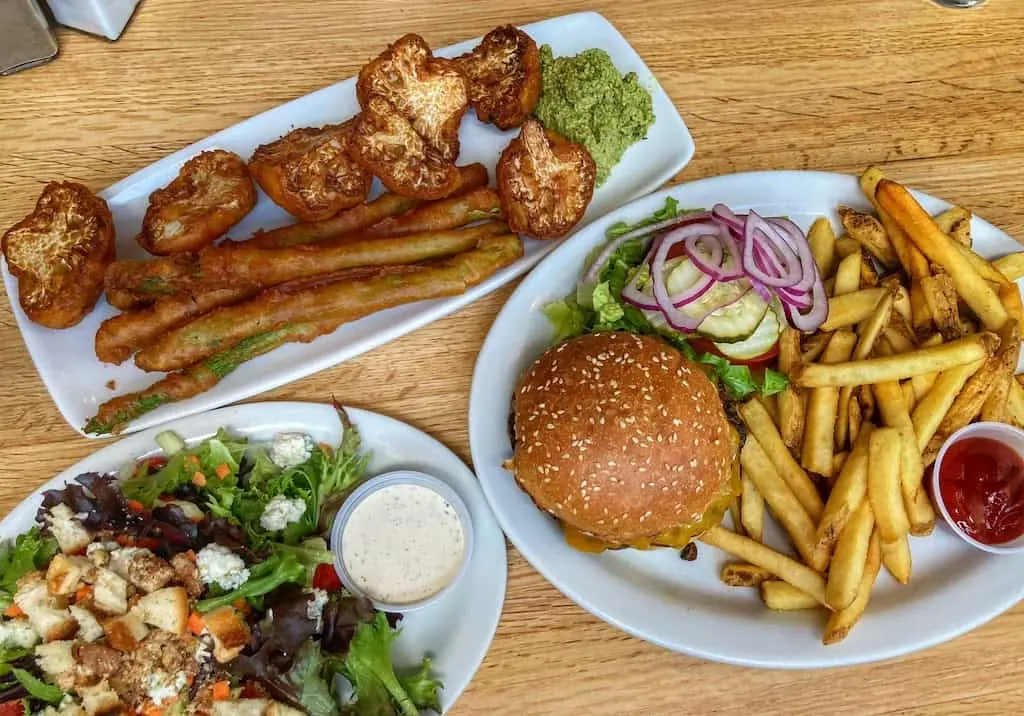 The Orchard House – Several of the wineries we visited suggested we go to the Orchard House for Breakfast. It's heavenly! Cinnamon rolls from scratch! Baskets of beignets! Buckwheat pancakes! I only regret that we didn't eat there every morning of our stay in Caldwell. It's open Monday – Saturday, from 7 am – 3 pm.
---
Love wine-tasting road trips? Read this next: A 5-Day Wine and Waterfall Road Trip in the Finger Lakes of New York
---
Where to Stay in Caldwell, Idaho
There are a few motels and hotels in Caldwell, but if you choose a vacation rental, you'll have a lot more choices. Here are a few on VRBO we'd recommend.
---
Read Next: 10 Outdoorsy Things to do in Twin Falls, Idaho
---
Follow us on social media for more road trip ideas!
Pin for Later?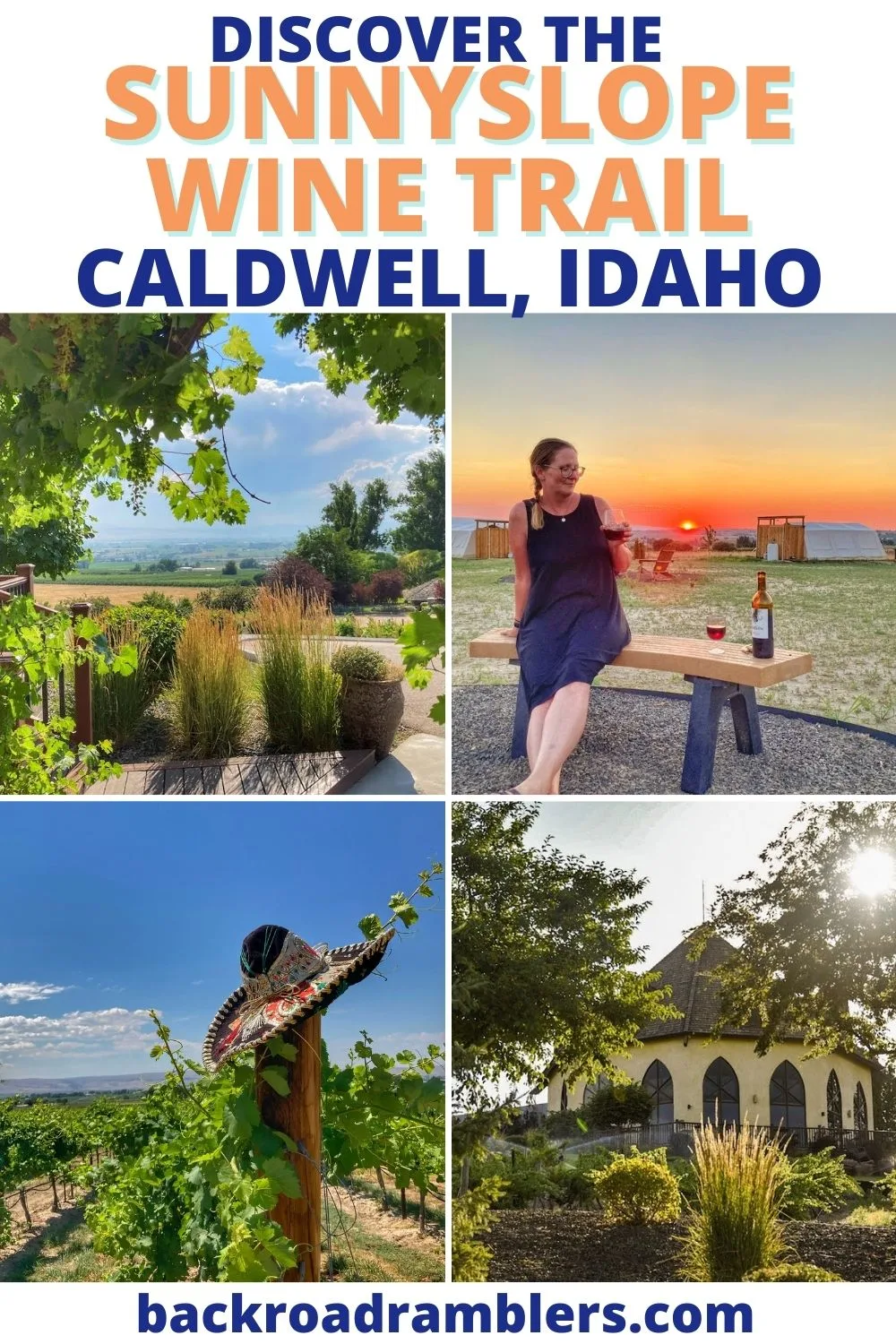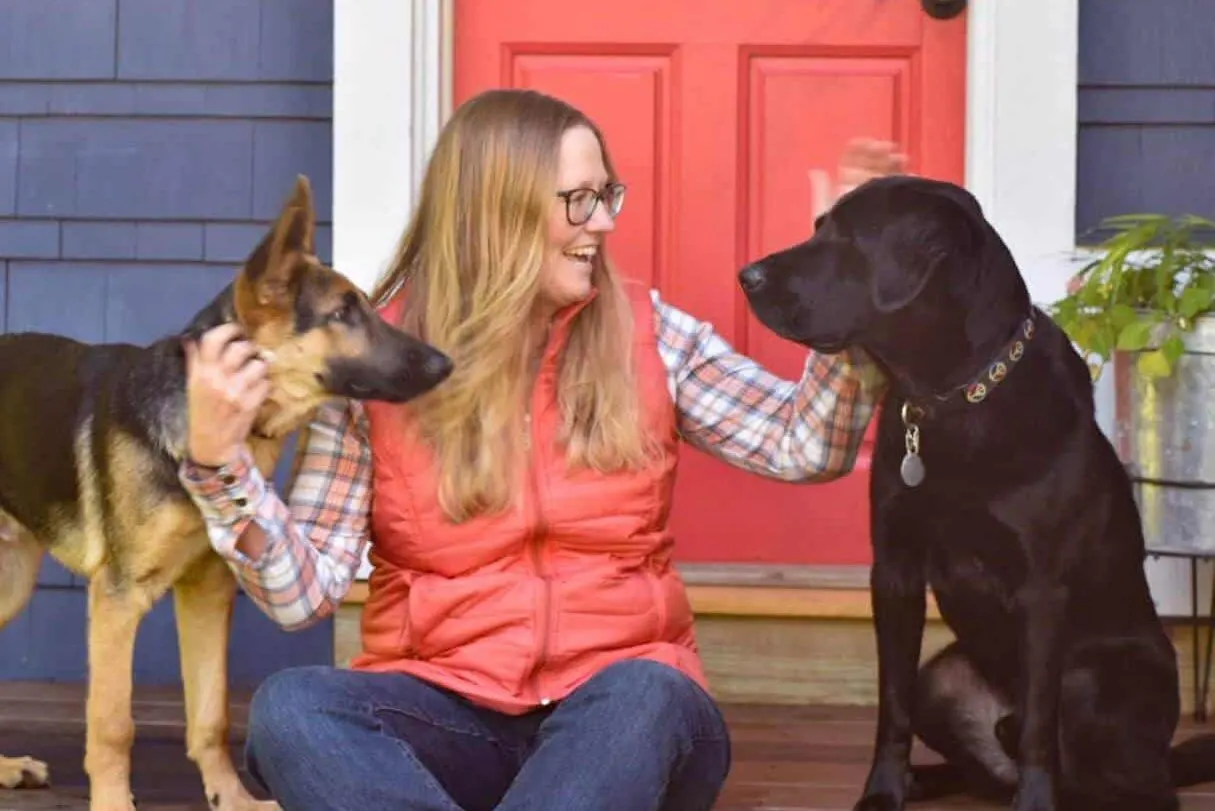 Our Favorite Resources for Road Trips and Outdoor Adventures

These are the resources we use to plan road trips, save money while traveling, and shop for outdoor gear.

Car Rentals: While we use our own car most often for road trips, we also enjoy flying into major airports and then renting a car for more regional road trips. We use Kayak to compare prices and find deals from dozens of car rental agencies at once.

Flights: We use Kayak to search out flight deals.
Money-saving tip: If you find yourself using the same airline repeatedly (we are huge Southwest fans), consider joining their loyalty program and getting an airline credit card. With our Southwest Rewards Visa, we earn a few free flights each year.

Hotels: When it comes to lodging, we seek out small boutique hotels or quirky roadside motels. First, we search for hotels on TripAdvisor so we can read reviews from other travelers. Then, we use Booking.com to make reservations (they have the best prices, plus a flexible cancelation policy).

Camping: Camping is one of our favorite things to do on long road trips. It allows us to explore the outdoors, cook our own food, and save money. We use They Dyrt Pro to find campsites and read reviews before booking on Recreation.gov or state park websites.

Glamping and Vacation Rentals: For weekend getaways and shorter vacations, we love glamping (check out our glamping resource guide). We book glamping properties through Tentrr, Hipcamp, and Airbnb. For cabins and vacation rentals, we like to use VRBO (they have fewer fees and a better cancelation policy than Airbnb).

Guides and Maps: If we are visiting a new region, we usually invest in a Moon Travel Guide for the area. We pass them on to friends and family after our trip. If we are planning on hiking, we also purchase a Falcon guide in the Best Easy Day Hikes series.

Outdoor Gear: We are REI Co-Op members. It cost us $20 for a lifetime membership, but we get a yearly dividend based on our purchases, plus great deals and coupons throughout the year. REI also has a great return policy.

Check out our complete guide for planning a road trip on a budget