Have you ever drifted off to sleep listening to the sound of waves crashing on the shore of the New England Coast? Or pitched your tent in the damp, salty breeze while gulls cried out in the distance?
This, my friends, is beach camping in New England, and it's pretty much the best thing ever.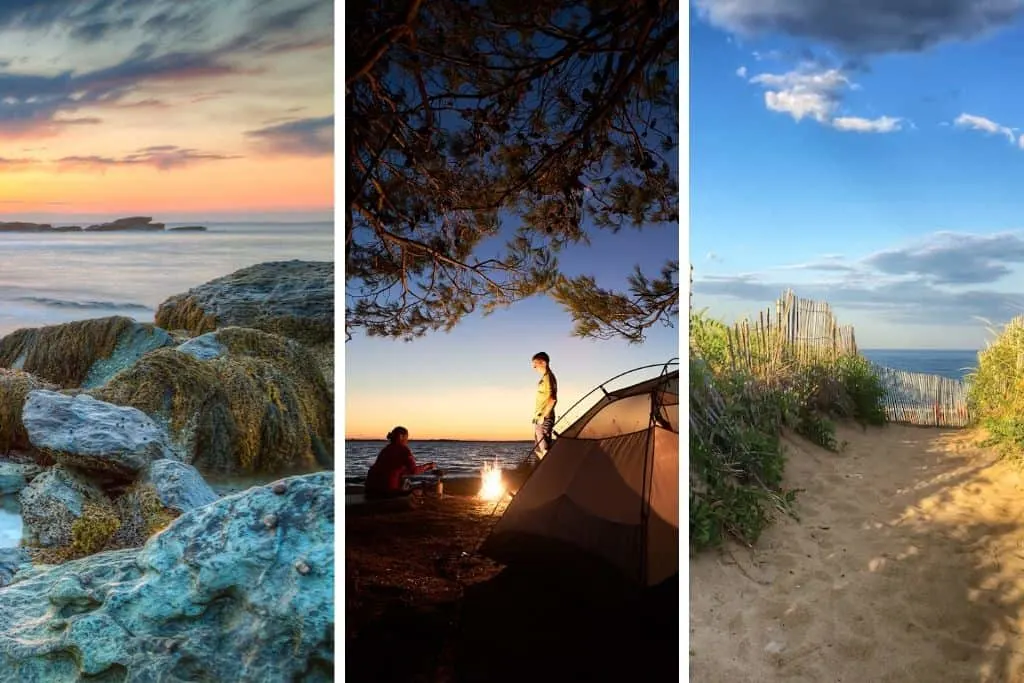 From imposing, rocky cliffs and seaweed-covered outcroppings, to wide sandy beaches and marshy inlets, New England's coastal areas vary wildly depending on the location.
As you might expect, ocean camping in New England is also vastly different as you travel from Maine down to Connecticut.
In Connecticut, for example, many of the coastal areas are heavily populated, and as far as we know, there is no real oceanfront camping. You will, however, find a few busy campgrounds with public beach access, and some great coastal towns worth exploring.
As you head north to Maine, the shore becomes more rugged and the campgrounds more secluded.
In between these two extremes, you'll find every manner of oceanfront camping in New England, from busy campgrounds with amazing amenities to rustic campsites without much more than a fire ring.
If you've got a love for New England and the ocean, there's most certainly a coastal campsite with your name on it. The trick is finding that sweet spot that you'll visit again and again.
We'll give you some tips and ideas for awesome beach camping in New England, and we're hoping you'll visit and share your favorite spots with us.
Some Tips for Camping on the New England Coast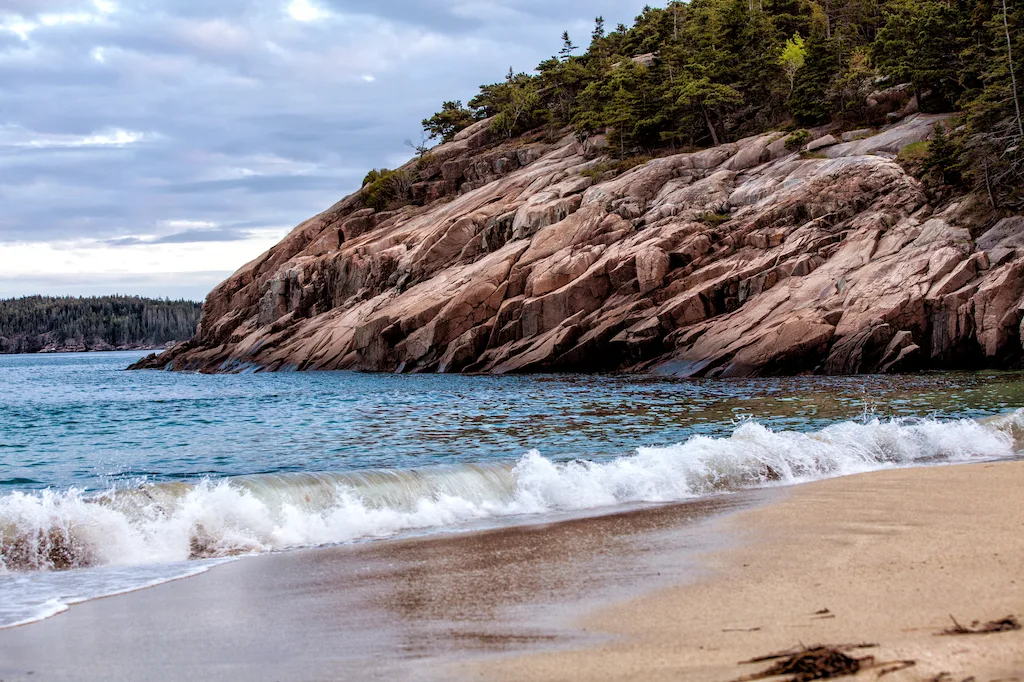 Of course, beach camping in New England isn't for everyone.
The New England coast can be a challenging environment to pitch a tent. For us, the pros of beach camping outweigh the cons, as long as we are prepared for copious amounts of sand, relentless winds, and unpredictable weather.
Here are a few tips to ensure a good night's sleep while camping near the ocean. Most of these tips are geared toward tent campers because that's what we know, but RVers may find them useful as well.
Put a mat outside of your tent or RV to collect sand – We try to get as much sand off everyone as we can before bedtime with a small broom, but we also keep shoes outside the tent and wipe our feet on an outdoor mat that catches most of the sand. If you do a lot of camping near the sand, you might want to check out these sand-free mats. The one we use for car camping is 6'x6' and great for camping with dogs.
Use a windscreen and lids when cooking outdoors – There's nothing worse than sand in your dinner. When car-camping, we use a two-burner Coleman stove with a windscreen, plus we make sure we keep lids on all the pots and pans. Cooking over an open fire works when it's not windy, but a little sandy crunch is inevitable in most scenarios.
Hang a clothesline downwind from your campsite – Beach camping in New England means constantly dealing with wet towels and bathing suits. Be sure to hang a clothesline where you won't have to deal with the sand constantly blowing off your clothes and into your eyes.
Use your tent guylines – Created for extra protection from wind and rain, camping on the beach is a good time to use the guylines that attach to your rainfly. At a minimum, attach guylines to the guyout points on the windward side of your tent. Because guylines are staked out farther away from your tent, use small solar lights to mark where they are anchored so you don't trip on your way to the bathroom.
Bring bug nets – The New England coast is about as buggy as you can get. You've got throngs of mosquitoes, but also a few different types of biting flies that aren't particularly deterred by DEET or picaridin-based sprays. The best thing for biting flies is full-coverage, which includes a bug net to cover your face. I am allergic to all types of bug bites, so I use Sawyer spray with picaridin and this little head net with a baseball cap.
Waterfront and Beach Camping in Maine
Of all the states in New England, there are the most options for camping on the beach in Maine. However, you should know that your idea of beach camping may not be what you'll find on the Maine coast, which is known for its rugged landscape.
Yes, there are sandy beaches in Maine, but rocky beaches and outcroppings are far more common.
If you can expand your concept of beach camping a little bit, you'll find that the Maine coast is the perfect spot to pitch a tent.
Here are some of the most amazing spots for ocean camping in Maine.
Cobscook Bay State Park, Dennysville, Maine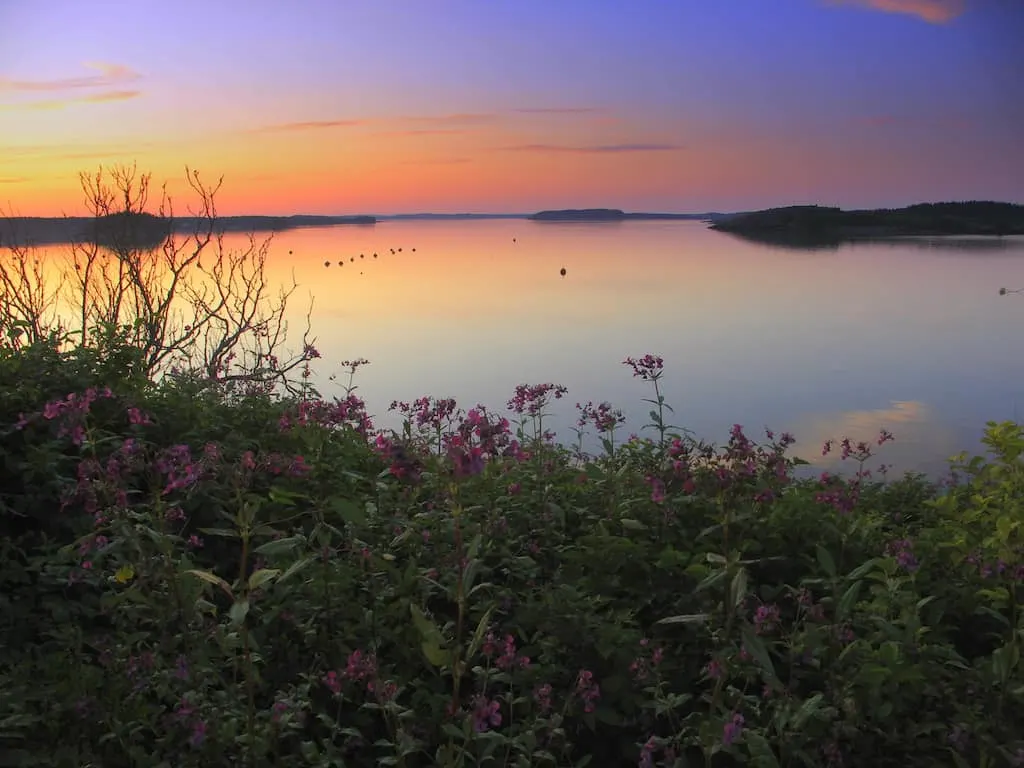 Located on the northern coast of Maine, not far from the Canadian border, Cobscook Bay State Park encompasses 888 acres on the shore of Cobscook Bay. Cobscook is the Maliseet-Passamaquoddy tribal word for "boiling tides."
The tides of Cobscook Bay average 24 feet and can reach 28 feet in some situations. By contrast, the tides in the southern part of Maine's coast average about 9 feet.
This is a fabulous park for tide-pooling, paddling, clamming, and wildlife watching. The campground at Cobscook Bay State Park contains a mix of 106 reservable and non-reservable campsites that are nicely spread out and very private.
There are several waterfront sites and others that are perched on a cliff overlooking the water with no water access. Amenities include hot showers, a boat launch, a playground, and covered picnic pavilions.
Campsites do not have hookups, but there are potable water faucets throughout the campground.
Hiking trails wind through the park and also connect to Moosehorn National Wildlife Refuge. Cobscook Bay State Park is considered a birding hot spot, with more than 200 bird species identified in the area.

Download the Campground Map
Visit the Cobscook Bay State Park website
---
HTR Acadia, Mount Desert Island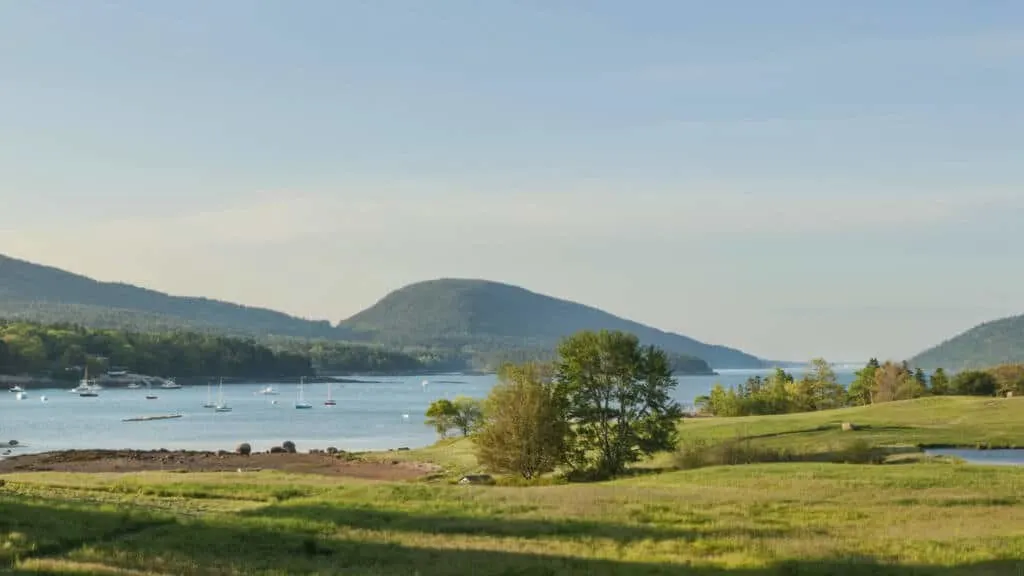 HTR Acadia is a private camping area right on the Atlantic Ocean with fabulous views of the Maine Coast.
This is a quiet, family-friendly campground with room for tents and RVs. There are a few cabins and a glamping tent available for rent, and many of the sites have electric hookups.
Amenities include boat mooring rentals, a playground, a freshwater quarry with a small beach, and a heated swimming pool.
All sites come with a picnic table, fire pit, and water faucet. All of the sites are close to the ocean, with a few waterfront sites, and many sites with great water views. Friendly dogs are welcome too!
HTR Acadia is an awesome spot for ocean camping in Maine, and it is within close driving distance of Acadia National Park (9 miles) and Bar Harbor (12 miles).
Visit the HTR Acadia website
Check out the campground map
---
Marshall Island (boat-in campsites), Hancock County, Maine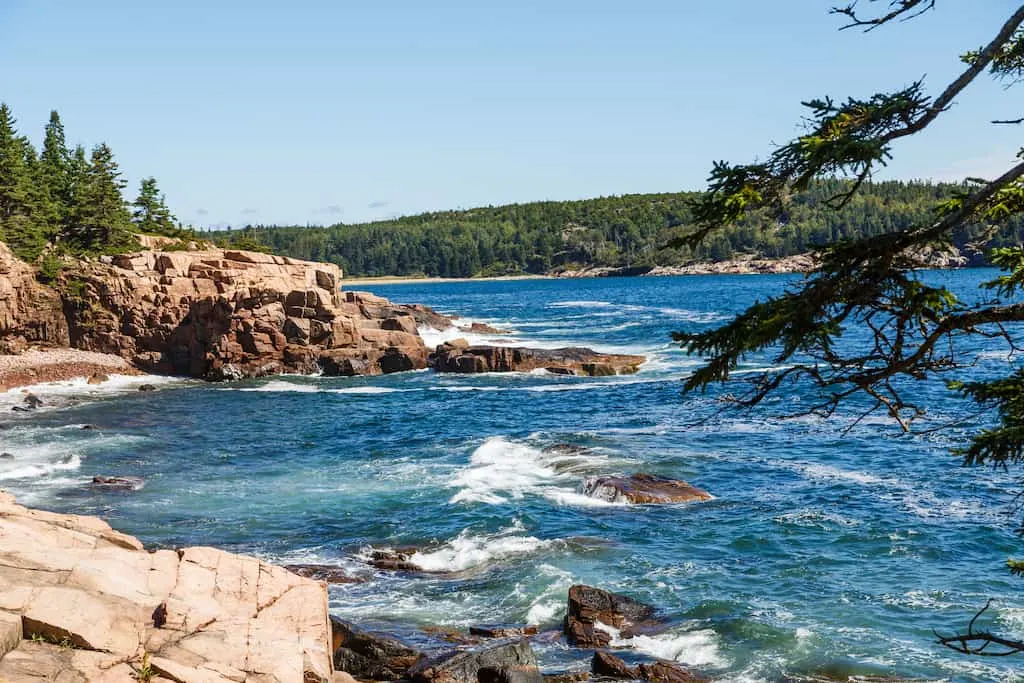 There are few places along Maine's coast as isolated, wild, and beautiful as Marshall Island.
If you have access to a boat and don't mind going primitive, check out Ed Woodsum Preserve on the 985-acre Marshall Island. This is one of the largest undeveloped islands on the Atlantic Coast in the USA, and campsites are available on a first-come, first-served basis.
In addition to four primitive campsites, the island is great for hiking, kayaking, birdwatching, and beachcombing. Your stay is limited to two nights, and you will need a permit if you want to have a campfire.
These amazing campsites provide some of the best oceanfront camping in New England — perfect for anyone who wants to get off the grid for a few days of R&R.
Marshall Island is a Maine Coast Heritage Trust property, acquired in 2003 and conserved for public use.
Learn more about Marshall Island camping from Maine Coast Heritage Trust
Download a trail map with camping options
---
Duck Harbor Campground, Isle au Haut, Stonington, Maine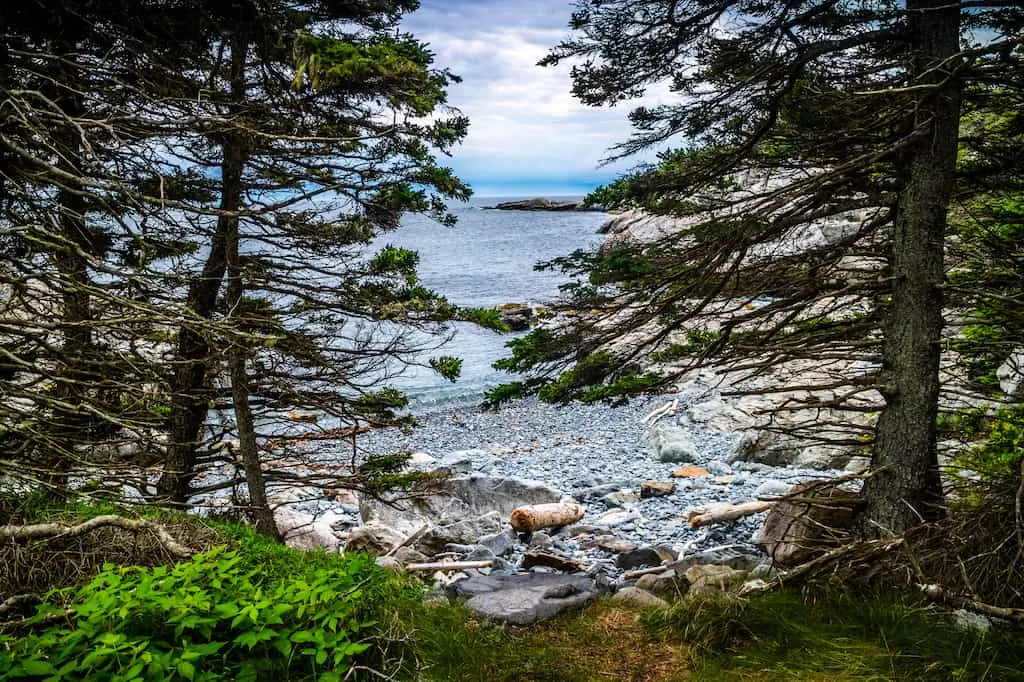 This is another remote oceanfront camping area that is inaccessible to automobiles and perfect for lovers of solitude.
Isle au Haut is part of Acadia National Park and is linked to the mainland by mailboat, which travels to Duck Harbor between September and June.
There are five primitive campsites available, and reservations can be made for these coveted sites at Recreation.gov.
The campsites at Duck Harbor are lean-to shelters, and amenities at each campsite include a fire ring, picnic table, a composting toilet, and a hand pump for water.
Most of the campsites have a view of the ocean, and there are great hiking trails around the island. A small village located on the island is a five-mile walk from the camping area.
Visit the National Park Service to learn more about Duck Harbor Campground.
Download a map of Isle au Haut.
---
Wolfe's Neck Oceanfront Campground, Freeport, Maine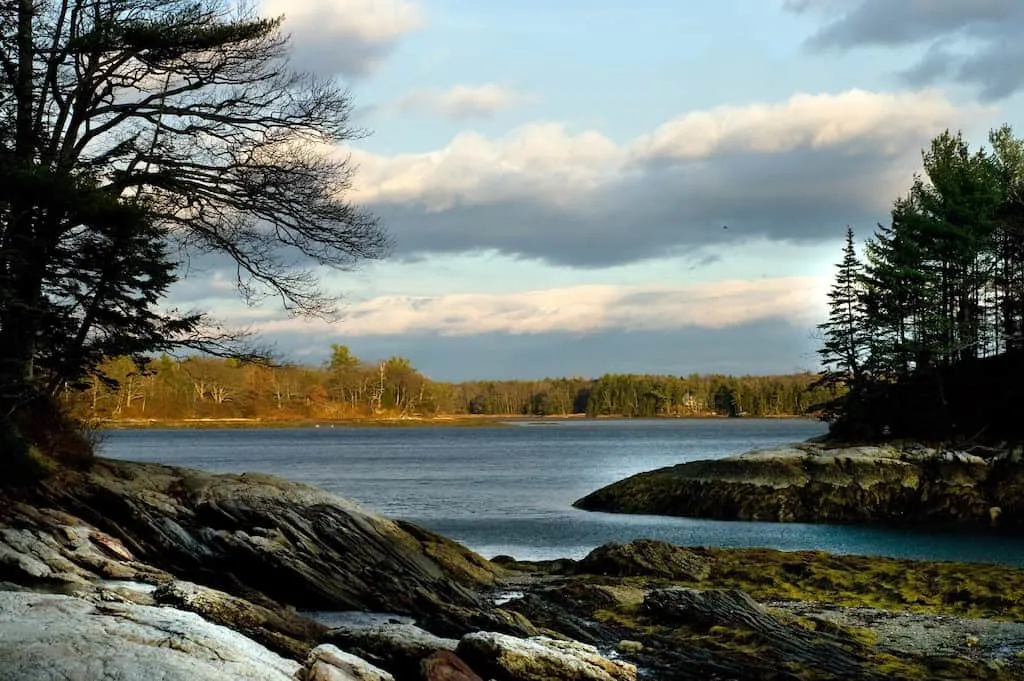 ---
If you're looking for unique oceanfront camping in Maine, check out Wolfe's Neck Center for Agriculture and the Environment, which maintains a gorgeous waterfront campground on their working dairy farm in Freeport, Maine.
Kayak and bike rentals are available, and you can also explore the demonstration gardens, barnyards, and hiking trails.
Wolfe's Neck features more than 600 campsites on the shores of Casco Bay. The camping areas are divided into three sections — the East Bay is best for RVs and campers who want amenities and conveniences close by.
Many of the sites have 30 amp electric and water hookups, plus the farm cafe, camp store, and shower building are nearby.
Middle Bay is exclusively for tent campers, with sweeping ocean views, a wooded setting, and a kayak launch nearby. There are no hookups, but you will have easy access to potable water and privies.
West Bay is perfect for kids, with open campsites near a recreation field and playground, and with great views of the ocean and the farm fields.
Visit Wolfe's Neck Center for Agriculture and the Environment
Check out the interactive campground map
---
Beach Camping in New Hampshire: Hampton Beach State Park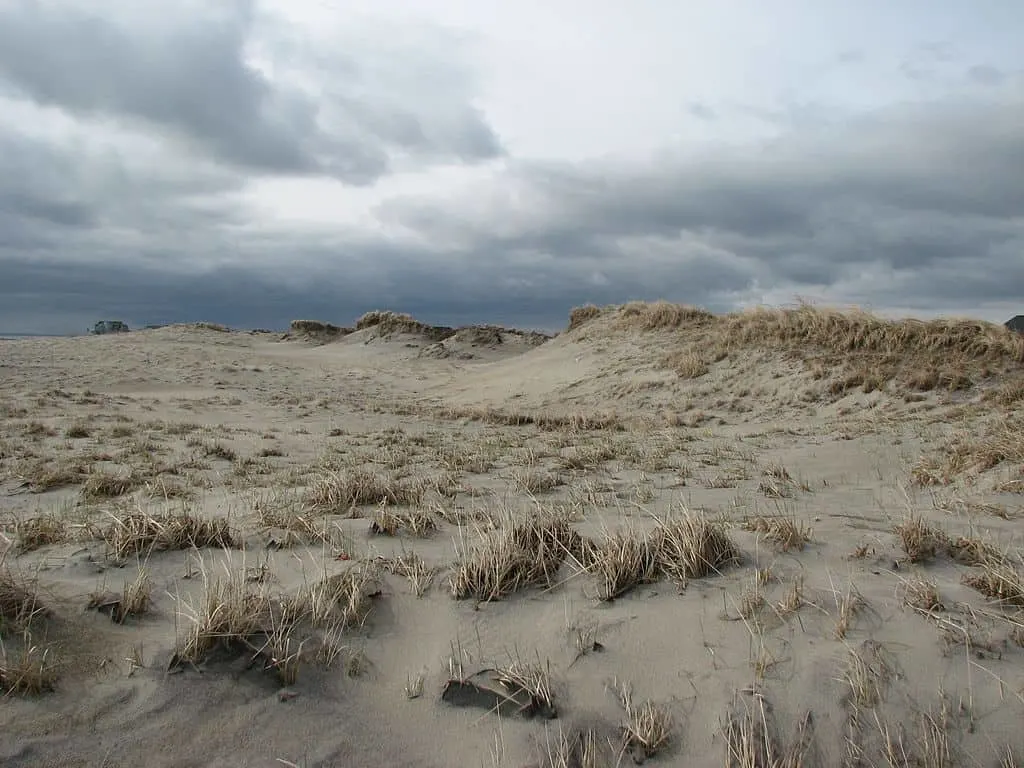 ---
New Hampshire has a grand total of 18.57 miles of coastline, so as you can imagine, opportunities for beach camping are pretty slim.
If you find yourself on the ocean in New Hampshire and want to spend a night under the stars, your only option is Hampton Beach State Park in Hampton. Unfortunately, this campground is only for RVs. Tents and pop-up campers are not permitted.
The RV area is located right on the coast near South Beach and includes 28 sites with full hook-ups.
South Beach is a gorgeous, sandy stretch of coast that is perfect for swimming and sunbathing, and there is also a park store nearby.
Visit the Hampton Beach State Park website
Download a park map
---
Also Read: 8 Incredible New England Beach Vacations (Hampton Beach is on this list!)
---
Beach Camping in Massachusetts
There are some incredible sandy beaches in Massachusetts, and these three campgrounds give you access to some of the best.
Only one of these spots allows you to camp right on the beach, but the other two are within walking distance, and you can hear the waves crashing on the shore from your site.
Sandy Neck Beach, Barnstable, Cape Cod, Massachusetts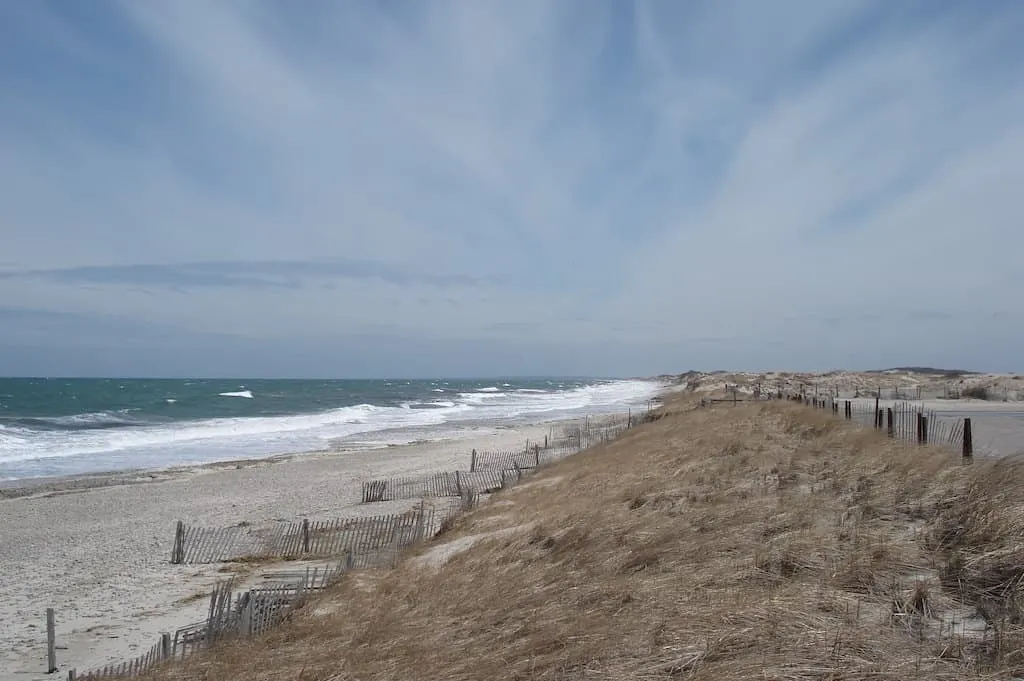 Sandy Neck Beach is a barrier beach that includes 4,700 acres of dunes, maritime forests, and marshes on Cape Cod. This is a truly incredible landscape with many recreation opportunities.
There are a few ways to camp at Sandy Neck Beach. If you have a self-contained ORV, you can purchase a permit to drive and camp on the beach. All campers must sleep in the vehicle. Fires and alcohol are not permitted on the beach.
If you do not have an ORV, the other way to enjoy a night on Sandy Neck Beach is to reserve a primitive, hike-in campsite. These sites are about 3.3 miles from the parking area. A portable toilet is available, along with five gallons of potable water for each campsite.
If you are up for the adventure of either driving or hiking along the beach to your spot, Sandy Neck provides incredible opportunities for amazing beach camping in Massachusetts, which is pretty rare these days.
Visit the Sandy Neck Beach Park website
Download a map
---
Horseneck Beach State Reservation, Westport, Massachusetts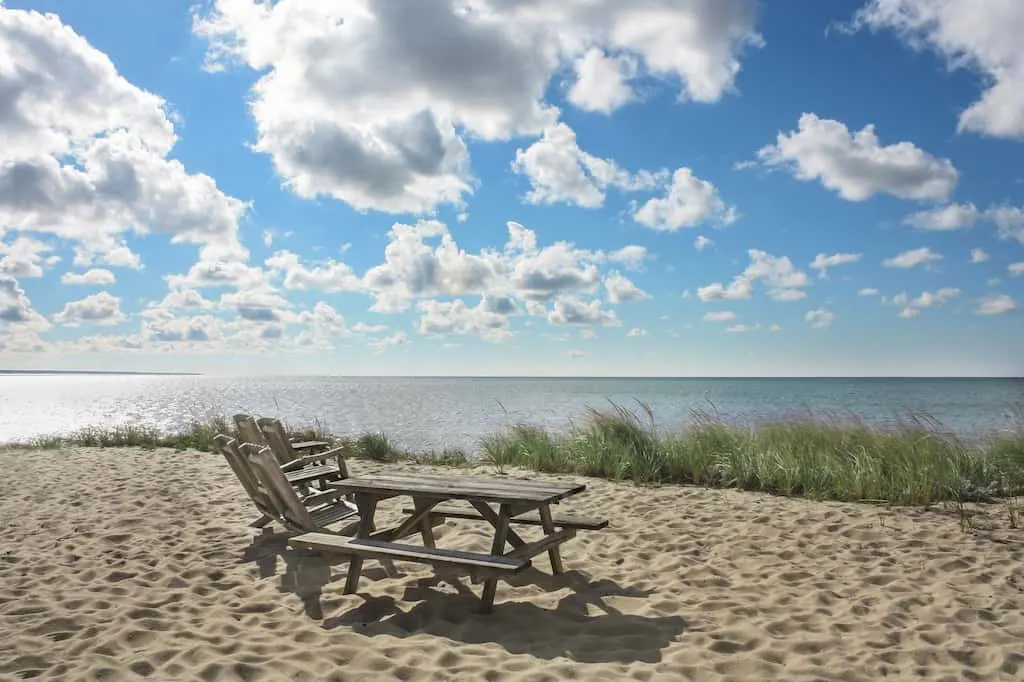 Horseneck Beach State Reservation is one of the most popular beaches on the coast of Massachusetts.
Located at the western end of Buzzard's Bay, this two-mile stretch of sandy beach is great for relaxing and recreation. It's also one of the premier bird-watching destinations in New England.
While the campground at Horseneck Beach isn't right on the ocean, you can hear the crashing waves from your site, and you are within walking distance of a nice cobblestone beach.
The campground includes 96 sites without hookups. Amenities include restrooms with showers, a dishwashing station, a dump station, and a playground.
One thing worth mentioning – campsites at Horseneck Beach State Reservation are $22 per night for Massachusetts residents. If you're coming from out of state, expect to pay $70 a night for the luxury.
Visit the Horseneck Beach State Reservation website
---
Salisbury Beach State Reservation, Salisbury, Massachusetts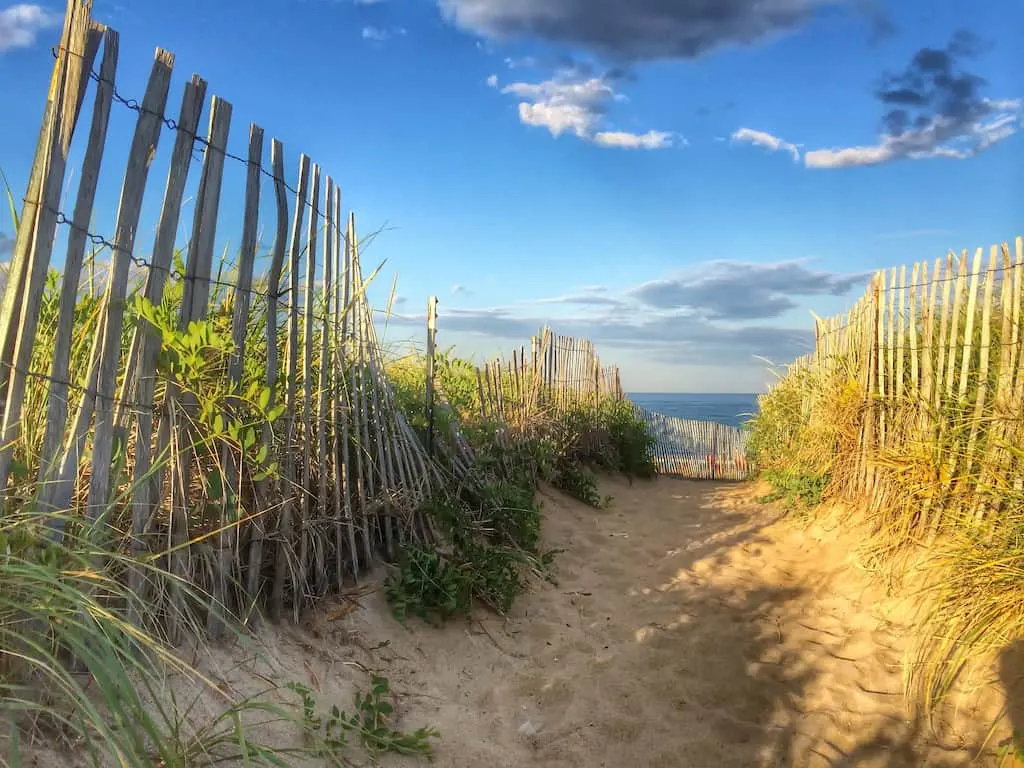 Salisbury Beach State Reservation boasts a huge campground with 484 sites that are perfect for tents and RVs. The beach itself extends 3.8 miles along the Atlantic Ocean, from the Merrimack River to the New Hampshire border.
Campsites have water and electric hookups with views of both the ocean and the Merrimack River. There are a few trees spread out among the sites, but for the most part, you can expect to be in full sun most of the day.
While this isn't quite oceanfront camping, it comes very close!
As with other state camping facilities in Massachusetts, out-of-state residents will pay significantly more for a site. The cost is $22 for residents and $70 for out-of-staters.
Visit Salisbury Beach State Reservation website
---
Beach Camping in Connecticut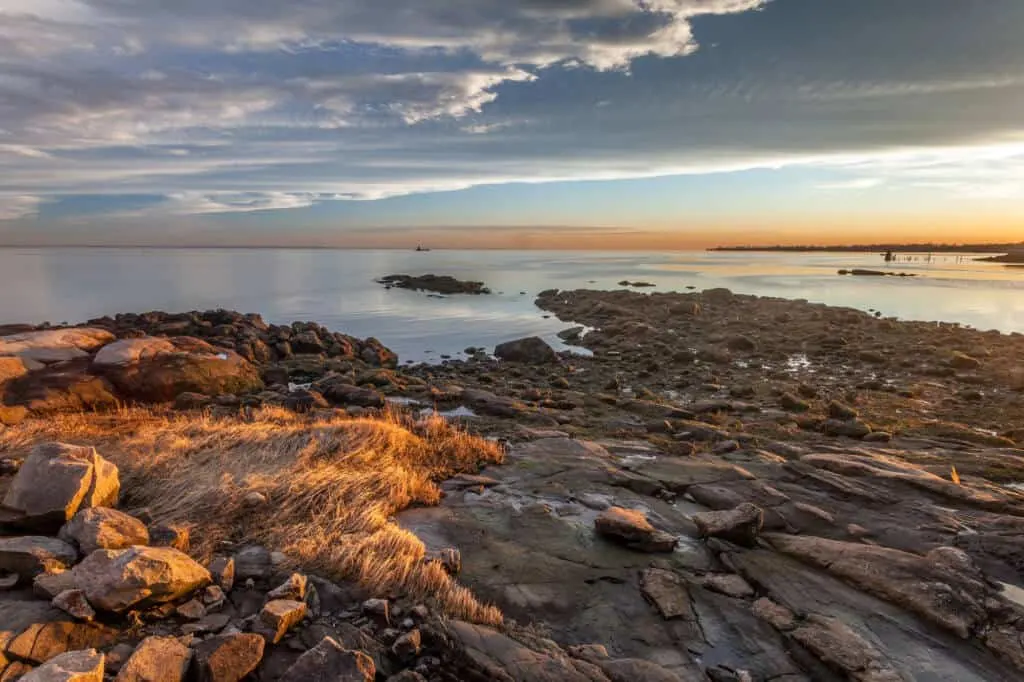 We couldn't find any legit beach camping spots in Connecticut, but we did find two nice state parks on the Long Island Sound. Both provide easy access to the beach and are perfect for families.
Unfortunately, both are also extremely crowded during the summer months. If you don't mind sharing your space with other beach lovers, then check out these great spots for coastal camping in Connecticut.
Hammonasset Beach State Park, Madison, Connecticut
Located on the Long Island Sound, Hammonasset Beach is two miles of sandy goodness that attracts over a million people every year. In addition to an expansive sandy beach, there is a ¾-mile boardwalk and numerous walking trails.
The campground includes more than 550 sites just steps from the beach. Most sites don't have hook-up, but there are about 50 RV sites with electricity. There is a great nature center near the campground and bikes are available to rent. A small river would be perfect for kayaking.
While this is a busy campground throughout the summer, it's great if you want to take advantage of oceanfront camping in Connecticut.
Visit the Hammonasset Beach State Park website
---
Rocky Neck State Park, East Lyme, Connecticut
While this isn't a spot where you can camp right on the beach, Rocky Neck State Park is a popular park that offers an expanse of sandy beach, warm, shallow water for swimming, and a diverse trail system for hiking and looking for wildlife.
The park includes 700 acres of diverse terrain, plus a ½-mile beach on the Long Island Sound.
The campground at Rocky Neck State Park is within walking distance of the beach and includes 160 campsites for tents and RVs.
There are wooded and open sites, non of which have hookups. Dogs are not permitted, but it's a fabulous spot for camping near the ocean with kids.
Visit the Rocky Neck State Park website
Beach Camping in Rhode Island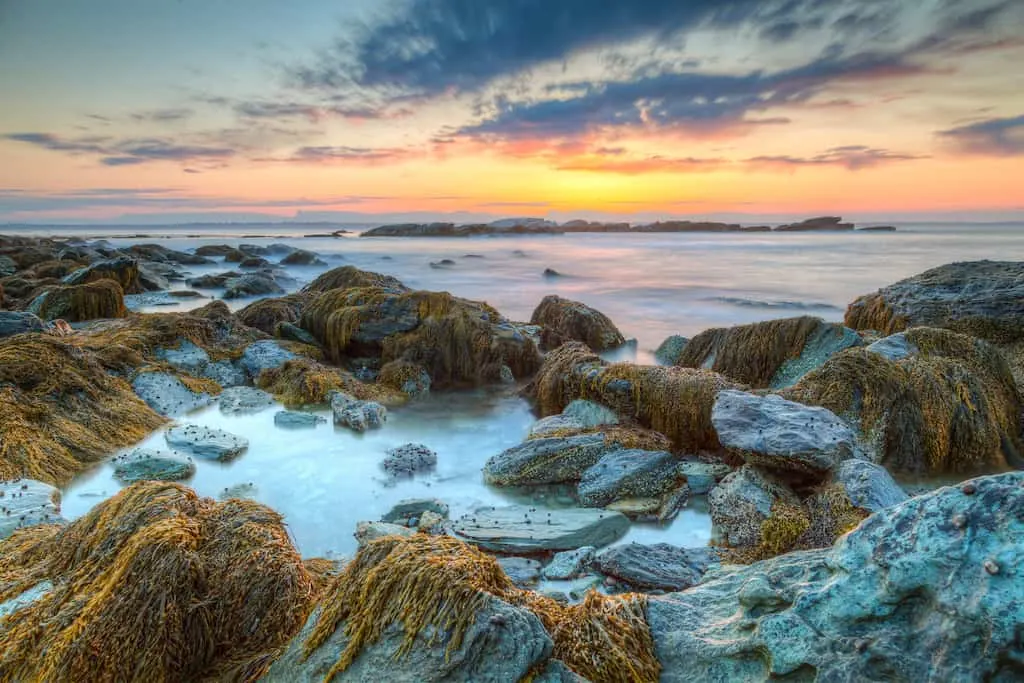 If proximity to the beach is the very most important thing, then you may want to check out some of these beach campsites in Rhode Island.
The caveat is that most of these sites require a self-contained camping vehicle. No tents, campervans, or campers without a toilet and water tank. If your vehicle fits the description, you may love these spots.
Charlestown Breachway State Park, Rhode Island
The camping area at Charlestown Breachway State Park is basically a parking lot with pit toilets, but you can't beat the location, with a nice beach with great views of Block Island Sound. The parking area has room for 75 RVs, with about 15 spots right on the ocean.
No amenities to speak of unless we include dumpsters, but the views make it worthwhile, as does the excellent saltwater fishing.
Learn more about Charlestown Breachway
---
East Beach — Ninigret State Conservation Area, Charlestown, Rhode Island
East Beach is one of the least developed of the Rhode Island state beaches, and one of Rhode Island's spectacular seaside treasures, with three miles of pristine shoreline.
There are changing rooms available, and a small portion of the beach is staffed with lifeguards.
To camp here, you will need a self-contained four-wheel-drive vehicle. You will then be able to purchase a Barrier Beach Pass to drive on the beach to the camping area.
Learn more about ocean camping on East Beach
---
Fort Getty Park and Campground, Jamestown, Rhode Island
While this park is mainly a recreational vehicle campground, Fort Getty also includes a small tenting area.
The 41-acre park includes a small, rocky beach, a boat ramp and dock, and some old fortifications that are fun to explore. There are no lifeguards on duty.
The campground includes 83 RV sites and 26 no-frills tent sites. Most of the tent sites do require a walk to get to the ocean, but the RV sites are pretty much right on the water. A restroom, trash/recycling, and a dump station are available onsite.
This is a great, affordable camping area that is perfect for folks just passing through.
Learn more about camping at Fort Getty Park
Summer on the New England coast is all about sun, sand, and saltwater.
Make your next trip a camping vacation and you can do all that and more. Choose one of these amazing spots for beach camping in New England that you'll remember forever.
Check out all of our New England posts and start planning your perfect vacation!