That camping trip you've been dreaming of — It's not going to plan itself!
And while I can do everything in my power to help you along the way, these road trip and camping apps are real lifesavers. I'm declaring these the 10 most important apps to download before your next camping road trip.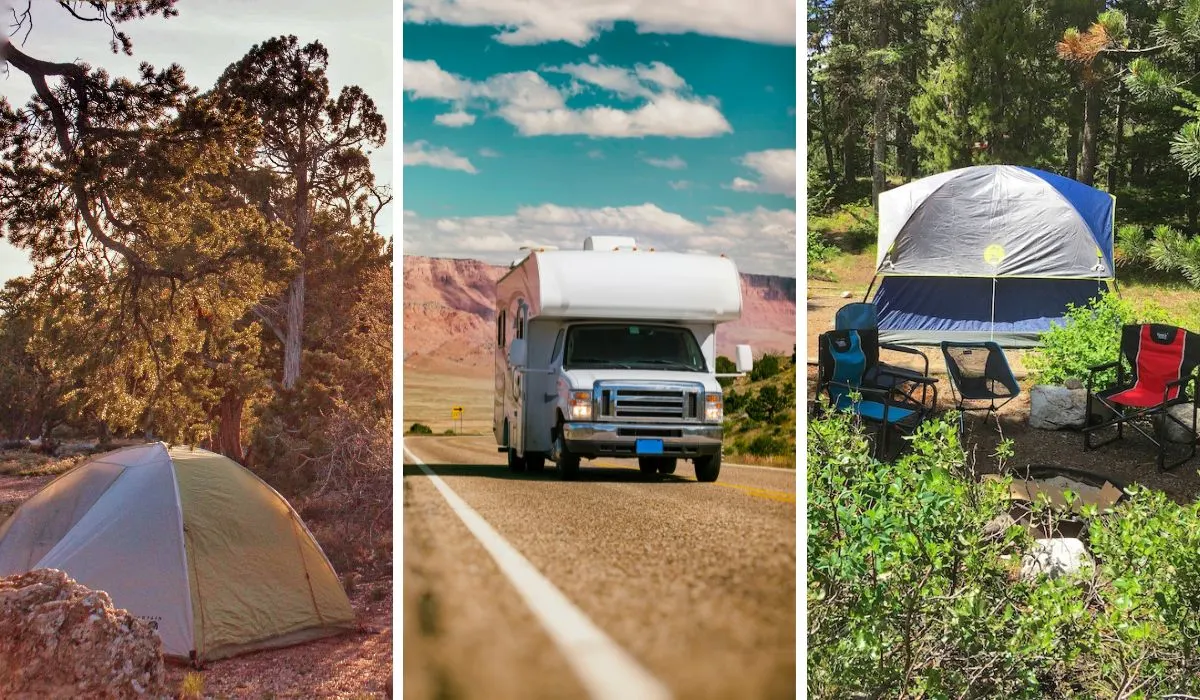 They're the apps I use the most when I'm planning a camping road trip, and also when I'm in the middle of a road trip.
If you're a planner, you likely get the most use out of these apps during the planning stages, but you'll want to access all those plans en route as well.
If you are more of a spontaneous road-tripper, then you'll find these apps irreplaceable for finding campgrounds, hikes, and cool attractions on the fly.
This overview assumes you already have your map app of choice.
We love Google Maps for planning miles and times and creating loose overviews of where we're going, but we actually like Apple Maps better when we're driving. We have them both – just in case.
These are the Best Camping Apps Out There!
No matter what type of road tripper or camper you are, I guarantee that you will use these awesome camping apps. Most of the apps that I'm recommending are free, providing immeasurable benefits for the cost of your time to download and learn the app.
A few of them offer a premium subscription with additional benefits. If I think it's worth the upgrade, I'll let you know.
Best Camping Apps: Quick Facts
App
Overview
Free version?
Annual cost for the Premium version
The Dyrt
Find private and public camping, read reviews, and book sites.
Yes
$35.99
Roadtrippers
Find roadside attractions and other cool stops on your next road trip.
Yes
$35.99
Hipcamp
Find and book cool camping and glamping spots on private land.
Yes
None
Recreation.gov
Search for and book federal campsites, and book permits for activities and tours on federal land.
Yes
None
Reserve America
Find and book sites at state campgrounds and some private campgrounds.
Yes
None
Harvest Hosts
An RV membership program for booking overnight sites at wineries, breweries, farms, etc.
No
$84.15
FreeRoam
Find free campsites with great map overlays.
Yes
None
AllTrails
Find hiking trails, read reviews, and us the GPS to find your way.
Yes
$35.99
RV Life
RV-safe GPS and campground locator
Yes
$59
Campendium
Find public and private campgrounds and read reviews
Yes
$49.99
Includes Roadtrippers Plus
---
The Dyrt: Find the Best Camping Spots for Your Road Trip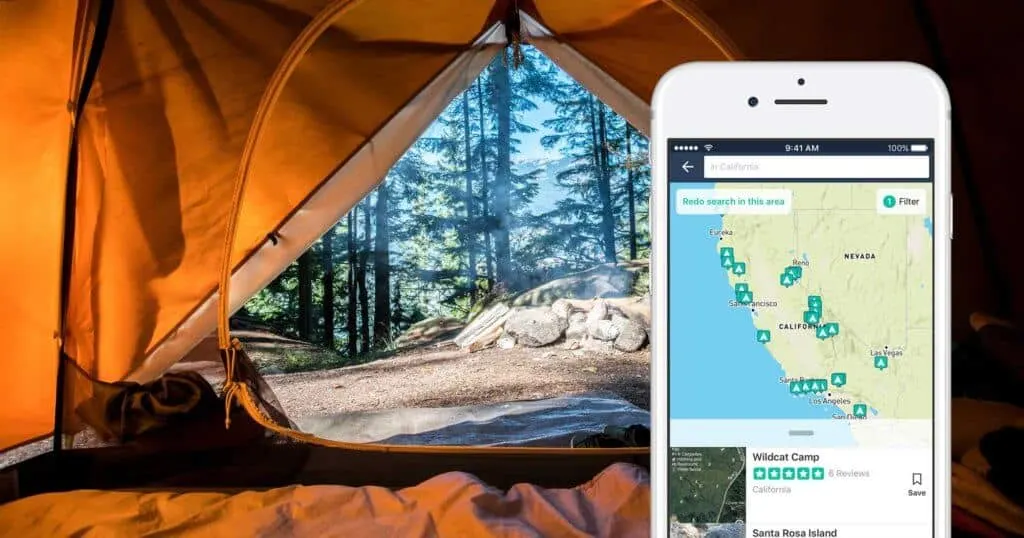 Cost: Free/$35.99 per year
Average rating: 4.8 out of 74.7K reviews
Availability: iOS and Android
Eric and I have been using the Dyrt camping app since it came out in 2018, and it's been incredibly useful for finding decent campgrounds when we're traveling. This is hands-down one of the best camping apps to download before your next trip and our favorite app on this list.
The Dyrt is the most comprehensive campground search and review app out there, and it's also the most used, with over a million user-generated reviews, updates, and photographs of campgrounds and campsites throughout the United States.
Using the map or the search feature on The Dyrt, you can find public and private campsites, read reviews, and get contact info for booking.
The free app is plenty for most people, including us, but the pro version lets you access reviews and maps offline so you're not gobbling up your data. The Dyrt Pro also lets you set up alerts for sold-out campgrounds so that when a spot opens up, you're the first to know.
We purchase The Dyrt Pro for big road trips (more than a couple weeks in length), but otherwise, we make do with the free version.
Read about how to use The Dyrt app to find awesome campgrounds or head straight to thedyrt.com to create your free account.
---
Roadtrippers: The Perfect App for Planning Your Next Adventure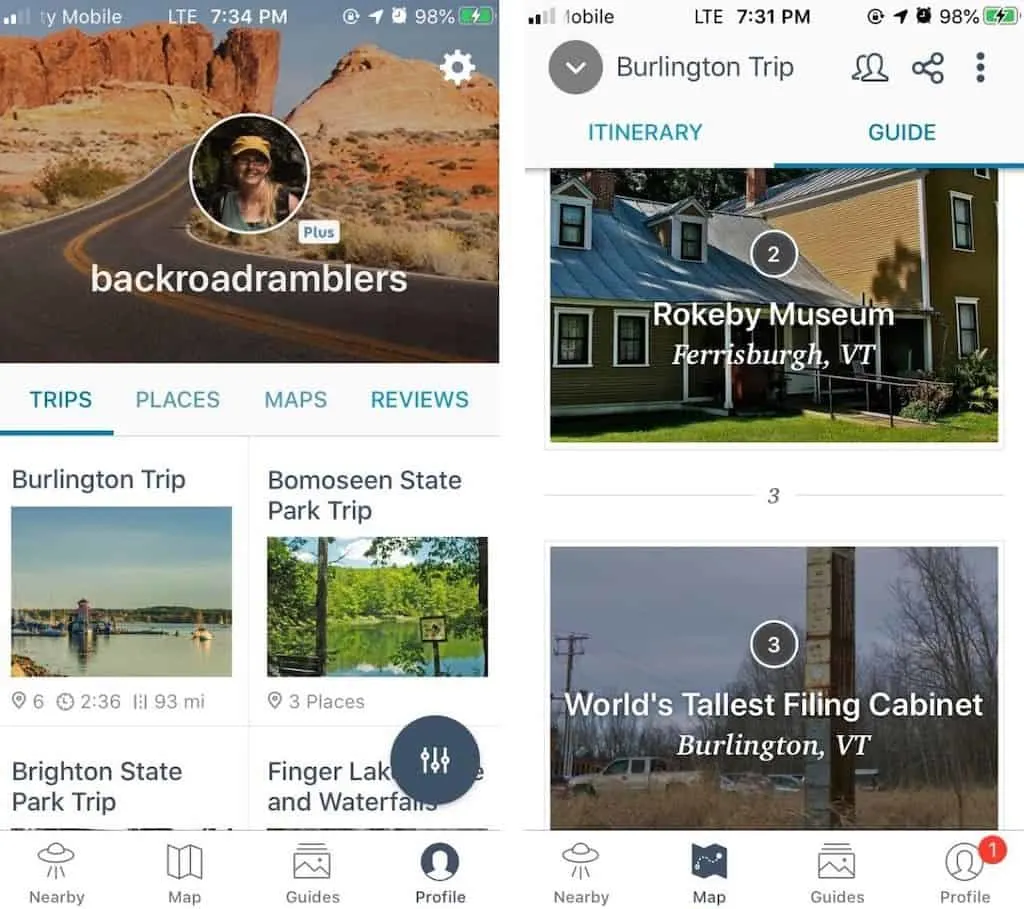 Cost: Free/$ 35.99 per year or $49.99 when you get it with Roadpass, which includes Campendium.
Average rating: 4.7 stars out of 55.6K reviews
Availability: iOS and Android
Before I used the Roadtrippers app, I fell in love with the Roadtrippers website.
The Roadtrippers digital magazine is chock-full of cool articles on every type of road trip stop you can imagine, from quirky hotels and historic sites to amazing parks, scenic areas, and campgrounds.
I often get lost on the Roadtrippers website, spending way too many hours planning trips that I'll likely never take. Hey, you never know!
You'll be happy to know that the app is a bit more streamlined, and while it's still a comprehensive database of amazing places, it's easy to use on the go.
The free Roadtrippers app allows you to create an itinerary with up to five stops.
I HIGHLY recommend upgrading to Roadtrippers Plus so that your itinerary and corresponding map can be as long and detailed as you want it to be.
You can even download your map so it takes you where you want to go when you don't have cell service.
---
Read our post about how to use Roadtrippers to plan your next camping road trip, or head straight to Roadtrippers.com to sign up for your free account. Bonus: Save $5 on your Roadtrippers Plus subscription by using the code BTR5QTP.
---
Hipcamp: Find Cool Campsites on Private Land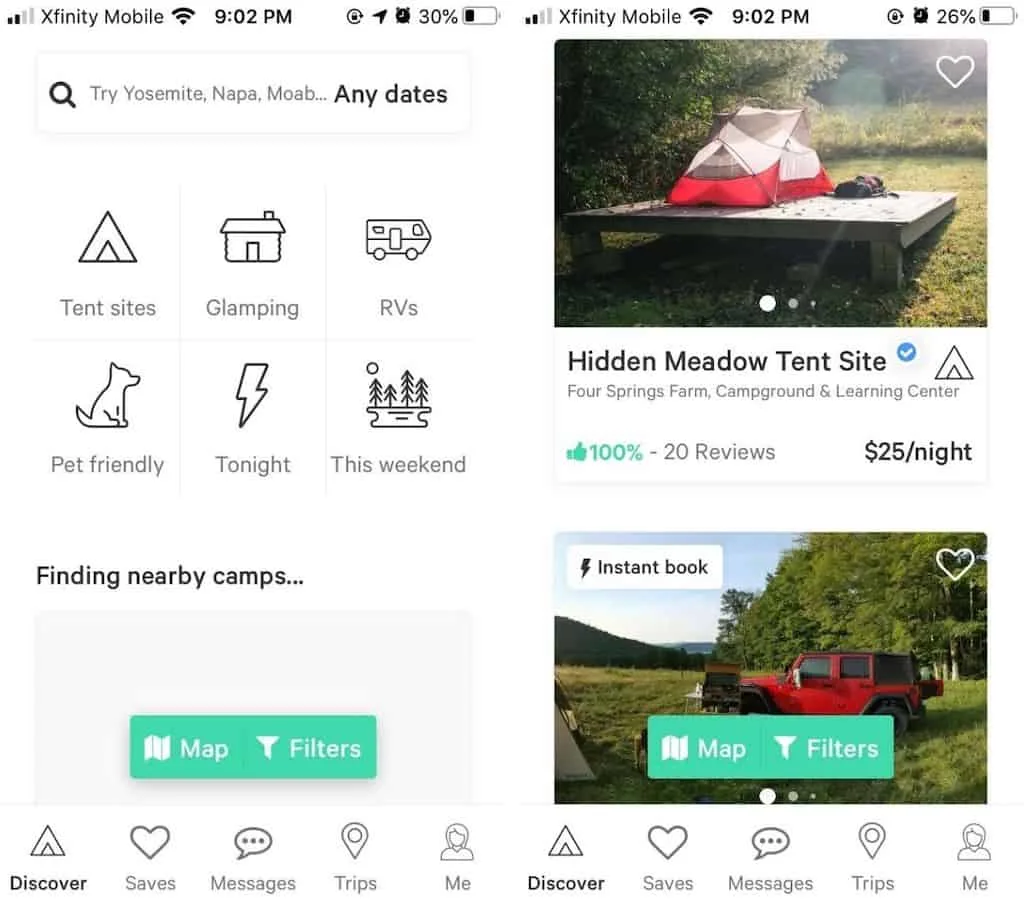 Cost: Free
Average rating: 4.8 stars out of 74.7K reviews
Availability: iOS and Android
Similar to Airbnb, Hipcamp is entirely dedicated to camping and glamping, and they've got lots of amazing private campsites that you won't find anywhere else. This is one of the best camping apps we've seen for finding camping and glamping spots on private land.
We use Hipcamp when we are road-tripping and we want a bit more privacy or public campgrounds are booked. We have stayed in geodesic domes, open-air cabins, and lots of yurts, but we've also pitched our tents in fields and forests that were totally secluded from any other humans.
Sign up for a free account on the Hicamp website and then download the free app to get started searching for your perfect camping or glamping spot.
Never used Hipcamp before? Use our referral link to get a $10 Hipcamp credit and we'll get one too!
---
Recreation.gov: Reserve Public Campsites at State and National Parks
Cost: Free
Average rating: 4.9 stars out of 165K reviews
Availability: iOS and Android
Another camping database that is worth having at your fingertips, Recreation.gov allows you to search for and book campsites at thousands of federally run destinations, including national parks, Army Corps of Engineers sites, national forests, and national recreation areas.
With Recreation.gov, you can also enter lotteries for permits and purchase tour tickets to federal historic sites.
Not only can you easily use the map feature to find available campsites and cabins near you, but when you sign up for an account, you will have access to all of your upcoming camping reservations, plus reservations for trail permits and tours.
While we don't use Recreation.gov on every road trip, we've found it extremely useful when traveling through areas with an abundance of federal lands.
---
ReserveAmerica (RA Camping): Book State and Private Campgrounds Near You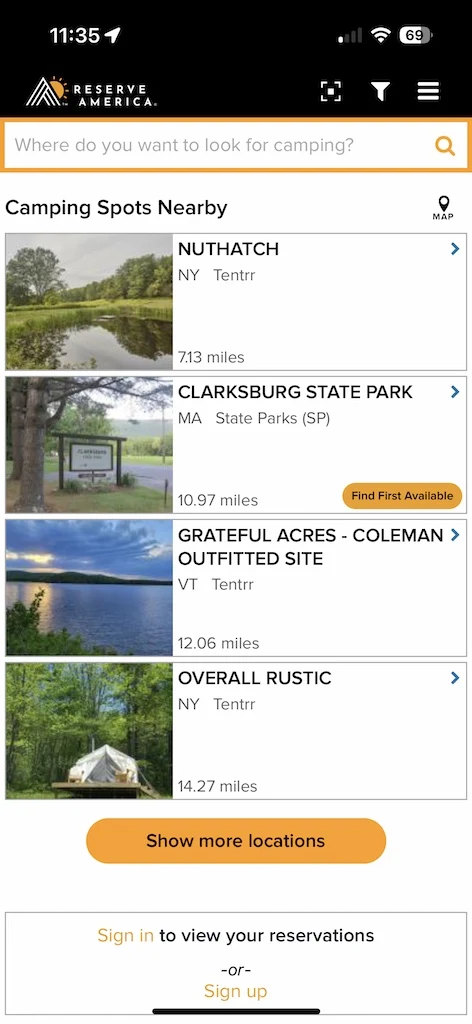 Cost: $84.15 per year
Average rating: 4.8 stars out of 33.9K reviews
Availability: iOS and Android
ReserveAmerica is the proprietary app used by most state parks, as well as several private campgrounds. Use the mobile app to search for available camp and RV sites, yurts, cabins, and more in state and private parks and campgrounds across the United States.
With the app, you can easily search by location, date, or amenities, and display search results on a map so you never have to worry about where you're going to sleep. You can also view campground details, read reviews, and look at photos so that you always know what to expect.
---
Harvest Hosts: Find Camping at Wineries, Breweries, and Farms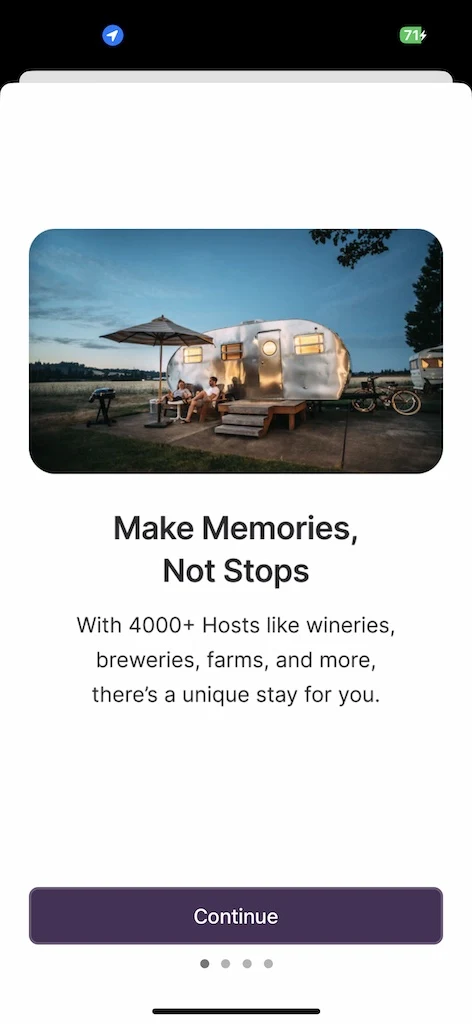 Cost: $85.15 per year
Average rating: 4.8 stars out of 37.1K reviews
Availability: iOS and Android
Harvest Hosts is a membership-based program that allows campers with self-contained units (bathrooms and kitchens) to find free spots to spend the night at local wineries, breweries, and farms. There are currently more than 4,600 participating businesses across the United States.
Membership to Harvest Hosts starts at $85.15 per year, but you can also combine your membership with one to Boondockers Welcome for access to more than 7,000 properties.
Once you find the perfect location to spend the night, you request a stay. Once approved, you can park for one or two nights before moving on to your next location. Harvest Hosts request that you support each business by making a purchase onsite.
For those with self-contained camping vehicles, this is an awesome way to explore more affordably.
---
FreeRoam: Free Boondocking Across the United States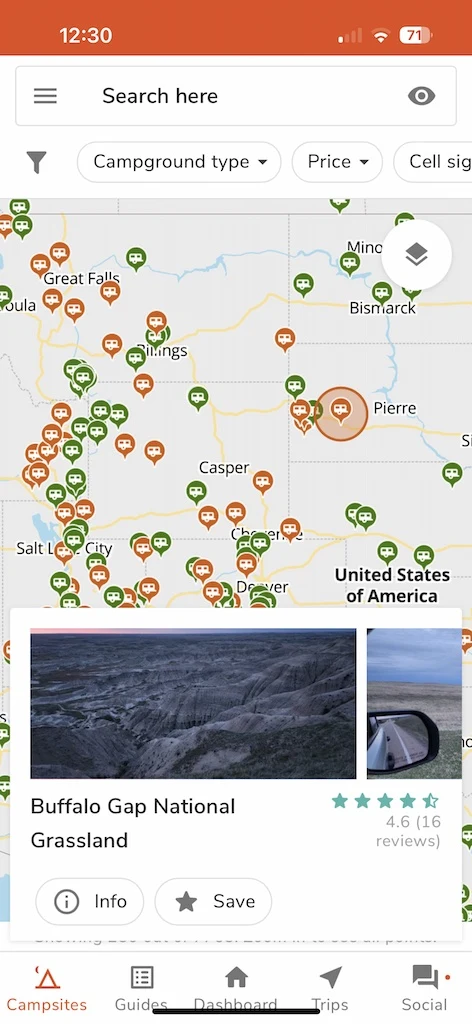 Cost: Free
Average rating: 4.9 stars out of 39.5K reviews
Availability: iOS
FreeRoam is a completely free app that allows you to search for dispersed camping (also called boondocking) across the US. In most cases, these camping spots won't have any amenities, so you'll have to be totally self-sufficient, but the benefit is that these spots are free to use.
The FreeRoam map overlays are incredibly helpful for finding your next camping spot. You can toggle on layers for fire smoke/hazards, cell service, and more. FreeRoam includes overlays for BLM and USFS land, which is usually a premium feature on other apps.
When you click on a campground, you can easily scroll through user ratings and reviews, as well as an up-to-date weather forecast.
Once you find the perfect camping spot, you can build an itinerary by creating a route and adding all of your desired campsites to your map.
FreeRoam is 100% free to use, but there's a button to donate if you choose.
---
Alltrails: GPS App and Trail Finder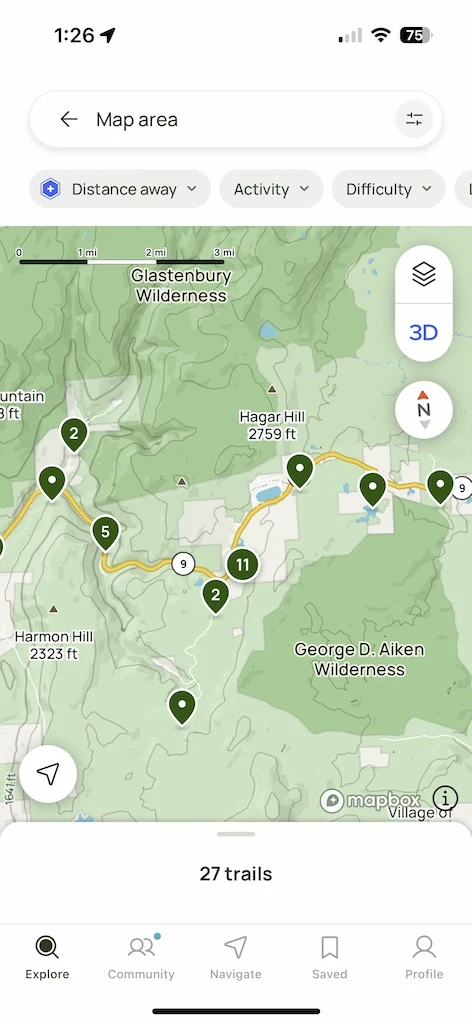 Cost: Free/ $35.99 a year
Average rating: 4.9 stars out of 794K reviews
Availability: iOS and Android
If you enjoy hiking when camping, then you won't want to head out without first downloading the Alltrails app.
With AllTrails, you can search for hiking trails, read reviews, and check out trail maps so you're prepared for any adventure. You can even add trailhead information to your itinerary on Roadtrippers.
Once you're at the trailhead, use AllTrails to stay on course by navigating with the built-in GPS feature. After your hike, rate your experience and add photos so that others know what to expect on the trail.
Whether you hike, bike, run, or walk, AllTrails is your companion and guide to the outdoors.
The free Alltrails app is great for finding hiking trails and getting directions to the trailhead and is perfectly fine for casual hikers.
If you want to have access to offline maps, record your tracks for future use, or collect statistics on your hikes, you will want to purchase Alltrails+, which is $35.99 for an annual subscription.
---
RV LIFE: An RV-Friendly GPS App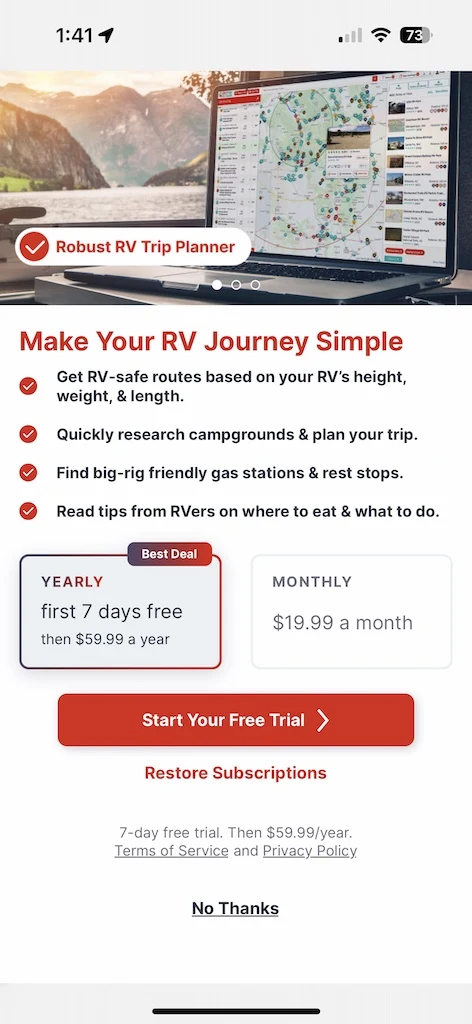 Cost: Free/ $59 a year
Average rating: 4.6 stars out of 27K reviews
Availability: iOS and Android
RV LIFE is a community-driven GPS navigational app that provides RV-safe routes specific to your RV's height, length, & weight. This is one of the best camping apps for RVers — no more worrying about low clearances or being routed over an unsafe mountain pass.
The premium version of the GPS includes turn-by-turn directions (works offline) with voice navigation, lane guidance, & real-time traffic.
RV LIFE also includes a campground locator which contains over 10 million data points covering over 20,000 campgrounds, RV parks, & RV resorts.
You can filter to see only highly rated campgrounds and sort by the number of reviews to see the most popular. Search for campgrounds by type such as national parks, state parks, KOA campgrounds, BLM campgrounds, or even find ones that are big-rig friendly.
The RV Trip Wizard Integration allows you to plan out itineraries with attractions and campgrounds, and then safely navigate to your next destination.
The free version of RV LIFE has very limited functionality, but if you're looking for GPS navigation for your RV, RV LIFE premium is a wonderful tool to have.
---
Campendium: Find public and private campgrounds and read reviews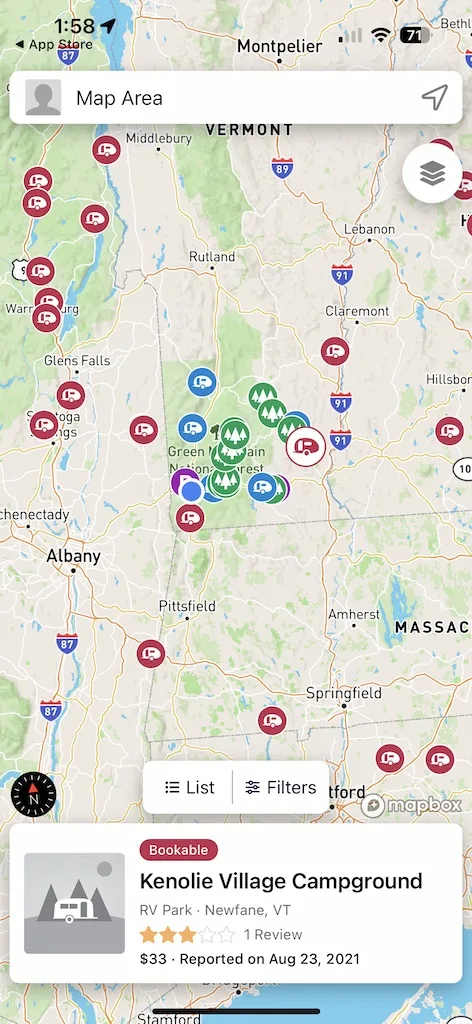 Cost: Free/ $49.99 a year
Average rating: 4.8 stars out of 16.1K reviews
Availability: iOS and Android
Created by campers for campers, Campendium has tens of thousands of places to camp, from swanky RV parks to free remote destinations, vetted by a team of full-time travelers and reviewed by 750,000 plus members.
Campendium features map overlays for cell coverage as well as public lands so you can always find the perfect campsite. Scroll the app to find the best camping near you, read reviews, and check out photos.
The Campendium app is very similar to The Dyrt app, and I don't think you need them both. Campendium can be purchased in conjunction with a Roadpass Pro membership for $49.99 a year, which includes Roadtrippers Plus.
---
Follow us on social media for more outdoor inspiration!
Pin for Later?