Cute-as-a-button mountain villages, vineyards for miles, and thrilling outdoor adventures will draw you in, and the culture, friendly people, and delicious food will keep you from ever wanting to leave.
This is Brome-Missisquoi, just over the Vermont border in the Eastern Townships of Québec. The Eastern Townships are just 40 minutes from the city of Montreal, but they are entirely made up of eclectic rural villages surrounded by farmland, forests, and mountains.
Tourism in Brome-Missisquoi focuses largely on nature and recreation, as well as the Brome-Missisquoi Wine Route, which features 20 unique vineyards nestled throughout the Québec countryside. If you know anything about us, you'll understand that the allure of a weekend outdoors recreating and drinking wine is just too good to pass up, so we hopped in our little car and traipsed up to the Eastern Townships in late September, and we can't wait to share this adventure with you!
Fall is pretty much the perfect time to visit the Eastern Townships. The fall-foliage season coincides with the grape harvest at local vineyards, and it's also a great time to hop on a bicycle, go for a hike, or simply hole up in a cabin next to a woodstove. We are proud to announce that we did all of those things on our recent visit, and we think autumn in Brome-Missisquoi is one of the best ways to spend a fall weekend, whether you're escaping from Montreal or venturing north from New England.
Upscale Glamping in Sutton, Quebec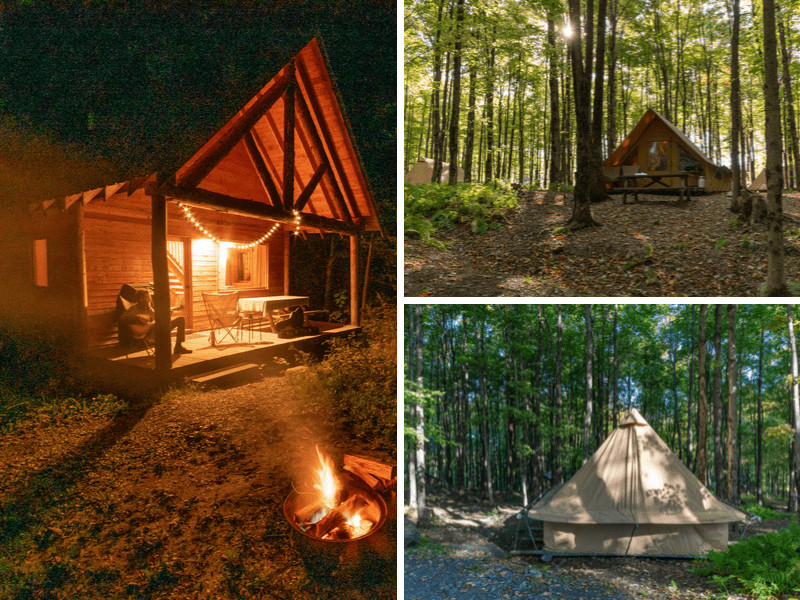 The good news is that there are a lot of places to stay in the Eastern Townships. The bad news is that with so many awesome choices, deciding where to stay in Brome-Missisquoi can be really hard. Camping and glamping are often our first two choices when planning a weekend getaway, and since the end of September can be unpredictable weather-wise, we went with a rustic chalet at Huttopia Sutton.
Huttopia is a small chain of camping and glamping resorts in Quebec and New England. Huttopia Sutton includes a traditional campground, wood and canvas glamping tents, and two-bedroom wooden chalets that sleep up to six people.
Huttopia chalets are spacious and cozy, with all the amenities necessary for a fall getaway. There's a full bathroom with a shower, a well-stocked kitchen with a stove, refrigerator, and coffee maker, plus woodstove for chilly evenings. An outdoor fire pit, picnic table, camp chairs, and barbecue grill mean you can relax outside as well as in.
Each morning during our romantic weekend getaway, we awoke sunlight streaming through the trees and made coffee in our PJs as a roaring fire warmed the cabin. After adventuring all day, we would return to our chalet in the evenings, make a campfire, and relax with some tasty s'mores and some songs on the guitar (thanks, Eric!). It was a wonderful way to disconnect.
The Amenities and Grounds at Huttopia Sutton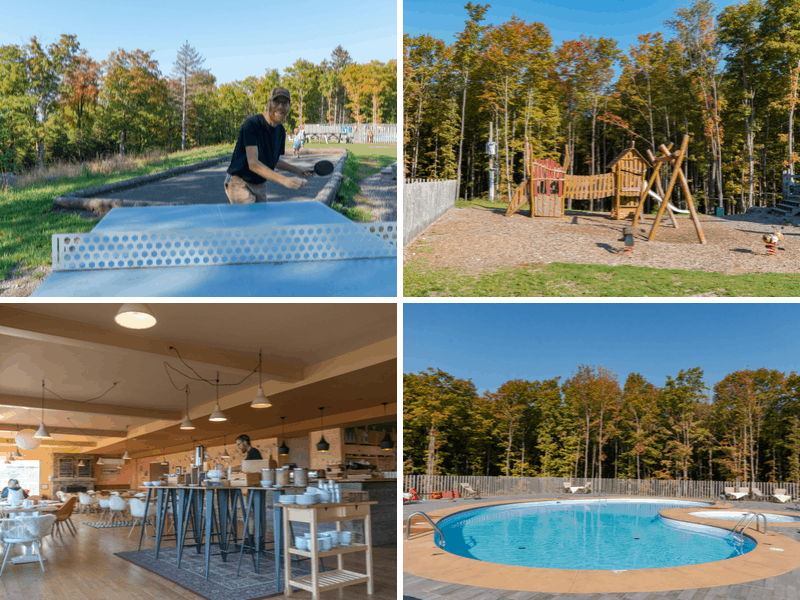 Huttopia Sutton is nestled in the woods on the side of Mont Sutton, and the location is perfect for outdoor adventure lovers. There are trails leading from Huttopia up Mont Sutton, and connecting with the extensive trail network that is part of Plein Air Sutton and Parc d'environnement naturel de Sutton (PENS). The grounds also include a heated outdoor swimming pool, a forest playground and ropes course, badminton, ping pong, bocce ball, and more.
The reception area and cafe, which was an easy walk from our chalet, includes weekend dining (both indoors and out), live music, board games, and Wi-Fi. During the week, guests have access to breakfast at the Hotel Horizon, which also has beautiful rooms if you're not into roughing it.
Outdoor Adventures in Brome-Missisquoi, Quebec
The Brome-Missisquoi region of Quebec is an amazing spot for outdoor adventures. While we were only visiting for three days, we managed three short hikes, a crazy tree-top cycling adventure, an outdoor spa experience, and an afternoon of mountain biking. If you find yourself in the Eastern Townships, here are some great outdoor adventures worth checking out.
Hiking in Sutton, Quebec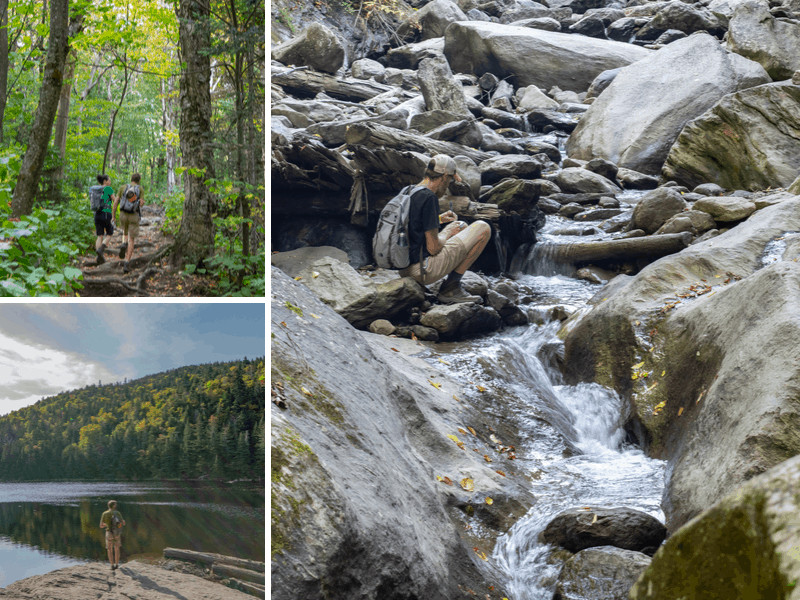 There are some great hiking trails in Sutton, which cross private and public land and access four mountain summits, several lakes, and many rivers and streams. There are a few different access points to the trails, but all of the ones on this list are managed by Parc d'environnement naturel de Sutton, which provides a detailed trail map on their website.
Lake Spruce Trail – This is a 2.8-mile (4.5 kilometers) loop with a moderate but steady climb from the parking area to a beautiful lake surrounded by forest. A trail pass for the day costs $6 but gives you access to more than 52 kilometers of trails. On a Saturday in late September, the Lake Spruce trail was lightly trafficked, but we've heard that it gets quite busy in October. This hike took us 2 hours with a short stop to admire the view.
Round Top Trail – The hike to the top of Round Top starts at the same parking area as the Lake Spruce Trail. It is a 3.8-mile (6.1 kilometers) out-and-back trail that brings you to the highest peak in the area. It offers great views of the St. Lawrence Plain. The summit of Roundtop is also home to the endangered Bicknell's thrush, and dogs are not allowed past 755 meters.
The Witches' Cauldron from the Village-Mountain Trail – You can access the Village-Mountain Trail from several different access points in Sutton, but the trail runs from the village to the base of Mont Sutton. The total length is 5 kilometers from the village, but if you park at Mont Sutton and walk down the trail, it's just a short walk to the river and the Witches Cauldron.
Treetop Cycling at Au Diable Vert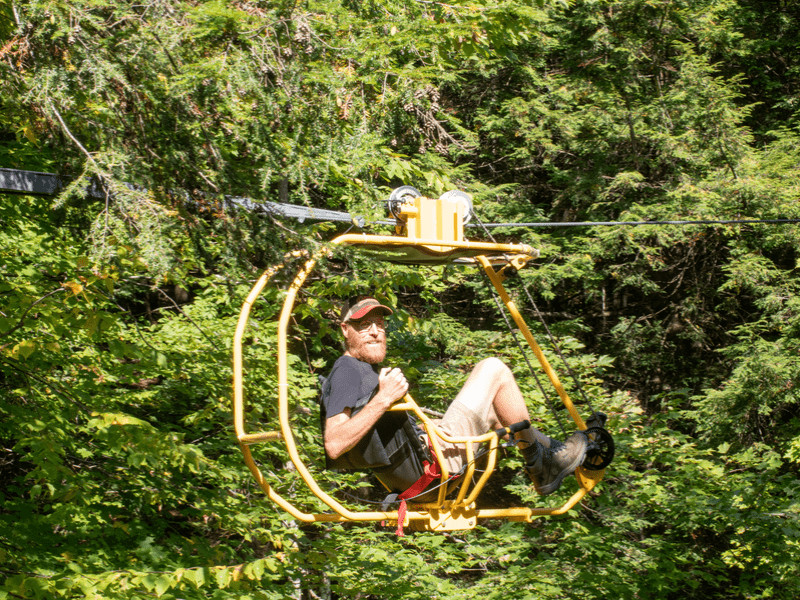 One of the most unique experiences in the Eastern Townships was our treetop cycling adventure at Au Diable Vert in Sutton. There are only two other treetop cycling courses in the world as of right now, so if you are looking for a fun way to experience gorgeous views from the treetops while suspended on a recumbent bicycle, this is your chance.
Au Diable Vert (to the Green Devil) is such a cool spot for all types of outdoor adventures, not just treetop cycling. You can kayak the Missisquoi River (next time), go glamping in a cabin, Airstream, or Treehouse, hike 14 kilometers of trails, or attend the world's first open-air augmented reality planetarium. Au Diable Vert also keeps a herd of Scottish Highland cattle that roam the alpine meadow on the side of the mountain.
I'll admit that I was a bit nervous about the prospect of cycling in the treetops, but I did it anyway, and I'm happy to report that I wasn't a bit scared. The bicycles are incredibly safe and sturdy, you can travel at your own pace, and it's incredibly peaceful. Such a unique experience!
Mountain Biking at the National Cycling Center of Bromont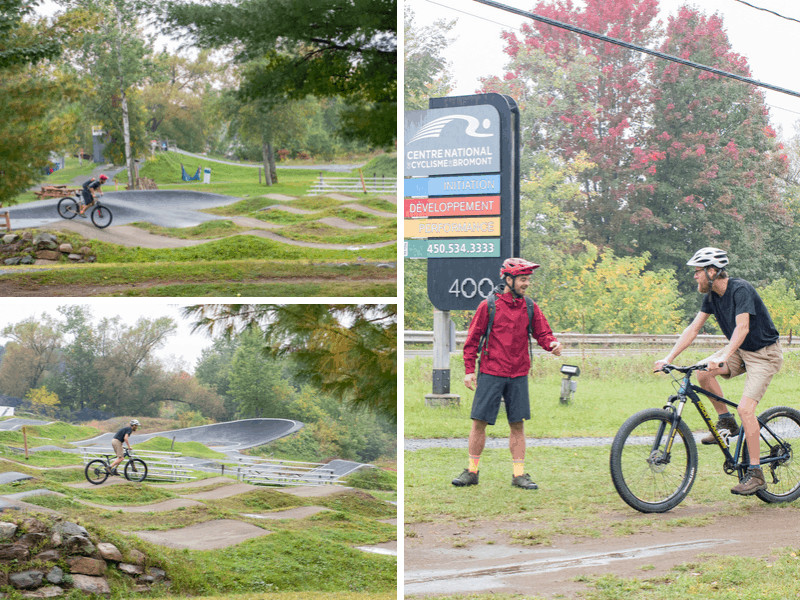 If your favorite vehicle is a bicycle, you will not want to miss an afternoon at the National Cycling Center of Bromont. It is a complete cycling center that caters to road biking, racing, BMX, mountain biking, and cyclocross. It features the only Olympic velodrome in North America, a network of mountain bike trails, a pump track, BMX track, and skate park. The Olympic velodrome currently undergoing serious restoration and by 2021, it will be completely enclosed for year-round cycling.
Services include bike rentals, youth camps, one-on-one coaching, and access to the park and trails. We spent a rainy morning touring the grounds, and Eric got some one-on-one instruction from Patrick and got to explore the pump track and mountain bike trails.
As an aside, we also learned the exploring the Brome-Missisquoi Wine Route by bicycle is a popular activity and one that we would love to experience in the fall.
Enjoy the Outdoor Thermal Pools at Balnea Spa in Bromont
After an afternoon on your bicycle, you may want to head to Balnea, where you can soak in dozens of outdoor pools, relax with a spa treatment, and indulge in a healthy meal. You can even jump in the lake for a chilly, but all-natural swim.
We loved pampering ourselves at Balnea during our visit to the Eastern Townships. The outdoor area around the pools and hot tubs is for silent reflection and meditation, so we didn't take photos and we didn't have to try and speak French. Totally blissful!
Fall Activities and Events in Sutton, Québec
The end of September and all through October are full of festivals and activities in the Eastern Townships. We were lucky enough to catch a few great events in Sutton on our recent visit — just more reasons why autumn is the perfect time to visit the Eastern Townships.
Mont Sutton Autumn Festival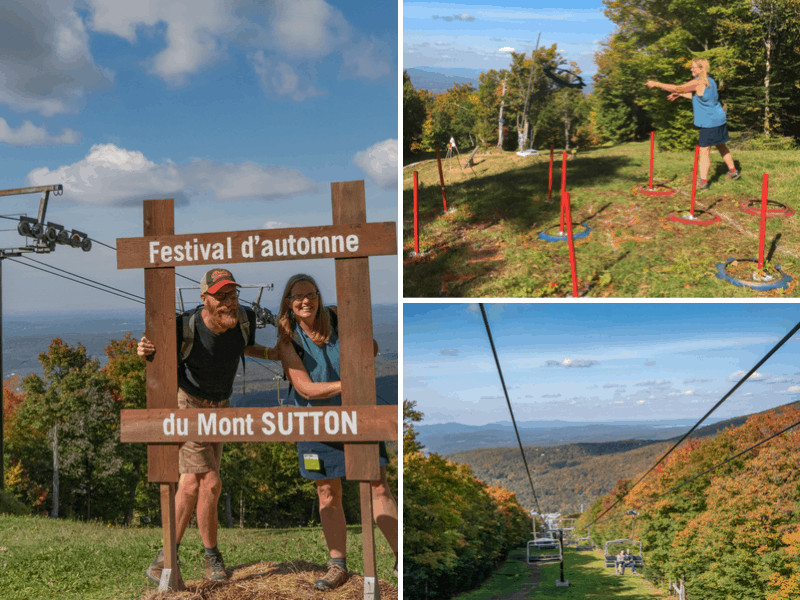 Mont Sutton puts on its fall finery during five festive weekends from mid-September to mid-October for their Autumn Festival, complete with live music, chairlift rides, wine tastings, mountain bike rentals, guided hikes, and kids' activities.
When we asked our Vermont friends what they thought of Mont Sutton, all we heard about was the fantastic glade skiing and the community feel of the mountain. We didn't get to experience skiing through the trees, but we did get to sip wine, hike among boulders, and admire some beautiful views.
Mont Sutton has added outdoor art installations to some of the ski trails, and it was really awesome to hike around and discover them. Look at this metal and wood frog perched on the side of a rock! What a unique way to combine art, nature, and recreation!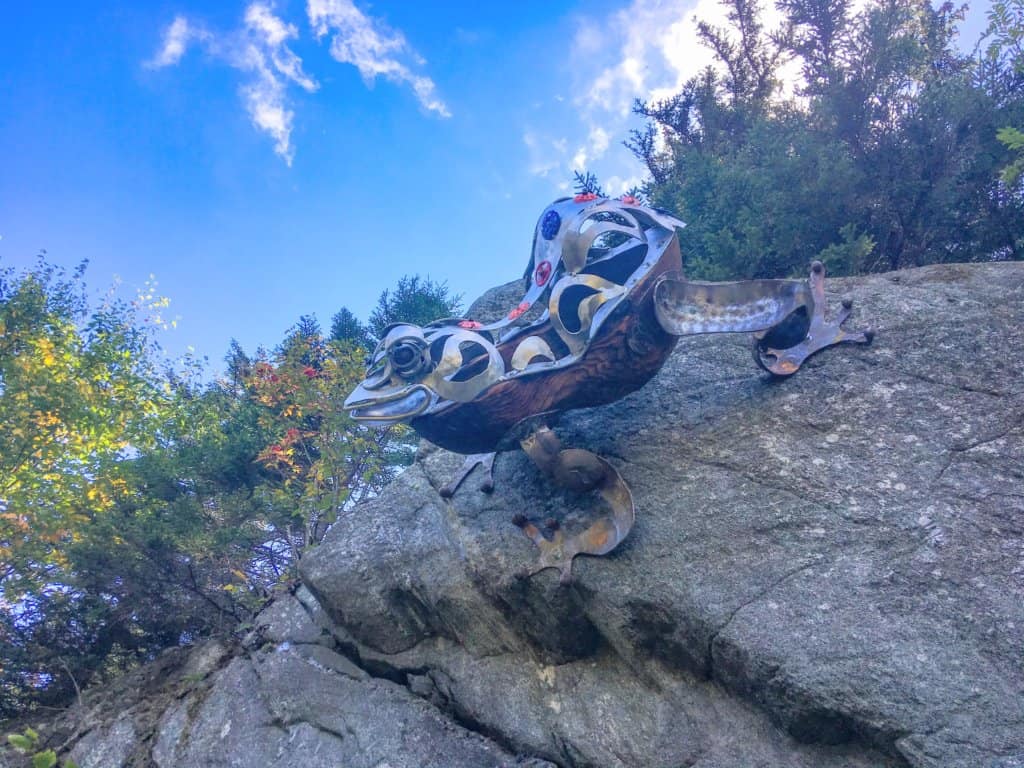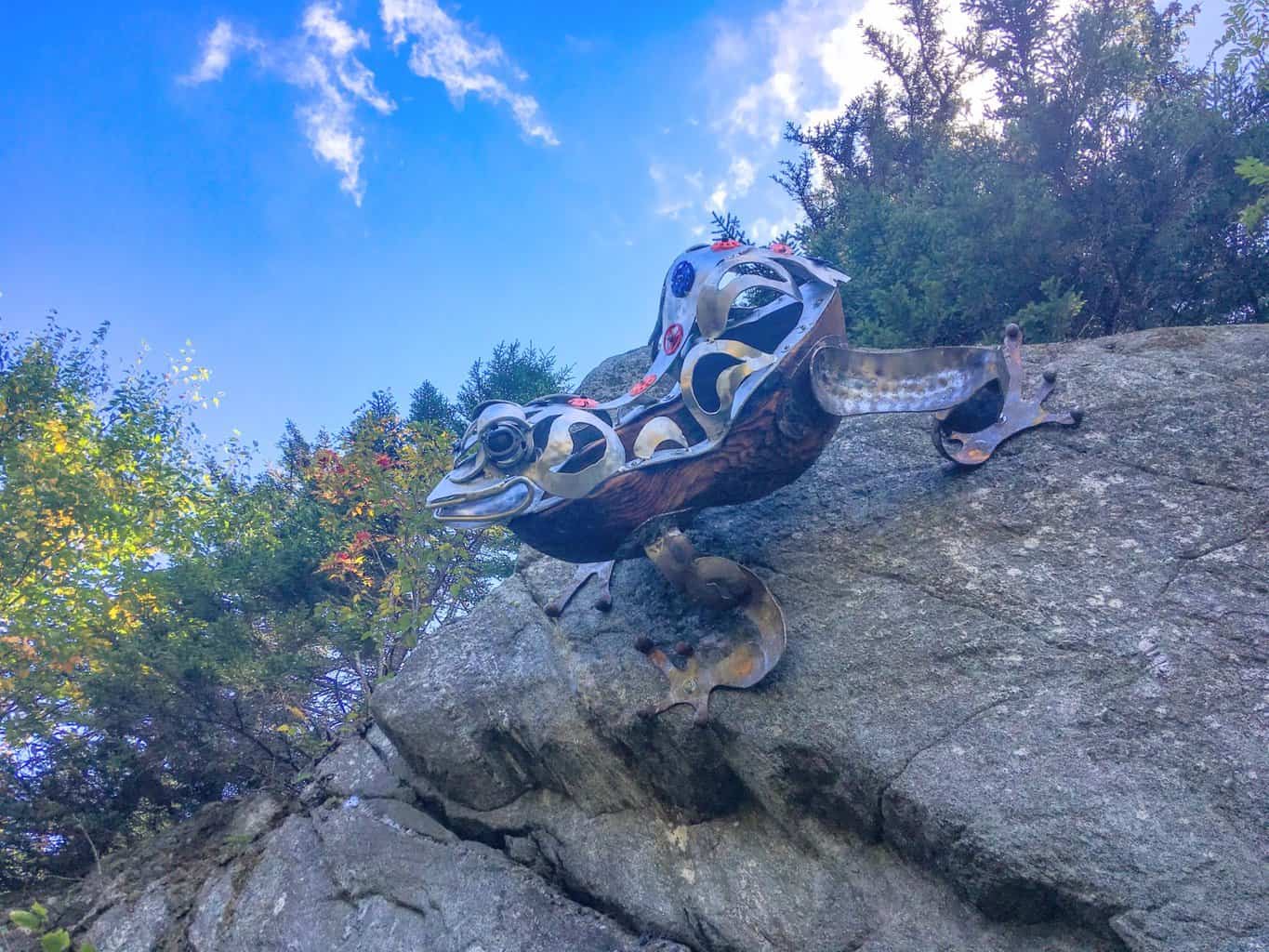 Sutton Jazz Festival
The Sutton Jazz Festival also takes place on the weekends, from mid-September to early October. It features world-class musicians at different venues around town for a total of more than 30 shows. You have to purchase tickets for the major acts, but there are lots of free shows too. We were fortunate enough to have an awesome trio playing to a lively crowd at the Huttopia lounge. We were totally surprised by the Sutton Jazz Festival and would love to go back next year to catch more fantastic music.
Exploring the Brome-Missisquoi Wine Route
Who knew that Quebec was so renowned for vineyards and wine and the Brome-Missisquoi region is the birthplace of Québec viticulture? I definitely didn't! We got quite an education during our recent visit to some of the Brome-Missisquoi vineyards.
We learned how to saber a bottle of bubbly, how ice wine is made, and how geothermal energy protects the grapes from frost. We also learned that Québec wines are world-class, right up there with the best of them, and that there are 20 vineyards on the Brome-Missisquoi Wine Route.
Alas, we only made it to two, but we're already clamoring to go back and explore the other 18!
Vignoble de l'Orpailleur in Dunham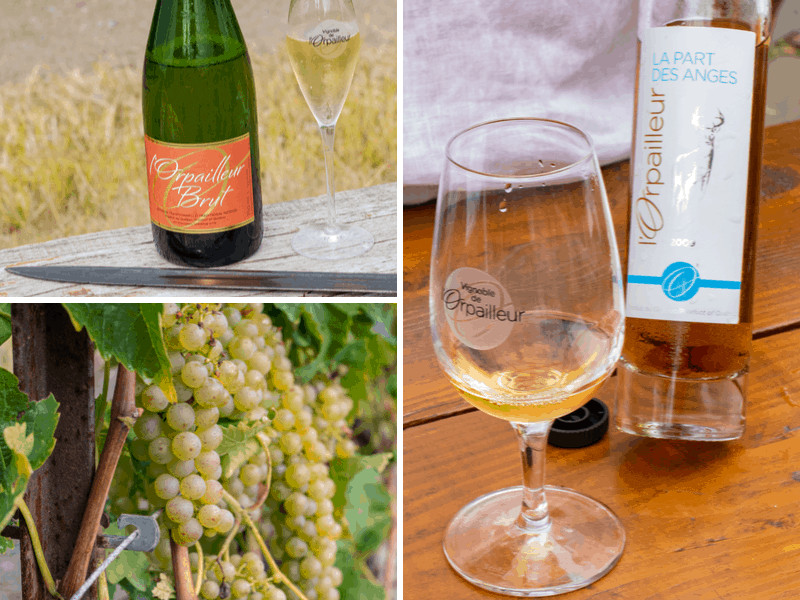 First stop, Vignoble de l'Orpailleur, a well-established vineyard and winery that has been producing award-winning wine since 1982. This sprawling vineyard and winery were hopping during our weekend visit, with a bustling restaurant, tours of the grounds, and tastings that were packed with people.
We tasted a lot of wine at l'Orpailleur (and pretty quickly too), from bubbly Brut and Chardonnay to the most delectable ice wine that was smooth and sweet. Our favorite may have been the l'Orpailleur Reserve, a fruity white that we brought home for a special occasion. Then again, we also really enjoyed the l'Orpailleur Rose, which was so refreshing on a warm autumn day.
The l'Orpailleur Vin de Glace (ice wine) is made from overripe grapes that are harvested in the winter for a unique wine that is rich, fruity, and sweet.
I could go on and on about the wines at l'Orpailleur, but our favorite thing was learning how to sabre a bottle of Brut. Eric was an instant expert, taking the World War I bayonet and popping the top off his bottle like he'd been doing it for years. He even earned a certificate to commemorate his new skill.
Le Vignoble du Ruisseau in Dunham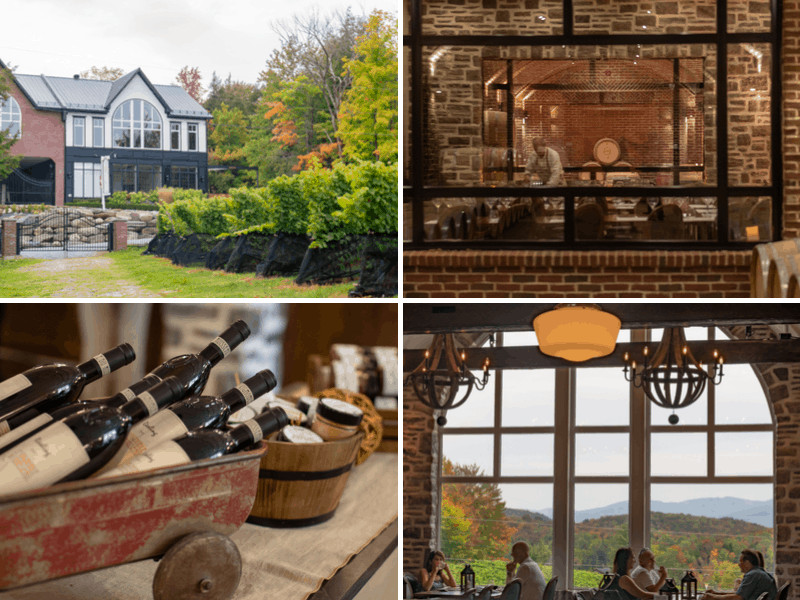 Le Vignoble du Ruisseau, which opened to the public in 2016, is a relatively new vineyard and winery on the Brome-Missisquoi Wine Route, and the first thing we noticed about this charming place was the incredible view. Mont Sutton, in all its glory, framed by the colors of autumn and bright green grape leaves.
The grapes at Le Vignoble du Ruisseau are grown using a patented geothermal system on sloping land. This allows them to grow grapes that are not typically hardy in the area, and produce distinct wines that are making waves in the industry. Our favorite wines included the Chardonnay and Merlot. All of the wines are aged in French oak barrels in vaulted cellars.
The vineyard and winery are beautiful, so if you do decide to visit, be sure to take a guided tour for the full effect. Le Vignoble du Ruisseau also makes maple syrup and is experimenting with creating maple brandy and other spirits.
Where to Eat in the Eastern Townships
One of the best parts of exploring new regions is getting to try out all kinds of new eateries, from casual to fancy. Here are some of our favorite restaurants from our recent visit to the Eastern Townships.
Breakfast in Sutton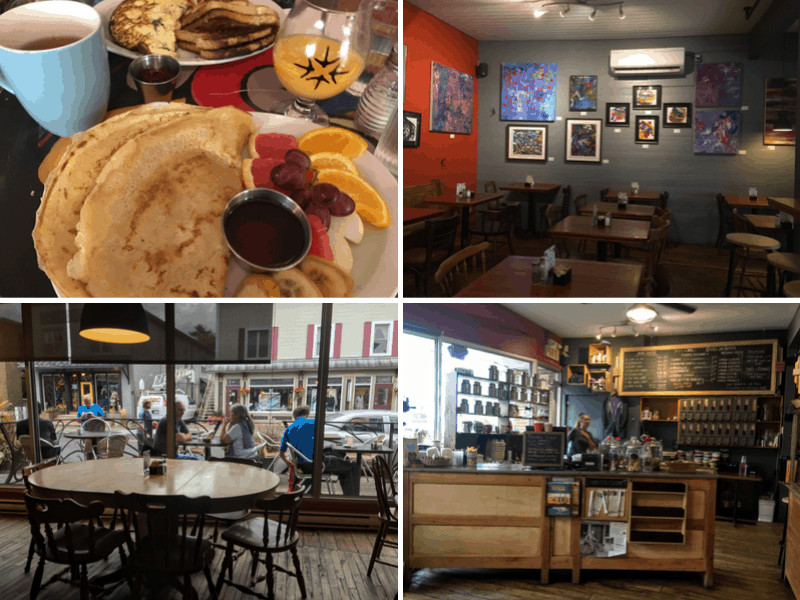 If you are staying at Huttopia in Sutton, you've got a few choices. You can definitely take advantage of the Huttopia dining area on the weekends, where you can get pastries and coffee drinks onsite. As an alternative, head to the Horizon Hotel, which serves a complimentary continental breakfast – yogurt, granola, pastries, juice, and coffee.
If you want to experience a bustling cafe with incredible full breakfast meals, plus a variety of coffee drinks and tea, head into the village of Sutton and take a seat at Le Cafetier. We visited on a weekday morning, and the place was hoppin'! Lively music filled the cafe, locals chatted with visitors, and huge steaming plates of food were served up.
We splurged on omelets and crepes with real maple syrup, plus lattes to fuel our outdoor adventures. Le Cafetier is unpretentious and eclectic, and the food is fabulous!
Lunch on the Brome-Missisquoi Wine Route
If you are exploring the Brome-Missisquoi Wine Route, you should note that not all of the wineries along the route have on-site restaurants. One that does is Vignoble de l'Orpailleur, where we sabred our first bottle of Brut. We had lunch on the outdoor patio at the Le Tire-Bouchon Restaurant, where we enjoyed farm-fresh veggie sandwiches, a selection of fresh cheeses and meats, and the best tomato soup ever.
Dinner at Bistro West Brome
We decided to go fancy for dinner and headed to Bistro West Brome for a four-course meal with wine and dessert. What a way to celebrate fall in the Eastern Townships! Bistro West Brome is off the beaten, but worth the short drive from Sutton.
The restaurant is located on a sprawling piece of land that is part of the Auberge West Brome, a pet-friendly inn a spa. It was a beautiful fall night during our visit, so we sat outside on the patio for our meal. As our French is really lacking, our server helped us choose our courses, which included fresh bread with chicken liver paté, blood pudding, rack of lamb, and fresh mushroom ravioli. For dessert? The most amazing tiramisu and a mini apple tart.
We were hoping to head back to Huttopia for s'mores on the campfire, but we were stuffed after our delightful meal!
Resources for Visiting the Eastern Townships in Autumn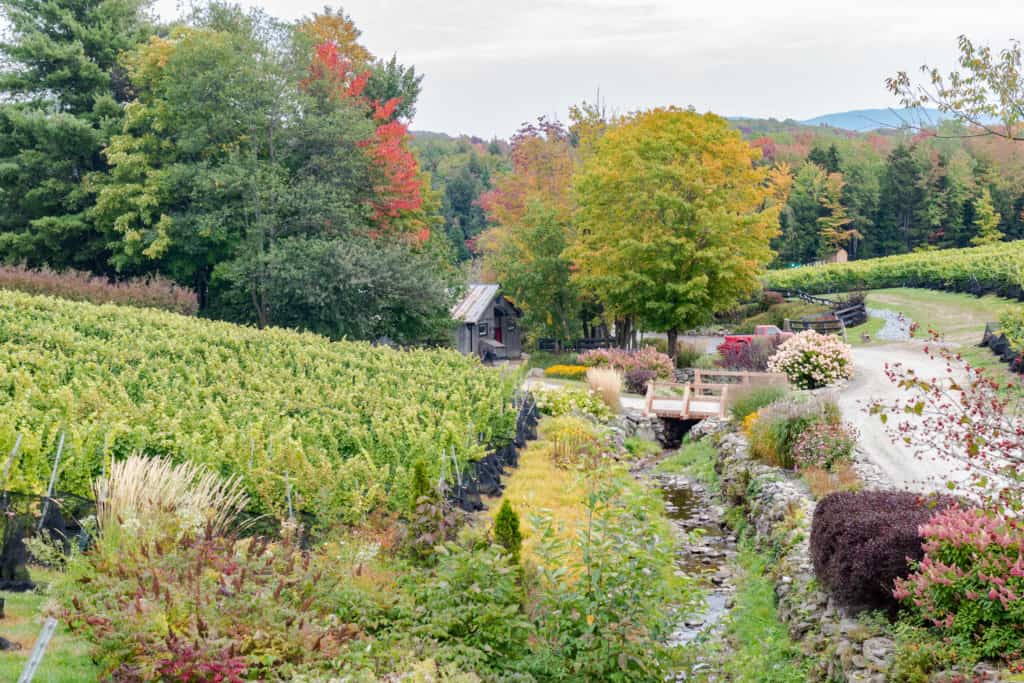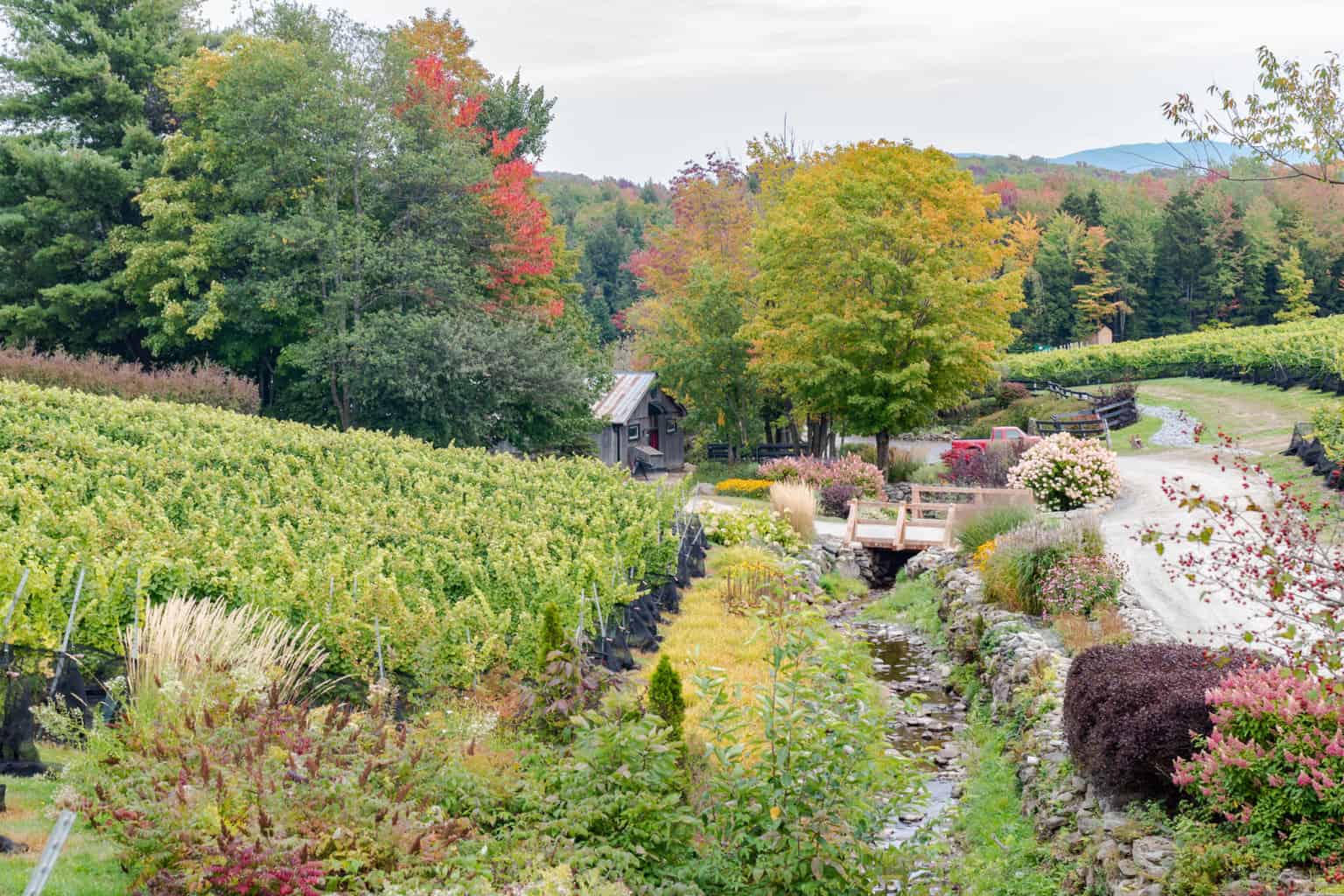 Ready to start planning an unforgettable fall vacation in Brome-Missisquoi? Here are some resources to help you plan your trip.
Brome-Missisquoi Tourism – This is a great resource for resources on where to stay and where to eat, as well as an overview of events, and exciting things you can do during your visit.
Brome-Missisquoi Wine Route – An overview of the 20 vineyards on the Brome-Missisquoi Wine Route, as well as ideas for cycling tours, restaurants, road trips, and activities. Great for planning your wine-centric vacation!
Sutton Tourism – We spent the majority of our weekend in Sutton, Quebec, and couldn't have asked for a better home base. Sutton Tourism will help you plan the perfect Sutton getaway, whether you're into outdoor adventures, shopping, art, culture, or all of the above.
---
Want more ideas for a fabulous fall vacation? Check out these posts!
---
If you found this post helpful, please Pin it on Pinterest!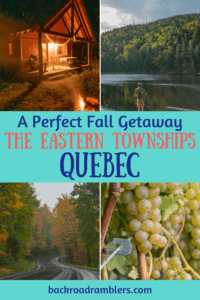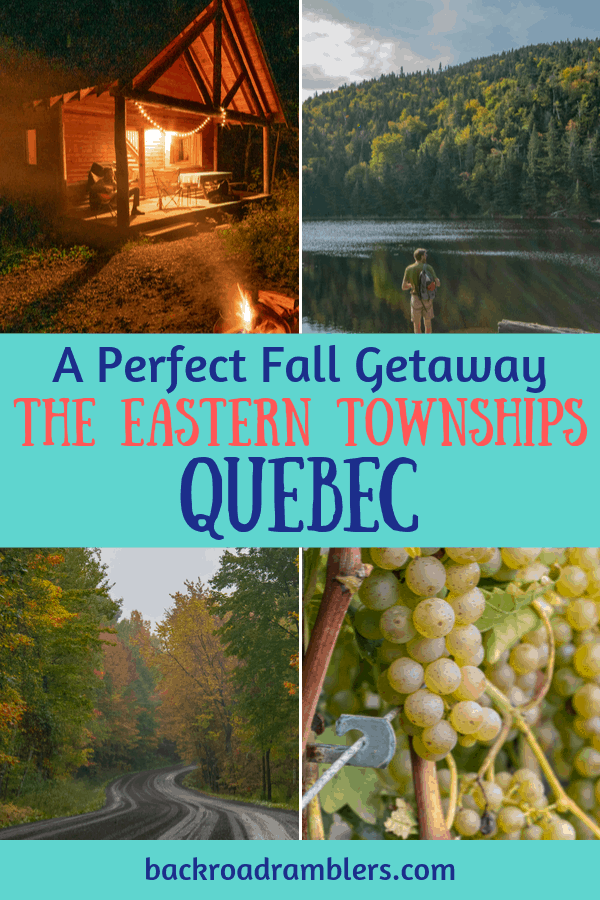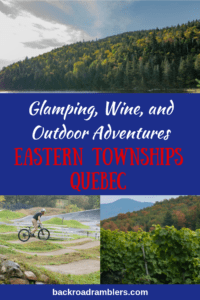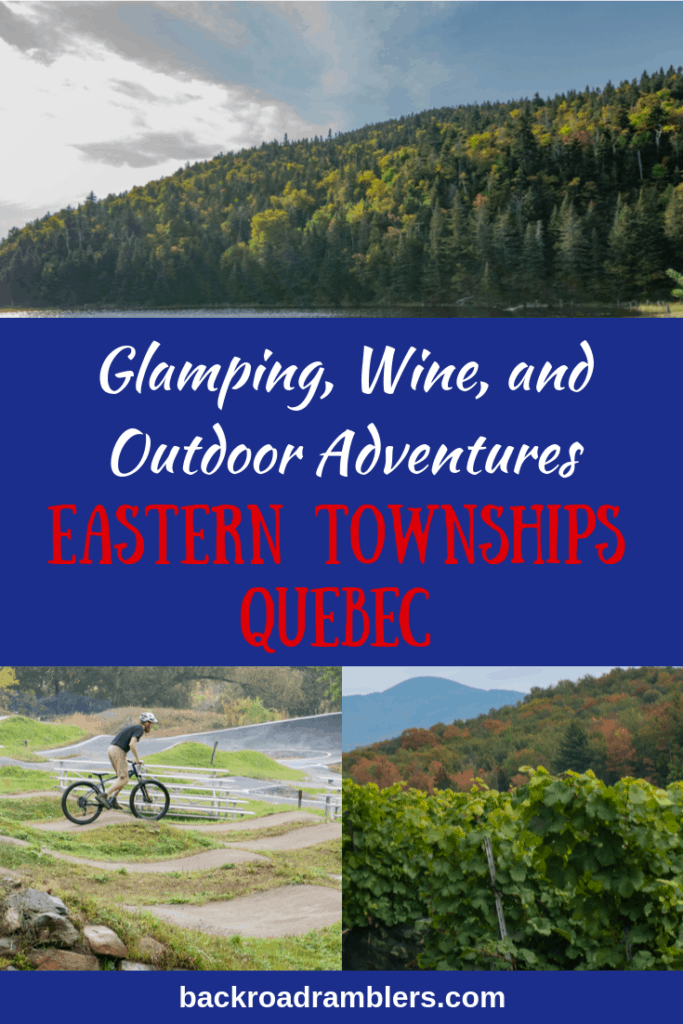 Thanks to Brome-Missisquoi Tourism for hosting us for this visit. All opinions and botched attempts to speak and write French are entirely our own.