As most parents know, traveling with kids can be totally awesome or totally catastrophic.
Our secret recipe for success when traveling with kids involves two ingredients – getting ourselves outside as much as possible and immersing ourselves in activities that appeal to both kids and adults.
Living history museums allow us to do both.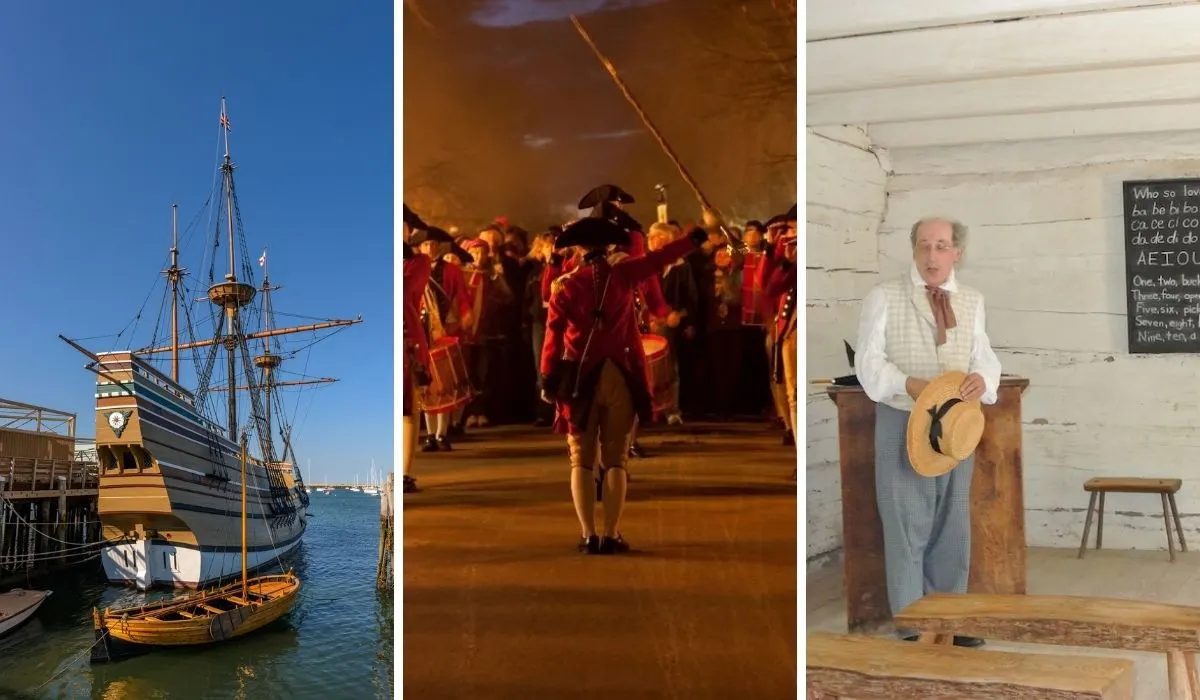 The best living history museums provide a fun and interactive way to learn about the past, and they make great side trips when traveling with kids. Now that our kids are older, we get even more out of living museums.
Turns out, interactive learning isn't just great for kids; it's an amazing experience for everyone from toddlers to grandparents!
No matter where you're traveling in the United States, chances are you'll be close enough to plan a visit to one of the hundreds of living history museums across the country. Who says history can't be fun and exciting? Certainly not my kids!
So, What Exactly is a Living History Museum?
A living history museum, also known as a living museum, recreates historical scenes and time periods using live actors or costumed historians in meticulously recreated settings.
There are living history museums that specialize in a variety of historical time periods and events, depicting everything from native American settlements and colonial villages to pioneer homesteads and Wild-West encampments.
We have found living history museums to be particularly useful as homeschoolers, and over the years, we have planned numerous trips and vacations around a historical time period that we just happened to be studying.
Our young adult kids still talk about how much fun they had learning history while homeschooling.
According to Wikipedia, there are hundreds of living history museums throughout the United States.
The following list is a sampling of our absolute favorite living history museums that we've explored on our travels, but there are hundreds more that we've yet to discover!
The Best Living History Museums in the USA
Ready to embark on a journey through history in the United States?
Obviously, this isn't even close to an exhaustive list, but these are the living history museums that my kids still talk about and that we recommend to all of our road-tripping friends. We'd love to hear your favorites too!
Mystic Seaport Museum, Mystic, Connecticut
Time Period: An 1800's seafaring village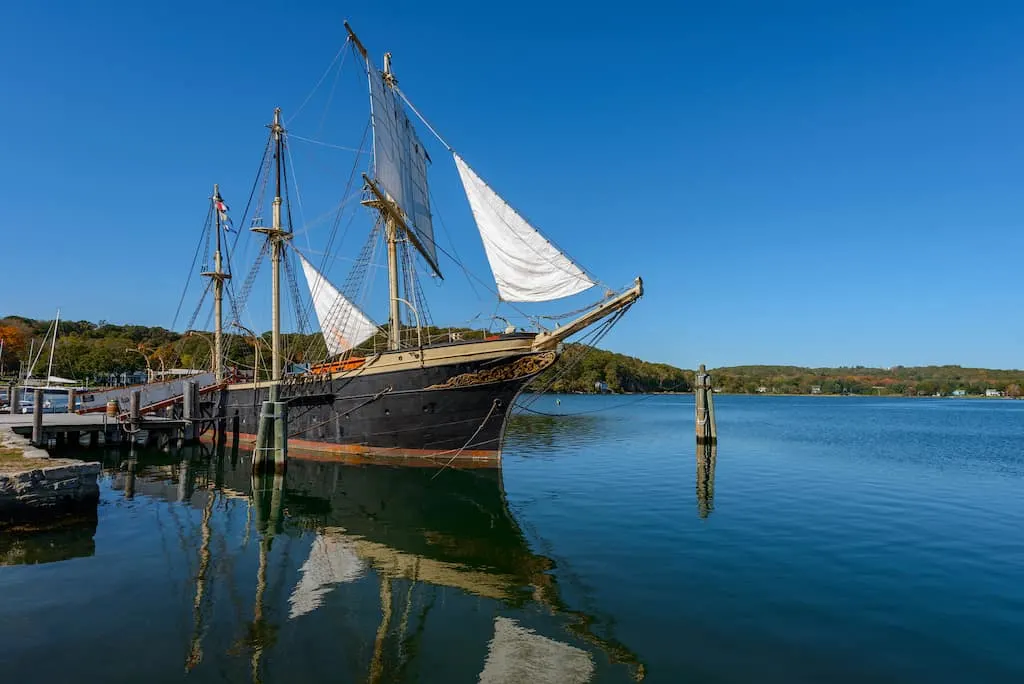 This seafaring village on the shores of Mystic, Connecticut is a popular living history museum that will immerse you in the rich fishing and sailing culture of the 19th century.
At Mystic Seaport Museum, dozens of historic New England buildings host storytellers, craftspeople, historians, and musicians in Mystic Village.
These beautiful buildings aren't replicas– they're historic buildings from all over New England, dating back to the 1800s, that were transported to Mystic Village to recreate an authentic seafaring town. Here you can explore all kinds of bustling maritime trades, including ship smiths, coopers, woodcarvers, and riggers.
While you're exploring Mystic Seaport, be sure to tour the Charles W. Morgan, the oldest commercial ship still in operation. First launched in 1841, it was once part of a huge fleet of whale ships that numbered more than 2,500. You can also cruise down the Mystic River on a coal-powered steamboat or captain a wooden rowboat of your own.
The children's museum at Mystic Seaport is a highlight for kids under seven, and if you're in town for more than a day, check out Mystic Aquarium, where you can see beluga whales and penguins up close.
Summer is the busiest time to visit Mystic Seaport, but don't let that stop you. There's really nothing like a summer visit to the New England coast. If you decide to go in the off-season, be forewarned that some exhibits will be closed and staffing will be limited.
---
Where to stay: Our favorite place to stay in Mystic is the Inn at Mystic, which is affordable and family-friendly, plus it's just a short drive from Mystic Seaport Museum. Be sure to take advantage of the outdoor pool in the summer.
---
Plimoth Patuxet Museums, Plymouth, Massachusetts
Time Period: 17th Century colonial settlement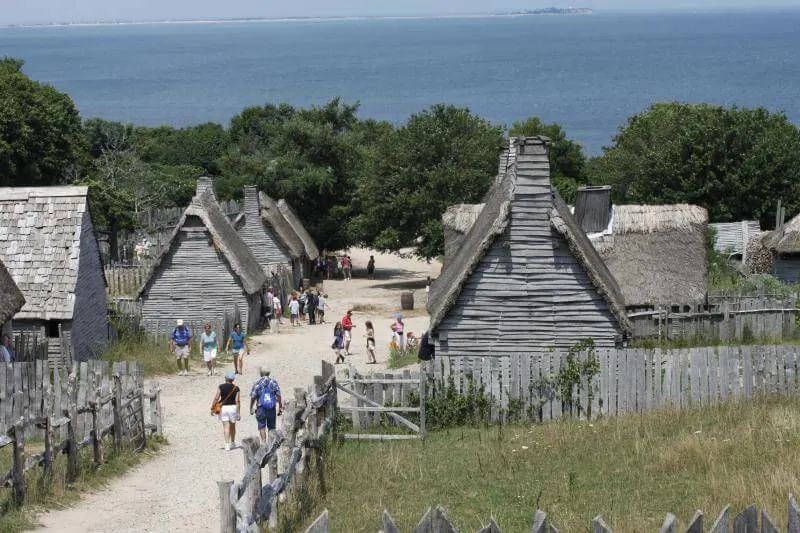 My kids loved visiting the original settlement of the 17th century English colonists in Plymouth, Massachusetts.
This living history museum takes you back to the 17th century when English settlers first arrived on the shores of New England. Here you'll find historical interpreters that will interact with you as "strangers," teaching you about the life, customs, and cultures of the time.
The settlement at Plimoth expertly recreates the year 1627 in a way that is fascinating, incredibly fun, and educational. Climb aboard the Mayflower II, a replica of the original wooden ship that brought the pilgrims across the Atlantic. It's so much smaller than you would imagine, especially when you think of the 102 passengers that had to cram aboard to make the original journey.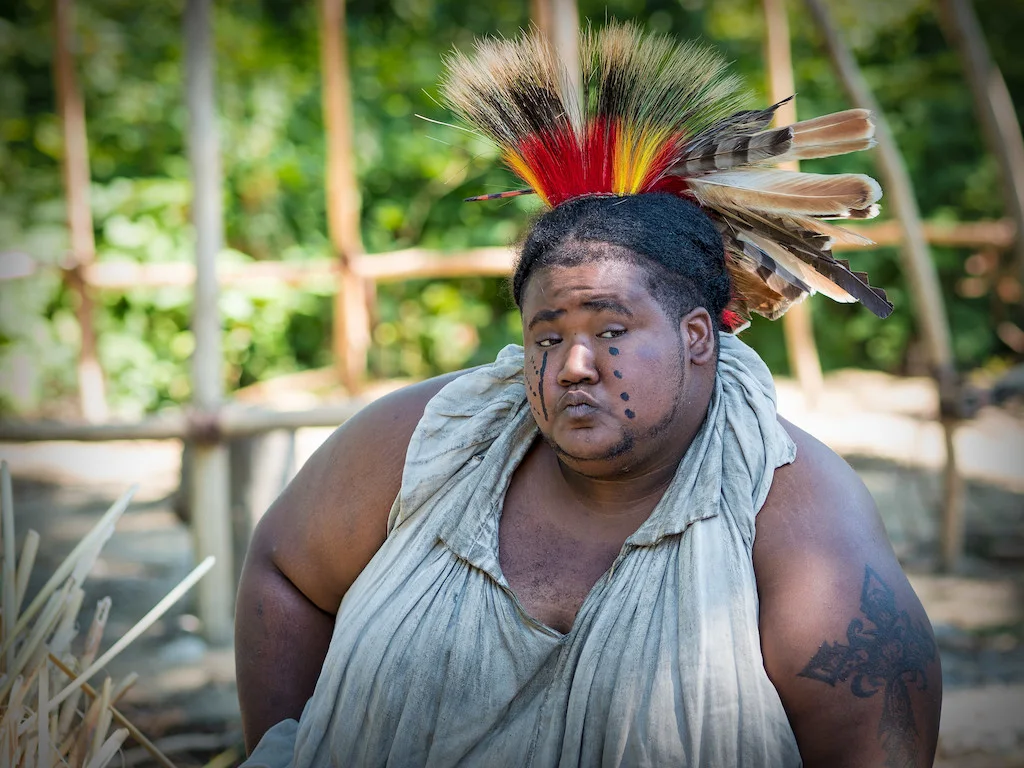 Historic Patuxet at Plimoth Patuxet Museums lets you get a glimpse of what life was like for the American Indians living nearby in 1627.
Unlike the English Village, the Wampanoag people you will meet are not actors. They are members of the Wampanoag tribe dressed in historically accurate clothing. They will happily converse with you, but it will be from a more modern perspective.
Plimoth is open from March until November, and if you're planning a New England road trip, both Plimoth and Mystic Seaport are must-see attractions.
---
Where to stay: We love that Hotel 1620 Plymouth Harbor is within walking distance of shopping, restaurants, and the waterfront. There's an indoor pool as well.
---
Read Next: The Best Oceanfront Camping in New England
---
Shoal Creek Living History Museum, Kansas City, MO
Time Period: 19th Century Missouri village
Shoal Creek Living History Museum is a small 80-acre village located in Hodge Park in Kansas City, Missouri.
The museum maintains twenty-one structures with seventeen authentic 19th-century buildings dating from 1807-to 1885. While the museum grounds are free to wander through and are open every day, the real treat comes in checking out the special events that are offered throughout the year.
During special events, the village comes to life with historical reenactments that include skits, skirmishes, and interesting demonstrations.
First Saturday events are free during the summer. Even if you don't make it to one of the special events, don't pass Shoal Creek by. The landscape is beautiful and the historic buildings are meticulously preserved.
---
Where to stay: We don't have a favorite hotel in Kansas City, but we urge you to read reviews on Trip Advisor before making a decision.
---
Conner Prairie, Fishers, Indiana
Time Period: 19th Century Indiana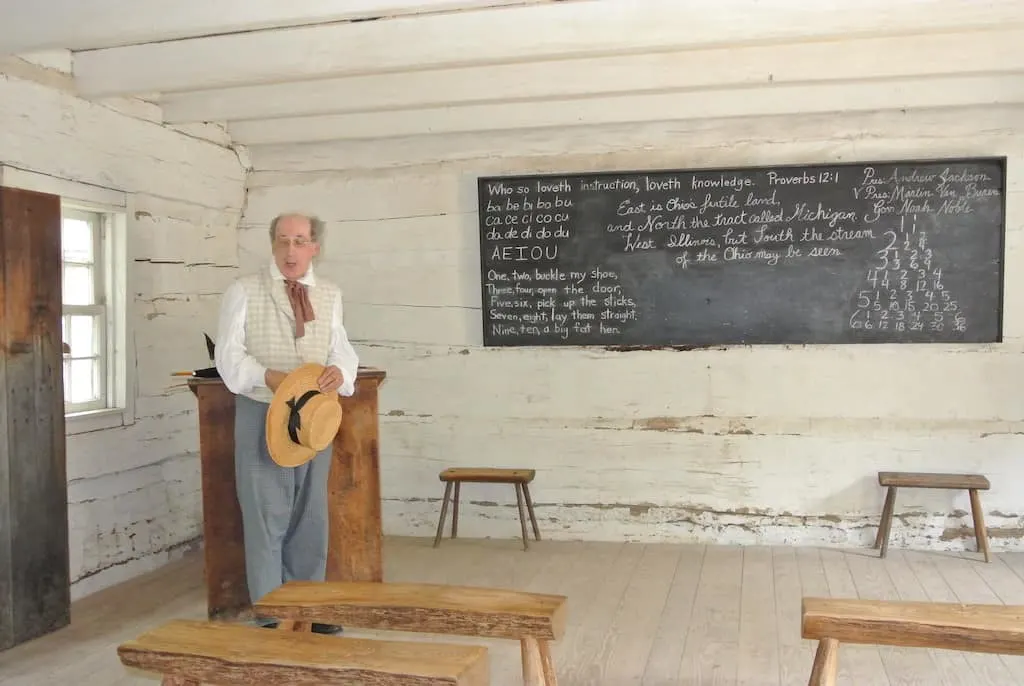 Step back in time and immerse yourself in life on the prairie in 19th-century Indiana at Conner Prairie.
The time is 1836 and life is pretty hard. Mostly you'll find men and women (actors) doing chores — chopping wood, tending animals, gardening, creating pottery, and cooking. Both kids and adults are encouraged to join in, and the actors will happily answer all your questions while in character.
The highlight of this sprawling living history museum might just be the interactive 1869 balloon ride.
Full of exhibits and activities that help you understand the trials and tribulations of manning a balloon, the fun culminates with a tethered balloon ride high above the prairie. I've heard the view is spectacular, but I'll keep my feet planted firmly on the ground, thank you very much.
Conner Prairie is open year-round, but some outdoor exhibits close during the winter months. Go out of your way for this one, it's well worth it!
---
Where to Stay: We recommend the Holiday Inn Express, which is very family-friendly with an indoor pool, beautiful rooms, and within a short drive of Conner Prairie.
---
High Desert Museum, Bend, Oregon
Time Period: Early 1900s
A great combination of wildlife and culture, the High Desert Museum in Bend, Oregon has a little bit of everything.
You'll find 135 acres of animal enclosures, nature trails, and interactive history exhibits. Families can visit the Miller Family Ranch to learn what life was like on a farm in 1904.
You'll meet the Miller family and their crew of farmhands and livestock. Participate in authentic homesteading chores and try your hand at a few frontier-style games. Then, head over to the wildlife exhibits and meet the resident bobcat, watch otters frolic in the river, and get up close and personal with some amazing birds of prey.
Before heading out, be sure to stroll along the interpretive trail to learn more about forest succession and prescribed burning. There's quite a variety here and the whole family will find something fascinating at this cool living history museum.
---
Where to stay: The Riverhouse on the Deschutes is right on the river with amazing views, and it's competitively priced with an indoor and outdoor pool.
---
Colonial Williamsburg, Williamsburg, Virginia
Time Period: Colonial America and the Revolutionary War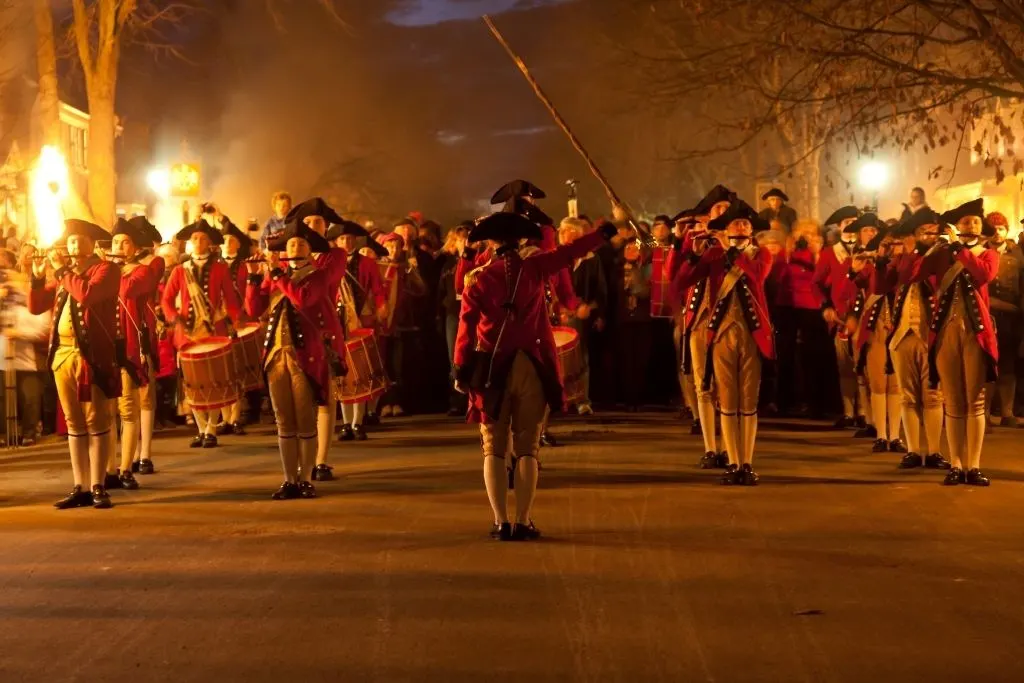 My favorite living history museum, Colonial Williamsburg in Williamsburg, Virginia, is so well crafted and so immense that a simple drive-by will not cut it.
In fact, I recommend a full weekend to really immerse yourself in colonial times! Pitch a tent nearby or reserve a room at one of the local hotels and give Williamsburg a few days.
The recreated city of Williamsburg is teeming with revolutionary spirit as the colonies move toward war with Britain.
Not only are the townsfolk in character, but there are reenactments throughout the day. You will find yourself immersed in the struggles of daily colonial life, but you'll also be there as the colonists decide whether or not to remain loyal to the king, you'll witness the news of the signing of the Declaration of Independence, and you'll stand by as Benedict Arnold tries to take over the town, and is instead tried himself.
Colonial Williamsburg is the largest living history museum in the United States and is open 365 days a year.
---
Where to stay: Might as well go all in and stay at Great Wolf Lodge, where you and your kiddos will have access to the indoor waterpark and a children's spa. It's located just five minutes from Colonial Williamsburg.
---
Tips for Exploring Living History Museums with Kids
Before You Visit
Check the museum's website. Living History Museums often work with schools and other youth groups to provide hands-on learning experiences for kids. In addition to maps, hours, and a schedule of events, you will often find a robust library of lesson plans, discussion topics, videos, and other supporting material. It's a treasure trove for families interested in history.

Check the weather forecast. Most living history museum events take place rain or shine, which means you and your kiddos should be prepared for whatever Mother Nature sends your way.

Prioritize exhibits. Some living history museums are so big that you can't possibly see and do everything, especially if you're visiting during a road trip stop. Ask your kids to choose a few exhibits that they really want to see and make those a priority.
During Your Visit
Ask questions. Many of the characters you meet at living history museums are playing the part of a real person who lived long ago. Living history reenactors are passionate about history and would love to share their knowledge with you.

Dress the part. Kids love to dress up, so if you've got some spare colonial garb or a prairie dress in the closet, now is the time to dust it off and put it on! Check the museum's website before coming in costume, as a few museums don't allow it.

Encourage kids to document their experiences. Give them a camera, a journal, or a sketch pad, and let them share record their experiences and share them with others.
Does your family have a favorite living history museum? We'd love to hear more about the ones you love!
---
Pin for Later?