Gushing waterfalls racing over moss-covered rocks, forested trails to abandoned coal mines, and dramatic rocky cliffs overlooking one of the world's oldest rivers. Welcome to New River Gorge National Park — the newest park to be honored with a national park title.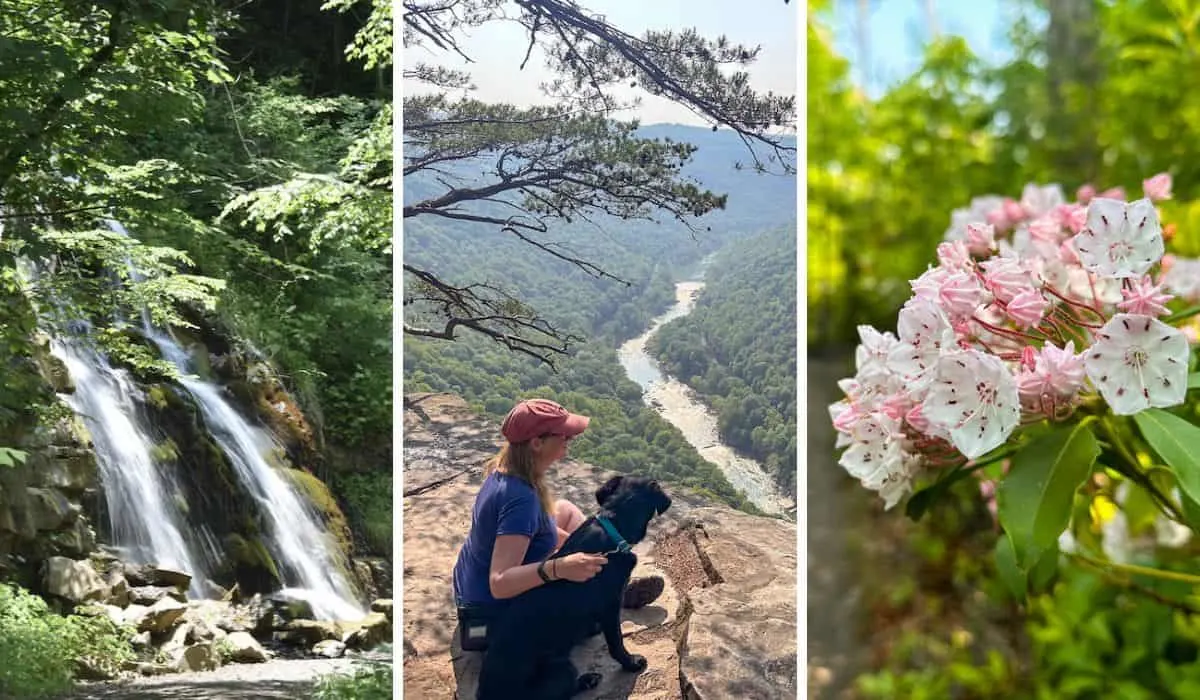 The park encompasses over 70,000 acres of land along the New River, with ample opportunities for exhilarating adventures. Once a thriving coal mining region, New River Gorge has been transformed into a thrill-seeker's playground and is best known for whitewater rafting, rock climbing, and hiking.
There are so many incredible things to do in New River Gorge National Park, but hiking is what we know and love, so that's what we're going to focus on.
Bonus: All of the trails in New River Gorge National Park are dog-friendly. On my recent visit to this gorgeous part of West Virginia, I brought my trusty sidekick, Malinda along with me for some dog-friendly exploring.
Many of the hikes in New River Gorge lead to rock outcroppings dramatically perched hundreds of feet above the New River. Keeping your dog leashed is mandatory, and the only safe way to go. Trust me.
New River Gorge Hiking Near Fayetteville and Lansing
During my recent visit to New River Gorge, I stayed in a cabin at Adventures on the Gorge, which is located in Lansing West Virginia. I spent two days hiking in this area and another day hiking in the southern region of New River Gorge National Park.
Here are the trails we enjoyed most in the Fayetteville/Lansing region of New River Gorge National Park. Note that there are several ways to hike some of these trails. The mileage listed is for my personal preference, but I've also linked to AllTrails so you can choose your own adventure.
Endless Wall Trail
Distance: 2.4 miles (round-trip) | Elevation Gain: 308 feet | Difficulty: Easy/Moderate | Trail Guide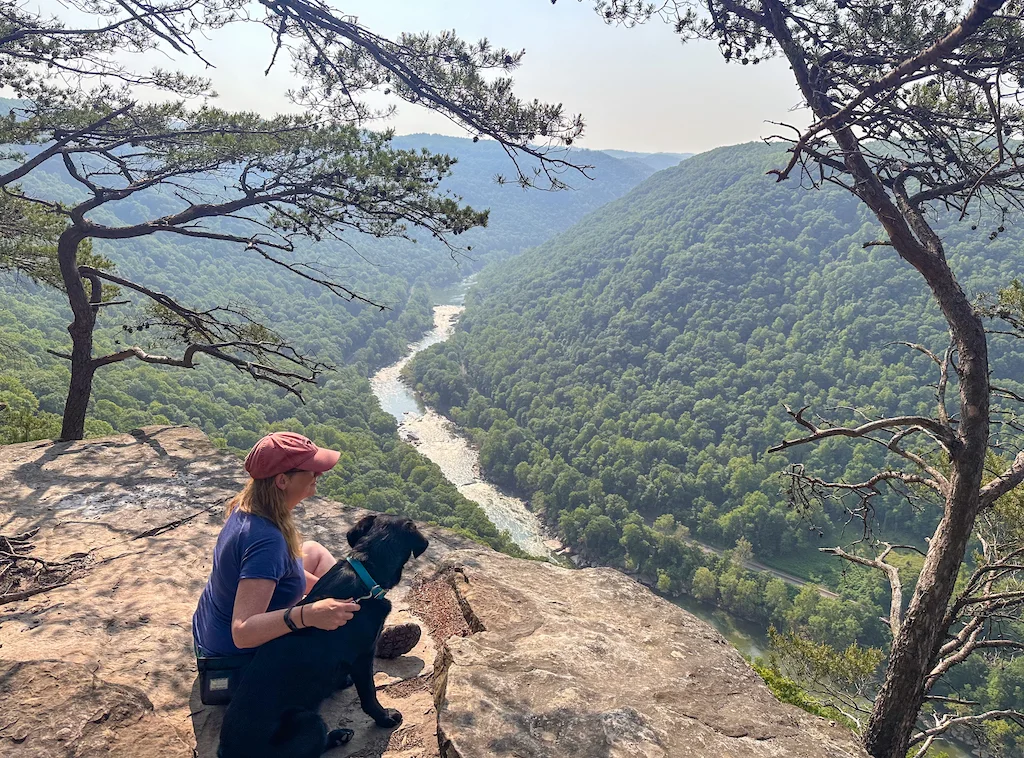 The Endless Wall Trail was my favorite hike in New River Gorge. It's a gorgeous woodland hike that travels through thick rhododendron and mountain laurel thickets, ending with a fantastic birds-eye view of New River and the New River Gorge Bridge.
There are two Endless Wall trailheads on the same road, which means there are a few different ways to hike Endless Wall. I began my hike at the Fern Creek Trailhead and hiked to Diamond Point (pictured above).
After taking in the stunning views, I turned around and hiked back to my car for a 2.4-mile (round-trip) hike — perfect if you are trying to cram a lot of hiking and activities into a few days!
You can hike Endless Wall as a loop, starting at Fern Creek Trailhead and hiking to Nuthall Trailhead (2.4 miles), but if you don't have a second car at Nuthall, you would have to walk two miles back to your car on Lansing Edmond Road, which I don't recommend.
Kaymoor Trail
Distance: 4.4 (round-trip) | Elevation Gain: 312 feet | Difficulty: Easy/Moderate | Trail Guide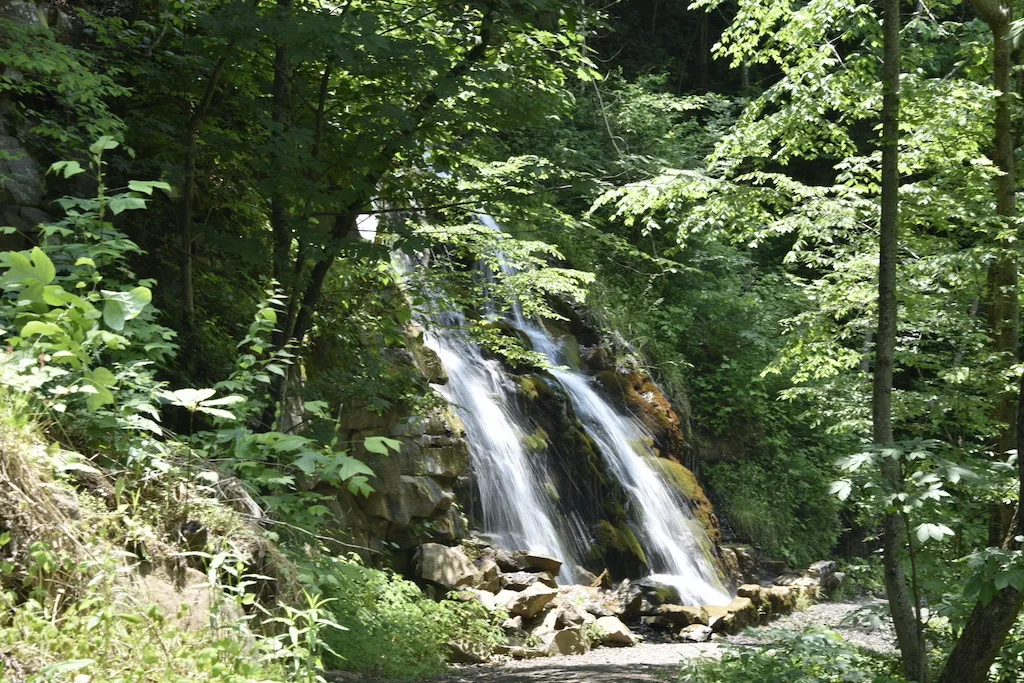 Kaymoor Trail is an 8.6-mile trail that runs parallel to the middle of New River Gorge. I recommend starting at Wolf Creek Trailhead (limited parking) and then hiking 2.2 miles to the Kaymoor Miners Trail (discussed below).
The trail begins near Wolf Creek where the water tumbles over boulders and under a footbridge as dozens of songbirds serenade you. This part of the trail is gorgeous, traveling through the woods at a gentle incline. with peak-a-boo views of the river and distant mountains through several clearings.
When you get to Kaymoor Miners Loop, you can choose to continue your adventure by hiking down 800+ stairs past mine relics and informational signs before returning back the way you came.
Kaymoor Miners Trail
Distance: 1.6 (round-trip) | Elevation Gain: 870 feet | Difficulty: Difficult | Trail Guide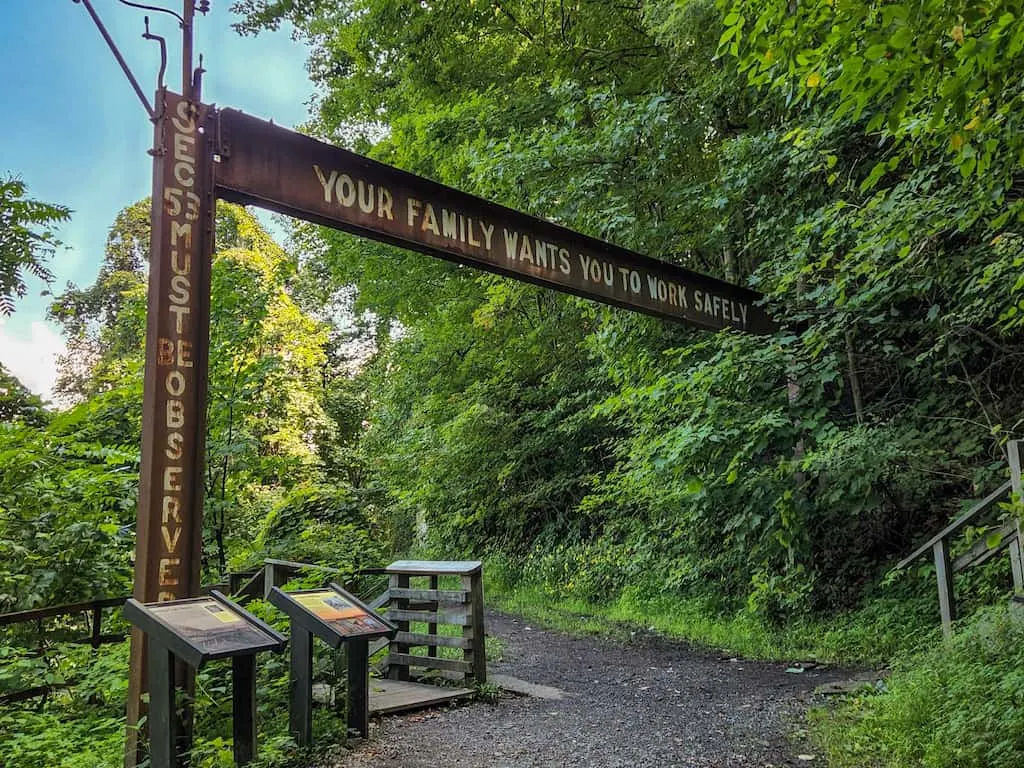 This incredibly steep trail features more than 800 steps down into the gorge, taking you past the abandoned Kaymoor Mine. There are informational signs along the way, describing the once-booming town of Kaymoor, which employed more than 800 miners between 1900 and 1962, extracting 17 million tons of coal.
The crumbling relics are all that is left of the Kaymoor ghost town, and they are slowly succumbing to a losing battle with natural forces.
If you hike Kaymoor Miners Trail from the trailhead in Fayetteville, it's a steep 1.6 miles down and back again. You can also add it to your trek on Kaymoor Trail described above. If you do it that way, it's just an additional half mile of mostly steps.
Long Point Trail
Distance: 3 miles (round-trip) | Elevation Gain: 320 feet | Difficulty: Easy | Trail Guide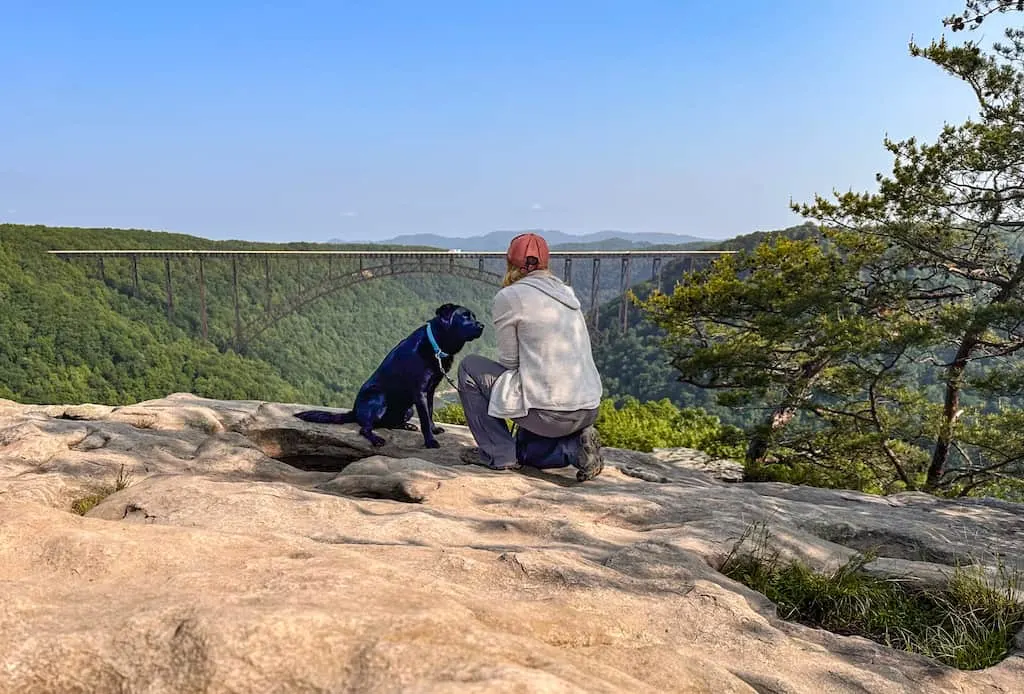 This easy woodland hike leads to Long Point View, where you can eyeball New River Gorge Bridge and the river far below.
As with many of the trails in this part of New River Gorge National Park, there are a few different ways to get to this point. The most direct route starts from Lont Point Trailhead for a 3-mile round-trip hike.
Mountain bikes are permitted on all but the last 0.2-mile stretch, and for most of the hike, the trail is wide and flat. At the very end, the trail descends into a rhododendron thicket
Bridge Trail
Distance: 1.5 (round-trip) | Elevation Gain: 385 feet | Difficulty: Strenuous | Trail Guide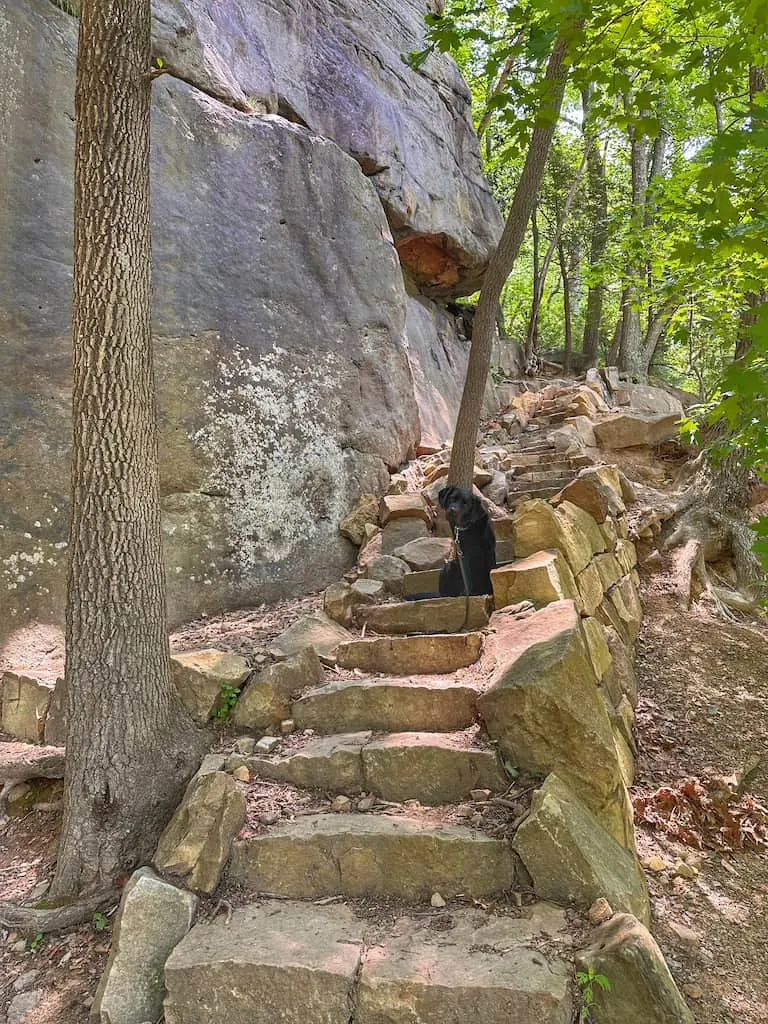 This short-but-steep trail starts just under the buttress of the New River Gorge Bridge off of Fayette Station Road. From the
Canyon Rim Boardwalk
Distance: 1.2 (round-trip) | Elevation Gain: 90 feet | Difficulty: Easy/Moderate (stairs) | Trail Guide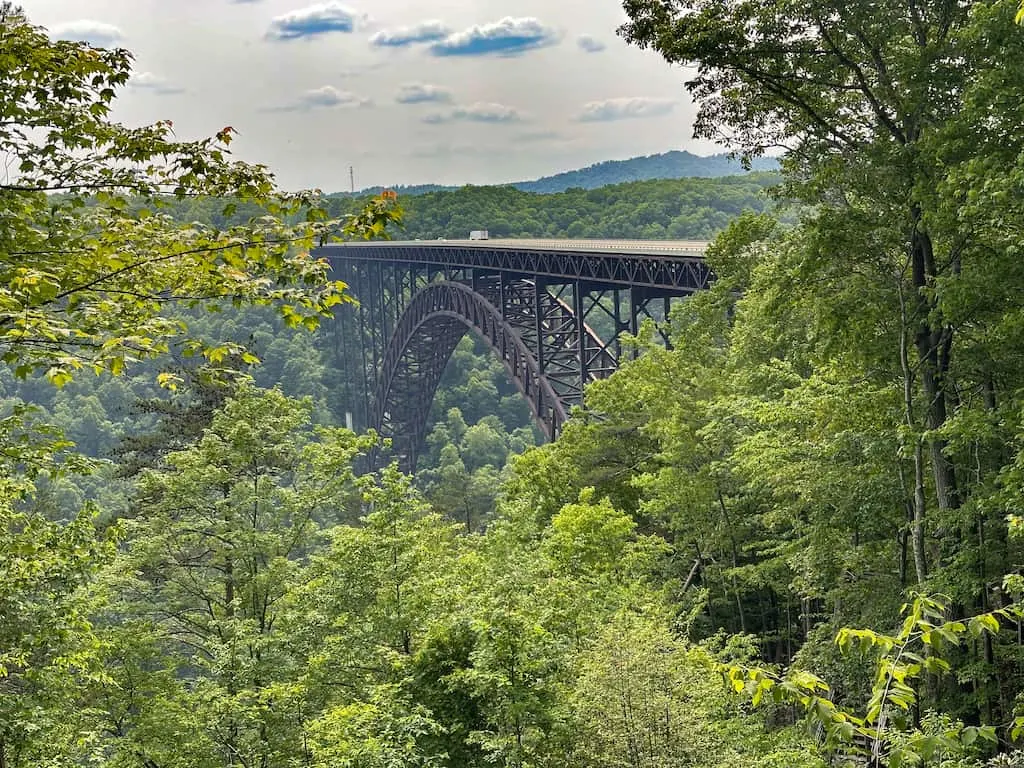 Hikes in New River Gorge Near Grandview and Sandstone
The Grandview area offers up a totally different perspective of New River Gorge. Plan to spend a whole day between Grandview and Sandstone before heading back to your lodging in Lansing.
Driving time between Grandview and Sandstone is 20-ish minutes. Your total driving time will be about two hours, so be sure to figure that into your schedule.
Grandview Rim Trail and Castle Rock Trail Loop
Distance: 1.1-mile loop | Elevation Gain: 175 feet | Difficulty: Moderate | Trail Guide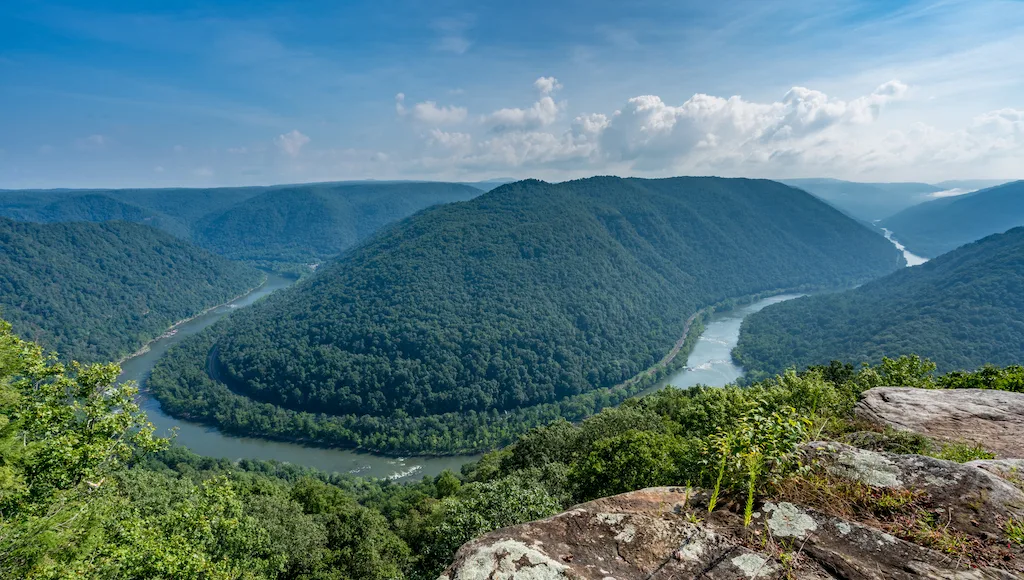 This short loop starts at the Grandview Visitor Center at the highest point in the park and includes the iconic Grandview Overlook, which gives visitors a panoramic view of New River 1,400 below. The dramatic vistas made this my second favorite hike (so far) in New River Gorge National Park.
The hike hugs the side of the sandstone cliff, with fantastic views of the dramatic rock face and the sheer drops that lead to the river. As with all of the hikes in New River Gorge, keep dogs on a leash and kids within reach for safety reasons.
You can lengthen the hike by following Grandview Rim Trail to Turkey Spur Overlook, for an extra two miles. You can also drive out to Turkey Spur Overlook when you're finished with this short hike.
Sandstone Falls Boardwalk
Distance: 0.5 miles (round trip) | Elevation Gain: minimal | Difficulty: Easy | Trail Guide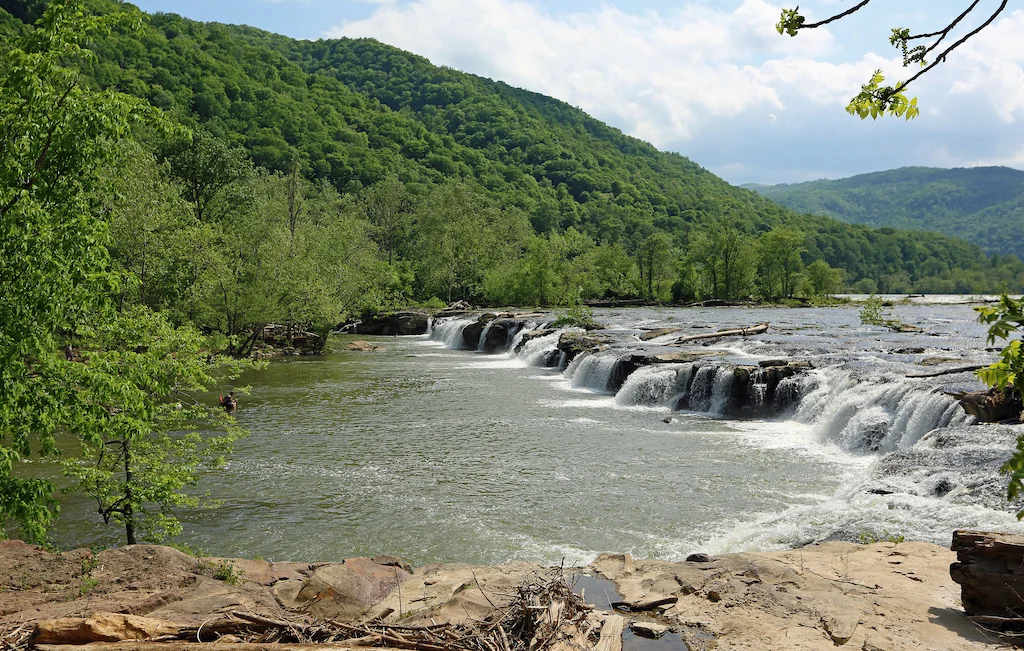 Sandstone Falls is the largest waterfall on the New River, spanning 1,500 feet across the entire width of the river. Follow an easy boardwalk over a bridge that leads to a small island with fantastic views of the falls. It's a great spot for a picnic, but it also gets pretty crowded.
There's a mile-long loop trail that travels through the woods and along the river here, but I only walked out to the falls and back.
The Sandstone Visitor Center has excellent exhibits on the New River watershed, water resources, and the natural and cultural history of the upper New River Gorge. You can even see spear points that are some of the oldest remaining artifacts of the region, more than 11,000 years old!
Tips for Hiking in New River Gorge National Park
Bring the 10 essentials: To hike safely, there are 10 essentials that you should stow away in your day pack. I keep my bag packed and ready so that on hiking day, I just have to throw in my camera and some snacks.
Wear the right clothing: In addition to the 10 essentials, here's a post detailing some of the gear and clothing I love for hiking in Vermont.
Download your map on your GPS app: If you get the pro version of either AllTrails or Gaia GPS, you can download your trail map before your hike so that if you lose service, you can still stay on track. I use both of these apps. I like the social aspect of AllTrails, but find Gaia to be more accurate when recording tracks. Both are around $30 for a full year — well worth the cost in my opinion.
Tell someone where you're going: I did a lot of solo hiking this year, so I made a habit of texting my husband from the trailhead before and after my hike each day. I hope the habit sticks!
Plan for unpredictable weather: This goes along with the 10 essentials, but be sure to pack an extra pair of socks and some layers, as the weather can change quickly.
Where to Stay in New River Gorge WV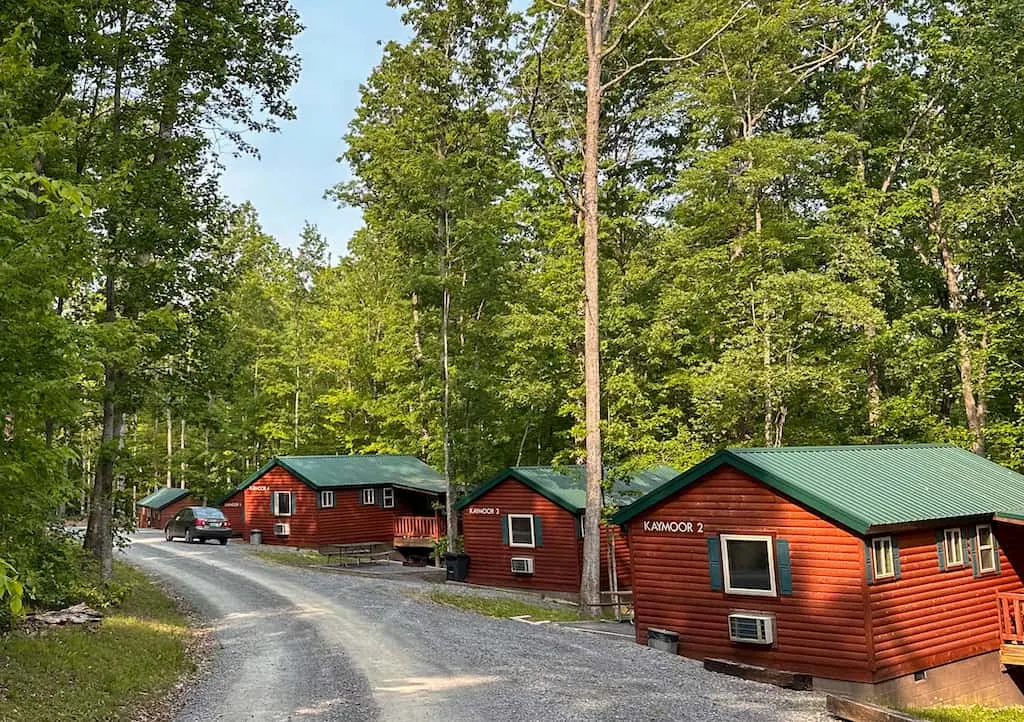 There are no official campgrounds or lodging in New River Gorge National Park, but there are definitely options outside of the park.
During my recent visit, I stayed in one of the Kaymoor Cabins at Adventures on the Gorge, which is just a couple of miles from the Canyon Rim Visitor Center, and close to many of my favorite trails.
Adventures on the Gorge is best known for its whitewater rafting adventures, but it's also got a bunch of different lodging options, a campground, two restaurants, a beautiful outdoor pool, and an aerial adventure course.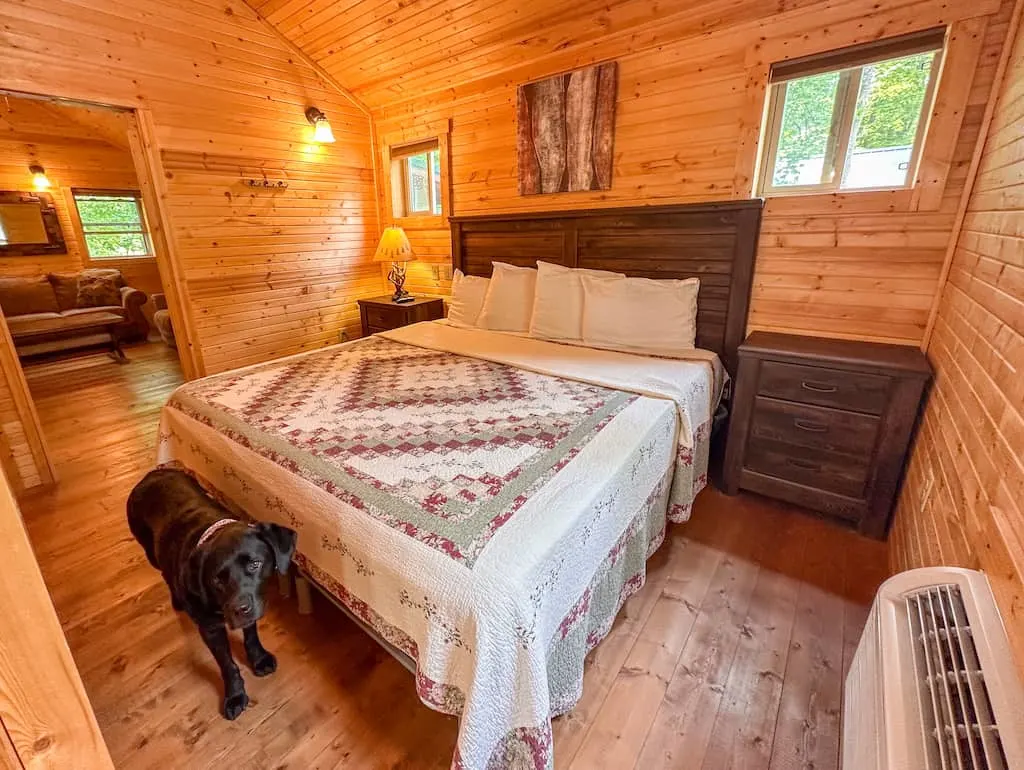 My cabin included a single king-size bed, a full bathroom with a shower, a living room with a separate workstation, and a microwave and mini-fridge. Oh, and a lovely woodland balcony with Adirondack chairs, plus a picnic table and fire pit.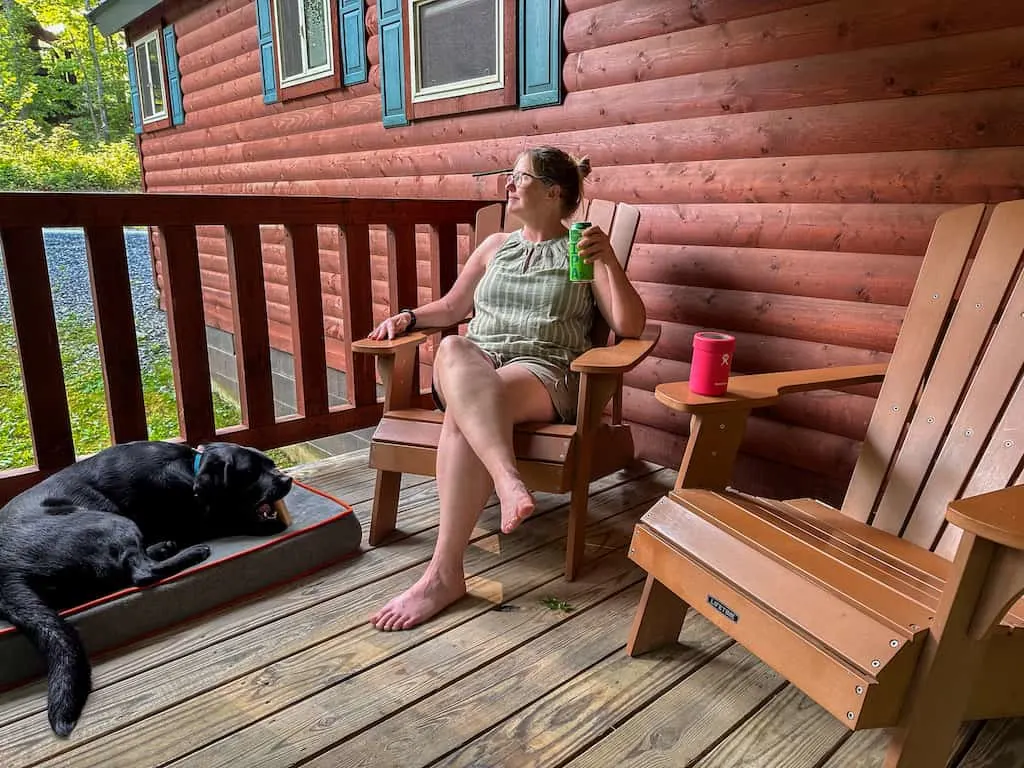 Our dog-friendly Kaymoor cabin was the perfect spot to retreat to after full days of hiking through New River Gorge. It was just me and the pup on this trip, but I am hoping to bring my adventure-loving family next time!
---
Follow us on social media for more national park adventures!
Pin for Later?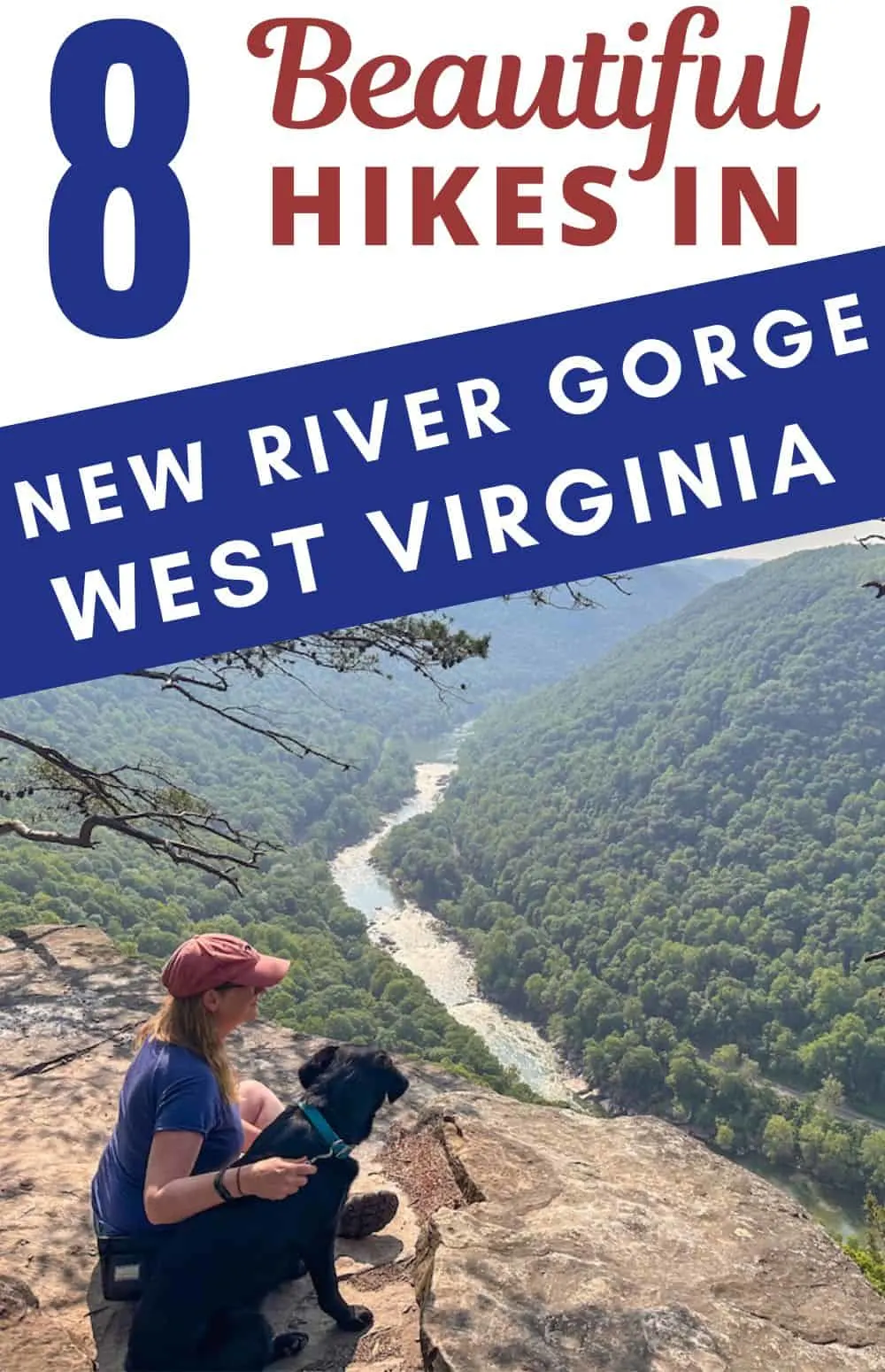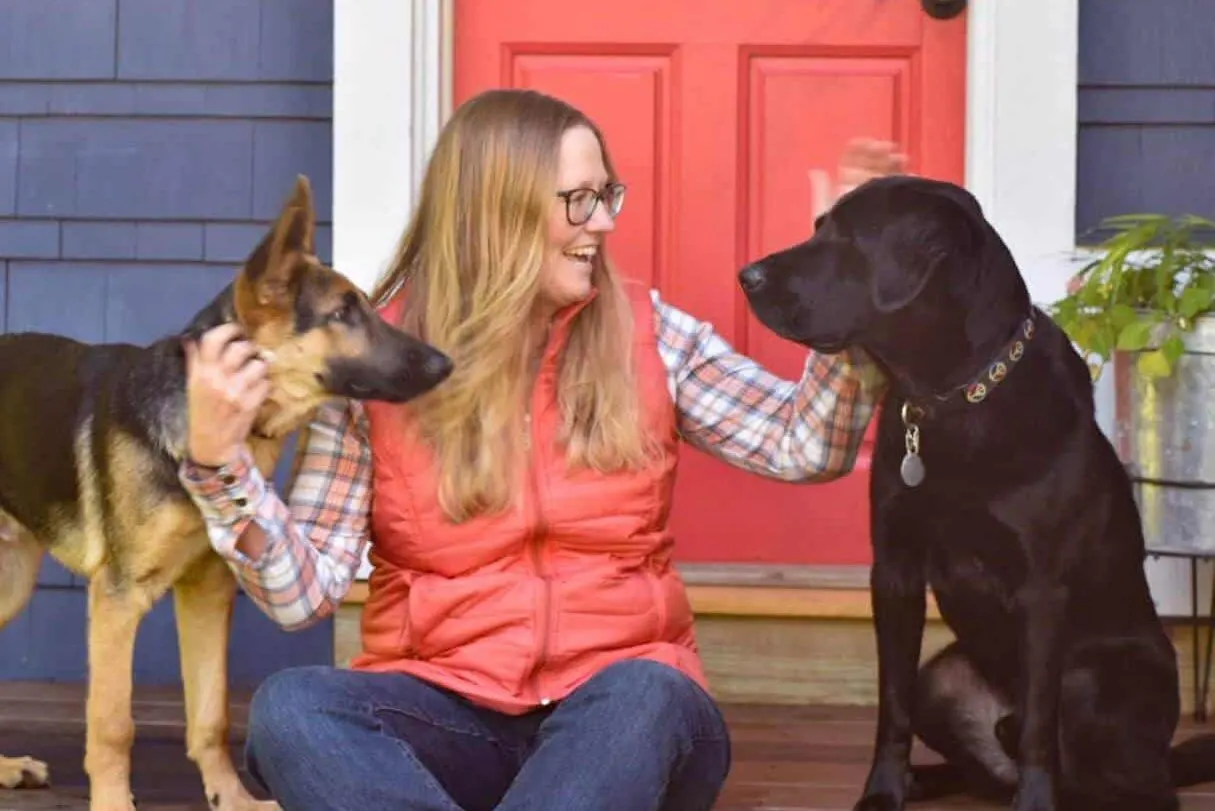 We were generously hosted by Adventures on the Gorge to facilitate writing this post.