Please don't travel until it's safe to do so! Our travel posts are great for making future plans or dreaming about your next escape. Please check with each state/destination for its current COVID-19 guidelines before planning a visit. Also, please note that this post may contain links from which we earn a small commission.
The FiveJpy Pop Up Mosquito Net Hammock is no longer available.
We will keep the review up for another year in hopes that it will be available again. In the meantime, if you're looking for a great hammock with a mosquito net, check out our review of the Kammok Mantis.
---
If ever there was a year when we needed protection from biting insects while lazing around in the backyard, this year is it. Not only did Vermont experience the usual swarms of summer mosquitoes every evening, but we were also visited by these crazy clouds of gnats that hung around all day, no matter what the weather.
I started to wonder if I would get even a single chance to enjoy an afternoon hammock nap, or if I would just have to resign myself to slathering on the bug spray before heading outside (for the record, I didn't find any spray that would keep away the gnats, but if you want to find the perfect mosquito repellent, check out these reviews).
Luckily, I came across what I hoped would be the perfect solution — the FiveJoy Pop-Up Mosquito Net Hammock — affordable, easy to set up, and most importantly, totally bug-proof. The moment our package arrived, we set it up in the back yard for a little testing. It took two days for my teenagers to climb out of the hammock and give me a turn, but finally, I got my afternoon nap, and not a single bug bite. In fact, it was kind of fun watching the mosquitoes land on the screen and try to find a way to their prey. Their plan was totally foiled!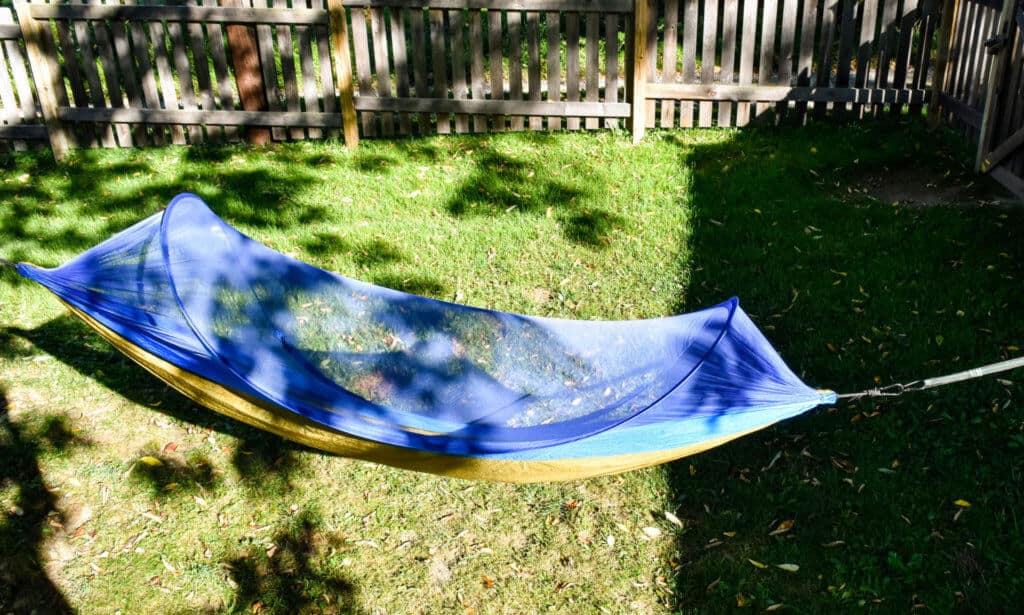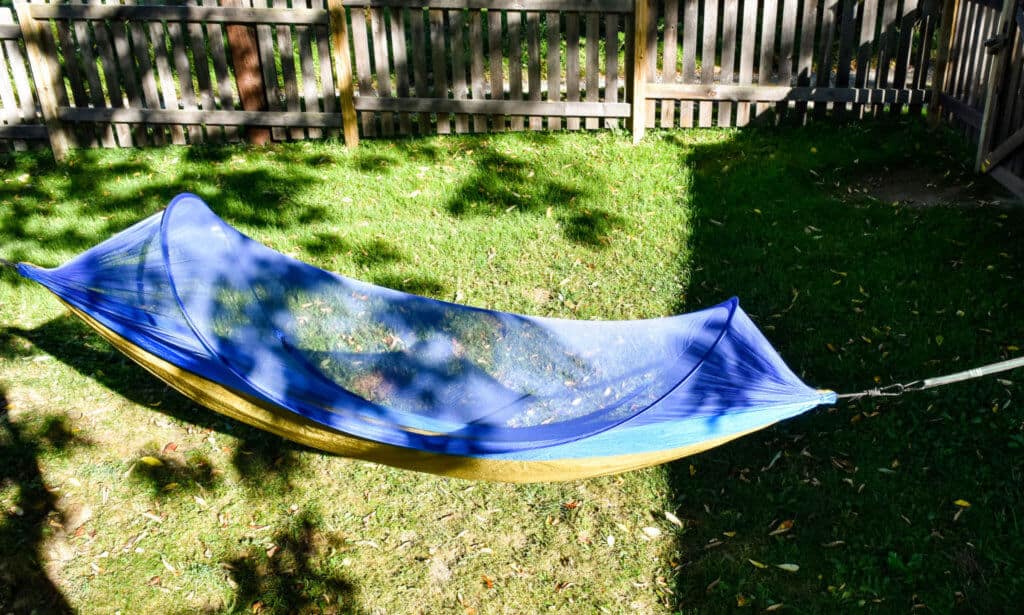 Our first impressions of the FiveJoy hammock were great, but we also spent the rest of the summer testing it out in all kinds of environments. It accompanied us to Cape Breton, the Bay of Fundy, the Finger Lakes in New York, and on plenty of Vermont adventures too. Our overall experience was a good one – the FiveJoy hammock is super easy to set up and break down, the straps are rugged, and it's incredibly comfortable.
Read our full review based on a full summer of relaxing in the FiveJoy Pop Up Mosquito Net Hammock, and then scroll to the bottom and enter to win one of your very own.
Features of the FiveJoy Pop Up Mosquito Net Hammock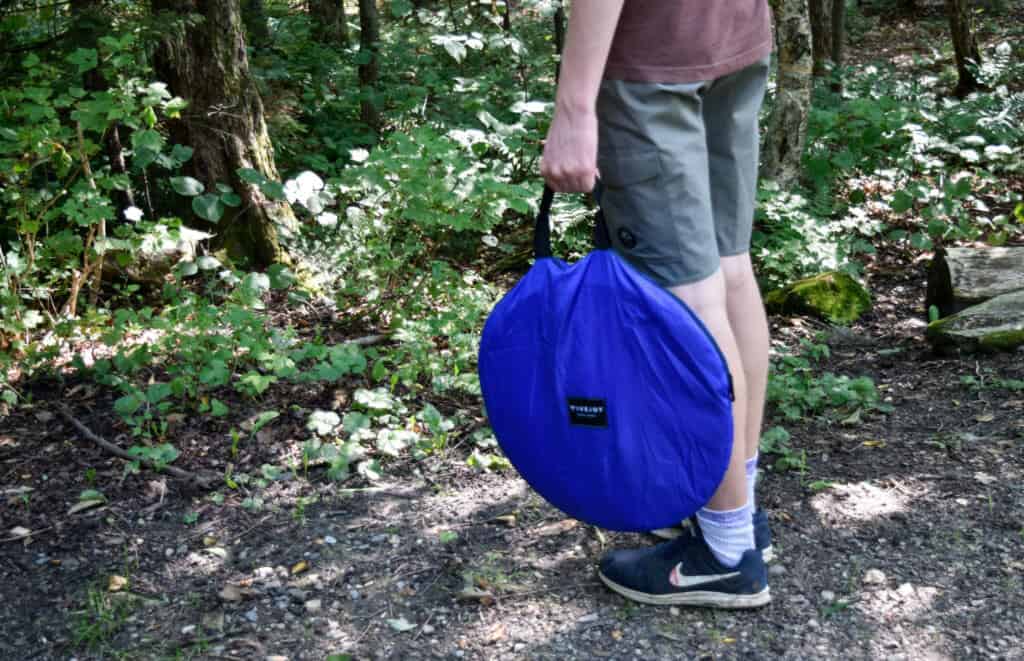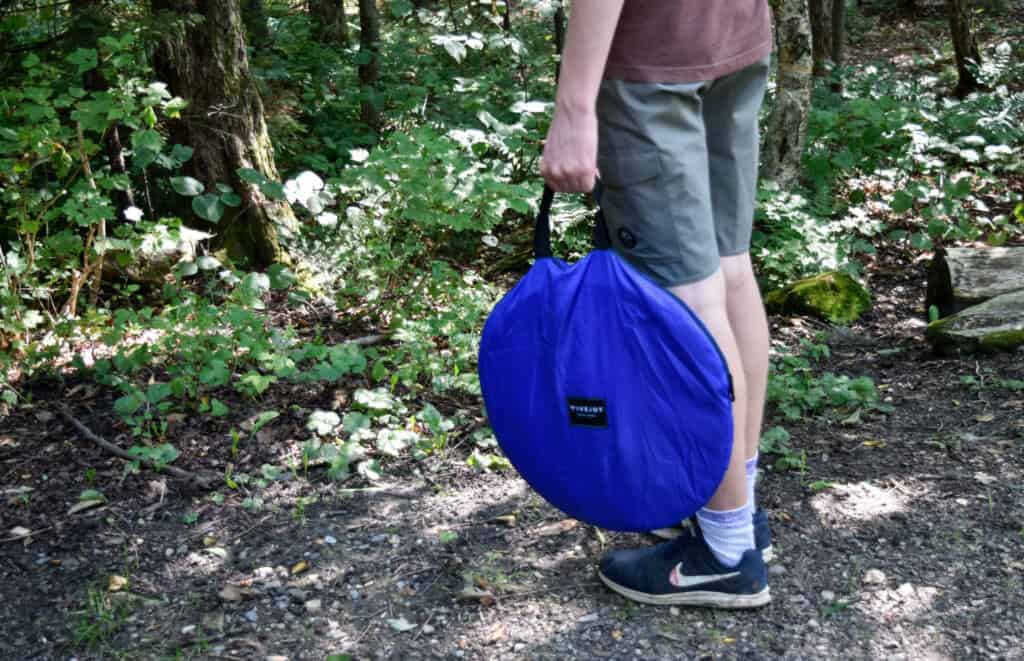 Instant set-up – Okay, so it won't actually hang itself between two trees, but it does come pretty close. The pop-up design keeps the bug netting away from your face, and it's already attached and ready to go.
Straps and carabiners included – There are two straps, each 9.2" long and 1" wide. The straps are designed with loops (15 on each strap) so you can customize the positioning for a comfy distance between trees and off the ground.
Tear-resistant fabric – no sign of problems after pretty heavy summer use.
Triple-stitched seems
Zippered carrying case – and a separate pouch for the straps.
2 lbs, 15 oz. – total weight with straps and sturdy carabiners.
8 feet long – perfect for even the tallest campers.
Two tone design with two combinations to chose from – Olive/royal blue or lemon yellow/sky blue
Durable enough to hold two people – My husband and I piled into the hammock together and it held us just fine. Our combined weights are 340 pounds.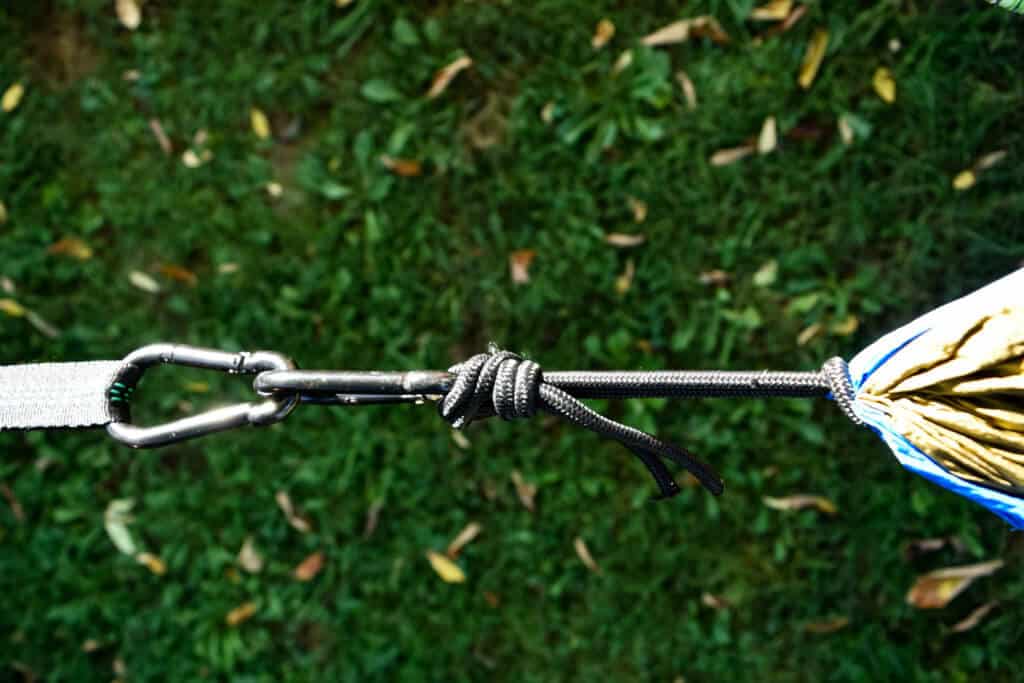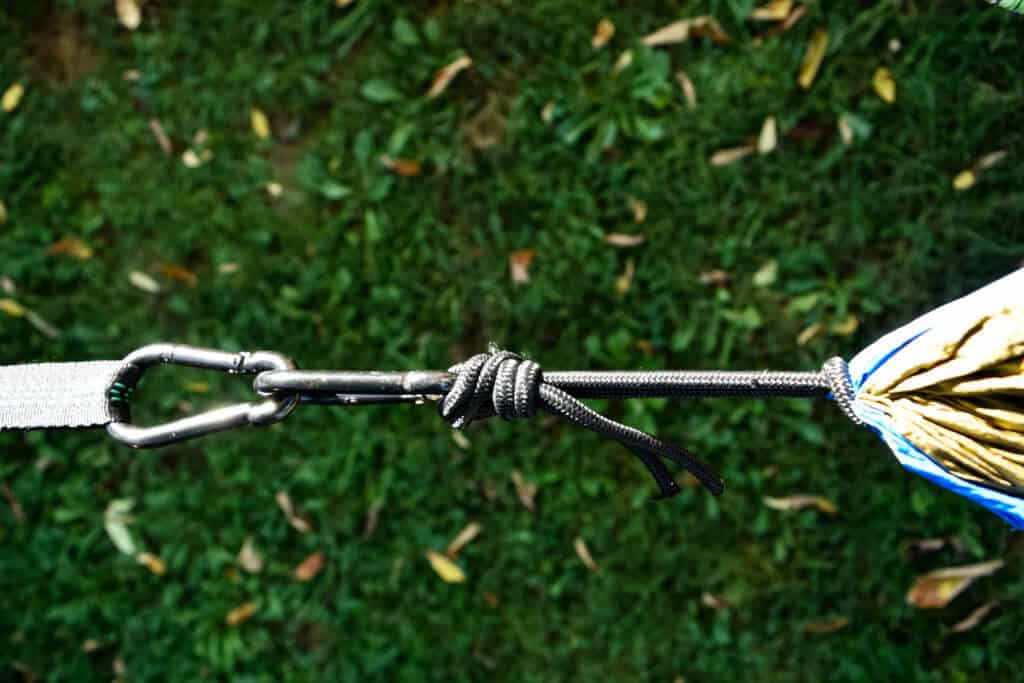 What We Loved about our FiveJoy Pop Up Mosquito Net Hammock
It is super portable – Our hammock packs and unpacks quickly. It fits in a flat, circular carrying case that could easily live in your car for impromptu relaxing.
It's really comfortable – It's a roomy and supportive hammock that is so easy to relax in. The pop-up design keeps the bug netting way from your face so you don't even notice it. We usually use it for napping and relaxing, but it's seen a couple of overnights as well. Nothing but good things to report.
Keeps the bugs out – Obviously, this was the whole point for us, and it worked like a charm — unless of course, you forget to zip up the net when you get out to put a log on the campfire. If you do that, you'll come back to happy mosquitoes, just waiting to attack.
We love how durable it is – We've probably used the hammock 25+ times this year since we got it. Despite the lightweight fabric, it has held up incredibly well.
Customer service is awesome – Do not hesitate to contact FiveJoy if you have a problem. They will do whatever it takes to make it right.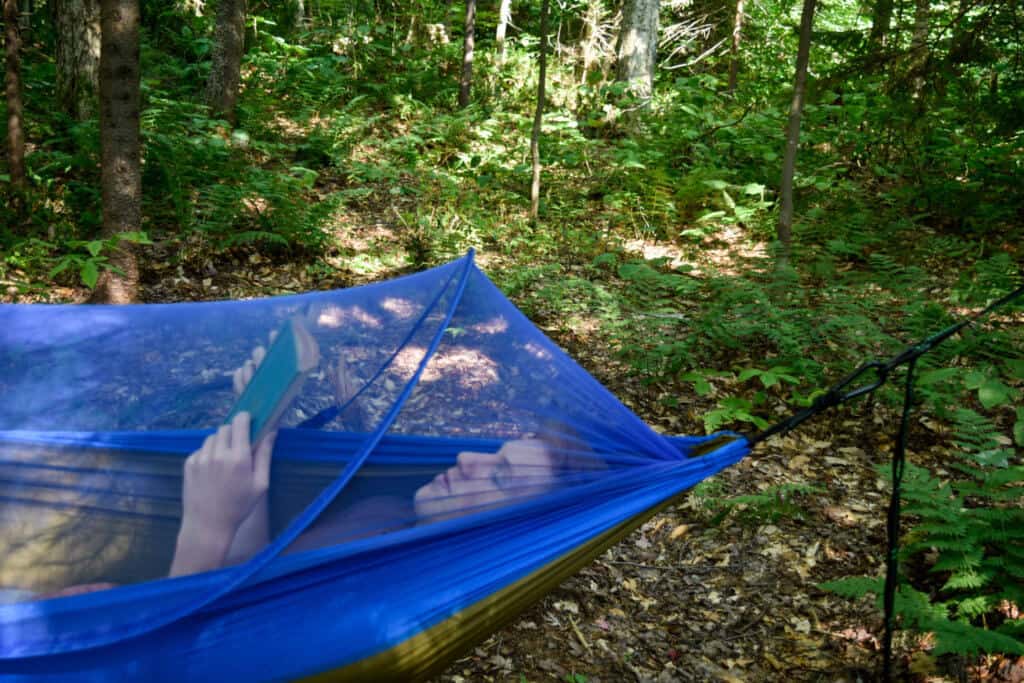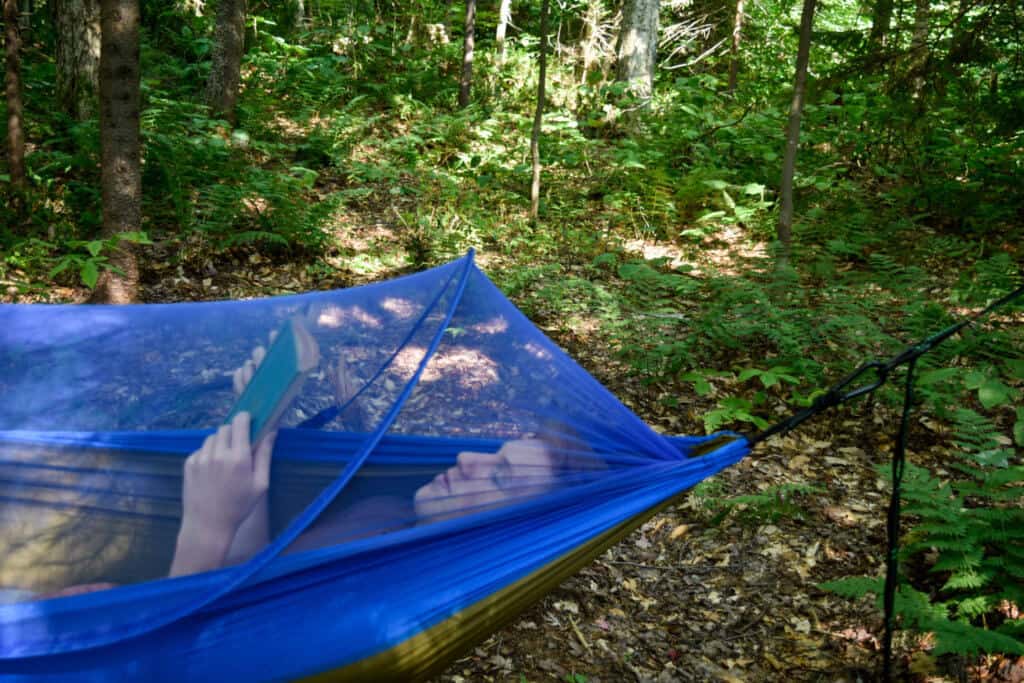 What We Would Change if We Could…
We truly loved just about everything about this hammock. The only issue, and it's not a big one, is that the carabiners are starting to rust. They are heavy duty metal, painted black. When we left it up for a few days outside, we noticed a bit of rust where the carabiner meets the strap. We would love to see stainless steel carabiners that can stand up to the weather.
A Few More Things to Consider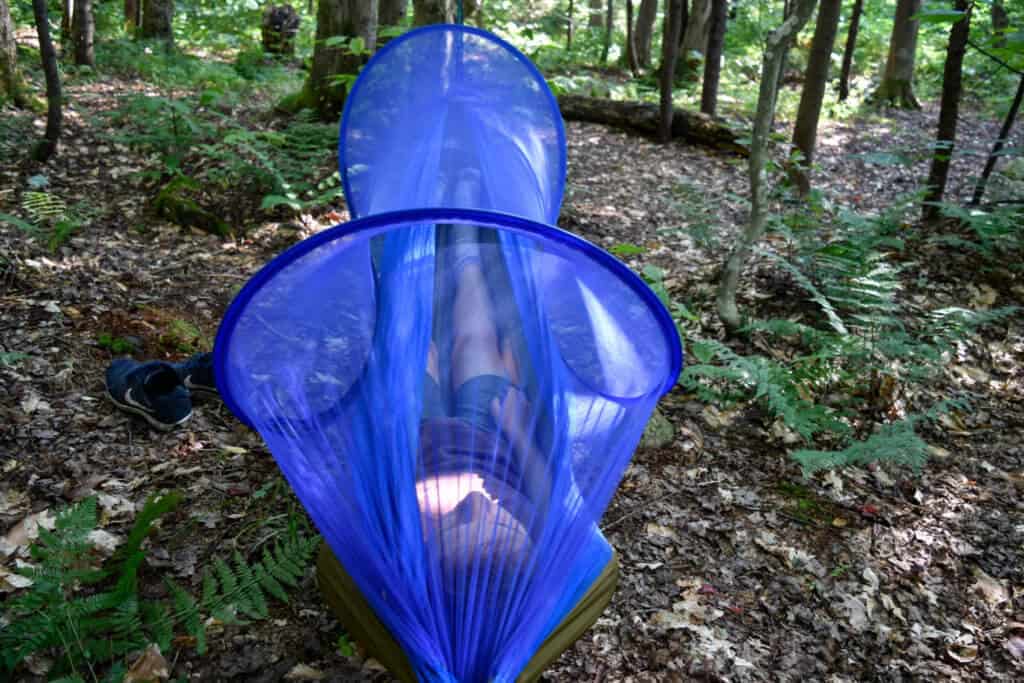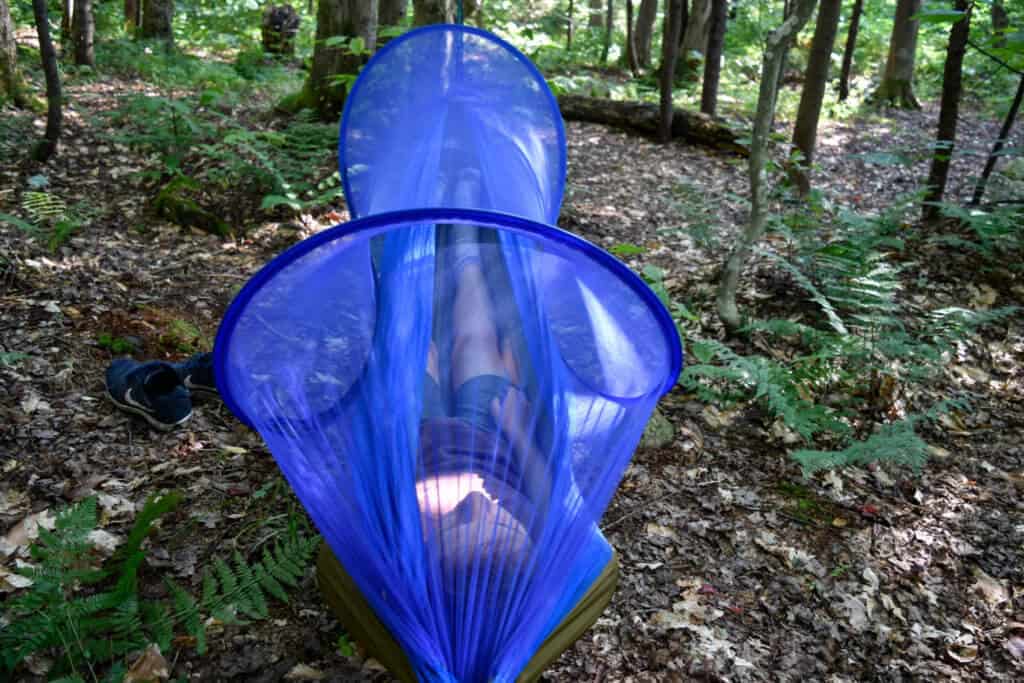 This is not a backpacking hammock – Because of the pop-up design, the hammock doesn't fit into a stuff sack. It folds up into a flat disk and weighs approximately 3 pounds. It is absolutely perfect for car camping, napping, or chilling out with your favorite book, but not for backpacking.
The bug net is not removable – This wasn't an issue for us at all, but something I thought we should mention. The zippered opening is along one side, and it gives you plenty of room to get in and out. There are two zippers.
If you have kids, you need more than one – We've been taking turns all summer. Thankfully my kids are in school now, and I can sneak outside for a break whenever I want to.
Final Words…
The FiveJoy Pop Up Mosquito Net Hammock is $42 on Amazon with free shipping. It is comfortable, durable, portable, and it keeps the bugs away! It is perfect for family camping trips and backyard staycations. It is not perfect for backpacking. I can only think of a handful of people who wouldn't love one of these, and those people wouldn't spend more than a minute in a hammock anyways.