Please be sure to check with each state/destination for its current COVID-19 guidelines before planning a visit. This post may contain links from which we earn a small commission at no extra cost to you.
Is there anything more enticing than a relaxing lake vacation in the summer? If you are looking for one of the best vacation spots in Michigan, look no further than beautiful Lake Leelanau in the northern part of the state. Guest author, Tracy Shaw has been visiting this area for the past 30 years! Here's what she loves about Lake Leelanau.
---
Lake Leelanau is a small town located in Upper Michigan. If you are a Michigander, you would be familiar when I say that Lake Leelanau is located at the top of the pinky finger. Lake Leelanau was first inhabited by the Native Americans in the early 1800s. The word Leelanau itself translates to "delight of life," And if you have ever been to the area, you would agree.
Leelanau County is about 45 minutes outside of Traverse City and approximately 4 1/2 hours from Detroit. There is no real direct way to get to Leelanau, but that's part of the fun of a Lake Leelanau road trip. You will come in through other small towns like Suttons Bay or Cedar and you will travel along the water and see many beautiful farms.
My family and I have been vacationing in Lake Leelanau for over 30 years. I moved from Michigan to Florida about 20 years ago and I still make the drive up every summer. In fact, I drive the RV myself! My mom flies down from Michigan and drives up with me to keep me and the kids company and then she drives back to Florida with me a few weeks later.
Lake Leelanau Camping
When we visit Lake Leelanau, we stay at Lake Leelanau RV Park. Don Wilson has been the owner since day one and they are like family. They have just under 200 campsites and all of them have full hookups, free cable TV, a picnic table and a fire pit. If you bring your boat with you as we do, they have a boat launch, gas and 98 boat docks available for rent. They also have jet skis and pontoon boats for rent if you want to get out on the water and don't have your own boat.
If you are looking for a place to stay, there are several other Lake Leelanau campgrounds, as well as cottages for rent. My aunt stays at the Lake Leelanau Narrows Resort. They offer small cottages for rent and the owner has been working on renovating them. As the name states, it's located right on the Narrows.
Boating on Lake Leelanau
We spend most of our days boating along the 21 miles of fresh beautiful waters of Lake Leelanau. There are actually two lakes – the North and South Lake and they connected by the Narrows. Making it very easy to get to various parts of the peninsula by boat. In fact, that is one of our favorite parts, not having to get back into a car!
Since the lake a combined total of 21 miles of water, there are lots of people that think the same. You will see lots of families tubing, skiing, wakeboarding, enjoying the sand bars, and fishing. If you happen to come to the area without your fishing license, have no fear, you can get one at Dick's and the small fishing store that's run by the same family that owns the Narrows Resort. Which are right across the street from each other.
Lake Leelanau Wineries
If you like wine, you are in for a treat. There are more than 148 Michigan wineries and 10 of them are right in Lake Leelanau. While Michigan wines tend to be a bit sweeter, especially in the fruit and ice wines, you will find a variety of delightful white wines in the area. The red wines are not as bold as a California reds, as the climates are indeed different, but the Michigan winemakers still produce wines worth stopping to enjoy. Each winery welcomes kids, some just have more for kids to do than others.
Here are three of our favorite wineries in Lake Leelanau:
Blustone Vineyards – This is one of our favorite stops as it sits on top of a hill and has beautiful views of the vineyards. They have wine and ciders, my favorite white wine here is the Pinot Grigio and Ad Lib is a red I don't mind from Michigan. They have a beautiful outdoor area to relax in.
Forty Five North – Nestled in its own part of the "woods" among the vines is a beautiful cabin-like winery. They have a huge deck for patrons to sit on and enjoy the surroundings. You will also find games for adults and kids to play outside.
Boathouse – Located right on the Narrows that connect North Lake Leelanau to South Lake Leelanau this is the perfect spot to enjoy a glass of wine and watch the boaters go by. In the summer months, they have live entertainment twice a week. We always go at least once, we bring our own food and relax. The kids love it too!
You can see all the wineries in Lake Leelanau here, and all the wineries in the area here.
As you can see, you can easily spend a day or two just visiting the local wineries! If wine isn't your thing, that's okay, Lake Leelanau has you covered there too. While there are several breweries within a 20-minute drive, there is an amazing distillery right in town, Northern Latitudes Distillery.
You can walk there from the Boathouse Winery or ride your bike from the campground! Northern Latitudes offers free tastings and they also have a bar area. I recommend skipping the tastings and just head to the bar, there isn't a drink there that isn't delicious. They pack a punch though…you've been warned!
Where to Eat and Drink in Lake Leelanau
While Lake Leelanau is small, there are plenty of things to do and places to get great local food. The area itself prides itself on staying true to its roots, so you won't find any chain restaurants or grocery stores that are open late.
If you want a bite to eat, head to Dick's. All the locals do. It's nothing fancy, but the food is good, especially the pizza, and the staff are always smiling. My husband and I biked the Leelanau peninsula one afternoon and stopped there on our way back to the campground and ordered drinks and some wings. It never occurred to us that we didn't have any money with us! The bartender couldn't have been nicer. He let us enjoy our food and drinks and just asked that we stop in to pay the tab before we left town. We did that, left him a nice tip and even gave him a package of gator meat that we brought up with us from Tampa, Florida!
The Tiki Bar is also a fun spot to grab a bite to eat, right on the water and you can get there by boat. Nothing fancy, but great company and simple eats. And again, it's right on the water.
You will get the best cup of coffee at Pedaling Beans Coffeehouse right in town.
You will find quite a few farms along the main road, M-204, and the side roads most have an honor system for payment, so if you see fresh fruits or vegetables along the way, be sure to stop and support the local farmers. Since Traverse City is the Cherry Capital, I recommend grabbing some cherries while you are in town.
Things to do Around Lake Leelanau
A scenic 45-minute boat ride or a 15-minute car ride will get you to the small town of Leland Michigan, also called Fishtown. This historic town is one worth visiting if you are in the area, even if just for the views of Lake Michigan and ice cream from the Harbor House. Tim Allen has his summer home in the area, so keep a lookout for him. We have seen him several times riding his bike and enjoying lunch at The Cove.
Sleeping Bear Dunes is also in the area, about a 35-minute drive. If you haven't seen Sleeping Bear Dunes or climbed them at least once in your life, be sure to do it now! And if you enjoying hiking, Pyramid Point is a relatively easy 2.7-mile total hike with spectacular views of Lake Michigan at the top. Pyramid Point is about 25 minutes from Lake Leelanau.
Lake Leelanau is a small town with a small-town feel. No one is in a hurry and everyone is there to relax and enjoy, so be ready to do the same. It's really quiet there in the winter months, but the summer is loaded with tourists (like me). My dream is to get a summer home there for when we retire.
While Lake Leelanau is only about 166 acres and has a very small overall population it is not small in beauty. I have made friendships that have lasted me a lifetime just by simply playing in the sand on the beach when I was 7 years old. There is something magical about small towns and Lake Leelanau is nothing short of my delight of life.
---
Looking for more midwest vacation spots? Check out these posts:
---
If you enjoyed this post, please pin it for later!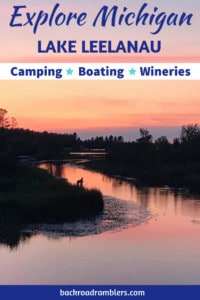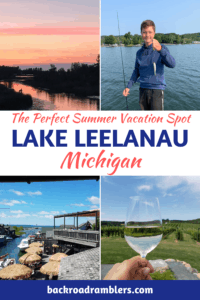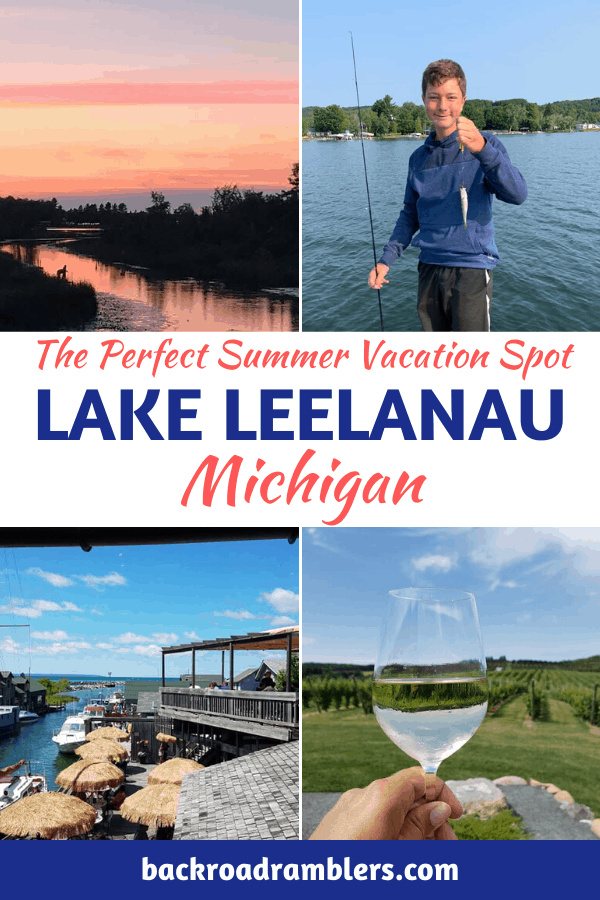 ---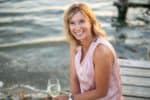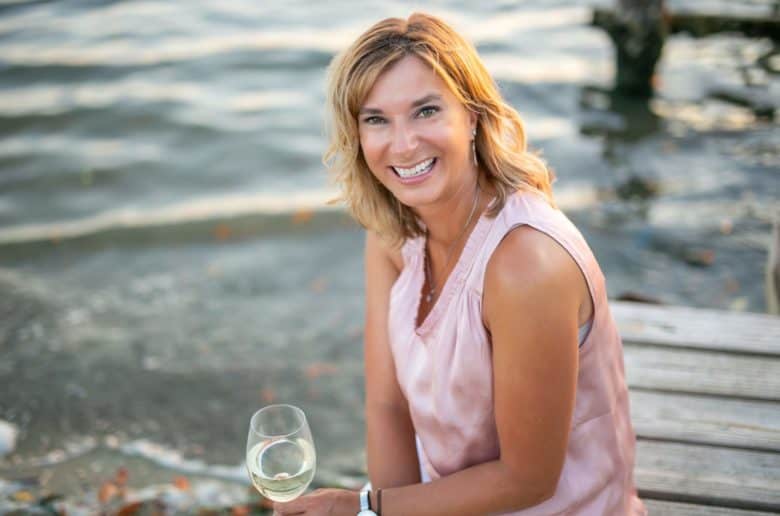 About Tracy: I love creating family-friendly recipes with a sip of wine. When I'm not at home, I'm out exploring Tampa Bay or off on an adventure out of town. I'm passionate about sharing healthy food and sunny advice. Follow me on my blog, Food Wine Sunshine or on Instagram.